For today's post I got some help from my good friend Tucker. He's a gregarious 1 year old golden retriever who lives for his next meal and the adoration of all those around him. I don't own a dog myself, but since he belongs to my sister I get to borrow him on a regular basis. Even though he's a little naughty around food from time to time, he has a tendency to light up the room, he assumes the best about everyone, and my son loves him the way boys love and need a dog in their lives.
In many ways I wish that I could have my own dog, but getting a puppy is kind of like having another kid, which I'm not quite ready to take on at the moment. Tucker pretty much satisfies my puppy itch. My son and I get to play with him, get him all riled up, and then send him home hopped up on people food. I'm basically a puppy aunt – and it's great!
When I made this recipe, Tucker attentively watched over the granola as I mixed it together.
He was a really good boy…
…but then he couldn't take it anymore and he snuck a lick of some crumbs that didn't quite make it onto the tray.
He's such a pretty pup that I couldn't stay mad at him. I mean seriously, just look into those expectant eyes that say, "love me, love me, love me!"
It's no wonder he couldn't help himself… This golden-brown Vanilla Hazelnut Granola is ready to serve with yogurt and freshly picked strawberries.
If you're feeling a little naughty (like Tucker) it's also delicious drizzled with Nutella, but please keep the chocolate out of reach of the puppies in your life!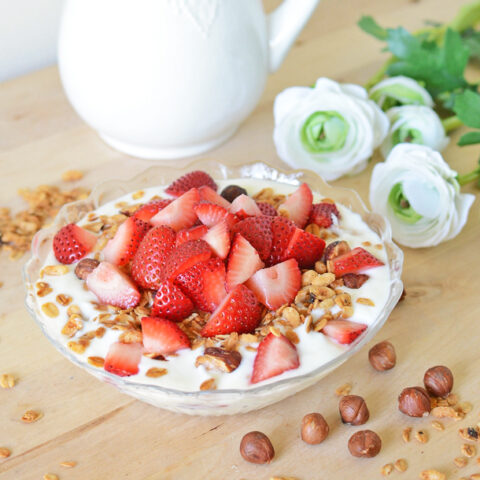 Vanilla Hazelnut Granola with Strawberries
Yield: 8

Prep Time: 10 minutes

Cook Time: 35 minutes

Total Time: 45 minutes

Vanilla Hazelnut Granola with Strawberries is an easy recipe and a healthy breakfast treat best enjoyed during strawberry season!
Ingredients
3 C rolled oats
1 C rice cereal
3/4 C chopped hazelnuts
1/4 C almond flour
1/2 tsp salt
1/2 C maple syrup
3 tsp vanilla extract
1 tsp hazelnut extract
1/4 C melted coconut oil
4 C plain yogurt (dairy or non-dairy depending on dietary preferences)
6 C chopped strawberries
Nutella for drizzling (optional)
Instructions
Preheat your oven to 325ºF. In a bowl, stir together all of the dry ingredients and set aside.
In a small bowl, whisk together maple syrup and vanilla and hazelnut extract. Pour over the mixture of your dry ingredients while stirring to evenly combine.
Melt 1/4 C of coconut oil in the microwave or on the stovetop, and then pour it over your granola while stirring to evenly coat.
Evenly spread the granola mixture out onto a cookie sheet and place it in your preheated oven. Cook for 35-40 minutes, checking on it and giving it a stir every 10 minutes.
While your granola is cooking, chop up your strawberries and set aside in the refrigerator until you are ready to use them.
Once golden brown, remove the granola from the oven and allow 15 minutes for it to cool before serving.
To serve, place about 1/2 cup of plain yogurt, one sixth of your granola mixture, and about a 3/4 cup of strawberries into each bowl. Drizzle with a touch of Nutella if you're feeling a little bit naughty!
Notes
1. If you only want to enjoy 1 or 2 bowls at a time, simply put your cooled granola in a ziplock bag and store in a cool, dark place with your other cereals for later use. It will stay fresh and crunchy for about a week.

2. Also, contrary to the wishful thinking method, the recent medical research does not indicate that eating Nutella in the morning supports weight loss. 🙂




Nutrition Facts
8 servings per container
---
Amount per serving
% Daily Value*
Trans Fat 0g
Total Carbohydrate 55.6g
19%
Includes g Added Sugars
0%
Protein 14.8g
---
Not a significant source of vitamin D, or potassium.
---
The % Daily Value (DV) tells you how much a nutrient in a serving of food contributes to a daily diet. 2,000 calories a day is used for general nutrition advice.