For the past couple of weeks my CSA has offered sweet nardello peppers as one of the pepper choices for its members. Sadly, however, I've noticed that my fellow share members haven't been getting as excited over them as I have. I've seen barely anyone take the poor lonely peppers, and I keep hearing the farm manager and the volunteers say things like, "they look like hot peppers, but they're not, they're really sweet." And, "don't forget to try the nardello peppers, they're really good." It's sad, as so many people are missing out!
Nardello peppers are an Italian heirloom variety of sweet peppers. They are delicious raw, fried, or sautéed in a little olive oil. They are early producers, so if you plant them along with bell peppers, you'll get a wave of nardellos before your other peppers reach their peak. The best thing I've noticed about them is that after they are sautéed they have absolutely no bitter aftertaste. They are also decidedly sweeter and have a better texture then sautéed red bell peppers. If you add them to salads, or in a slaw like in today's recipe, they become little flavor explosions in your mouth. After sautéing them for this recipe, it was hard work to restrain myself from popping them all into my mouth right out of the skillet.
So in honor of the under-appreciated nardellos, today I have Fish Tacos with a Peach and Nardello Pepper Slaw. The fish has some heat and a smoky flavor from the ancho chili powder, and the slaw is sweet and tangy, rounding out the dish. Although I would classify this meal as being pretty light and healthy, it certainly doesn't sacrifice flavor to be so!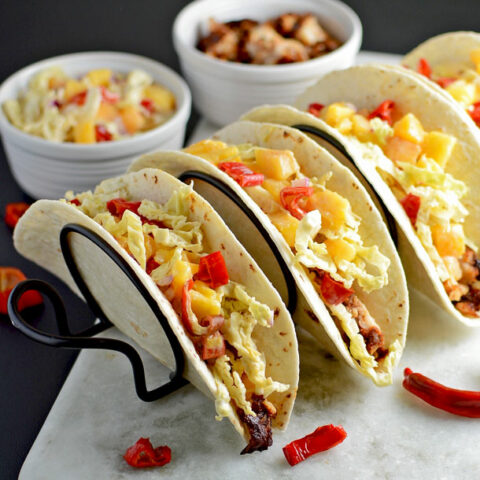 Fish Tacos with Peach and Red Pepper Slaw
Yield: 4 servings

Prep Time: 20 minutes

Cook Time: 17 minutes

Total Time: 37 minutes

Fish Tacos with Peach and Nardello Pepper Slaw are balanced with heat as well as smoky, sweet, and tangy flavors. It's a light dish that's heavy on flavor!
Ingredients
Fish
1 lb tilapia
2 Tbsp honey
1 Tbsp ancho chili powder
1 tsp paprika
1/8 tsp salt
1/4 tsp olive oil
Peach Slaw
2 C nardello or red frying peppers, cut into rings
1 tsp olive oil
2 Tbsp greek yogurt
2 tsp apple cider vinegar
1/8 tsp salt
1 1/2 C savory cabbage (the crinkly kind) cut into shreds
1 1/2 C diced peaches
2 Tbsp finely diced red onions
8 medium tortillas
Instructions
Preheat your oven to 425ºF.
Cut your nardello peppers into 1/4 inch rings and pop the seeds out from the centers with your thumb. Sauté them in a skillet with 1 tsp of olive oil over medium heat for about 5 minutes, or until they are soft, and then set them aside to cool.
In a small bowl combine the honey, ancho chili powder, paprika, and salt into a paste. Line a baking sheet with foil (to save on dishes of course), and lightly oil it with 1/4 tsp of olive oil. Using your fingers, massage the paste onto all sides of your tilapia, and then place them on the lined cookie sheet. Bake at 425ºF for 12-15 minutes, or until the fish easily flakes with a fork.
While the fish is baking, make the Peach and Nardello pepper Slaw. In a medium bowl whisk together the greek yogurt, apple cider vinegar, and salt. Shred the cabbage and dice the peaches and onions. Add them, along with the cooled sautéed nardello peppers to the bowl and stir to evenly coat with the dressing.
Once the fish is done cooking, flake it apart using a fork.
To assemble your tacos, place tilapia topped with your slaw inside tortillas and serve immediately.