Creamy Pearl Onion au Gratin – This rich, creamy side with its tasty brown crust is the perfect accompaniment for your next holiday meal!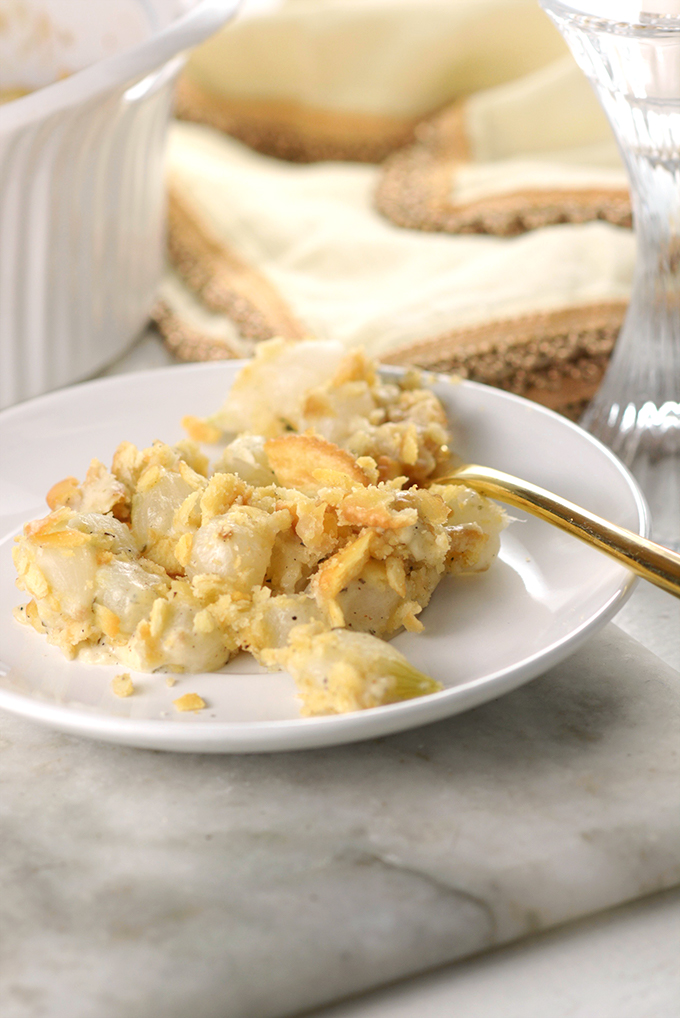 I fully intended to publish this recipe a week before Christmas, as it's a perfect holiday meal side. Alas, that did not happen. I guess it's fitting that I don't quite have it all together for my last recipe of 2020. For me this year has been characterized by a lot of pressing forward and not giving up, so I'm not going to give up on this untimely recipe!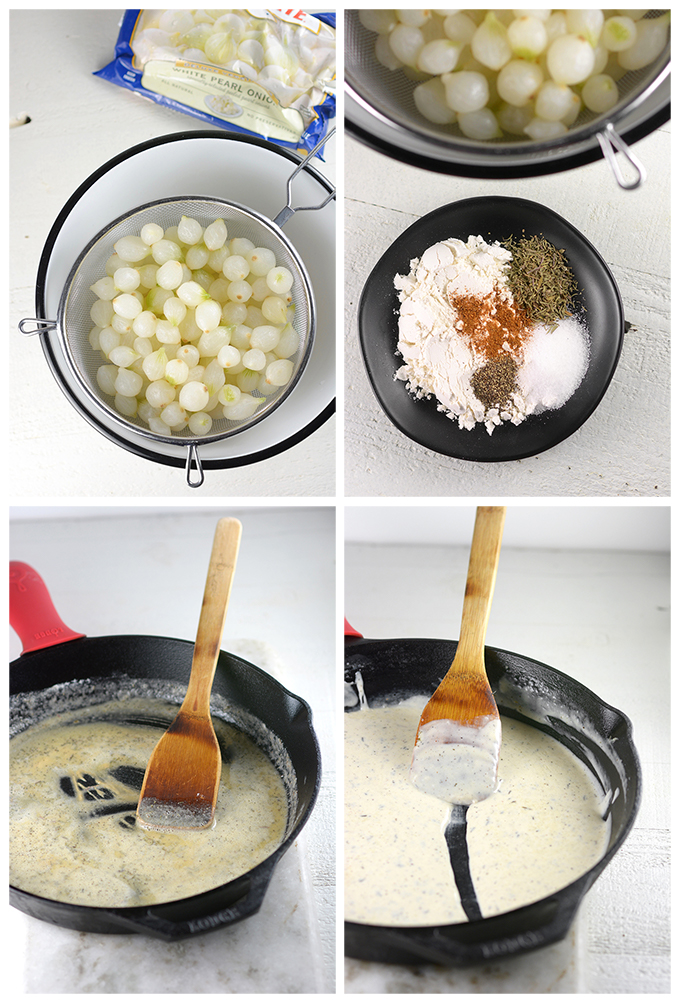 The first time I realized that I liked onions was as a kid when pearled onions were served with beef tenderloin at my great-grandmother's house on Christmas. While the grownups enjoyed dinner in the formal dining room, the kids were relegated to a table in the kitchen with my Granny's dog. I think we were placed there, in part, because of my Uncle's whining. He's three months younger than me (long story), so our relationship was much more akin to brother and sister.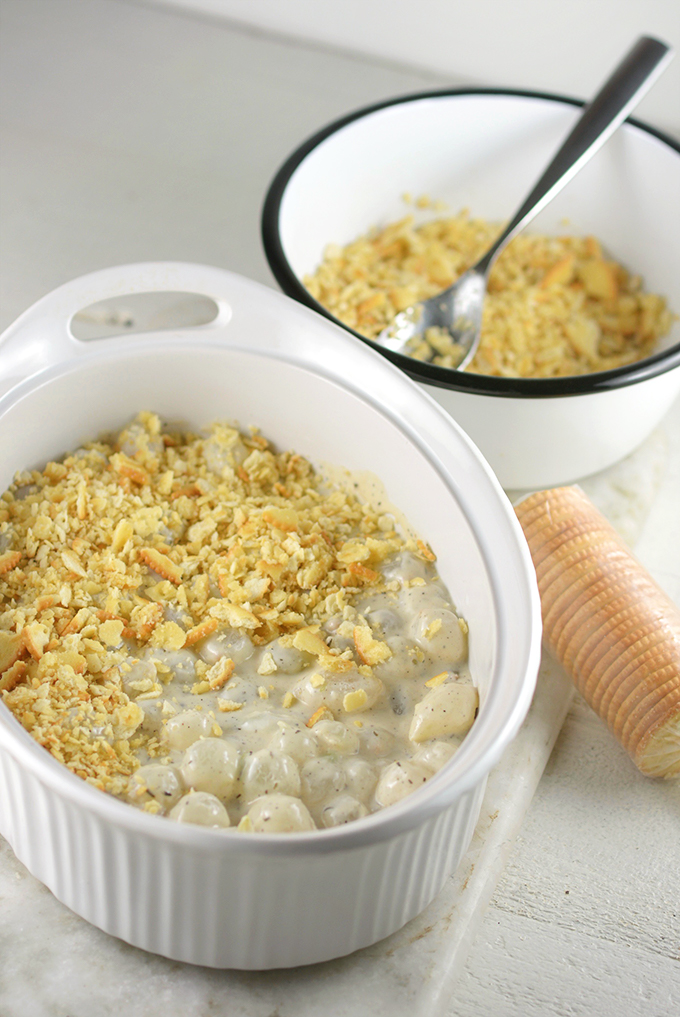 Anyway, my uncle was sitting there with me complaining about the food while the dog looked up at us expectantly. As my Uncle writhed in pain because he had to eat adult food, I was thinking "you're crazy, these onion things are awesome!"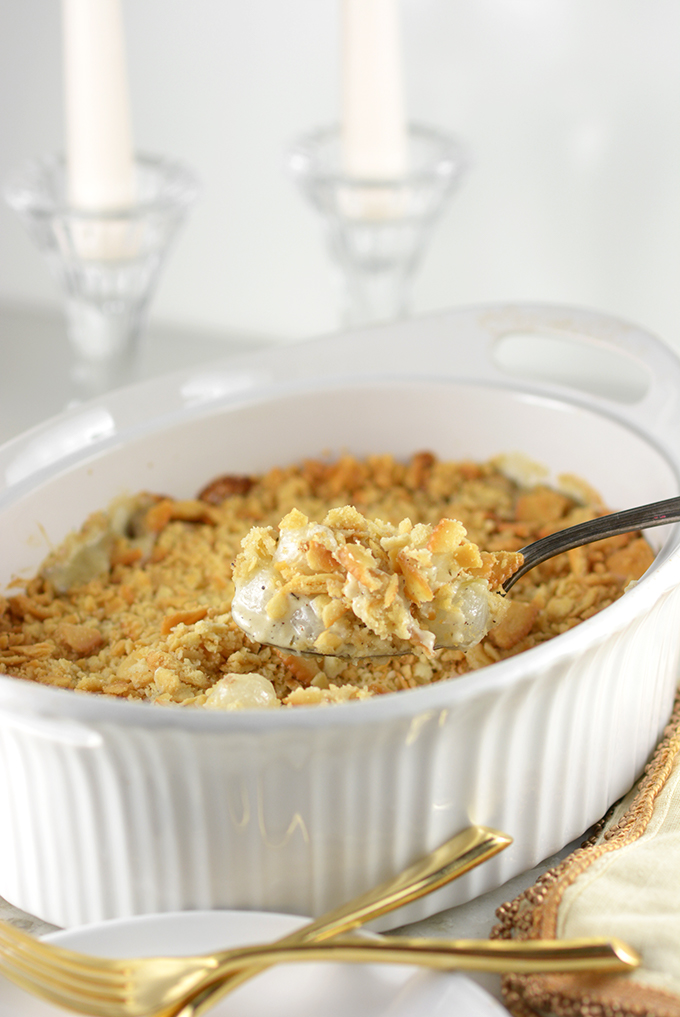 I still think Creamy Pearl Onions are awesome. Now that I'm an adult, I suppose I should call them Pearl Onion au Gratin. As a side note, I always thought "au Gratin" meant that a dish has a cheese sauce. It turns out that it's just the French way of saying "browned crust."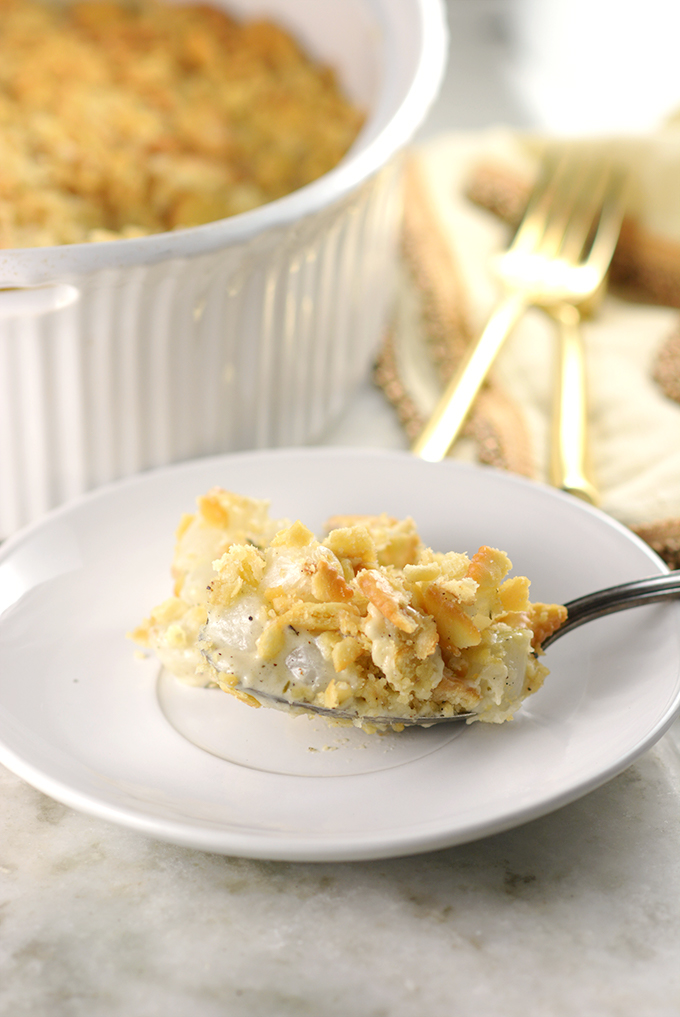 The onions in this recipe sweeten as they cook. When combined with a creamy sauce and a browned crust, they perfectly accompany beef, lamb, and even turkey. The dish adds a creamy richness to a fancy meal.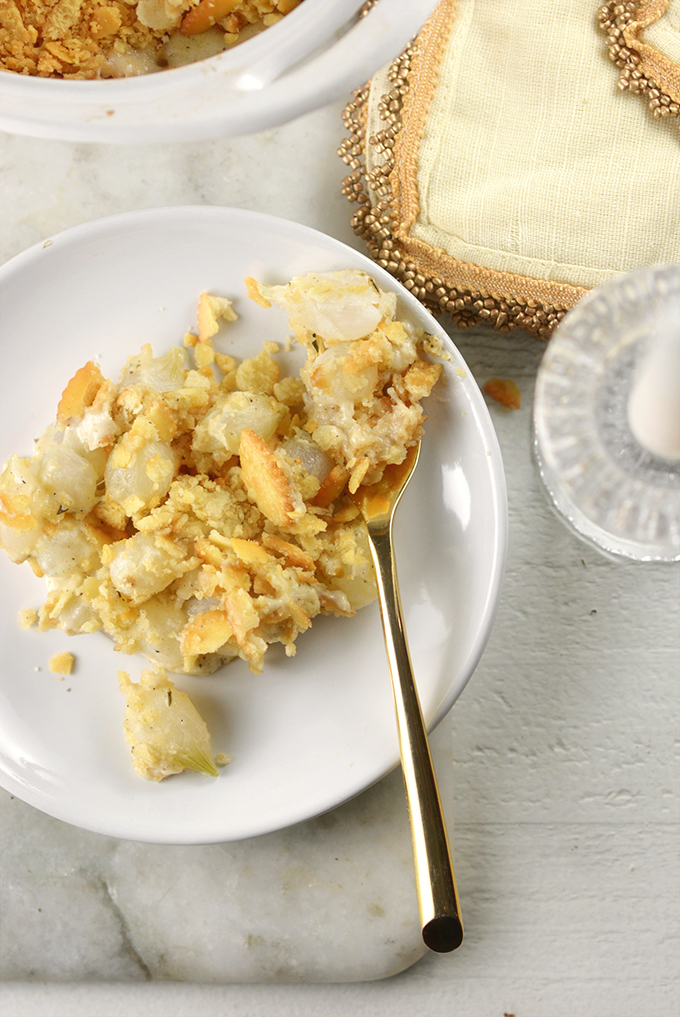 Even though I didn't get this recipe published in time for Christmas, I'm happy to end the year with one of my old favorites. I look forward to bringing you more recipes in 2021!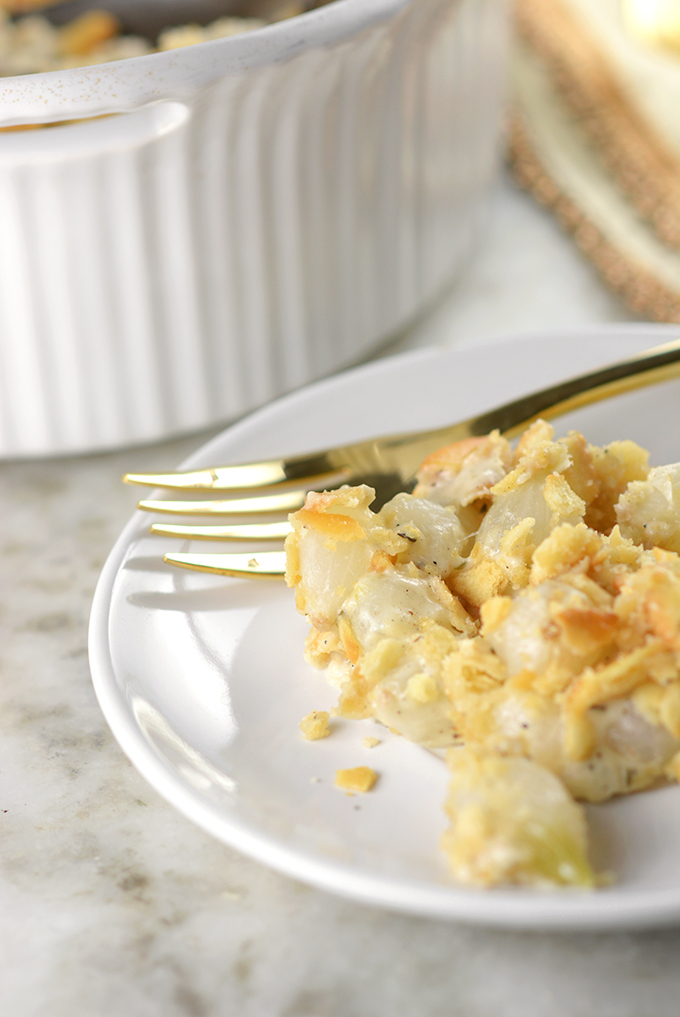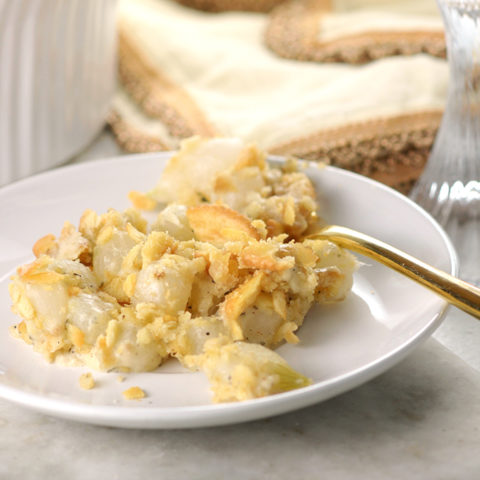 Creamy Pearl Onion au Gratin
Additional Time:
5 minutes
Total Time:
1 hour
5 minutes
This rich, creamy side with its tasty brown crust is the perfect accompaniment for your next holiday meal!
Ingredients
2 12 oz bags frozen pearl onions, defrosted and drained
4 Tbsp butter
3 Tbsp flour
1 tsp salt
1/4 tsp black pepper
1 tsp dry thyme
1/8 tsp nutmeg
3/4 C milk
3/4 C heavy creamy
Ritz Topping
2 C Ritz Crackers, crushed
4 Tbsp butter, melted
Instructions
Place the frozen pearl onions in the refrigerator to defrost overnight.
Preheat the oven to 350ºF.
Start by boiling the onions. Bring a medium-sized pot of water to a boil. Once boiling, add the onions and cook for about 5 minutes, or until they're tender. Drain the onions and set aside.
Meanwhile, start the sauce. In a saucepan or skillet, melt the butter over medium-high heat. Next stir in the flour, salt, black pepper, thyme and nutmeg. Stir frequently to prevent clumping and cook for about one minute, or until the mixture is bubbling.
Reduce the heat to medium-low and slowly add the milk while constantly stirring to create a thick sauce that's free of clumps. Cook until the sauce first starts to bubble, but take care not to boil so that the milk doesn't curdle.
Once the milk is evenly combined and heated, add in the heavy cream while constantly stirring. Once again, cook until the sauce shows the first sign of bubbling, then remove from the heat and set aside.
Grease a 2.5-quart baking dish with butter or cooking spray. Place the cooked and drained onions evenly on the bottom of the dish. Pour the creamy sauce over the onions and gently stir them until they are all evenly coated.
Lastly, make the buttery Ritz cracker topping. Crush the ritz crackers and place them into a small mixing bowl. Stir in 4 Tbsp of melted butter. Once combined, evenly sprinkle the Ritz topping over the top of the casserole.
Bake in a 350º F oven for 40-45 minutes.
Notes
This recipe can be prepped, assembled, and refrigerated a day in advance. Bake the next day according to the instructions, allowing an extra 10-15 minutes as it will be chilled.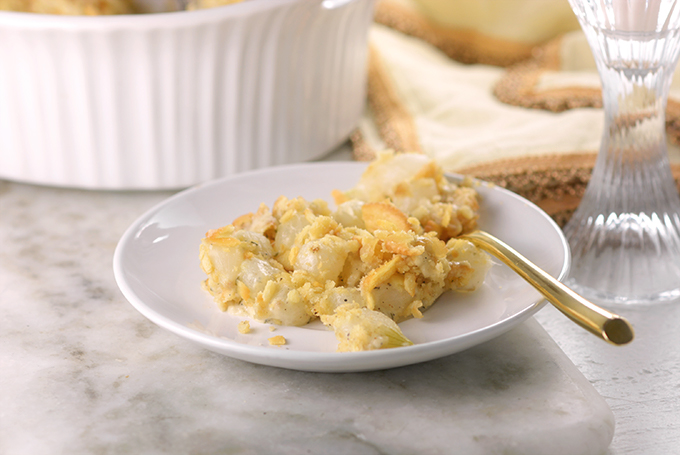 You may also enjoy…