Cranberry Christmas Tree Roll Up Pinwheel Sandwiches – This fun Christmas appetizer is creamy, tangy, and sweet, all wrapped up in a cute little bite-sized sandwich!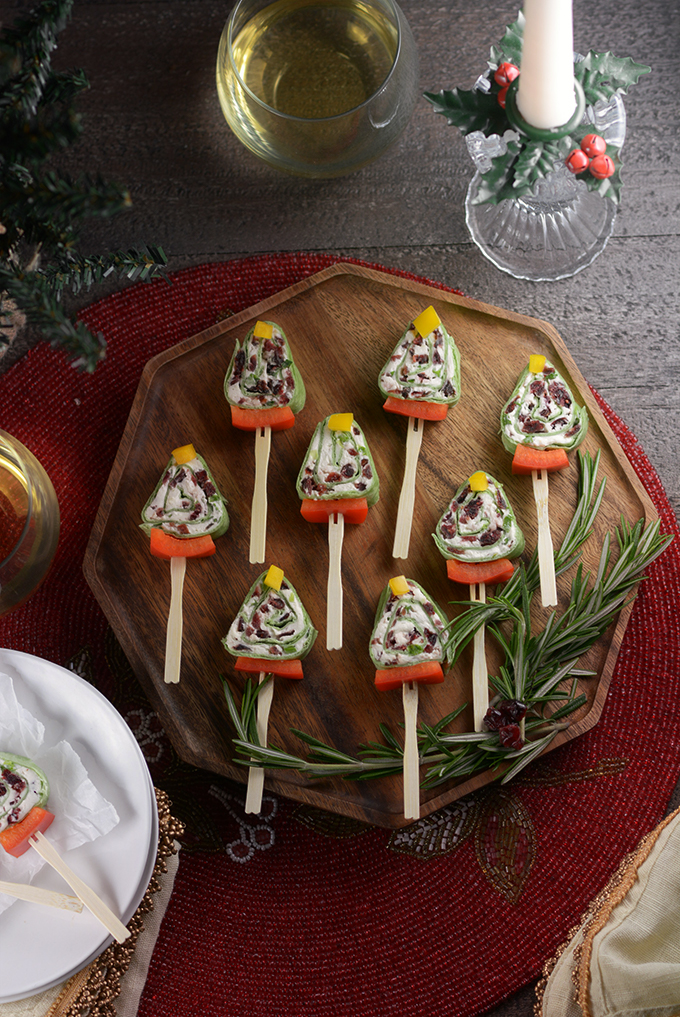 Many years ago, back when I was young, single, and still living with my parents, I had dinner with a friend who was house sitting at the time. Both of us were excited to have a house (and a kitchen) to ourselves, with no parents around. We were playing at being grown women, so to speak.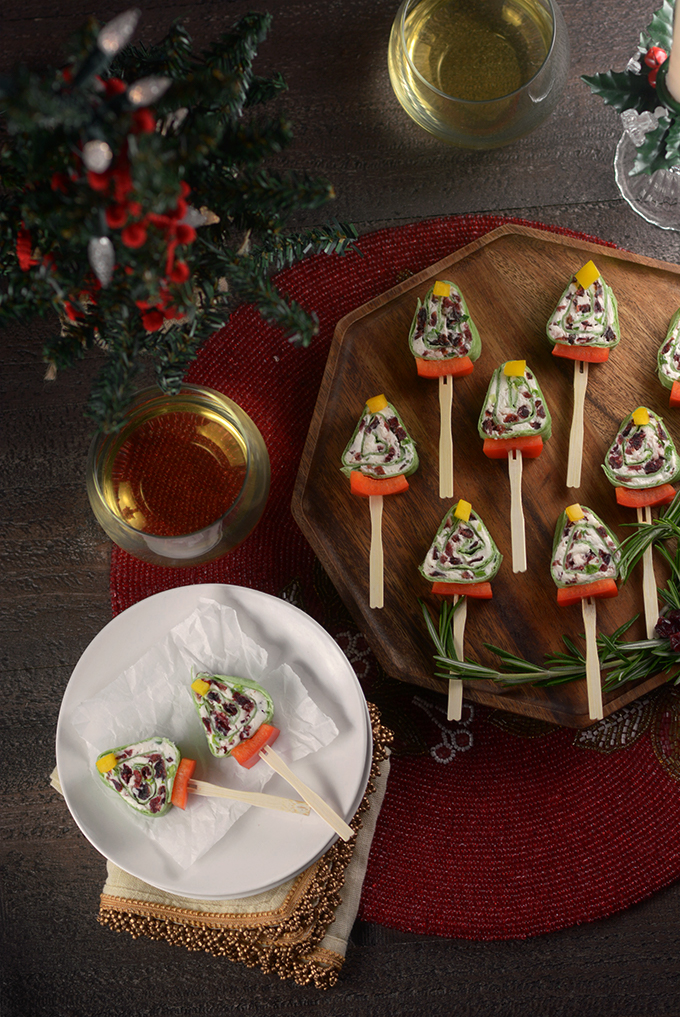 Back then, neither of us were the domestic goddesses I like to think we are now. At the time, however, we both thought we whipped up a pretty yummy dinner composed completely of appetizers. Most of what we made was total crap, except that my friend made cranberry pinwheel sandwiches, which I remember to this day being the tasty star of the meal.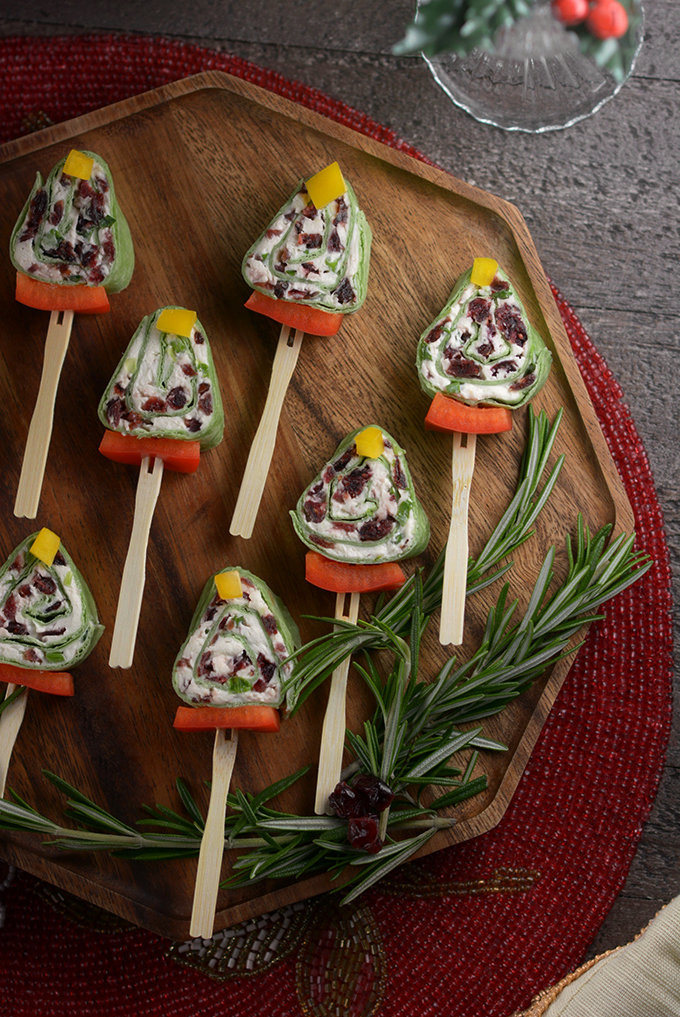 Her sandwiches, all those years ago, are my inspiration for these Cranberry Christmas Tree Roll Up Pinwheel Sandwiches. I don't know what her exact recipe was, but mine is pretty darn close, except that they're in festive shapes. Also, I'm more than old enough now to enjoy them with a glass of wine!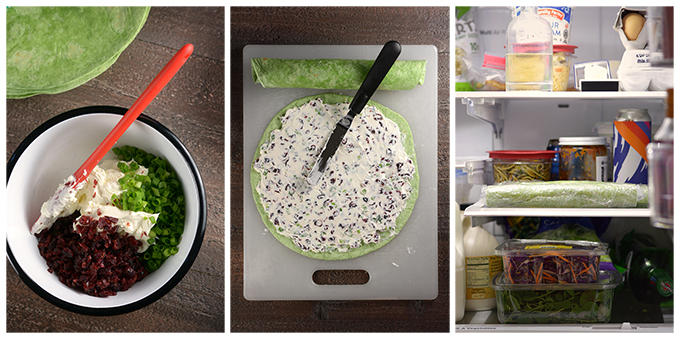 This is an easy recipe to make and uses only a few ingredients. If you peruse the web looking for cranberry pinwheel sandwiches, you'll notice that some look beautiful and others are a complete mess. There's a couple of keys to making these cranberry pinwheel sandwiches delicious and pretty. The first is to bring the cream cheese to room temperature and then to whip the cream cheese with a beater until it is light and fluffy. The other key is to chill the rolls for one hour before cutting them. This will cause the cream cheese to set again, and will help you to get a good, clean looking slice for that pretty pinwheel pattern.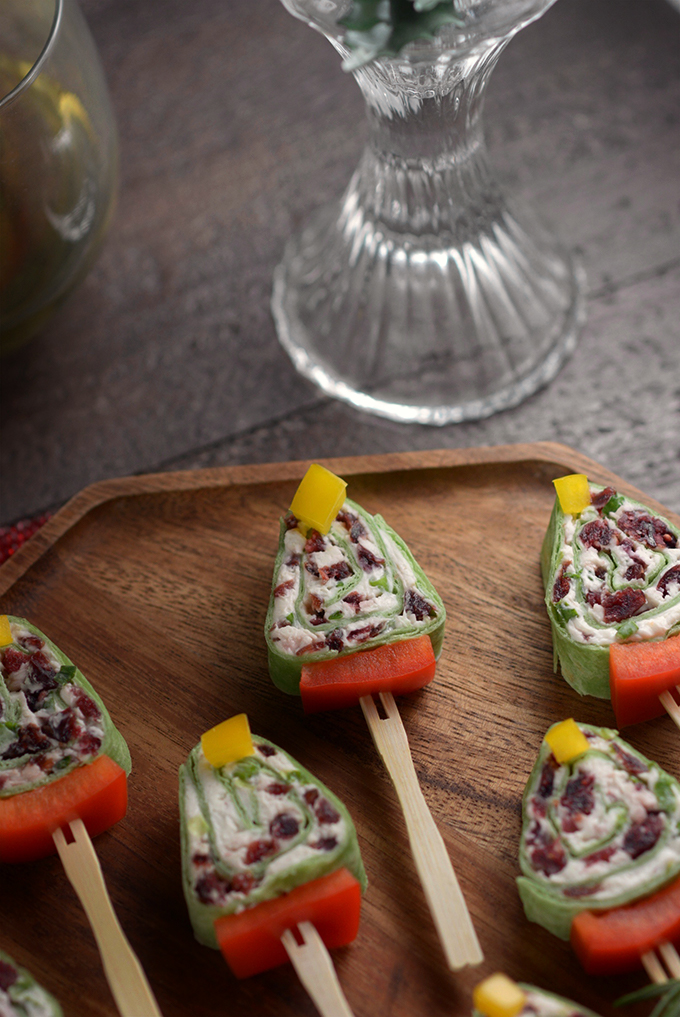 These sandwiches are sweet, tangy, and creamy, all wrapped up into one bite-sized treat. Cranberry is one of my favorite holiday flavors, and this is a perfectly fun and delicious way to enjoy them. The best thing is that this recipe is easy enough even for a couple of amateurs pretending to know their way around a kitchen!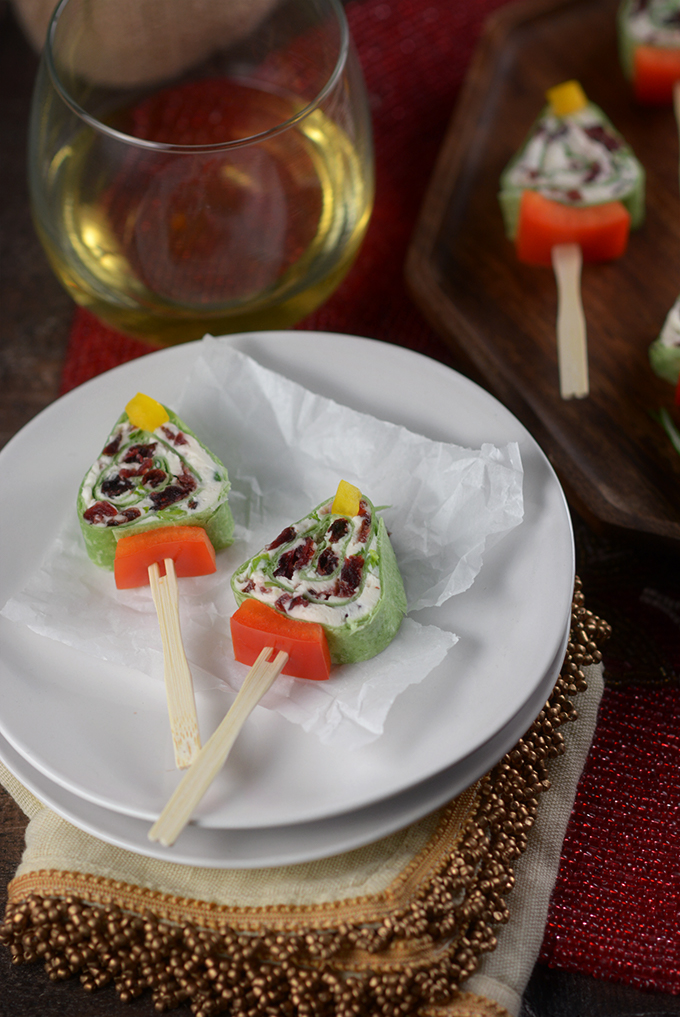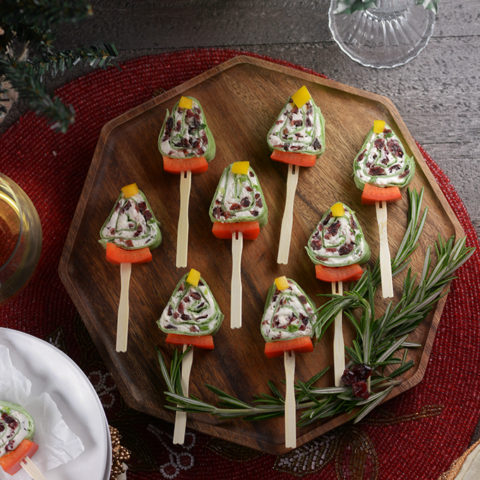 Cranberry Christmas Tree Roll Up Pinwheel Sandwiches
Total Time:
2 hours
20 minutes
This fun Christmas appetizer is creamy, tangy, and sweet, all wrapped up in a cute little bite-sized sandwich!
Ingredients
1 (8 oz) package cream cheese, room temperature
3/4 C sweetened dried cranberries, coarsely chopped (1 package 5 oz)
1/4 C green onion, finely chopped
3/4 C feta cheese
4 large green spinach tortillas
1 yellow pepper, small diced
1 red pepper, cut into small rectangles
toothpicks
Instructions
One hour before beginning, remove the cream cheese from the refrigerator so that it comes to room temperature and softens.
Begin whipping the room temperature cream cheese with an electric mixer for about 3 minutes, until it becomes light and fluffy, and then set aside.
Coarsely chop the cranberries and finely chop the green onions.
Fold the cranberries, green onions, and feta cheese into the bowl of whipped cream cheese until it is evenly combined.
Spread the cream cheese mixture evenly over two green spinach tortillas. Next, roll up the tortillas and wrap them in plastic wrap. Place them in the refrigerator to chill for one hour.
While the roll is chilling, prep the sweet peppers by cutting the yellow pepper into small pieces that will serve as the Christmas tree stars. Also, cut red peppers into rectangular pieces for the base of the trees.
Once chilled, unwrap the rolls and slice them into 1/2 inch thick sandwiches. Use a sharp chef's knife and wipe it clean with a paper towel between each slice. Using your fingers, squeeze each sandwich into a triangular shape.
Assemble the sandwiches by skewering a red pepper on a toothpick. Next, add the Christmas tree sandwich. Finally, top the tree with a yellow pepper star. Serve chilled. These sandwiches can be made up to one day in advance.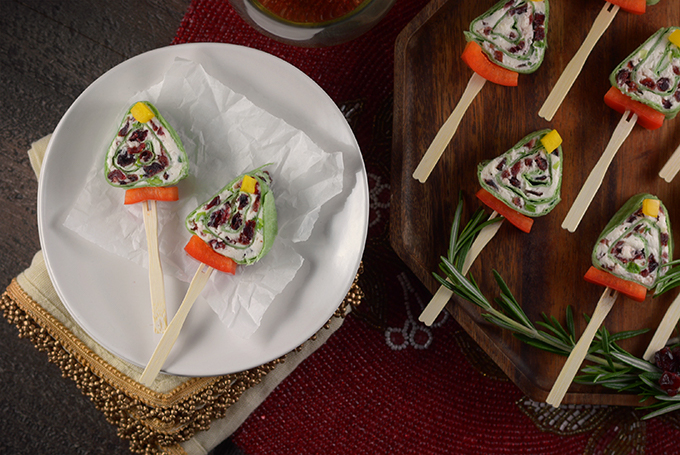 You May also enjoy…