Baked Crab Rangoon – Celebrate the new year with good taste and good fortune with this traditional Chinese appetizer that gets a healthy upgrade!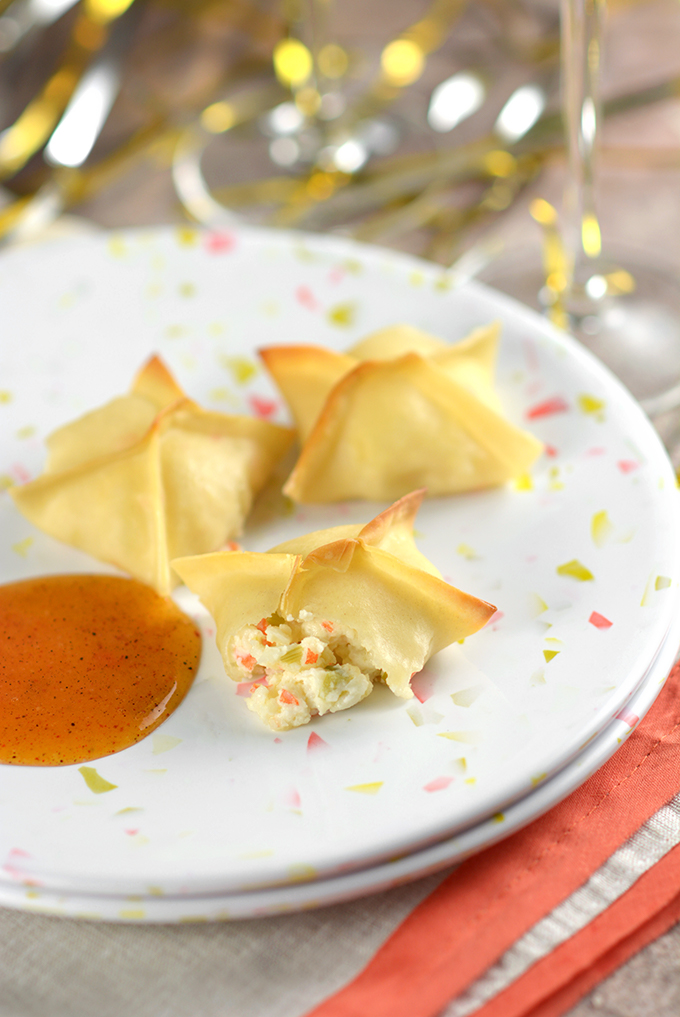 It's that time of year – time for New Year's resolutions! According to Forbes 25% of people keep their New Year's Resolutions after 30 days, and only 8% of people actually accomplish them.
That's not super hopeful…
The thing is, this year I have a big resolution (or should I say a goal) that I just simply must keep. It's been my dream for over 10 years and I finally think I'm ready to take the leap!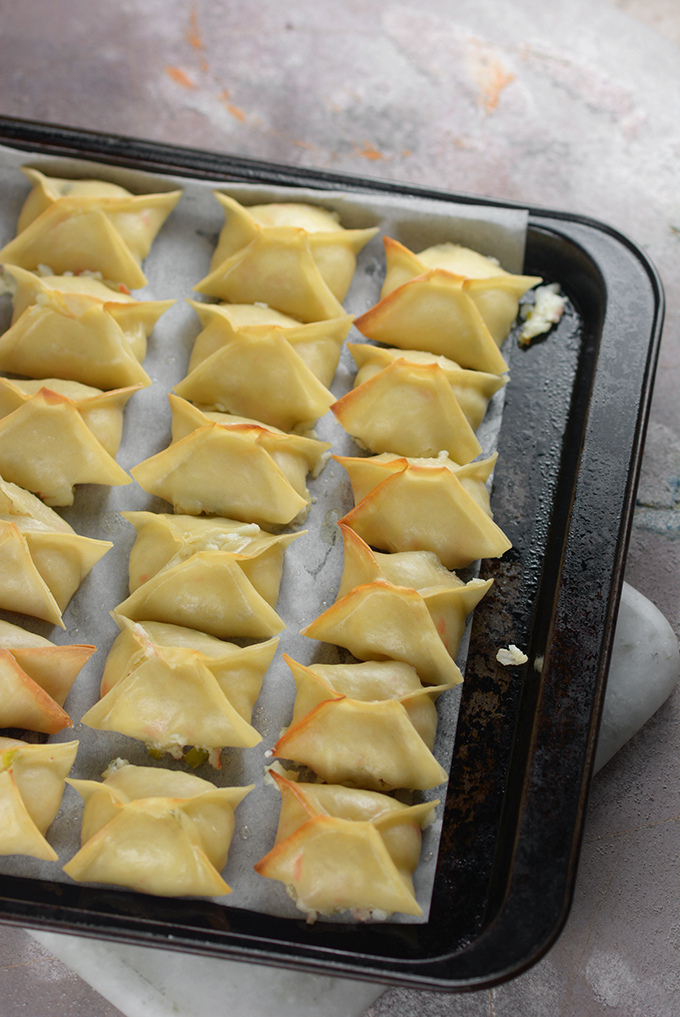 I'm applying for, getting into, and starting Nurse Practitioner school. I told you it was a big one! I'm going to need a lot of determination (and perhaps a little luck) to beat the above statistics!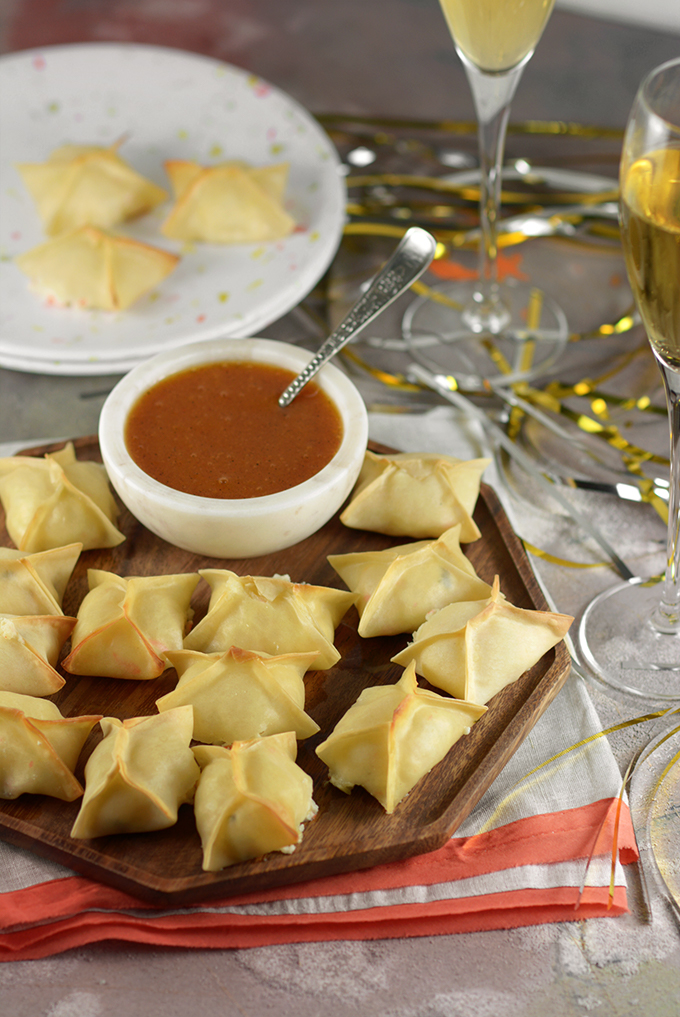 Fortunately, I think concrete goals are more achievable than a broad resolution. That said, I'm confident that I have the determination to make this happen. Now, as far as the luck goes, I'm starting my year with some lucky Baked Crab Rangoon.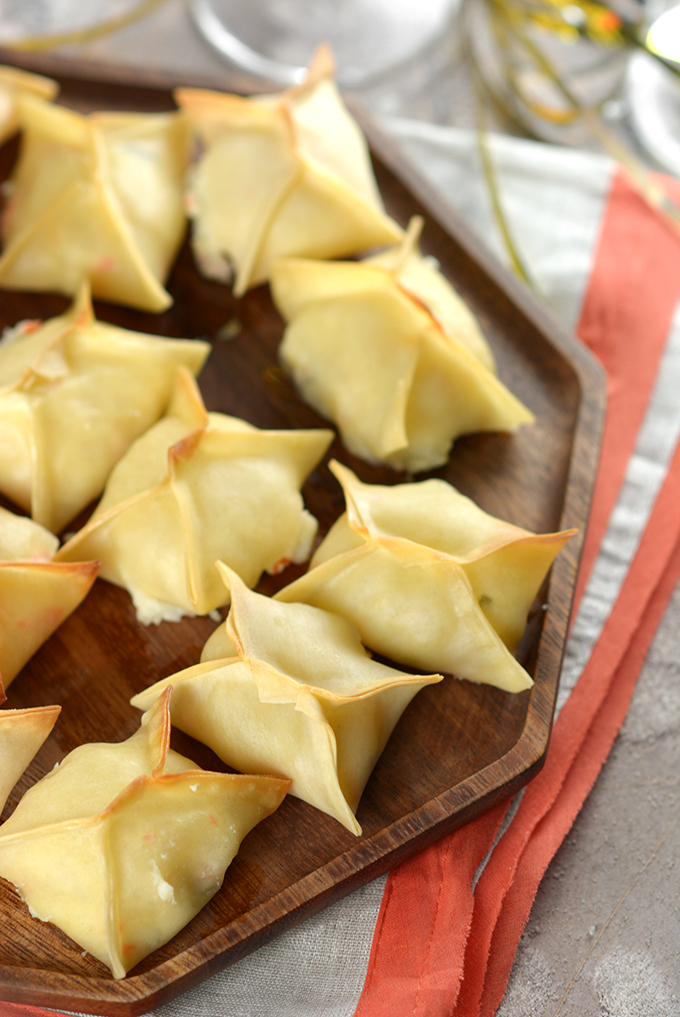 I have long known that Chinese dumplings and spring rolls are supposed to be lucky if eaten to ring in the new year. Something about treasure, wealth, and gold. It makes sense, seeing as they're all shaped like little money bags.
Sounds good to me. I'm going to need some of those money bags to pay for grad school!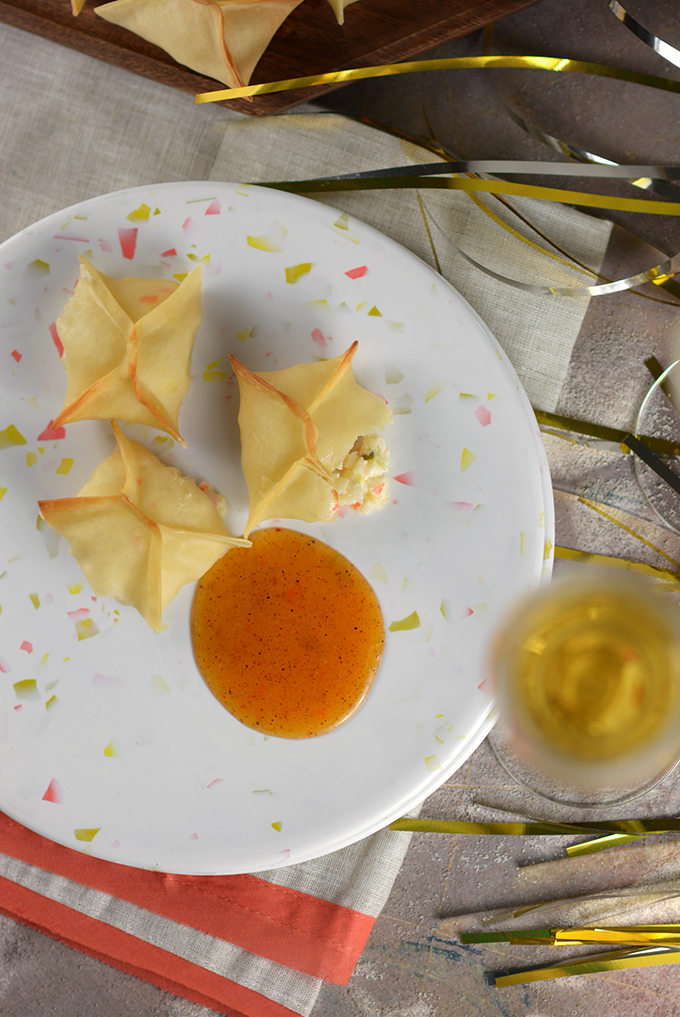 Crab Rangoon is also shaped like money bags so I've decided to make them my lucky food in the new year. Okay, yes, I'm making my own lucky rules here. But after all, in the end, I think we all create our own luck.
So, best of luck to you also in the New Year. Join me in achieving one of your goals in 2020!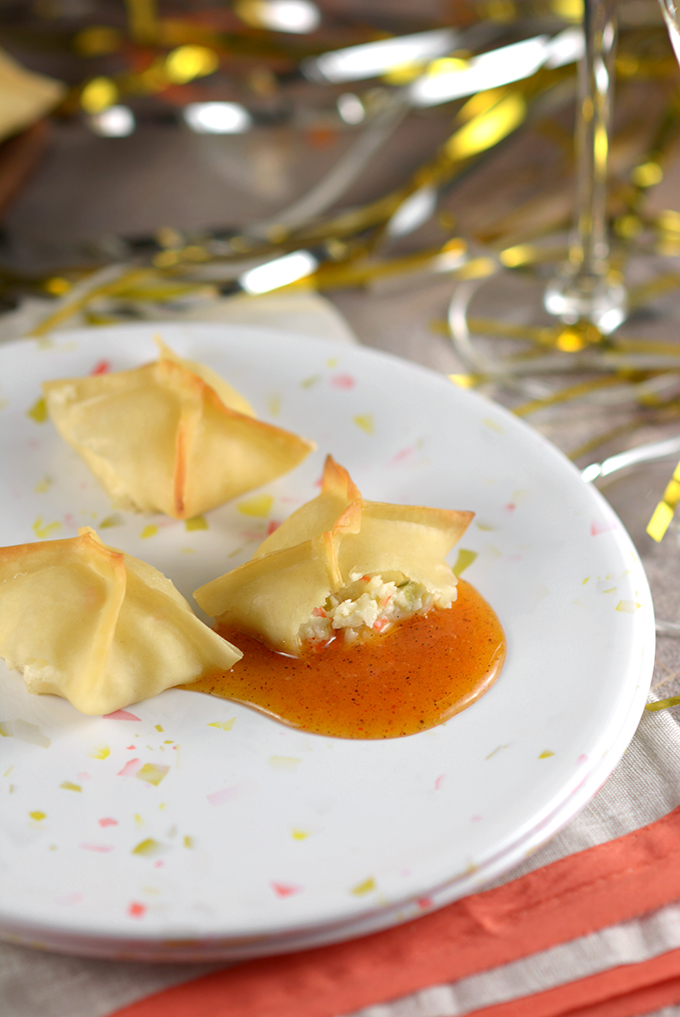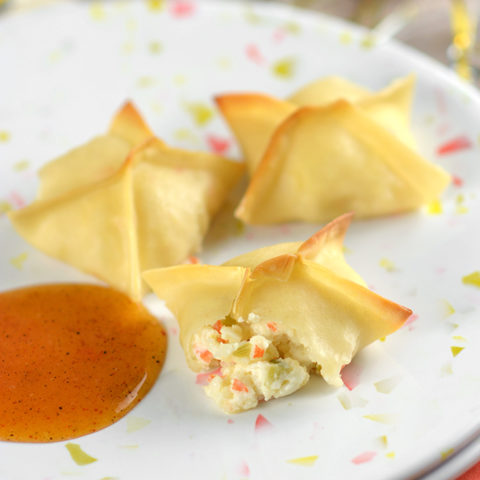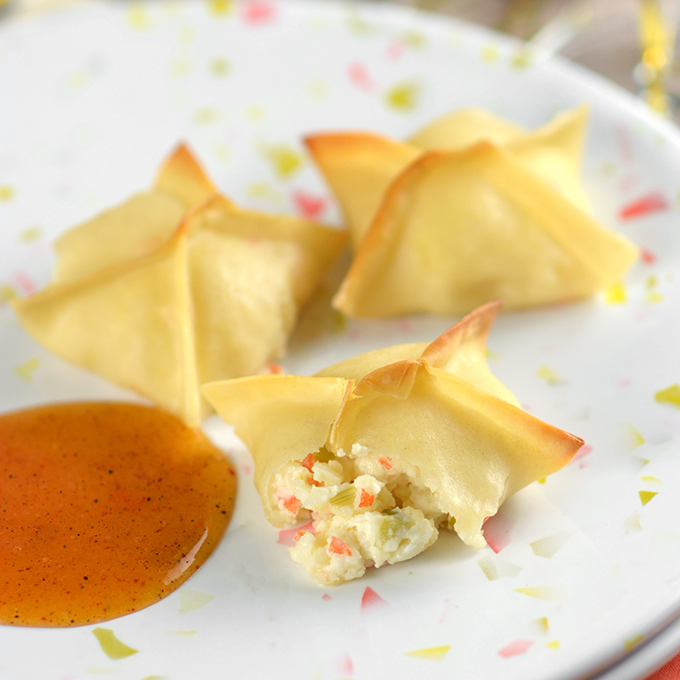 Baked Crab Rangoon
Celebrate the new year with good taste and good fortune with this traditional Chinese appetizer that gets a healthy upgrade!
Ingredients
Crab Rangoon
12 oz Philadelphia cream cheese
1/3 C mayo
2 Tbsp powdered sugar
8 oz imitation crab meat*
36 wanton wraps
1 can canola non-stick spray**
2 green onions, finely chopped
1 egg, beaten
Homemade Duck Sauce
3/4 C all-natural apricot jam
4 Tbsp rice vinegar
1/2 tsp low sodium soy sauce
2 medium cloves garlic, minced
1 tsp fresh ginger, minced
1/2 tsp chili powder
1/16 tsp cayenne pepper (or to taste)
Instructions
Crab Rangoon
Preheat oven to 350ºF. Also allow the cream cheese to come to room temperature for 30 minutes (I recommend making the duck sauce during this time).
Using a hand mixer in a medium mixing bowl combine the cream cheese, mayo, and powdered sugar until light and creamy.
Chop the green onions and break apart the imitation crab meat. Add them to the whipped mixture. With the hand mixer on low, whip them into the mix until the imitation crab is broken apart and evenly combined.
Assemble the crab rangoon by measuring a heaping 1/2 Tbsp of the creamy crab mixture onto the middle of each wonton wrapper. Next, paint the edges of the wonton with the beaten egg. Fold the wonton by bringing the diagonal corners together and then pinch to seal the wonton into a purse shape (see picture within blog post).
Arrange the wontons on a parchment-lined baking sheet. Spray with canola cooking spray until completely coated, but not saturated.
Bake in a 350ºF oven for 16-18 minutes, or until the edges begin to turn golden-brown. Serve hot or at room temperature with duck sauce.


Duck Sauce
Combine all of the ingredients in a small mixing bowl with a whisk until evenly combined. If there are chunks of fruit in your apricot jam use an immersion blender to combine until smooth.
It's best if allowed to rest in the refrigerator for a few hours before serving, so that the flavors can meld. Bring to room temperature 30 minutes to an hour before serving.
Store in an airtight glass container at the back for your refrigerator for up to 1 month.

Notes
*You can use fresh crab meat in this recipe, but if I'm honest, I prefer the imitation crab. It's keeping to the traditional Chinese carryout Polynesian-American style recipe after all! Why get unnecessarily fancy and expensive?
**I recommend using a product with no additives or propellants because some products contain carcinogens.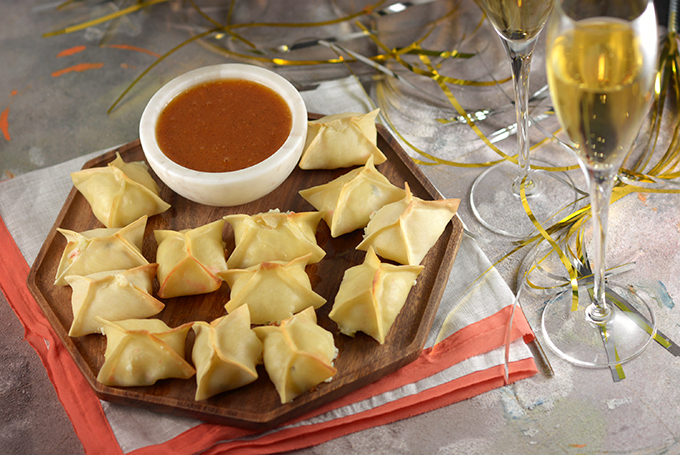 You may also enjoy…