Skillet Honey Cornbread – Raw, local honey made using sustainable methods is the secret to this quick, easy, and oh-so-good cornbread recipe.
Having a tasty, easy-to-whip-up cornbread recipe is a must in a home cook's arsenal. After all, what's a bowlful of chili without some cornbread to sop it up with? I'm excited because I'm going to be sharing my go-to crockpot chili recipe on Simple as That, where I contribute blog posts from time to time. Stay tuned, because the post won't be going live for another couple of days, but I promise to let you know when the chili recipe is available. After all, you're probably going to want to dip this moreish cornbread dripping with golden honey in some chili!
This is my "go-to" cornbread recipe because it's semi-homemade out of a cornbread mix and whips up so quickly. My choice mix is Arrowhead Mills Cornbread and Muffin Mix. I like it because it's made with organic ingredients and contains no GMOs or preservatives, but this recipe also works with conventional brands like Jiffy. Basically, this recipe doctors up the mix with delicious creamed corn and that golden honey, making it moist and full of flavor.
Let's be honest here – this recipe is all about the honey. One of the fun things about honey is that it varies in flavor based on where or what the bees are pollinating. In a recipe like this one, the flavor of the honey shines through, so be sure to use some from your favorite bees. I get my honey from my CSA and it's mild and sweet. It's different than clover honey, and it's different than wildflower honey… I guess it's made by some busy farm bees who make delicious farm honey with hints of all of the vegetables, strawberries, and wildflowers they pollinated last season. I would argue with considerable confidence that it's seriously the BEST honey EVER!
A growing concern of the last few years is the declining bee population. Bees are so important us. We have maintained a co-dependent and arguably synergistic relationship with them in that not only do we enjoy their honey, but they also pollinate our produce. Conversely, well-cared-for bee populations thrive. These buzzy little guys and our relationship with them is one that is certainly worth protecting!
For the average consumer, when looking to buy local honey, look for a honey made by bees with beekeepers who use sustainable beekeeping practices. Things to ask about the beekeeper include: Are they cultivating bees that are native to your geographic area (thus adapted to thrive in the local environment)? Is biodiversity considered when bees are bred (brothers and sisters and cousins repopulating is never healthy). Finally, is the bees' need for ample honey through the winter months considered more important than the beekeeper's desire to harvest it? If the beekeeper answers these questions in the positive, you've got a pretty good sense that they are using sustainable practices.
There are also some considerable benefits of buying local honey. Most local honey is raw, so it offers probiotic benefits that don't come with the store-bought version. Not to mention, if you get honey from an organic or naturally grown farm, the bees pollinated pesticide-free fields (aka pesticide-free honey). All this to say, I hope you find a favorite golden and sticky local honey you can rave about and drown your cornbread in, too!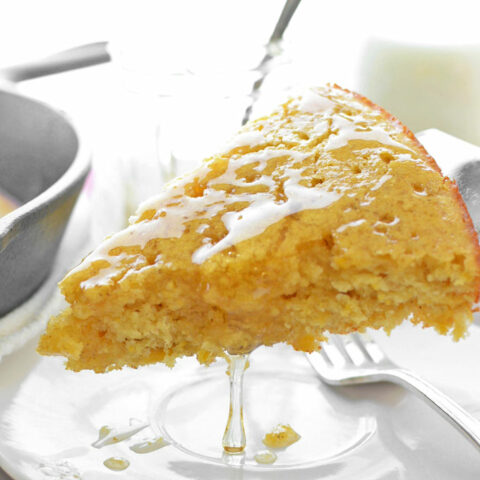 Skillet Honey Cornbread
Yield: 6

Prep Time: 5 minutes

Cook Time: 25 minutes

Total Time: 30 minutes

Raw, local honey made using sustainable methods is the secret to this quick, easy, and oh-so-good cornbread recipe.
Ingredients
2 C cornbread mix
1 egg beaten
1 1/4 C creamed corn
2/3 C milk
2 Tbsp honey plus more for drizzling
1 Tbsp olive oil
Instructions
Preheat oven to 400ºF and lightly oil your cast iron skillet with olive oil. If your skillet is well-seasoned this isn't necessary.
Using a whisk, mix together all of the ingredients until just evenly combined, taking care not to over-mix, and then pour the batter into your cast iron skillet.
Bake in a 400ºF oven for 22-25 minutes. The cornbread is done once it begins to pull away from the sides of the skillet and the edges are golden brown.
Remove from the oven and, using a toothpick, immediately poke scattered holes across the cornbread (this is for honey to drip into).
Once the cornbread is well-poked, immediately drizzle with honey to your tastes. It can just be a couple of Tbsp, or you can go crazy with the stuff. It's up to you! At this point the corn bread is ready to serve. It's best served warm.
If you enjoyed this recipe, you may also enjoy…