Well, it happened to me today… I got skunked.
My son is five years old, and a few weeks ago, I took him on our very first father-son fishing trip. We went to a local park where a small dam creates a nice deep pool of cool, aerated water that the fish love. It was a glorious day. Less than 30 minutes after we arrived, we caught a small bass and my son was instantly hooked (pun intended).
Pulling an actual wriggling fish out of the dark water got him so excited about catching fish that he enthusiastically worked the bank all morning and into the early afternoon. By that time, we had caught 9 small rock bass, which we threw back, and two "keepers" – a 12″ rainbow trout and a 14″ largemouth bass.
We came home hot and sweaty, but elated at what a great day it had been. My son told his fishing yarn to virtually everyone he met for the next two weeks. He was living in the full glory of boyhood and it was magnificent.
Today, however, was a different story…
Father-son fishing trip #2 started out with high hopes which slowly turned sour as the morning wore on with not so much as a single bite. The blazing sun mocked us as we threw cast after cast with no result. Apparently, it was time for my son to pay penance for that glorious first day.
We came home hot, sweaty, and defeated. After getting cleaned up, I took my son upstairs for his quiet time, and he quickly settled in to a long afternoon nap.
Times like this, after a hot, tiring day (and free of five-year-old madness for a while), call for a nice refreshing drink…
Art in the Age recently reached out to Rachel and I with a sample bottle of a new spirit they released this year – Black Trumpet Blueberry Cordial. This tasty little work of art blends the subtle smokiness of black trumpet mushrooms with the big summer flavor of fresh, sweet blueberries.
This stuff is seriously good (as evidenced by how little is left in the photos below)! Sounds like the perfect base for a refreshing summer cocktail…
Some mint, lemon juice, gin, and a topping of soda water to make it last for a while, and you've got yourself a nice moment of repose on the patio. Cheers!
Buy this Black Trumpet Blueberry Cordial HERE and Art in the Age will ship to anywhere in the US allowed by law.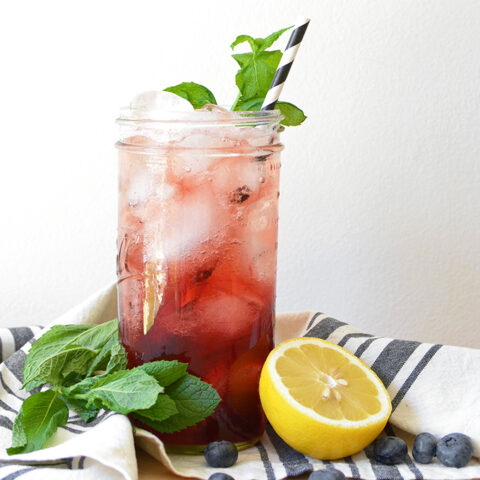 Blueberry Mint Fizz Cocktail
Yield: 1

Prep Time: 5 minutes

Total Time: 5 minutes

Looking for a moment of summertime tranquility? Shake up this complex cocktail that captures the bold flavor of summer blueberries.
Ingredients
2 oz Art in the Age Black Trumpet Blueberry Cordial
1 oz gin (I recommend Plymouth)
1/2 oz creme de menthe
1/4 oz lemon juice
Soda water
Mint sprig for garnishing
Instructions
Combine all ingredients except for the soda water in a cocktail shaker filled with ice
Shake until the outside of the shaker is frosted
Strain into a Collins glass and top with soda water
Garnish with a sprig of mint
If you enjoyed this summer cocktail, you may also enjoy…