One Skillet Country Fried Tilapia with Creamy Lemon Sauce and Garlic Asparagus – Not your typical "country fried" recipe, this crunchy, garlicky, one-pot meal comes together quickly and easily!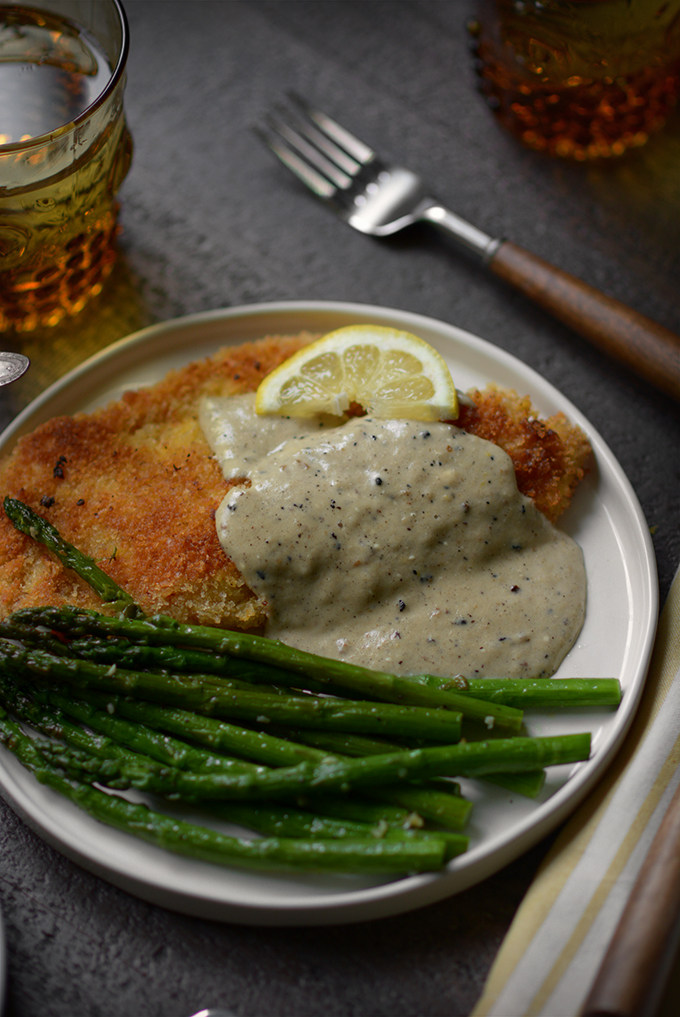 I think I'm on a tilapia kick because in addition to today's recipe, in April I blogged a recipe for Sheet Pan Pistachio Crusted Tilapia. It's a such a versatile fish with a mild flavor which is great for picky eaters. Tilapia is also great for the budget-conscious cook as well. Basically, tilapia in it's various forms has become a mainstay in my kitchen.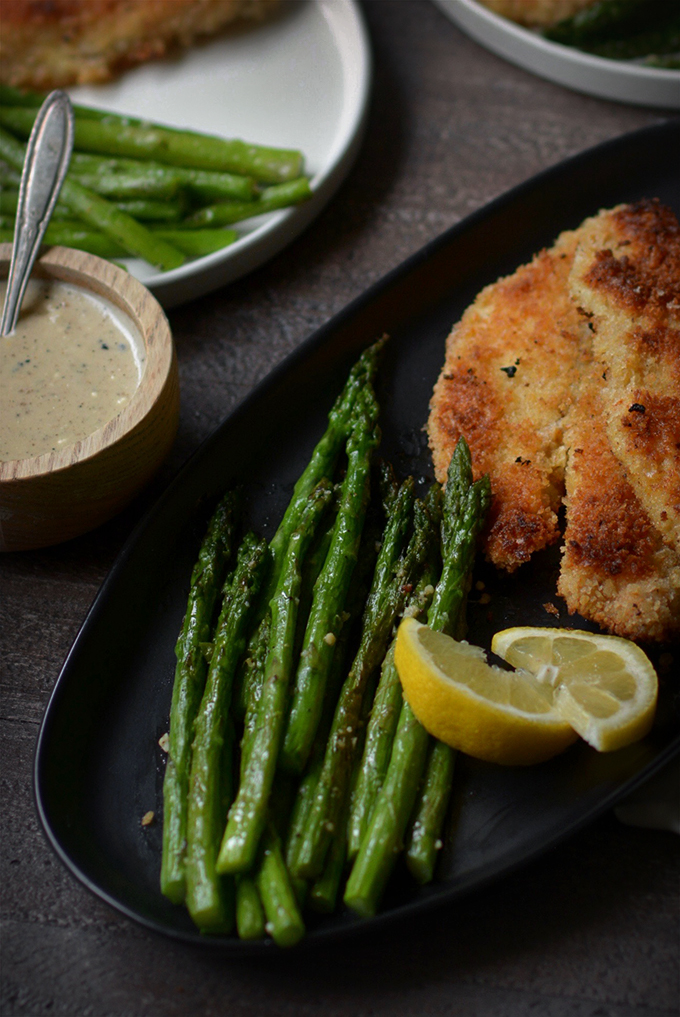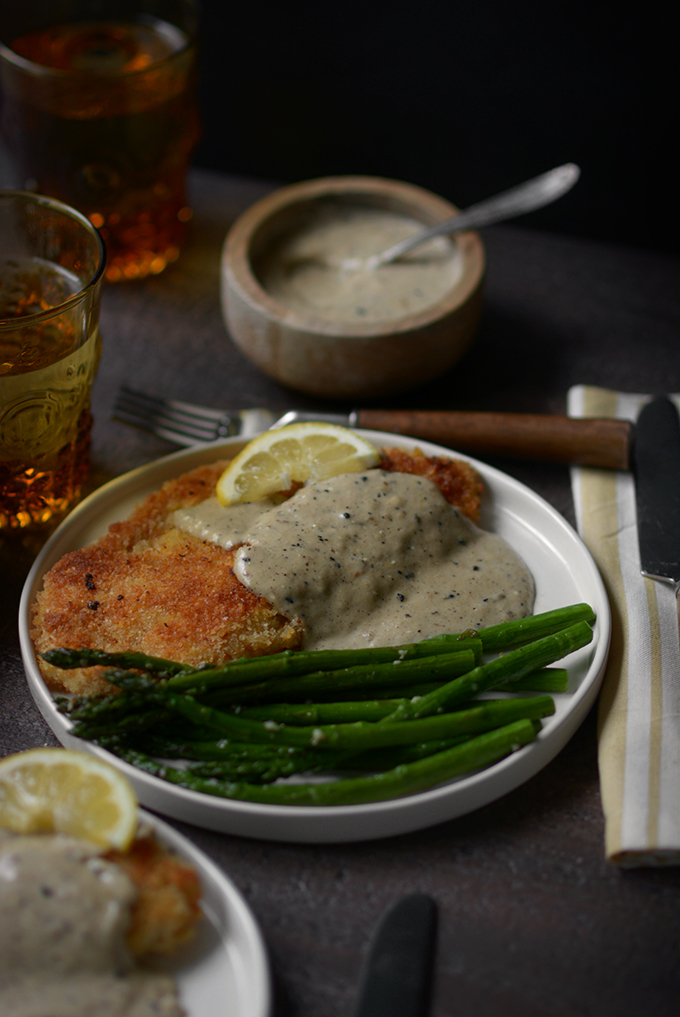 My favorite part of my last tilapia recipe was the crunch of the pistachio coating. I decided to continue with the crunchy theme by making country fried tilapia. If you're more familiar with country fried steak, I just want to say that a lot of things are good "country fried." To compliment the fish I took the traditional creamy gravy and turned it into a creamy, lemony sauce. Served with tasty, garlicky, local asparagus, this meal is the tops!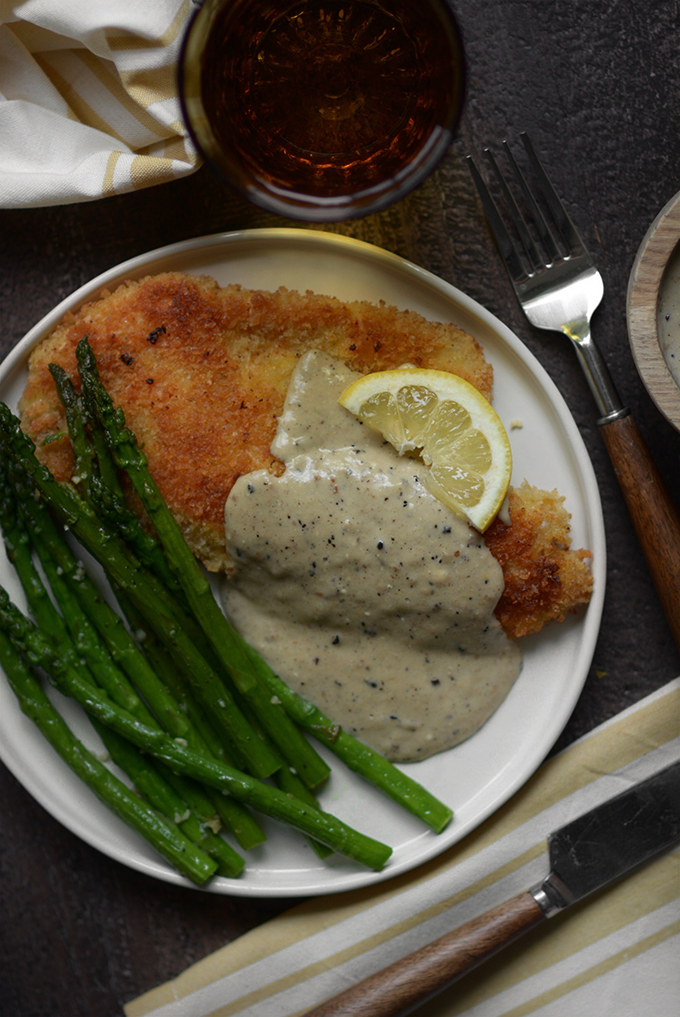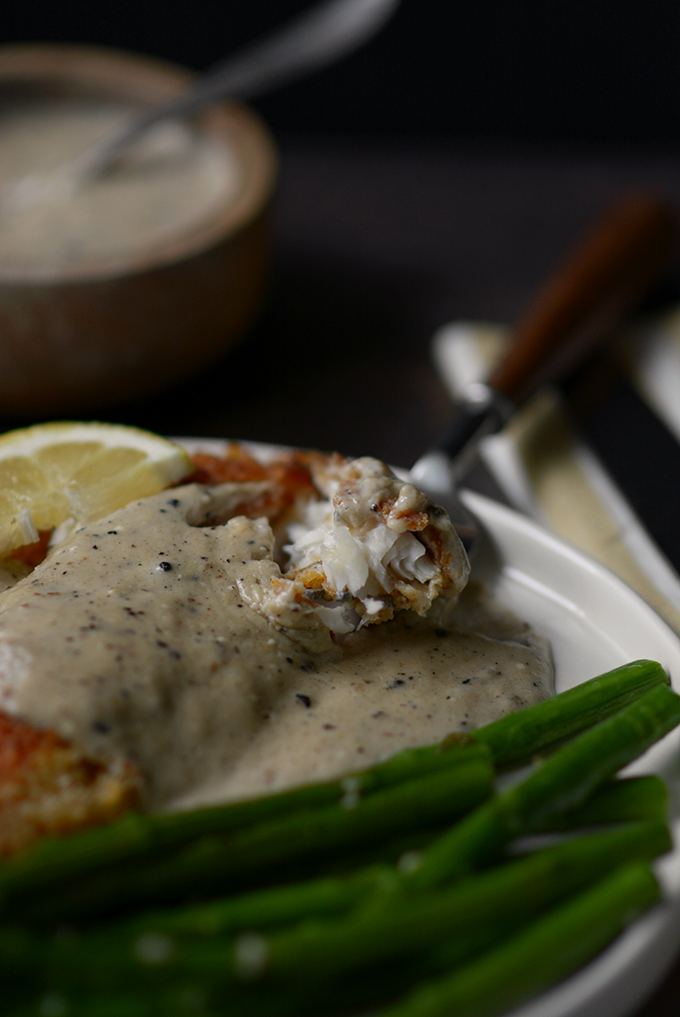 When I see a recipe that involves breading and a sauce, I immediately think that although tasty, it will probably make a mess of my kitchen. The truth is, I made this recipe in just one large skillet and it only takes 30-40 minutes to bring together! You can make this recipe in your kitchen in a jiffy, too. To make it even easier I've included some step-by-step photos. Happy cooking! 🙂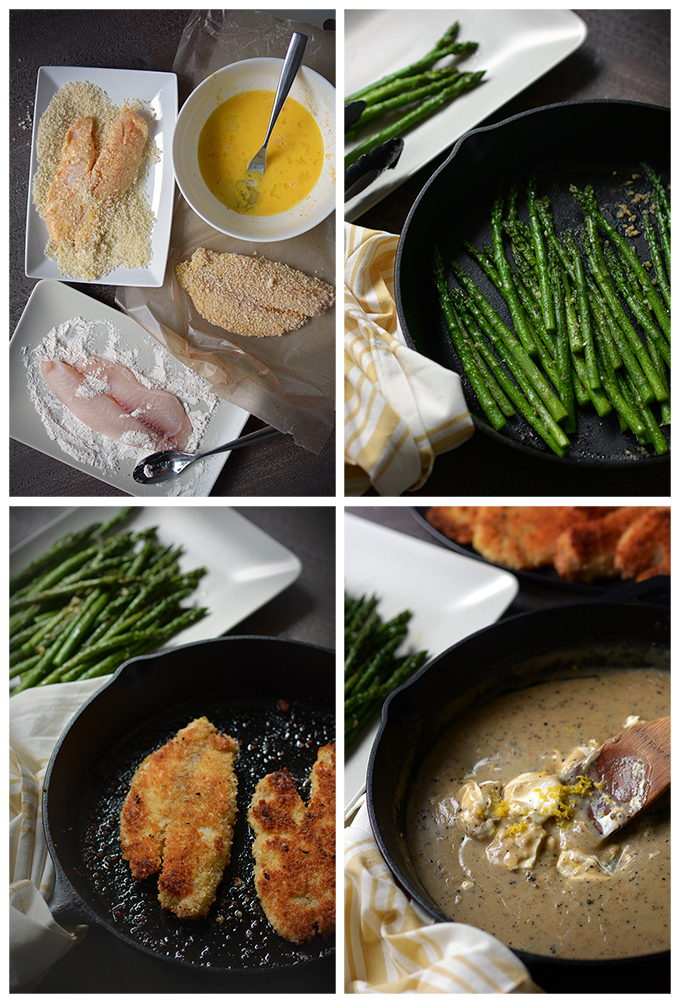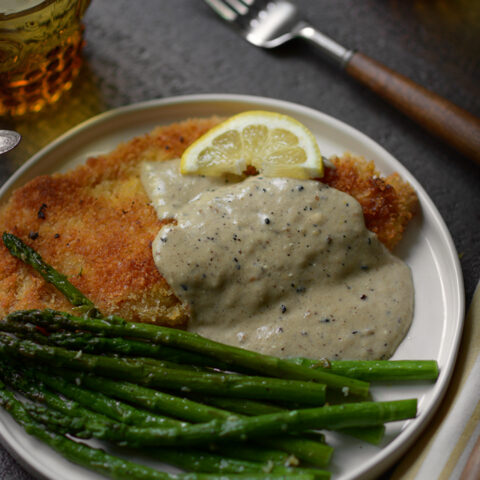 One Skillet Country Fried Tilapia with Creamy Lemon Sauce and Garlic Asparagus
Yield: 4 servings

Prep Time: 20 minutes

Cook Time: 20 minutes

Total Time: 40 minutes

Not your typical "country fried" recipe, this crunchy, garlicky, one-pot meal comes together quickly and easily!
Ingredients
Garlic Asparagus
1 lb asparagus
1 Tbsp olive oil
3 cloves minced garlic
1/2 tsp salt
pepper to taste
2 Tbsp water (more as needed)
Country Fried Tilapia
4 tilapia filets (12-16 ounces)
1/3 C flour
1/2 tsp paprika
1/2 tsp salt
1/8 tsp black pepper
2 eggs beaten
1 1/4 C panko bread crumbs
4 Tbsp vegetable oil
Creamy Lemon Sauce
2 Tbsp butter
1 1/2 Tbsp flour
1 1/4 C chicken broth
1/2 lemon, juiced
1/2 C whole milk
2 Tbsp cream cheese
1/4 tsp lemon zest
1/8 tsp black pepper
Instructions
Wash and snap or cut the ends off of your asparagus. Heat 1 Tbsp of olive oil in a large skillet. Add the asparagus to the skillet and cook for 2 minutes. Flip and cook 2 minutes more. Add minced garlic, salt, pepper, and water to the skillet and cook for a final 2 minutes for a total of 6 minutes. Add additional water and cook longer if you have thicker asparagus spears. The asparagus is done when it's fork tender. Transfer the asparagus to a serving dish and cover with aluminum foil.
Prepare your ingredients to bread the fish. In a dish that's slightly bigger than a fish filet, evenly mix together the flour, paprika, salt, and pepper. In a second similar-sized dish, pour in the panko. In a third and final dish, whisk together 2 eggs. To lessen your dishes burden you can use large, sturdy paper plates for this step.
To bread the fish, coat each filet on all sides in the flour mixture. Dip the floured filets into the beaten eggs. Allow excess egg to drip off of the tilapia and then add it to the panko and coat it on all sides. Place on a cutting board or aluminum foil-lined pan until you are ready to cook.
In a large skillet, heat 4 Tbsp of vegetable oil over medium-high heat. Fry the tilapia for 3-4 minutes per side. The fish is done cooking once it's golden brown and reaches an internal temperature of 145ºF at the thickest part of the filet. Transfer the cooked fish to the serving plate with the asparagus and cover with foil.
For the sauce, leave the fonds (caramelized drippings) from the fish in the skillet. Over medium heat melt 2 Tbsp of butter. Add 1 1/2 Tbsp of flour to the pan and stir to fully incorporate into the butter and cook for one minute. Next, slowly pour the chicken broth into the skillet while constantly stirring to prevent clumping. Bring to a simmer. Cook for about a minute while frequently scraping the bottom of the pan to prevent burning until the liquid has thickened. Stir in the lemon juice, whole milk, cream cheese, lemon zest, and black pepper. Heat the sauce until it first shows signs of beginning to simmer. Do not overheat so as to not cause curdling of the milk. The sauce is done once it is heated through and thick and creamy.
Serve the tilapia and asparagus immediately with the lemon sauce poured over each.
Notes
If you're looking to add a carbohydrate to this dish, some recommendations are mashed potatoes, mashed cauliflower, couscous, or rice.

You may also enjoy…