Apple Cinnamon Dulce de Leche Cupcakes – Join Simple Seasonal as we celebrate our 3rd Blogiversary with these devilishly sweet cupcakes just bursting with caramel flavor!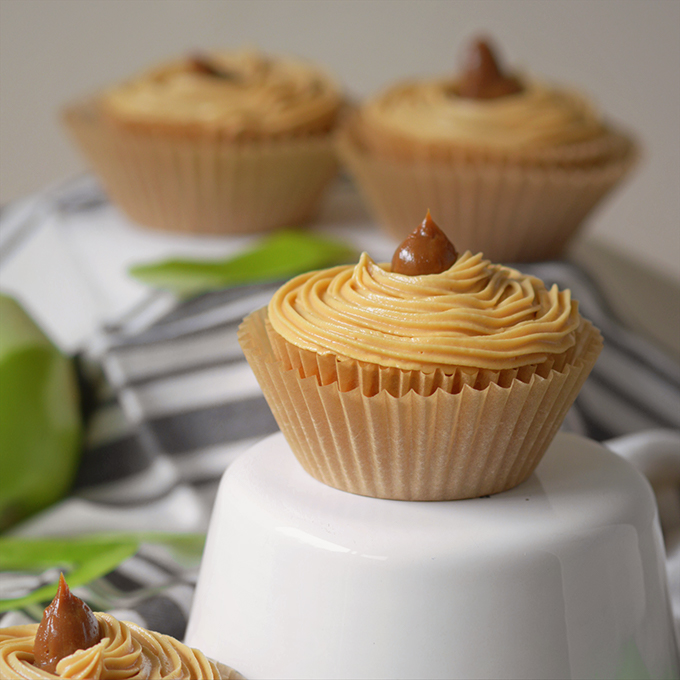 It's hard to believe this month marks Simple Seasonal's 3rd Blogiversary! Simple Seasonal turned 3 on October 15th to be exact, but I was too busy eating cupcakes to post about it sooner. 😋
Before I reminisce about my 3rd year of food blogging, I first need to tell you all about these scrumptious Apple Cinnamon Dulce de Leche Cupcakes. For today's post I knew I wanted to make celebratory cupcakes, but I wanted to keep it seasonal as is fitting with the name and theme of this blog. Last weekend Mr. Simple Seasonal and I took the little ones apple picking, so I've had an excess of apples. Therefore, I knew I had to go with apples for these cupcakes. Over the last week it has also occurred to me that caramel apples are pretty much an awesome part of fall (this comes from my experience of eating large quantities of caramel apples). Thus the idea for this recipe was born!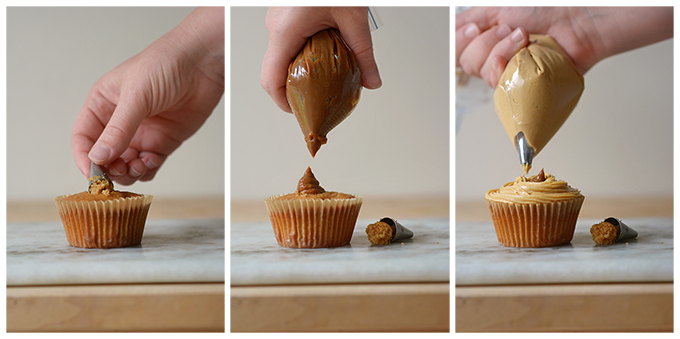 The cake part of this recipe consists of a moist, sweet, apple cinnamon cake. And yes, dulce de leche does make it's way into the batter… 😍 It's then filled with more dulce de leche. 😍 It's finally topped with even more dulce de leche by way of my Dulce De Leche Buttercream Frosting. 😍😛
If by this point you're wondering "What the heck is dulce de leche?" it's a Mexican caramel of sorts that's made from sweetened condensed milk. It's like an extra creamy and milky caramel (i.e., a sweet and sticky something delicious). Dulce de leche is available at many grocery stores. It can also be purchased on Amazon. All that being said, I recommend making your own using my incredibly simple recipe for Homemade Slow Cooker Dulce de Leche.
To finish this recipe I topped it with cinnamon sugar in place of sprinkles. The end result is a scrumptious caramel apple cupcake! Definitely worthy of a 3rd Blogiversary!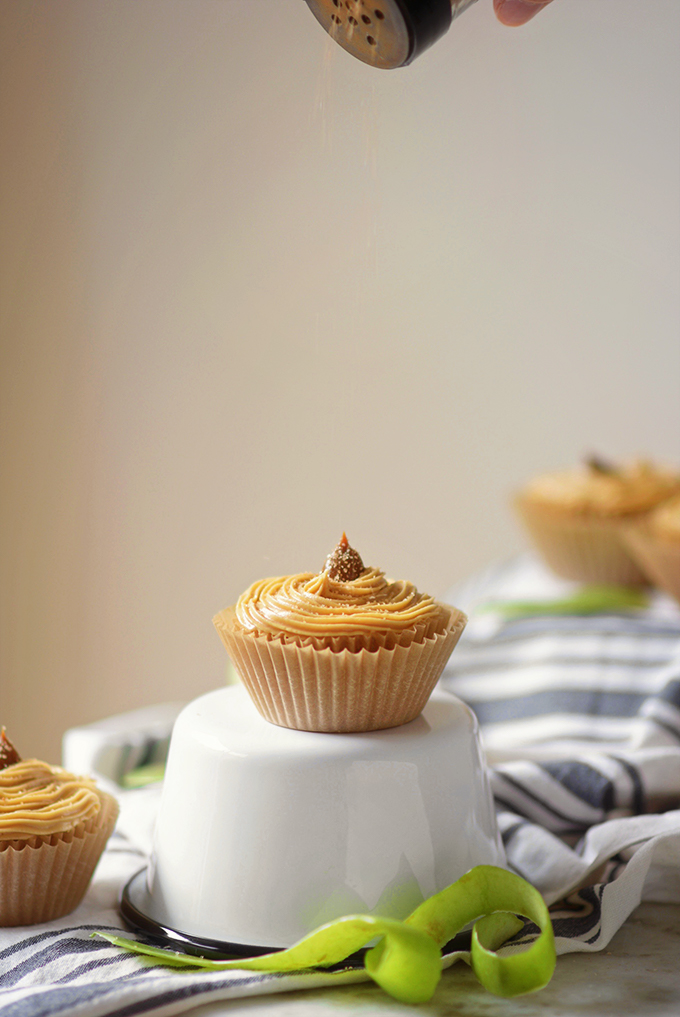 About that 3rd Blogiversary…
It's hard to believe that THREE whole years have passed since Mr. Simple Seasonal talked me into starting a food blog. He works for AWeber, a well known e-mail marketing company, and it seems like every night he came home with stories of how people could really make an income from blogging and how he thought I could too.
I'm a planner, and the sort of person that always follows through on my commitments to a fault. When I decide I'm going to do something I never give up until I succeed. Again, to a fault. So for me, I didn't just one day sit in front of my computer on a whim and start typing. I thought long and hard about whether I wanted to start a blog, specifically a food blog, for over a year. Because you see, writing a profitable blog is a lot of work. It's a synthesis of technical knowledge relating to building a website, knowledge in online marketing, and not to mention the skills of recipe development and and food photography. It's a job.
Deciding to start a food blog is like deciding to accept a job offer for a skilled, professional job. Yeah… I make my own hours, that I work around the needs of my family (which is totally awesome by the way), but I still need to aspire to be an expert in my field and I still need to do the work. And instead of answering to a boss, I answer to an audience. If I do a bad job, no one visits my food blog and guess what? I don't get paid!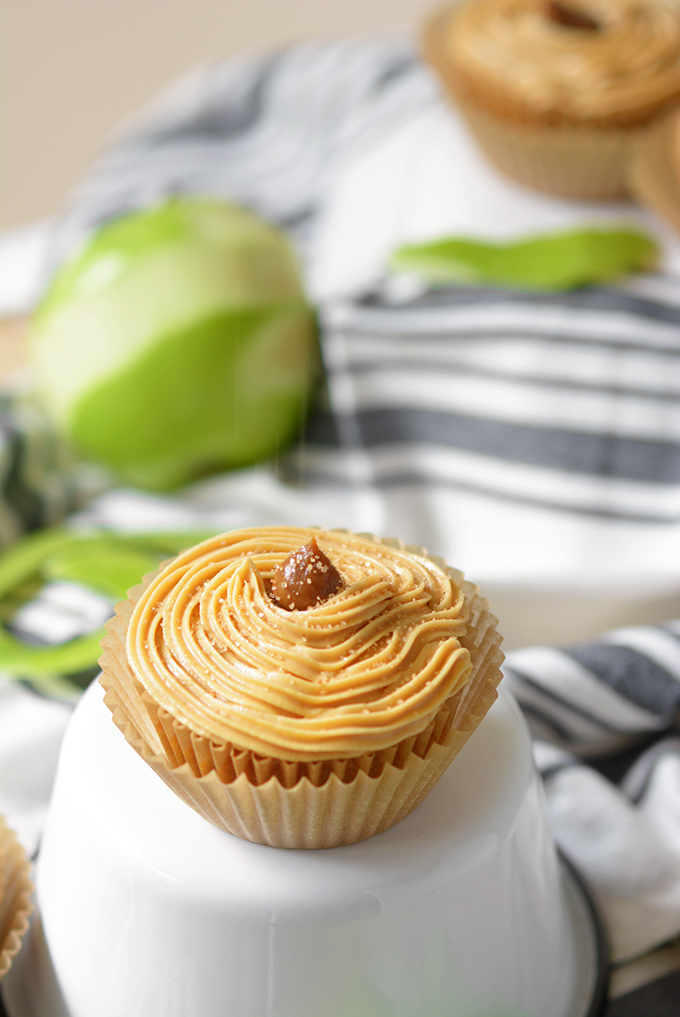 Fortunately, as I mentioned before, I never give up. Over the last three years the main lesson that Mr. Simple Seasonal and I keep coming back to is persistance=success in the food blogging world.
The always striving to…
Make better recipes.
Take better photos.
To be more engaging.
The late hours after the kids are in bed of…
Editing photos.
Writing posts.
Editing posts.
Cooking the same darn recipe 5 times before it's just right.
Replying to comments.
Engaging in what I consider to be the dreaded world of social media.
And lets not forget about all of that reading about things like advertising, search engine optimization, and Photoshop to just mention a few topics.
And then no one comes to your blog for a looong time! A really long time.
But then one day they do, after unconscionable hours of work. And that is awesome!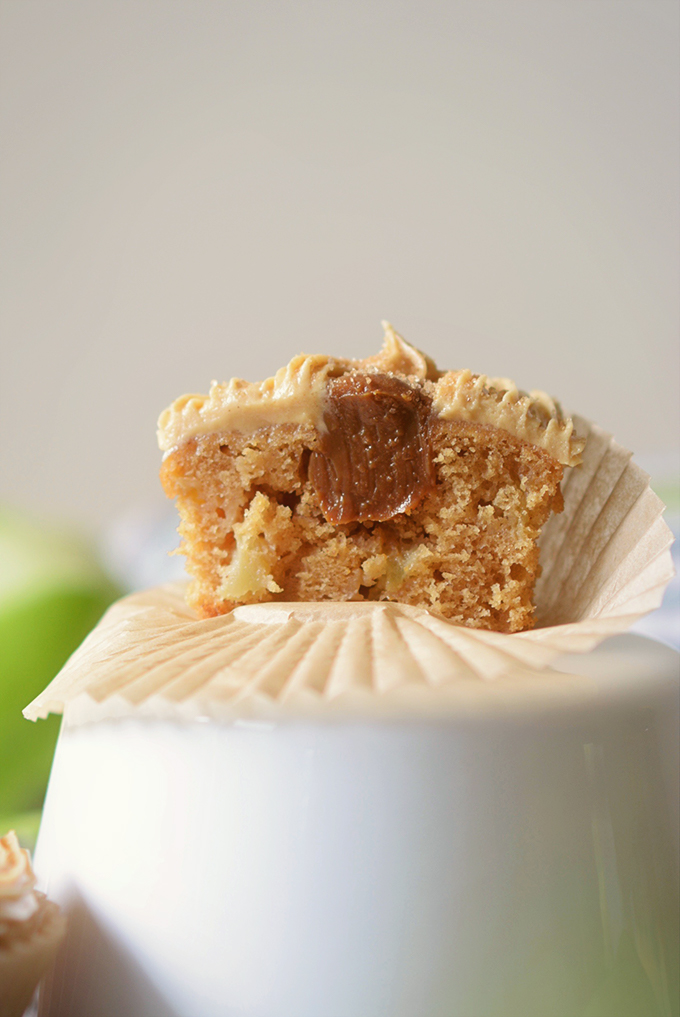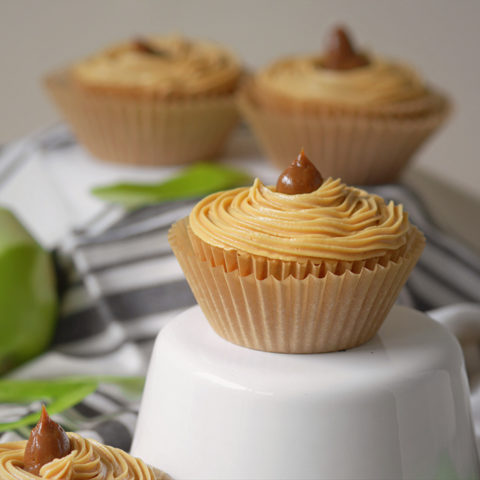 Apple Cinnamon Dulce de Leche Cupcakes
Yield: 24 cupcakes

Prep Time: 1 hour

Cook Time: 20 minutes

Total Time: 1 hour 20 minutes

Join Simple Seasonal as we celebrate our 3rd Blogiversary with these devilishly sweet cupcakes just bursting with caramel flavor!
Ingredients
Cupcakes
2/3 C softened butter (10 1/2 Tbsp)
1 1/2 C sugar
1/2 C dulce de leche
2 eggs beaten
1 1/2 tsp vanilla
2 3/4 C flour
2 1/2 tsp baking powder
2 tsp cinnamon
1 tsp salt
1 1/4 C milk
2 C Granny Smith apples, diced small
Cinnamon sugar for topping
Dulce de Leche Frosting
1/2 lb softened butter (2 sticks)
1 C dulce de leche
1 tsp vanilla
1/8 tsp salt
2 Tbsp heavy whipping cream
5-6 C sifted confectioners sugar
4 Tbsp sifted flour
Instructions
Apple Cinnamon Dulce de Leche Cupcakes
Cream together the butter, sugar, dulce de leche, eggs, and vanilla.
Mix together the flour, baking powder, cinnamon, and salt in a separate bowl.
Alternating back and forth, add both the milk and the flour mixture to the creamed butter and sugar.
Peel and dice the apples and then fold them into the batter.
Add cupcake liners to a muffin tin and fill three quarters of the way full with batter. I find that an ice cream scoop works well for this.
Bake in a 350º F oven for 20-25 minutes. The muffins are done when they are beginning to turn golden brown and an inserted toothpick comes out clean. Cool on a baker's rack.
Dulce de Leche Frosting
Using an electric mixer, cream together the butter and the dulce de leche until smooth and fluffy.
Add vanilla, salt, and whipping cream to the bowl and beat for another minute.
Add 5 cups of confectioners sugar and 4 Tbsp of flour to the bowl intermittently. Gently beat the sugar into the butter and dulce de leche mixture, so that the sugar doesn't fly out of the bowl.
After all of the confectioners sugar and flour are incorporated, beat the frosting for at least 10 minutes so that it becomes fluffy. If you would like your frosting thicker, add a 6th cup of confectioners sugar as needed.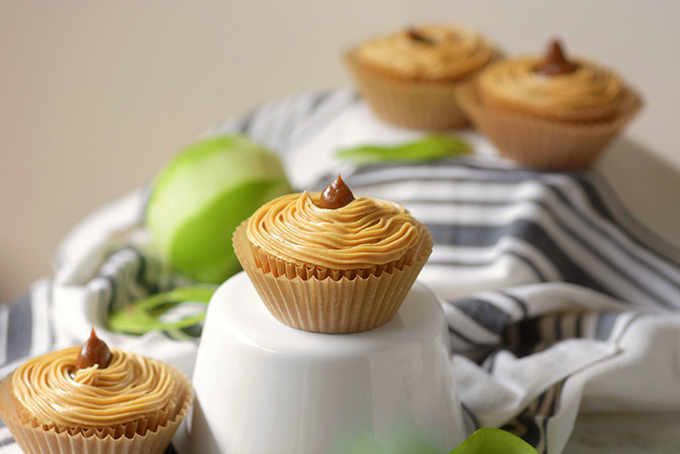 Some more sweet ideas I think you'll like…