Grilled Chicken Shawarma Pitas – Learn the secret to recreating this amazing, restaurant-quality Middle Eastern favorite – right in your own kitchen!
I remember the first time I ate a shawarma sandwich. During a summer break from college, I spent a week in Ottawa visiting the Canadian part of the family.
My Uncle Benny and I (we're the same age) took a road trip from Philly up to Canada's capital city to visit my appropriately-aged aunt and uncle. They lived just a couple of blocks away from ByWard Market, which is a lively market full of food vendors, artisans, and the like.
It was impressed on Benny and myself the importance of trying the shawarma sandwiches by the end of trip. And MY WORD, they didn't disappoint!
Living close to the busy metropolis of Philadelphia, it's never too hard to find ethnic and specialty food, so getting my "shawarma fix" was never problematic in the past. That is, until I started having kids…
If you're a parent or have ever been out with any little nieces or nephews, you can probably relate to the fact that eating out with kids can be a total bummer.
Thus the need to start making shawarmas "in."
I just have to say – this recipe is just as good as that first glorious shawarma that I tasted at ByWard Market. The secret is in the spice blend that the chicken is marinated in, along with my recipe for Lebanese Garlic Sauce.
The spices are flavorful – but not hot – so kids, like my son, may surprise you and gobble the meal right up. That's minus all of the squirming, whining, and impatient complaining that might have gone on at a restaurant!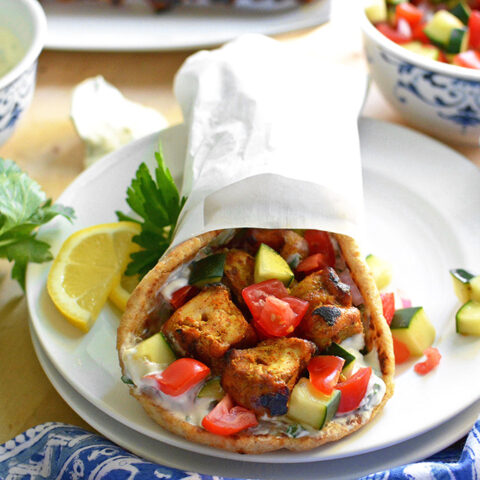 Grilled Chicken Shawarma Pitas
Yield: 4 servings

Prep Time: 1 hour

Cook Time: 10 minutes

Total Time: 1 hour 10 minutes

Learn the secret to recreating this amazing, restaurant-quality Middle Eastern favorite right in your own kitchen!
Ingredients
Chicken
1 1/2 lb boneless, skinless chicken thighs
1 1/2 Tbsp olive oil
1 Tbsp honey
1 clove minced garlic
1 tsp ground cumin
1 tsp paprika
1/2 tsp ground allspice
1/2 tsp turmeric
1/8 tsp ground cinnamon
1/4 tsp salt
1/8 tsp black pepper
Vegetables
1/8 C small diced red onion
1 C chopped cucumber
1 C chopped tomato
Other
4 pitas
1 batch of my Lebanese Garlic Sauce*
Instructions
In a mixing bowl combine the olive oil, honey, garlic, cumin, paprika, allspice, turmeric, cinnamon, salt, and pepper. Cut the boneless, skinless chicken thighs into bite-sized cubes and mix the chicken into the spice mixture. Allow the chicken an hour or two to marinate for best results.
While the chicken is marinating, use the time to chop the vegetables and make my recipe for Lebanese Garlic Sauce.
When the chicken has had enough time to marinate, thread the pieces onto wood or metal skewers and grill over direct medium heat, turning every few minutes until they reach an internal temperature of 175ºF, about 10-12 minutes. If using wooden skewers, soak them in water for at least an hour before use to keep them from burning on the grill.
To assemble the shawarma pitas, first spread a layer of Lebanese Garlic Sauce over the pitas, next add a layer of the chicken, and finally top with the chopped veggies. To make the pitas easier to eat, consider wrapping the bottom halves in parchment paper or aluminum foil. Serve immediately.
Notes
*You can find the recipe for my Lebanese Garlic Sauce at: https://simpleseasonal.com/recipes/lebanese-garlic-sauce



If you like this recipe, you may also like…