Okay…Okay… so I know I'm jumping the gun on apple season a bit, but I saw some early varieties of local apples available at a farm store last week that looked so crunchy and fresh. We also got some fabulous leeks from our CSA, and some forested ground pork from a local grass farm, which gave me the idea for these burgers. If I do say so, they're amazing (not bragging or anything)! A perfect way of tying up the grilling season with something that is sweet, savory, memorable, and would pair oh so well with a harvest-style ale. After all, September is just around the corner!
Now, more on the pork. This isn't a paid post, I just love gushing over the local farmers that are behind much of my cooking inspiration. I got my ground pork from Ledamete Grass Farm in Schnecksville, PA. Their little piggies are allowed to forage in field and forest and are given things like organic vegetables, buttermilk, and locally milled grains for their diet. Those are some happy pigs! Not to mention, they make for some exceptional cuts of meat. If you're able to get your ground pork from a local grass farm, like Ledamete, it's worth the extra effort in time for the taste, plus you'll be supporting local agriculture!
On the note of local cooking inspiration, I'd LOVE to hear about your favorite farmers and what they raise or produce in the comments section below!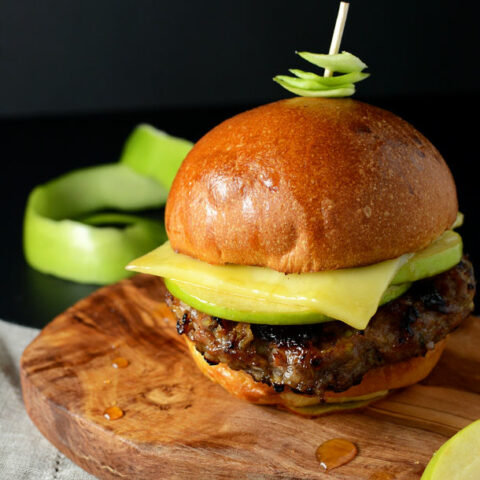 Maple Apple Glazed Pork and Leek Burgers
Yield: 4

Prep Time: 15 minutes

Cook Time: 12 minutes

Total Time: 27 minutes

Dripping with a maple apple glaze and nestled between a brioche bun, these pork and leek burgers are a decadent way to close out the grilling season.
Ingredients
Burgers
1 lb ground pork
1/2 C finely diced leeks
1/2 C peeled and shredded tart green apple
2 tsp worcestershire sauce
1 tsp finely diced fresh sage
1 tsp minced garlic
1/8 tsp salt
1/8 tsp pepper
1 tsp olive oil
1 tart green apple cut width-wise in rings with the seeds removed
4 slices of gruyere cheese
4 Brioche buns
Glaze
1/4 C unsweetened apple juice
1/4 C real maple syrup
1/8 tsp salt
pepper to taste
Instructions
Clean and preheat your grill.
Add ground pork, finely diced leeks, peeled and shredded tart green apple, worcestershire sauce, sage, garlic, salt, and pepper to a mixing bowl. Before dicing your leeks, be sure to clean them well so that you don't get grit in your burgers. To shred the apples I used a box grater.
Using your hands, gently combine the ingredients and then form them into 4 patties. Lightly oil them with 1 tsp olive oil (if your grill grates are getting old, you may need to use a little more).
If your pork hasn't come to room temperature yet, allow it time to do so before beginning to grill, so that they cook more evenly.
Grill the patties over direct medium heat (350ºF - 450ºF) until they're cooked through, about 12-15 minutes, turning once. Keep the lid closed as much as possible while grilling.
While the burgers are grilling bring your glaze ingredients to a simmer in a saucepan. Simmer until the contents are reduced by half and have become a syrupy glaze. Set aside until the burgers are done cooking.
Cut a sour green apple width-wise and remove the seeds to make an apple ring. Slice 4 pieces of gruyere cheese. Set aside.
Once you've removed the burgers from the grill, coat them with your maple apple glaze using a pastry brush. At this time you can toast your brioche buns if desired.
To assemble the burgers, top the patty with an apple ring and a slice of gruyere cheese, and drizzle on a little more maple apple glaze for good measure. Top off with the brioche bun and take a big bite!