Zucchini Whoopie Pies have become a yearly tradition in my home, born out of my husband's love for all things zucchini bread, and my love for all things whoopie pie. When we first got married I realized that my cooking was very different from the style he was raised with, so I asked him if there was anything from his childhood that he wanted me to try and master. His immediate response was "zucchini bread." He had little other requests, which made things easy for me!
Aside from a few select dishes, Pennsylvania Dutch cooking, admittedly, has never been my favorite. It involves a little too much carbohydrate, way too few vegetables, and not enough spice for my taste… But there are a few dishes that I will shamelessly and repeatedly rave over, one of which is whoopie pies. Truth be told, I never tried a whoopie pie until I was in my 20s, while visiting my then finance's parents in central Pennsylvania, where PA Dutch cooking abounds. As a kid, I remember seeing whoopie pies for sale at a fair, where I begged my parents for one, but was denied because I had already indulged in cotton candy. 10 odd years later my wish became true due to the excellent idea of my mother-in-law to serve the delicious little cakes you can hold when we came to visit! Ever since, I've been hooked on all things whoopie pie, which can come in all different sizes and flavors, of which Zucchini Whoopie Pies are a favorite.
Now onto some hints for making amazing zucchini whoopie pies…
One of the most important things is to make sure that your zucchini is well rung out. I do this using a cheese cloth and press it until the cloth is just about to break. You'll end up with dense, dry zucchini, which makes room for more buttermilk. Oh yeah!
When you mix the dry ingredients and the buttermilk into the batter, alternate between the two, by adding a little dry ingredients until smooth, and then adding a little buttermilk until smooth. Continue doing this until all of the ingredients are combined. This method will prevent clumpy batter (and no one likes clumpy batter).
Fold your zucchini into the batter at the end with a spoon, instead of using a mixer, so that it doesn't become puree. Gross!
I use a Tbsp to measure my batter onto the cookie sheet. This is all about portion control. I used to use an ice cream scoop, but that equaled a whopping 500+ calories! These whoopie pies are about the size of a cookie and are just over 200 calories, so you can have your cake and eat it too.
Be sure to use a cooling rack for your whoopie pie cakes and don't stack them one on the other. They're more cake than cookie, so they'll stick together if stacked. Also, be sure not to add the frosting until they're completely cooled!
I've played with the icing for this recipe a bit and settled on adding a little lemon to it. This makes it taste a lot like Cinnabon icing, if you're familiar with that out-of-this-world yumminess!
When I was photographing these I accidentally spilled my milk… but I hear you're not supposed to cry about that…
When eating whoopie pies, it's good to give them a little squish between your fingers, because they taste best with the icing oozing out! Well, at least I think they do…
A final note from Dan: To achieve the optimum texture and temperature for a perfect whoopie pie experience, place one in the freezer just before dinner. When you're ready for dessert, it will be just right!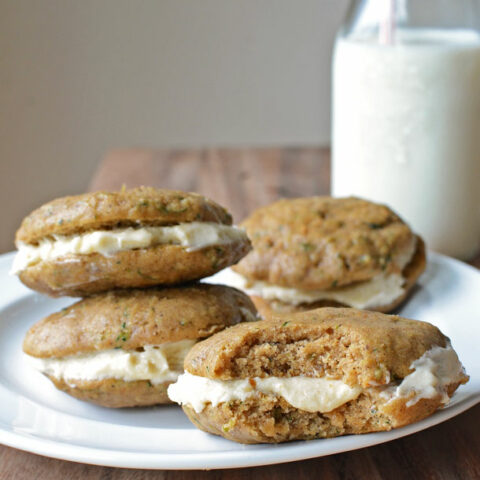 Zucchini Whoopie Pies
Yield: 23 pies

Prep Time: 30 minutes

Cook Time: 40 minutes

Total Time: 1 hour 10 minutes

Zucchini Whoopie Pies - lovely little spiced cakes you can hold in your hand, sandwiching homemade cream cheese frosting with a touch of lemon!
Ingredients
Cakes
1 C packed light brown organic sugar
1/2 C butter, softened (1 stick)
1 egg
1 tsp vanilla
2 1/2 C flour
1 1/2 tsp baking soda
1/2 tsp salt
2 tsp ground cinnamon
1/4 tsp ground ginger
1/4 tsp ground nutmeg
3/4 C buttermilk
1 C finely grated and pressed zucchini
Cream Cheese Frosting
1/2 cup butter, softened
4 oz Philadelphia cream cheese, softened
2 1/4 C confectioner's sugar
2 tsp vanilla
1 tsp freshly squeezed lemon juice
pinch of salt
Instructions
Be sure that you give your butter and cream cheese 1-2 hours to soften before beginning, and then preheat your oven to 350º F.
In a large mixing bowl, cream together the packed light brown sugar and the softened stick of butter until smooth with a hand mixer. Next cream the egg and the vanilla into the bowl until smooth, and then set aside.
In a small mixing bowl, combine all of your dry ingredients by gently stirring with a spoon; flour, baking soda, salt, cinnamon, ginger, and nutmeg. Set aside.
Using the fine setting on a box grater, grate 1 medium-sized zucchini and then, using a cheesecloth, press out as much liquid as you can to the point where the cheesecloth is about to break, then measure out 1 C and set aside.
Next, using a hand mixer, intermittently combine the dry ingredients and the buttermilk into the batter by alternating back and forth between the two.
Using a spatula, fold to combine the grated zucchini into the batter.
On a light colored cookie sheet, measure out 1 Tbsp-sized round balls of batter and bake at 350ºF for 12 minutes or until golden brown. Plan on cooking 3-4 cookie sheets worth.
While the cakes are baking, make the icing by creaming together the butter and the cream cheese until smooth and then intermittently adding the powdered sugar. At the end whip in 2 tsp of vanilla, 1 tsp fresh lemon juice, and a pinch of salt to give the frosting a pop of flavor.
Once the cakes are done cooking, place them on a cooling rack.
Once cool, spread the cream cheese on the bottom side of 1 cake and then sandwich between another cake to make a whoopie pie!
Notes
To store: Individually wrap in plastic wrap and store in the refrigerator up to a week.