One of the vegetables that unexpectedly threw me for a loop when I first started using local produce was eggplant. I've cooked dozens of batches of eggplant parmesan in the past, but that was with the large, pear-shaped American variety. I was surprised when one day I got some long, skinny eggplants in my CSA box. I was like, okay… did someone forget to water these… I guess I can make eggplant parm with this… And I did, and it was good! I have since, however, smartened up in the eggplant department.
Aubergine, also known as eggplant, is actually considered a fruit. Like tomatoes, they are part of the nightshade family, and were once thought to be poisonous. In reality, the fruit is perfectly healthy to eat, but I don't recommend making a salad out of the leaves which contain solanine. When consumed in large quantities eggplant leaves can have some pretty nasty gastrointestinal and neurologic effects. The fruit itself contains a number of vitamins and minerals, as well as phytochemicals, so, by all means, eat your eggplant with reckless abandon! One fun fact about eggplant – it contains nicotine, but in such small quantities you would have to eat approximately 20 pounds to get the same amount of nicotine found in one cigarette. That being said, it shows little promise as a healthy alternative to smoking.
There are a few dozen varieties of eggplant that originate from all different corners of the globe and they come in a plethora of shapes and colors and also a host of cooking traditions and tasty possibilities. Italy has its eggplant parmesan, France has its ratatouille, Greece has its moussaka, the Middle East has its baba ganoush, and Thailand has its curried Thai eggplant. For today's recipe I used the long, thin, purple Japanese variety of eggplant that first threw me for a loop a few years back. When compared to the eggplant at most US grocery stores, it has a thinner skin and a sweeter, more mellow flesh. It's perfect for making a stir fry out of because when sliced, it's easy to pop in your mouth, and the sponge-like quality of eggplant absorbs the stir fry sauce, making for hearty pops of flavor.
This dish includes tofu for some added dinnertime protein. The secret to great tofu is pressing some of the moisture out of it before adding it to the pan so that it browns. I placed mine between two absorbent paper towels, and then pressed it with a medium-sized saucepan filled with something heavy for an hour before cooking. If you're not a tofu fanatic, this dish is also delicious with sautéed, cubed chicken breast.
After an hour the paper towels are saturated and the tofu is ready to go.
I added a chili pepper to my pan throughout the cooking process. If you look closely you'll see that the end is cut off. I did this so that some of the capsaicin could escape, which gently warmed the dish and kept it within acceptable spicy limits for our entire family. If you want to spice things up, you can sauté the vegetables with a finely-chopped chili pepper, including more or less seeds depending on how crazy you want it to get. But seriously, be careful and always wear gloves while cutting hot peppers!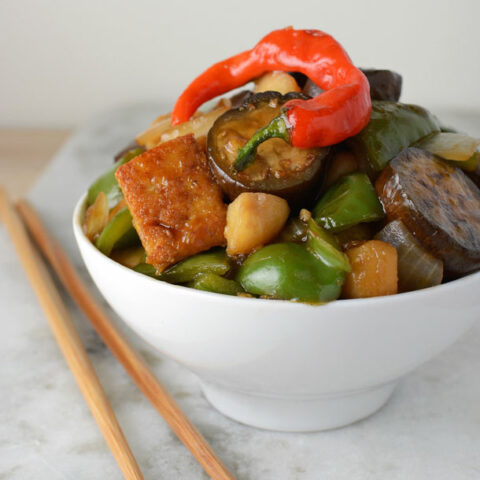 Asian Eggplant Stir Fry
Yield: 4 servings

Prep Time: 15 minutes

Cook Time: 15 minutes

Total Time: 30 minutes

Made with Japanese eggplant, this vegan stir fry is a hearty Asian meal that's popping with flavor!
Ingredients
1 lb Japanese eggplant cut into 1/4" medallions
1 lb extra firm tofu
1 C coarsely chopped green peppers
1 C coarsely chopped white onion
1 chili pepper with 1/8" cut off of the bottom
1/2 C water
2 Tbsp tamari
1 Tbsp low-sodium soy sauce
6 cloves garlic, minced
1 Tbsp fresh or frozen ginger, minced
3 Tbsp light brown sugar
1 Tbsp cornstarch
1 Tbsp peanut oil, evenly divided
1 8 oz can drained chopped water chestnuts
Instructions
An hour before starting to cook, drain your tofu and place it on a plate between two super absorbent paper towels, and then place a medium saucepan on top of it. Next, fill the saucepan with something heavy. This will press much of the moisture out of the tofu so that it browns well.
Cube the tofu into bite-sized pieces and prep your vegetables.
In a wok or a large pan, heat 1/2 Tbsp peanut oil over medium heat for two minutes, and then add the tofu to the pan. Cook until the underside is browned (about 3 minutes), and then flip and cook the opposite side until it is also browned. Remove from the pan and set aside.
Add the remaining 1/2 Tbsp peanut oil to the pan and heat. Next, add the eggplant, green peppers, white onions, and chili pepper to the pan. Sauté until the eggplant begins to soften, but doesn't get mushy. This will take approximately 5 minutes.
While the vegetables are sautéing prep your stir fry sauce by whisking together water, tamari, low-sodium soy sauce, garlic, ginger, light brown sugar, and cornstarch in a small mixing bowl. Make sure there are no cornstarch clumps, otherwise it won't thicken correctly.
Once the eggplant has finished cooking, add the water chestnuts and the simmer sauce to the pan. Cook until the water chestnuts are heated through and the sauce is simmering and thickened.
Serve immediately.
Notes
Serving Suggestion: Serve with 1 C of rice cooked in 2 1/2 C of water.