Butter-Braised Radishes and Turnips – Faced with an abundance of summer radishes? This smart side dish transforms them into a sweet and savory delight!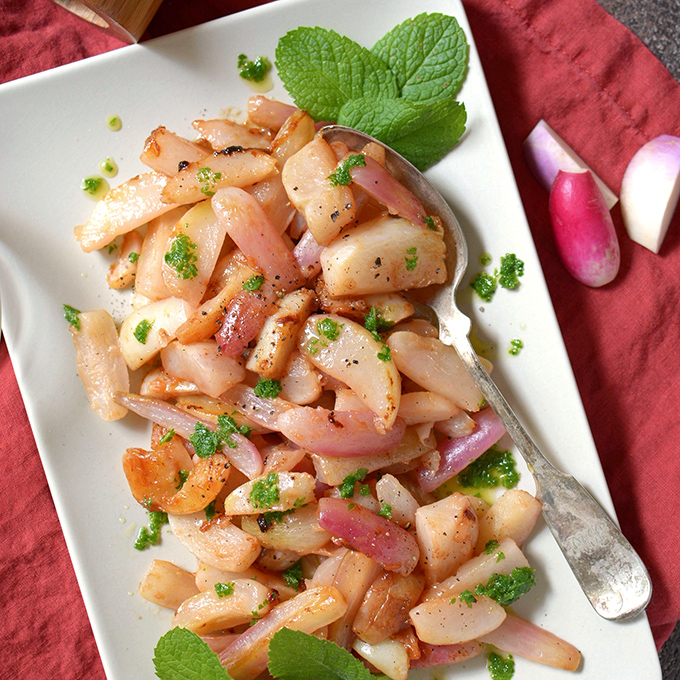 Alright, so I keep getting tons of radishes and turnips from my crop share. Turnips are great just added to things like soups, stews and sautés, but radishes are a little tougher. If not made right, they become bitter when cooked. Also, since I'm the only one who seems to go for raw radishes at the moment, I've been drowning my salads in them. This is all well and good, but I think I'm ready to give the radish salads a break and try something new with all of my pretty, red, and spicy bite-sized globes.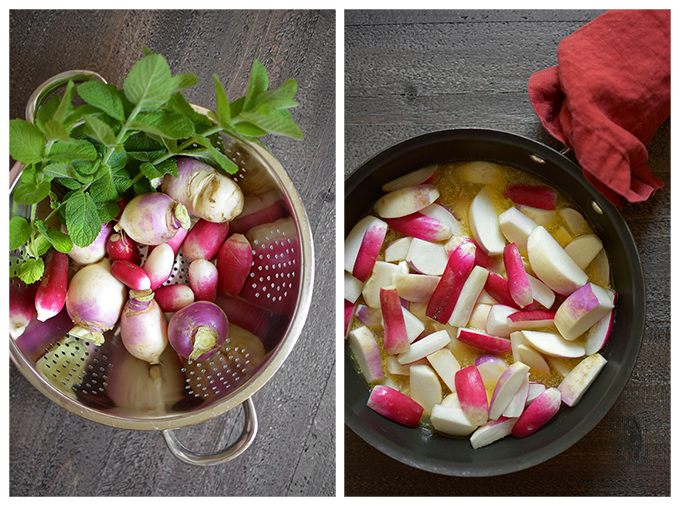 As I mentioned before, the challenge with radishes is not allowing them to become bitter when cooked. That's where butter braising comes in. Braising is a cooking technique in which you cook with both wet and dry heat. Typically, you start with dry heat and then cook slowly with wet heat. A good example would be making a stew, where you brown the meat first, then add broth and cook it slowly.
We're going to switch things up with my radishes and turnips, however, and first cook them in broth and butter until all of the broth is evaporated. Then we'll finish them in butter. Cooking the vegetables in the broth first will make them tender, and the broth neutralizes some of that bitter flavor. Finally, sautéing the radish and turnip in butter caramelizes the vegetables and brings out a sweetness you never would have known that radishes could have!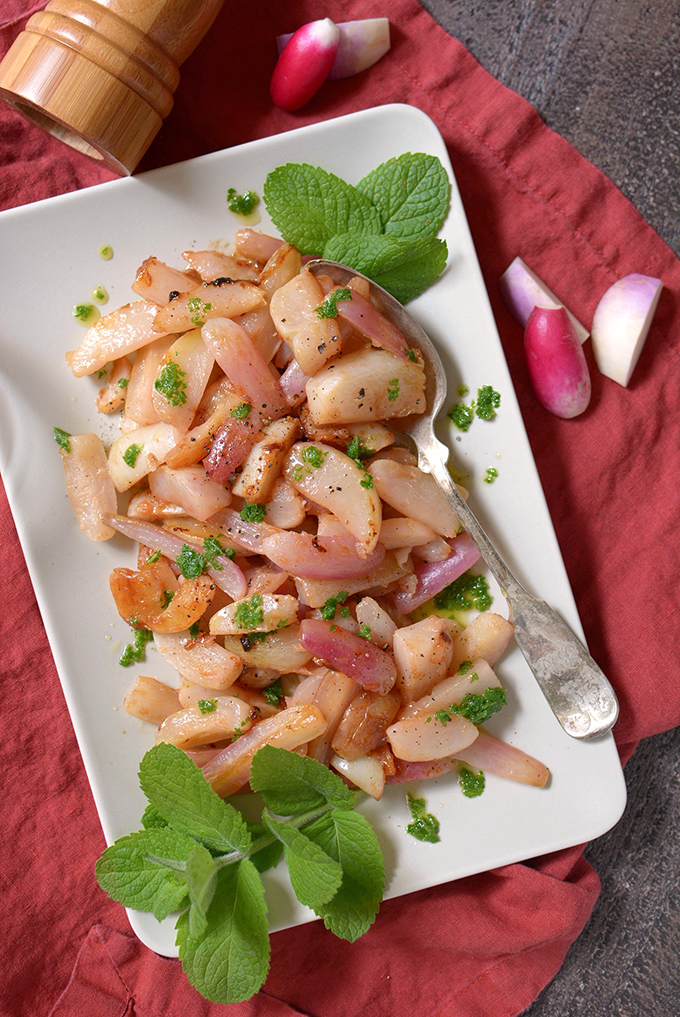 I also topped mine with some mint oil, as I served it with some delicious Slow Cooker Honey Balsamic Lamb Shanks. I think the mint pulled the two dishes together nicely.
Before I finish up with this post, I have to mention that I had a little "help" with it's creation. Check out my little photo bomber below! The vegetables in this dish are quite tender, so they puréed up nicely as a dish for the littlest member of the Simple Seasonal team. 😉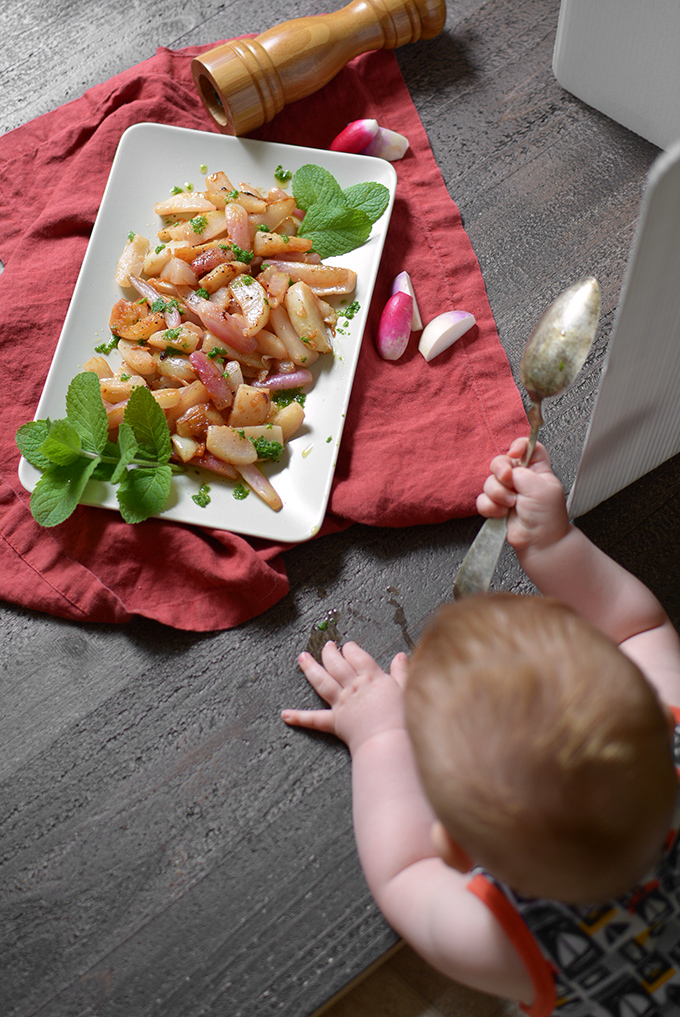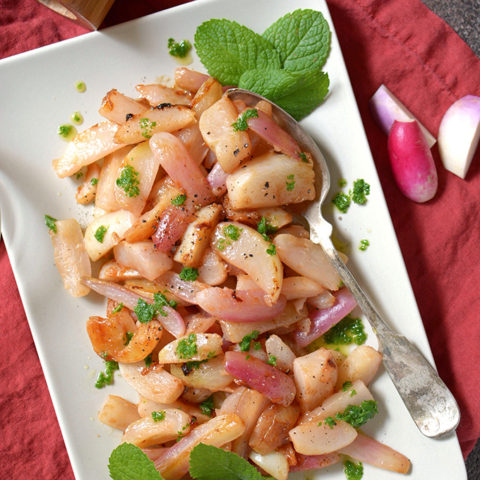 Butter-Braised Radishes and Turnips
Yield: 4 servings

Prep Time: 10 minutes

Cook Time: 20 minutes

Total Time: 30 minutes

Faced with an abundance of summer radishes? This smart side dish transforms them into a sweet and savory delight!
Ingredients
Butter-Braised Radishes and Turnips
1/2 lb radishes cut into quarters
1 lb turnips cut to the same size as the radishes
2 Tbsp butter
about 1 C vegetable or chicken broth
1/4 tsp salt
fresh cracked pepper to taste
Mint Oil
1/4 C mint
1/4 C extra virgin olive oil
salt
pepper
ice bath
Instructions
Melt the butter in a sauce pan and add the radishes and turnips. Add vegetable broth to the pan until the vegetables are halfway submerged. Cover and cook over medium-high heat until the vegetables are just starting to become tender (about 15 minutes). Remove the lid and continue cooking until most of the liquid is cooked down and the vegetables become shiny and glazed.
Meanwhile, bring a small pot of water to a boil. Add the mint leaves to the boiling water and blanch for 10 seconds. Then add them to an ice bath. Next, dab the mint leaves dry and blend them with olive oil in a food processor or with an immersion blender until the mint is finely chopped.
Serve with the mint oil drizzled over the butter-braised radishes and turnips.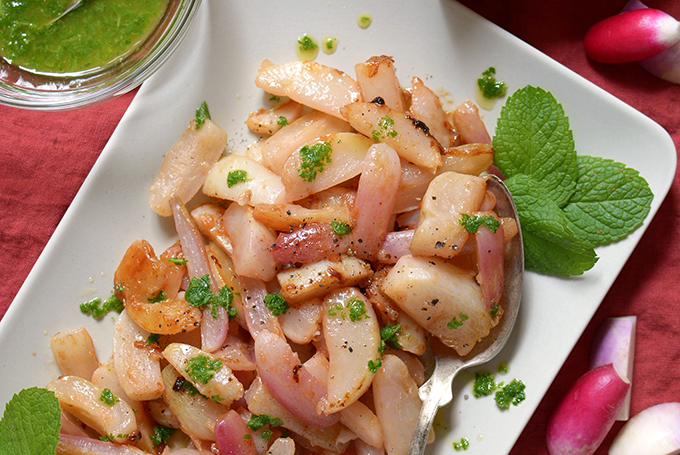 You may also enjoy the following recipes…