Homemade Queso Dip – Turn any situation into a mini fiesta with this sinfully delicious and spicy appetizer dripping with stretchy cheese goodness!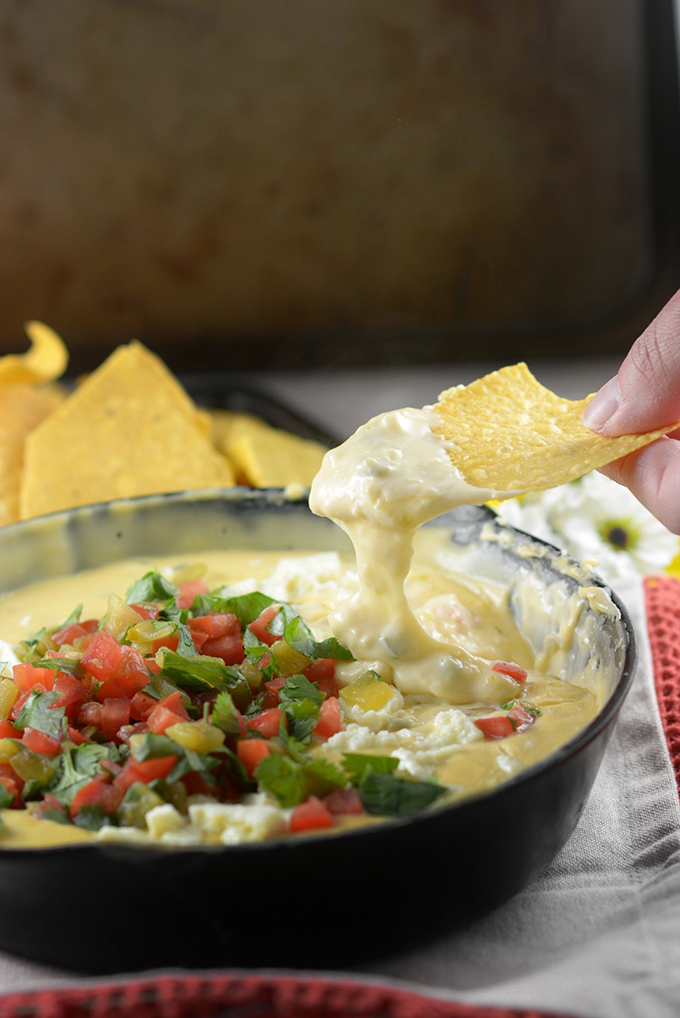 My neighborhood queso supplier (which is also my margarita supplier) has decided to quarantine. They're not even offering curbside service. The lights are out and the promise of sweet, salty, lime cocktail toasts coupled with chips dripping in cheesy sauce has been gone for weeks. The whole neighborhood is suffering.
I was suffering. That is, until I started making Homemade Queso Dip. I dare say it's even better than the stuff at my neighborhood joint. This dip has the drippy, creamy, stretchy cheese that I love. Even better, it can be spiced up exactly to your liking by adding more or less jalapeño seeds.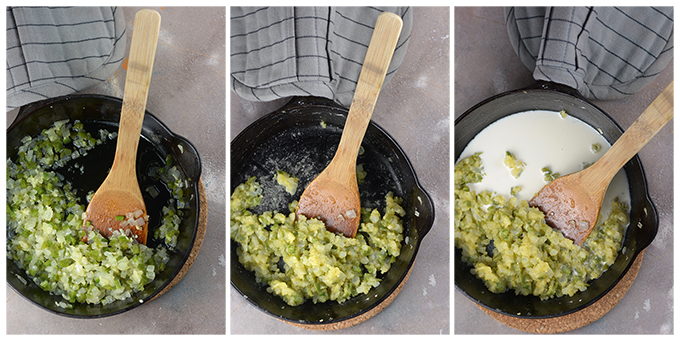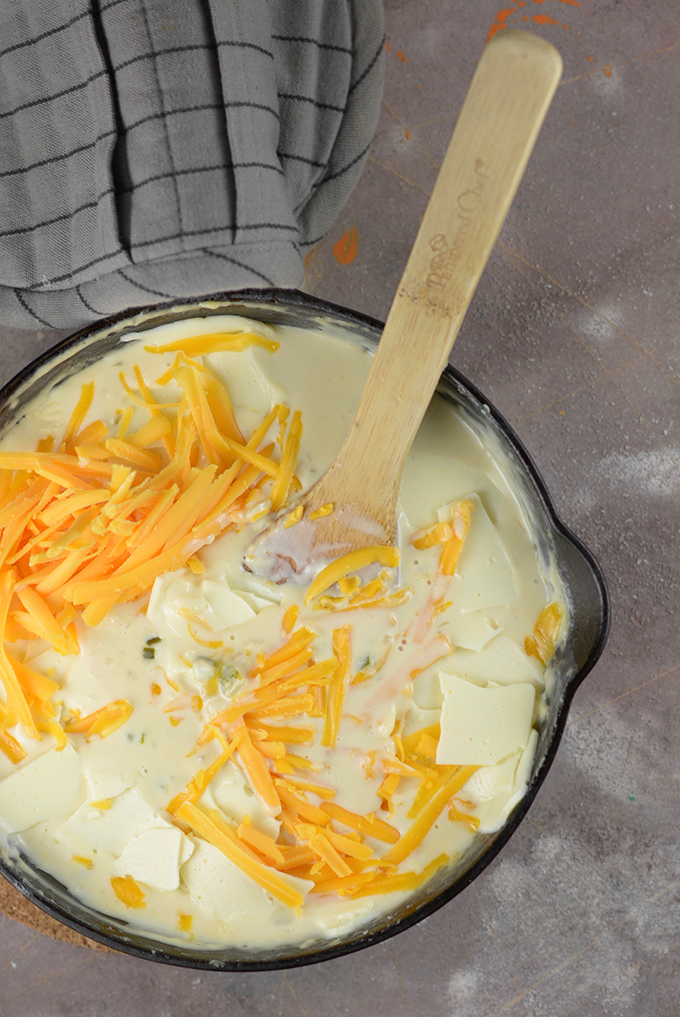 The secret to the creamy and stretchy cheese in this recipe is the use of evaporated milk and American cheese. I know, American cheese sounds strange… Trust me, though. I'm from Philadelphia and we add it to just about everything, usually with fantastic results!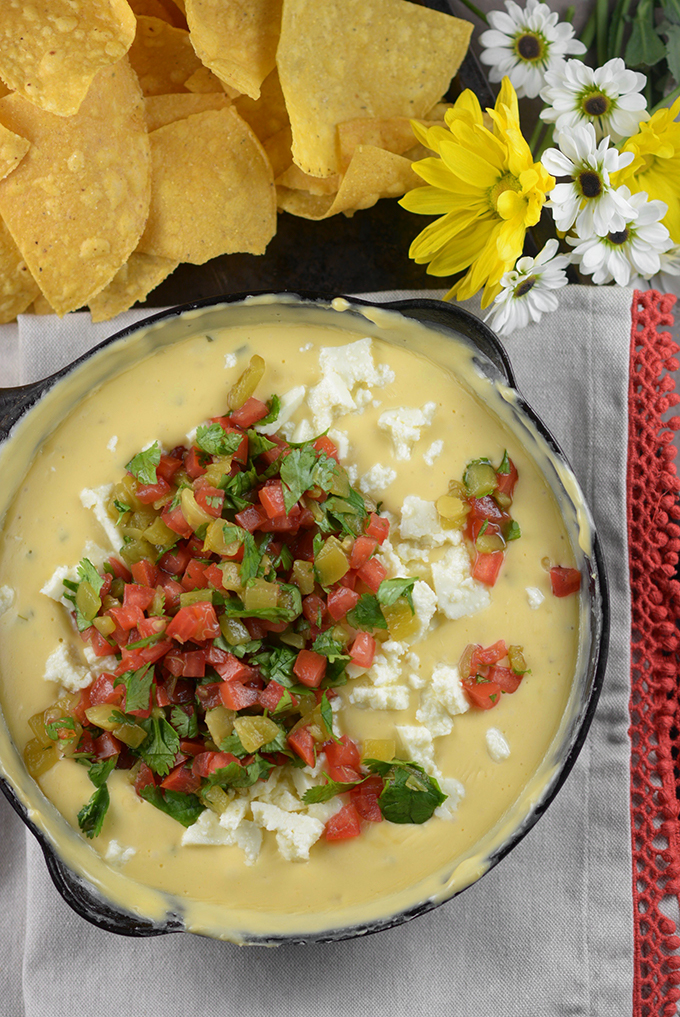 I have found that if I make queso, my husband will make me margaritas. Not the bottled, pre-mixed kind, either. His are made from top shelf tequila and and fresh-squeezed limes, and they are AMAZING!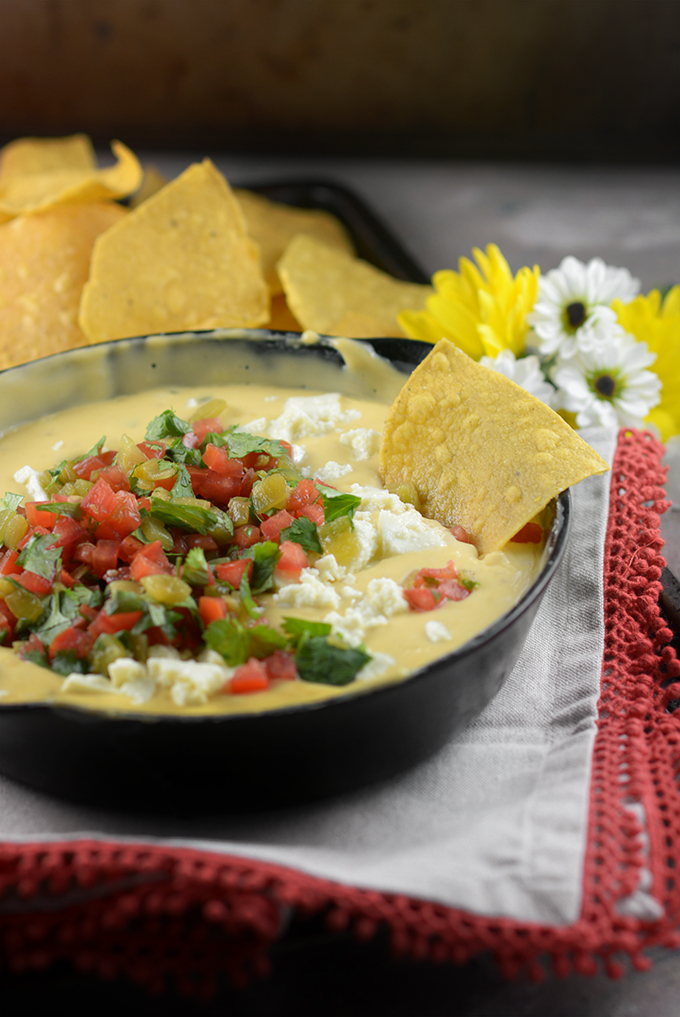 About two weeks into the COVID quarantine, we put white twinkle lights up inside our home. Each night, our home now glows like life is worth celebrating. I'm celebrating that we still have our health, despite me working at the hospital. I'm also celebrating all the patients that I've cared for that have been discharged safely back home to their families.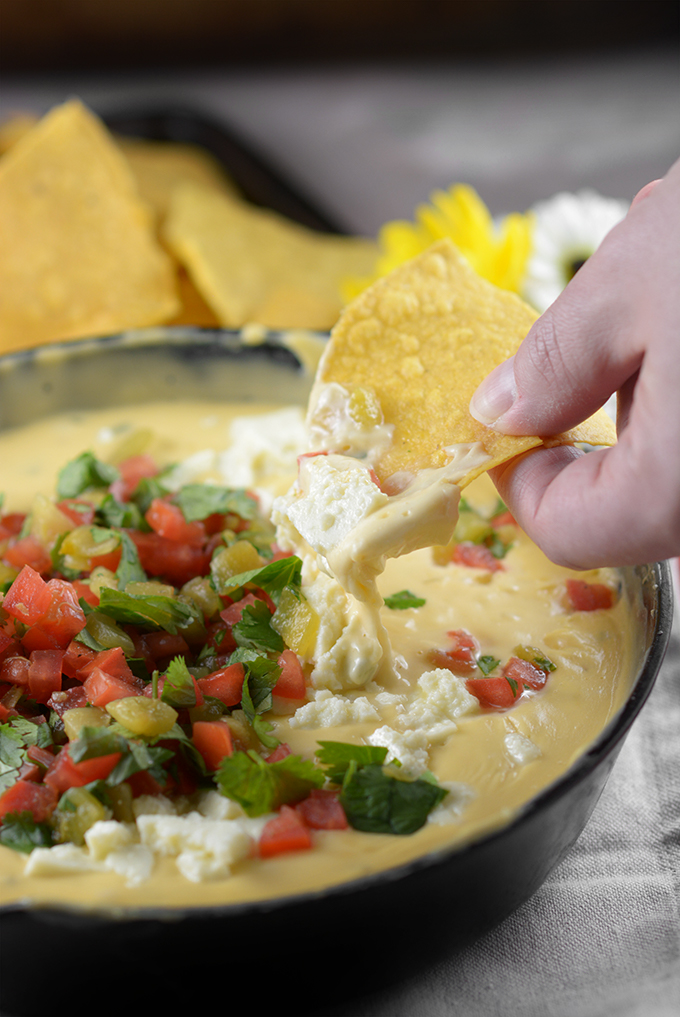 Between the twinkle lights, the Homemade Queso Dip, and my husband's margaritas, we've created quite a little fiesta in the comfort of our own home. One that not even a quarantine can hold back!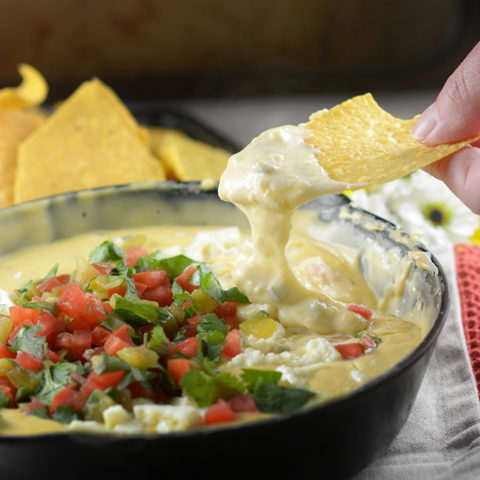 Homemade Queso
Turn any situation into a mini fiesta with this sinfully delicious and spicy appetizer dripping with stretchy cheese goodness!
Ingredients
Queso Cheese Sauce
*8 inch skillet preferred
2 Tbsp extra virgin olive oil
1/2 C yellow onion, chopped
2 jalapeños, seeded and finely chopped (save a few seeds for extra heat)
3 cloves garlic, minced
1/4 tsp salt
2 Tbsp all purpose flour
1 12 oz can evaporated milk
4 oz deli counter American cheese, torn into pieces
1 1/2 C sharp cheddar cheese, shredded
Topping
**See notes for a time-saving option
2/3 cup paste tomato, seeded and chopped
1/4 fresh cilantro, chopped
1 4 oz can fire roasted chopped green chilies, drained
2 pinches salt
2 pinches black pepper
1/2 C queso fresco, in large crumbles
tortilla chips
Instructions
Before you start making the queso, it's most efficient to make the topping first. In a small mixing bowl stir together the tomatoes, cilantro, green chilies, salt, and pepper. Set aside. Also crumble 1 1/2 cups worth of queso fresco and set aside.
Cook the onion and jalapeños in 2 Tbsp of olive oil in an 8 inch cast iron skillet* over medium heat. Consider adding in a few of the jalapeño seeds for a spicy queso. Cook for 3-5 minutes, or until the onions begin to turn translucent.
Add 3 cloves of minced garlic, salt, and all purpose flour to the pan and stir to evenly combine. Cook for another 1-2 minutes. The vegetables should develop a pasty flour coating.
Slowly add one 12 oz can of evaporated milk to the skillet while stirring constantly to prevent clumping.
Once the the evaporated milk is fully and evenly incorporated, heat the queso, stirring frequently, while scraping the bottom of the skillet to prevent burning, until it's just beginning to bubble.
Remove from the heat and stir in the cheddar and American cheese until melted and evenly combined. Return to medium-low heat until the queso is just beginning to bubble again.
Remove from the heat. Top the dip with queso fresco crumbles and the topping.** Serve immediately with tortilla chips.
Notes
*An 8 inch skillet works best for this recipe because it's the perfect size to hold the queso and it helps to keep the sauce warm when you serve it. If you don't have such a skillet this recipe still can be made in a medium-sized skillet or saucepan.
**Although not quite as fresh, save time by replacing the topping with pre-made grocery store pico de gallo. You will still need to purchase and crumble the queso fresco.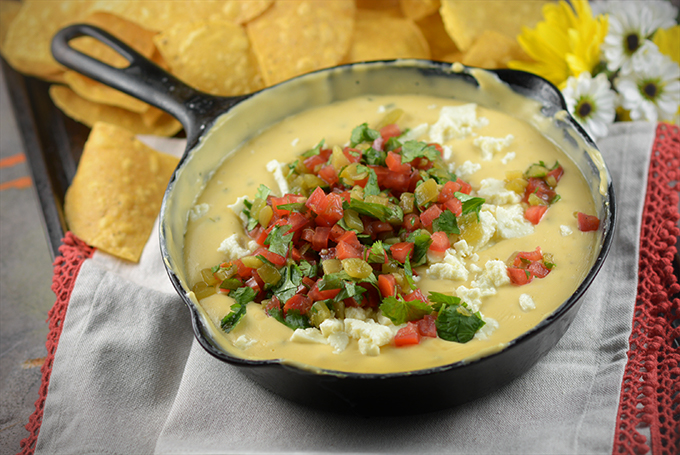 You may also enjoy…