Creamy Lemon Dill Salmon – Enjoy a restaurant quality meal with this delicious, elegant dish that comes together quickly and is totally approachable for the home cook!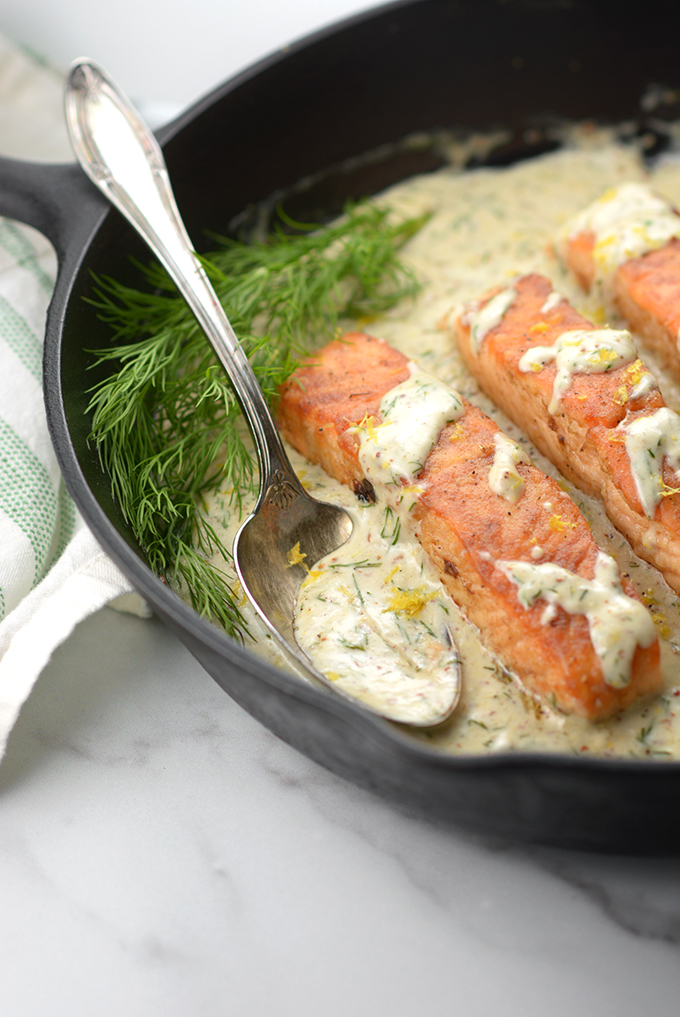 I've gotta be honest. One of the things I'm struggling with the most about the COVID-19 quarantine is not being able to go out to eat. I've been working in a COVID telemetry unit and ICU at my local hospital for enough weeks now that I've lost count. After work I'm bone tired and a little traumatized by the whole thing. At that point, all I want is to be waited on.
Like many Americans, I've had to think of new ways to find my happy place. The one thing I've been holding onto is Starbucks' drive-thru. Today I snuck out while my preschooler was napping for a piping hot cup of zen. I just like leaving the kids at home with my husband while I drive, listen to music, and sip coffee. It gives me a chance to process some of things I've experienced the last few weeks.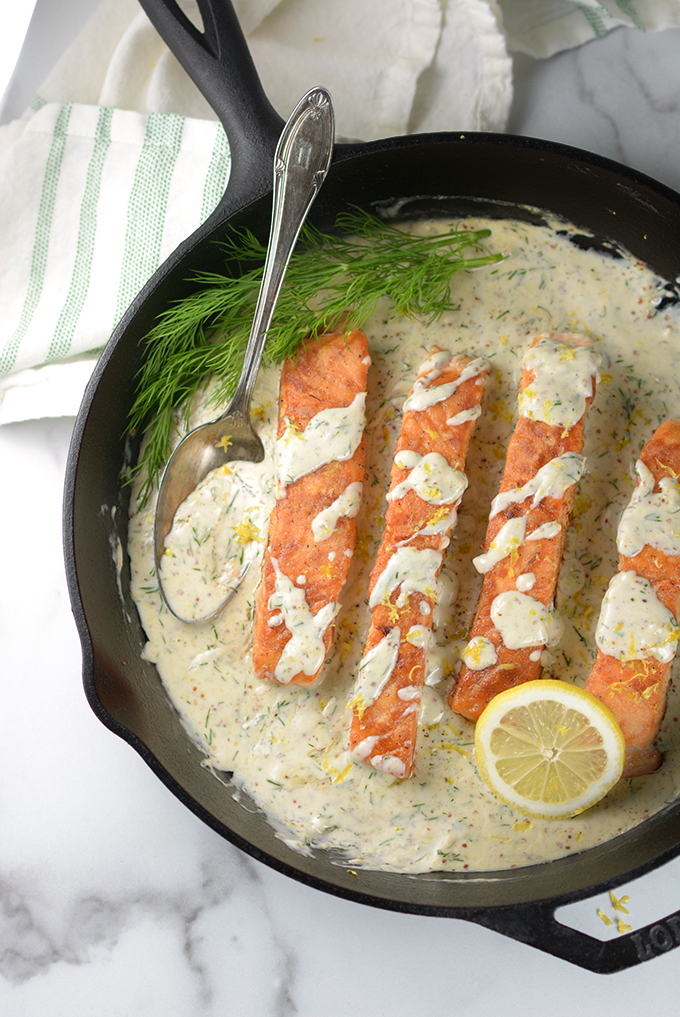 I live in a fairly urban area that's been hit pretty hard by the pandemic. As such, the likelihood of my local stores being open has been tenuous at best. Today I thought I might not get my little bit of zen. I had to go to three different Starbucks before I found one that was open. When I finally got in line it was about 15 cars deep and the store was closing in 15 minutes. 😱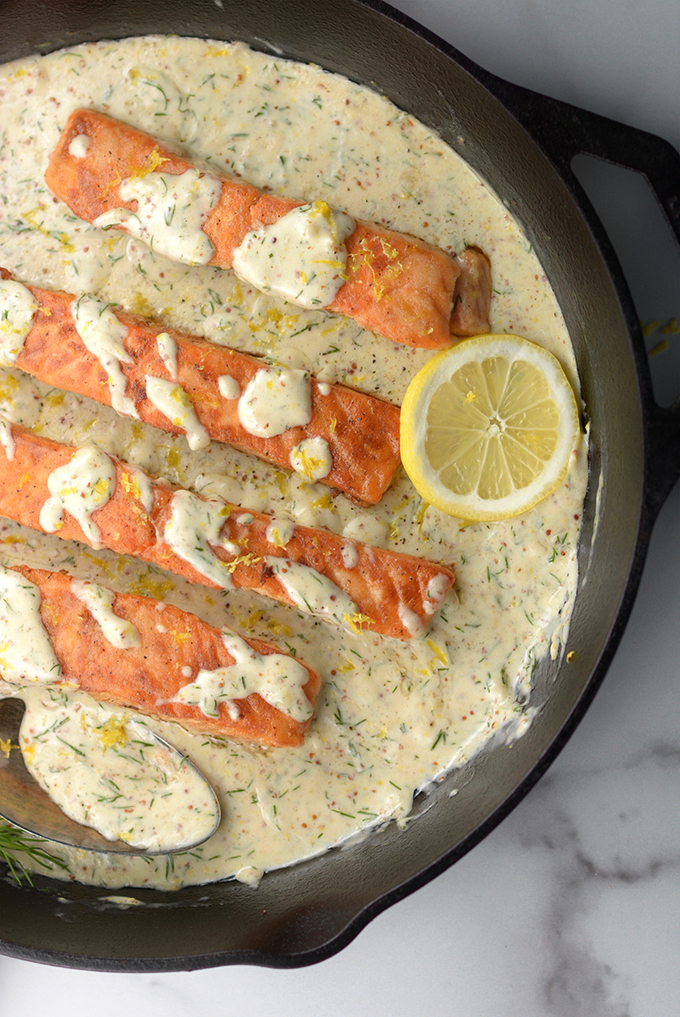 I thought all hope was lost. Then an employee came out with orange cones. She proceeded to put them behind my car. So yeah, I was the last person to get coffee today, and I'm feeling pretty lucky!
I know other people have been cooking more to find their happy place. I know this because food bloggers, myself included, have seen more traffic to their blogs. Increased traffic aside, I think it's awesome more people are cooking. Even if you can't go out to eat, you can still have fine dining of your own creation!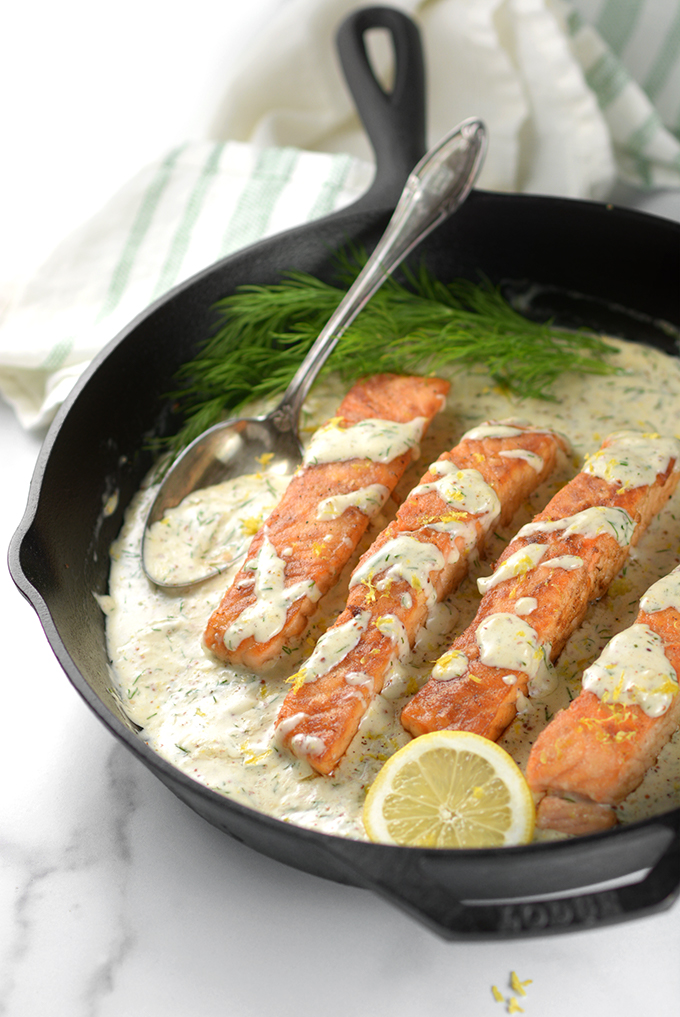 Today's recipe for Creamy Lemon Dill Salmon is perfect for creating a fine dining experience in your own home. I've already made it four times this spring. It's by far my favorite salmon recipe to date. Crusted with olive oil and flour, the salmon is flakey and tender. The sauce is creamy and rich, yet tastes of spring with the tang of lemon and the fresh flavor of dill. The best thing is that the dish comes together in one pan in less than 30 minutes!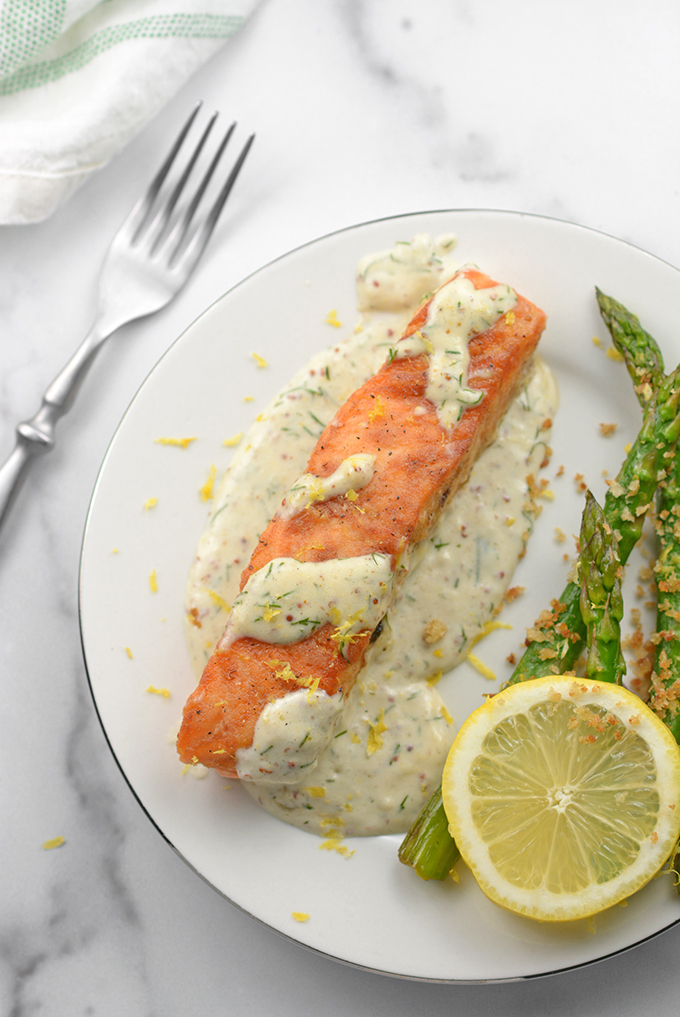 I've been serving this dish with an easy-to-prepare garlic couscous kit and my recipe for Asparagus with Shallot Bread Crumbs. The whole meal feels restaurant elegant, yet it comes together fairly quickly and it's totally doable for the home cook.
Whether enjoying a cup of coffee, going for a drive or a walk, or taking up cooking for the first time, I hope you've found new ways to bring more zen into your life during these challenging times. I'd love to hear about what little things are bringing you happiness!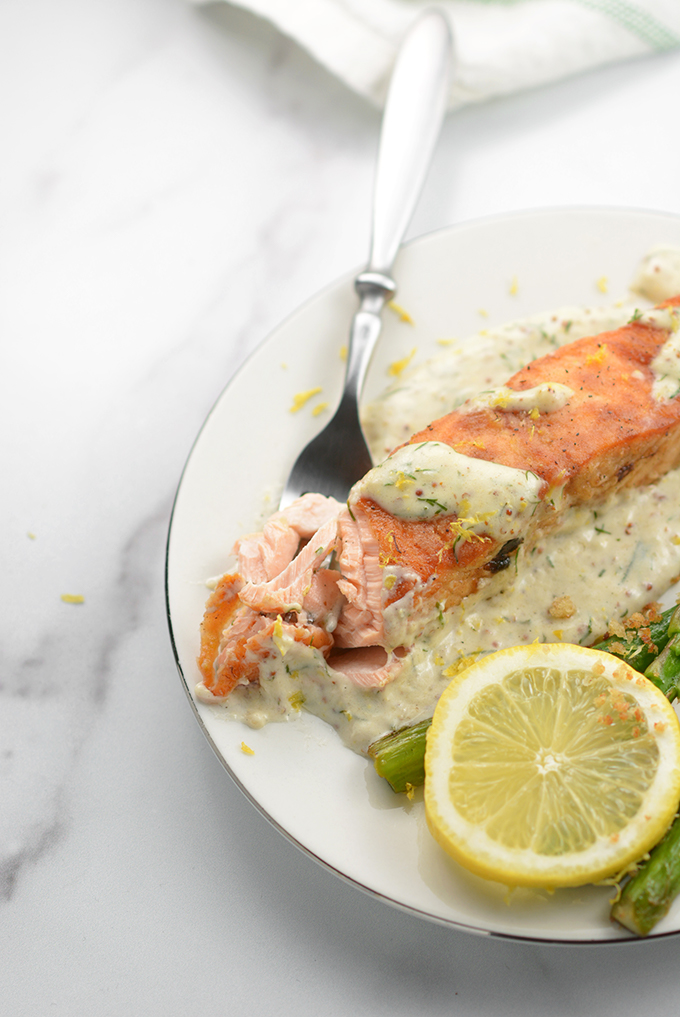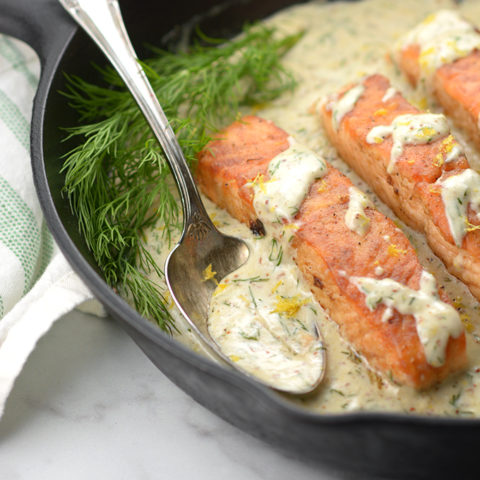 Creamy Lemon Dill Salmon
Enjoy a restaurant quality meal with this delicious, elegant dish that comes together quickly and is totally approachable for the home cook
Ingredients
1 1/2 lbs salmon, cut into 4 pieces
salt and pepper to taste
1/2 C flour, for dredging
1 Tbsp olive oil
2 Tbsp salted butter
3 cloves garlic, minced
1 Tbsp flour
1/4 C dry white wine
1/2 C chicken broth
1 Tbsp dijon mustard
2 Tbsp lemon juice
1 Tbsp fresh dill
3/4 C heavy cream
zest of 1 lemon
Instructions
If your salmon is frozen, defrost it in the refrigerator the night before. Once thawed, remove any bones if you didn't purchase a deboned fish. Season the fish lightly with salt and pepper. Using 1/2 C of flour, coat the fish completely in flour.
Warm 1 Tbsp of olive oil in a large skillet over medium heat for 1-2 minutes. If the oil begins to smoke it's too hot, so reduce the heat. Add the salmon to the heated pan with the skin side up. Cook until golden brown, for about 4-5 minutes. Flip the fish so that it is skin side down and cook for another 2-3 minutes. The fish is done cooking when it is firm to the touch and has reached an internal temperature of 140ºF. Once cooked, place the fish on a plate and set aside while you make the sauce.
Remove the pan from the heat. Lightly rinse the pan and wipe it clean.
Melt 2 Tbsp of butter over medium heat. Once melted, add the garlic and sauté for 1 minute. Add 1 Tbsp of flour and cook for one additional minute.
Slowly add the white wine to the pan while constantly stirring. A thick paste will form. It's important to add the wine slowly and stir enough to ensure that the paste is smooth and free of clumps. Next, slowly add the chicken broth using the same method. Bring the liquid up to a simmer and simmer for 1 minute. This will cook the flour and thicken the sauce.
Reduce the heat to low. Mix in the dijon mustard, lemon juice, dill, and heavy cream. Cook until hot, but remove the sauce from the heat before it begins to bubble.
For the last step, gently peel the skin back from the salmon and then discard. Place the salmon in the pan with the sauce. Garnish with the zest from 1 lemon. Serve the salmon hot and drizzled with sauce.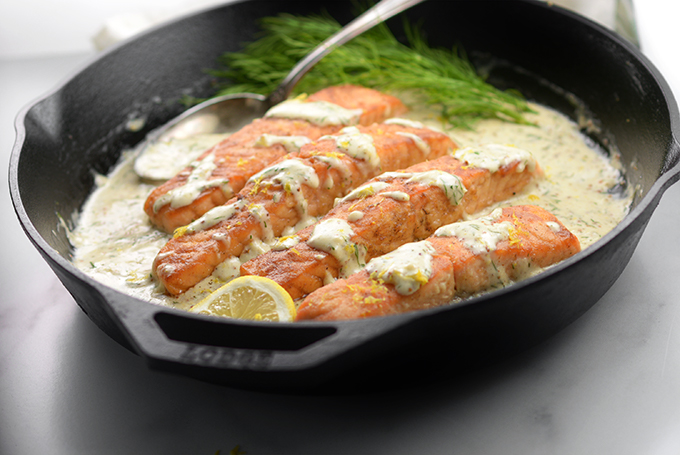 You may also enjoy…