Asparagus with Shallot Bread Crumbs – Turn a crummy day into a "crumb-y" day with this simple yet delicious fresh spring side that's just bursting with seasonal flavor!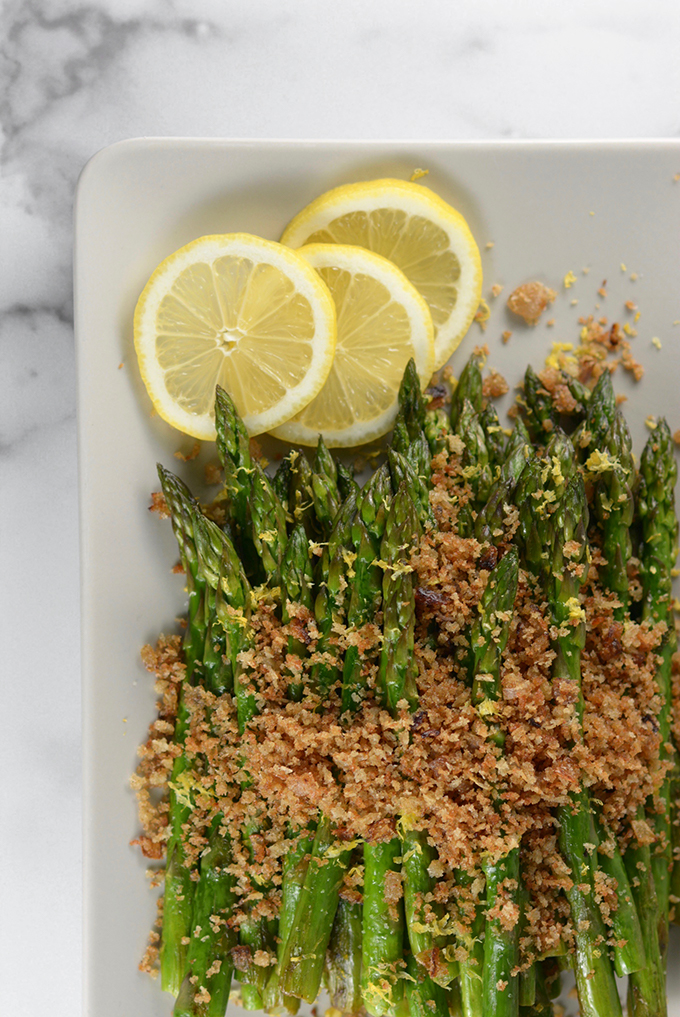 Between the chilly weather and the quarantine I've been eating more than my share of comfort food over the last few weeks. It's been great, but I know I can't eat things like my Langostino Mac 'n Cheese and my Beef Stroganoff every day for the rest of my life without consequence.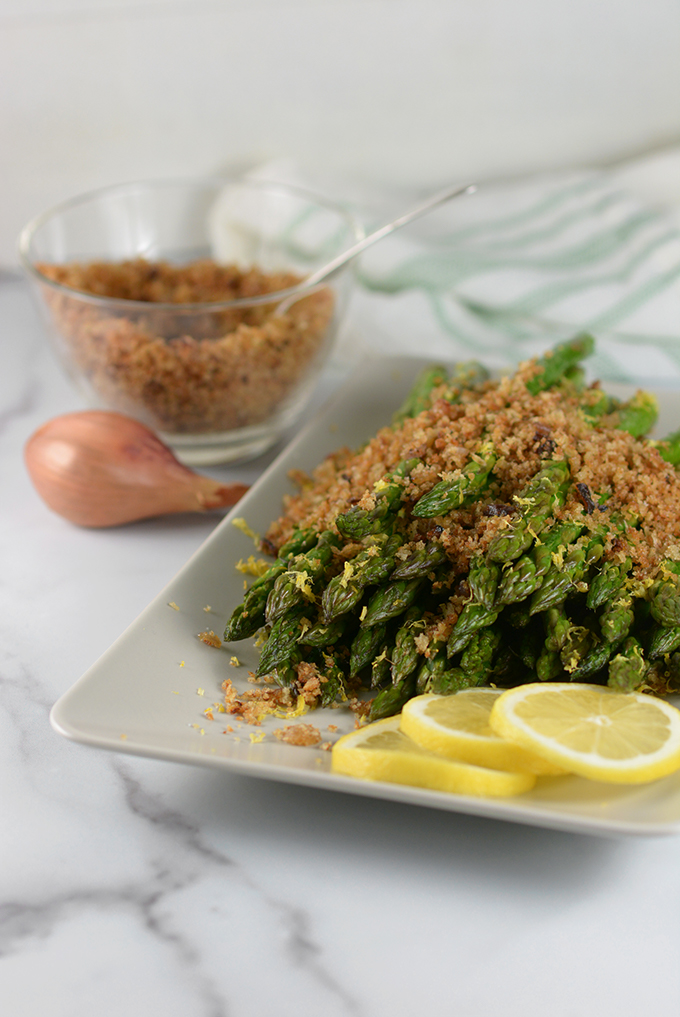 Asparagus is the first locally available produce in my area every spring. It's the signal of good, fresh things to eat for the next 5 months.
Let's be honest, 2020 has gotten off to a crummy start for everyone. Unfortunately, the pandemic isn't going away anytime soon. At least we have sunshine and farm-fresh food to look forward to, though. Not to mention, many of us have newfound time to cook from scratch.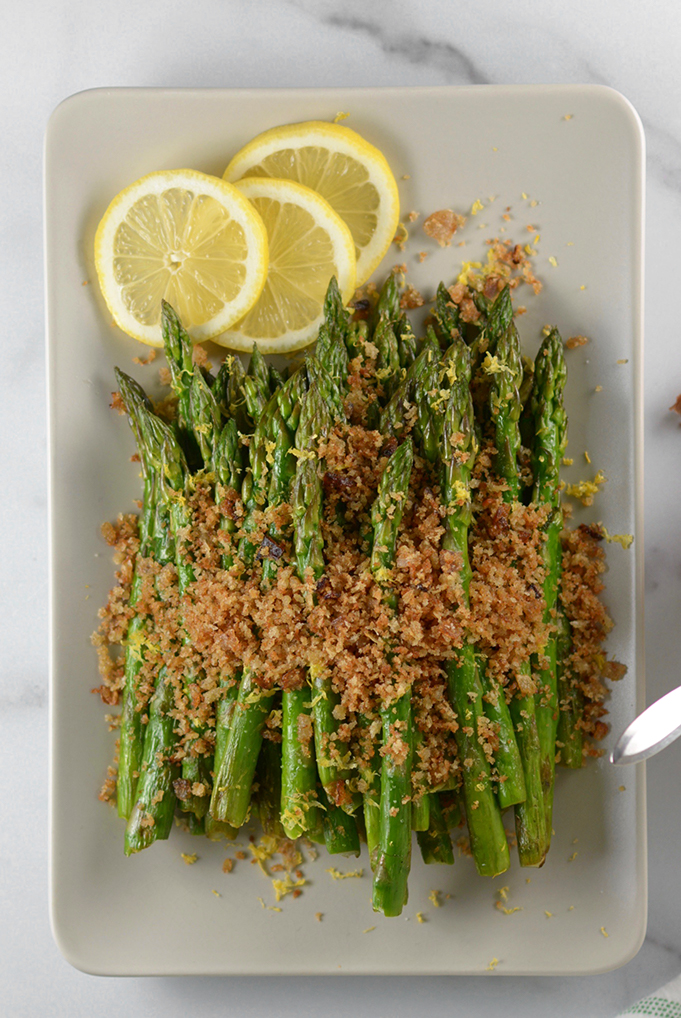 I think the spring and summer of 2020 is going to be a good one for home cooks! This home cook is ready to set aside the comfort food and jump into all things fresh!
Today's recipe for Asparagus with Shallot Bread Crumbs is great place to start. It features tender, delicately-flavored, fresh asparagus paired with lemon and crunchy shallot bread crumbs. It's goes with a variety of dishes spanning from fish, to chicken, and also beef. The tasty bread crumbs on this asparagus definitely put a positive spin on this "crummy" year!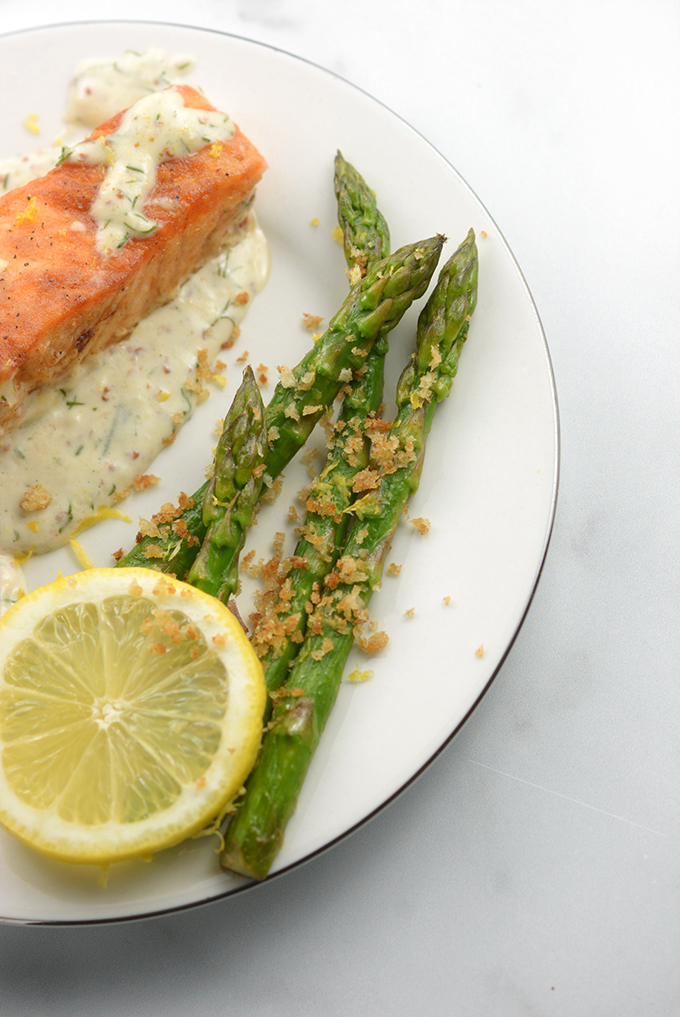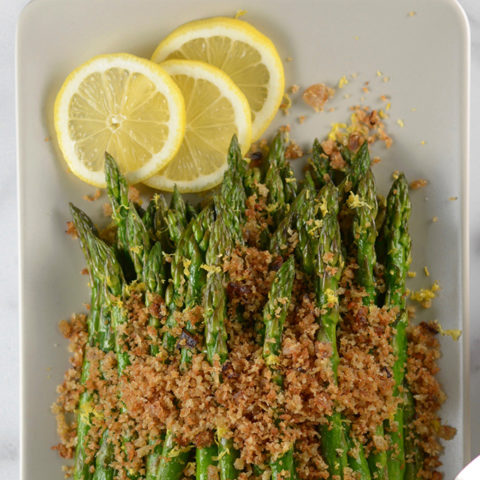 Asparagus with Shallot Bread Crumbs
Turn a crummy day into a "crumb-y" day with this simple yet delicious fresh spring side that's just bursting with seasonal flavor!
Ingredients
Shallot Panko Topping
3 Tbsp butter
1/2 C Shallots, finely chopped
3/4 C panko bread crumbs
1/8 tsp salt
Asparagus
1 Tbsp olive oil
1 1/2 lbs asparagus spears, snapped (about 2 lbs before snapping)
salt and pepper to taste
zest of 1 lemon
Instructions
Over medium-low heat melt the butter in a large skillet. Add the shallots to the pan and cook for approximately 5 minutes until they are tender and beginning to turn translucent.
Increase the heat to medium-high. Add the panko bread crumbs to the pan. Toast, turning frequently, until golden brown. Once the shallot panko topping is golden brown, remove it from the heat and spoon it into a small serving bowl. Set aside.
Prep the asparagus by washing it and snapping off the pale, woody ends. This is generally 1-2" from the ends.
Wipe the skillet clean. Reheat the skillet with 1 Tbsp of olive oil over medium heat. Sauté the asparagus for 4-6 minutes until it is just tender. DO NOT overcook the asparagus, as it will go from being awesome to being terrible.
Once tender, use tongs to place the hot asparagus in a serving dish or directly onto dinner plates. Sprinkle with the shallot panko topping right before serving. If serving family style I recommend keeping the bread crumbs in a separate bowl and serve as a condiment so that the bread crumbs keep their crunch!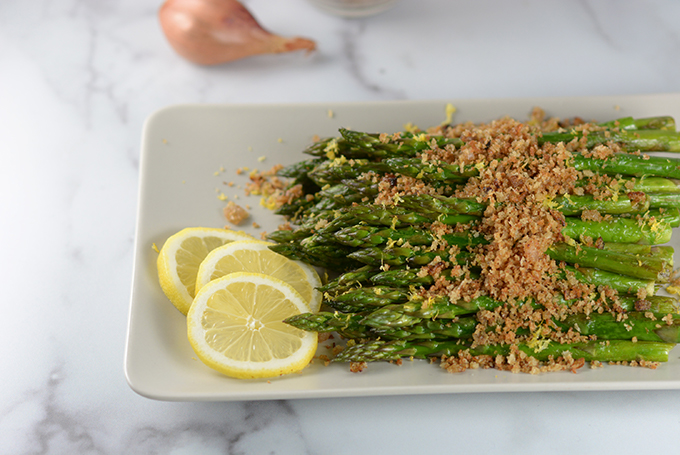 You may also enjoy…