Langostino Mac n' Cheese – This rich, creamy, and romantic comfort dish has all the flavor of lobster mac & cheese but with a much smaller price tag!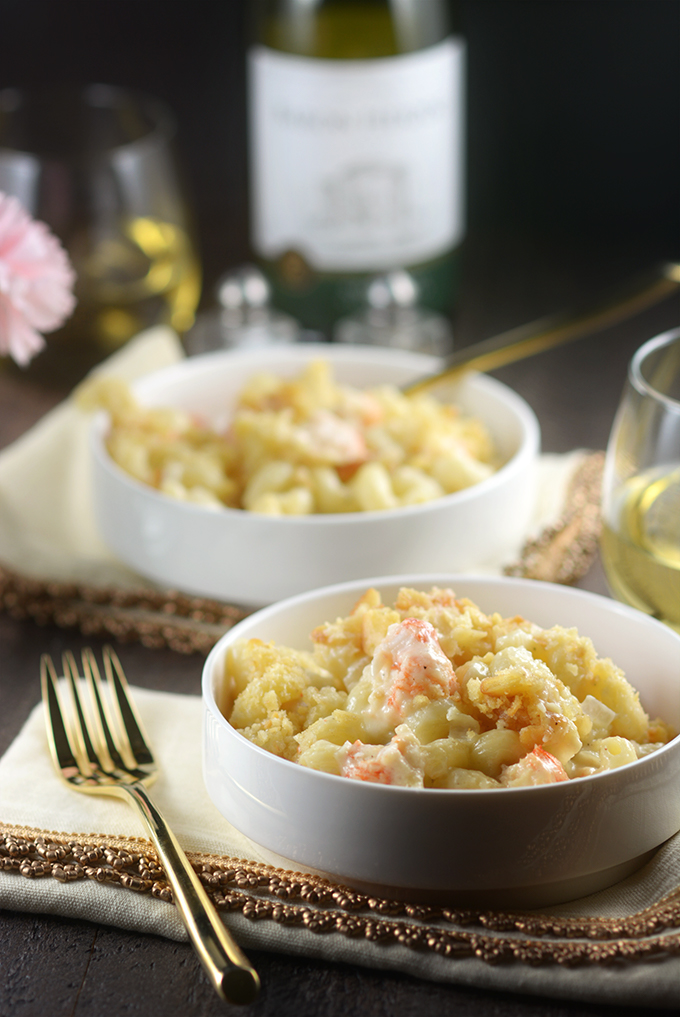 I love lobster. In addition to tasting amazing, I associate lobster with romantic memories. I remember getting it on my honeymoon. I've since ordered it on many a date night and I've even prepared it on Valentine's Day.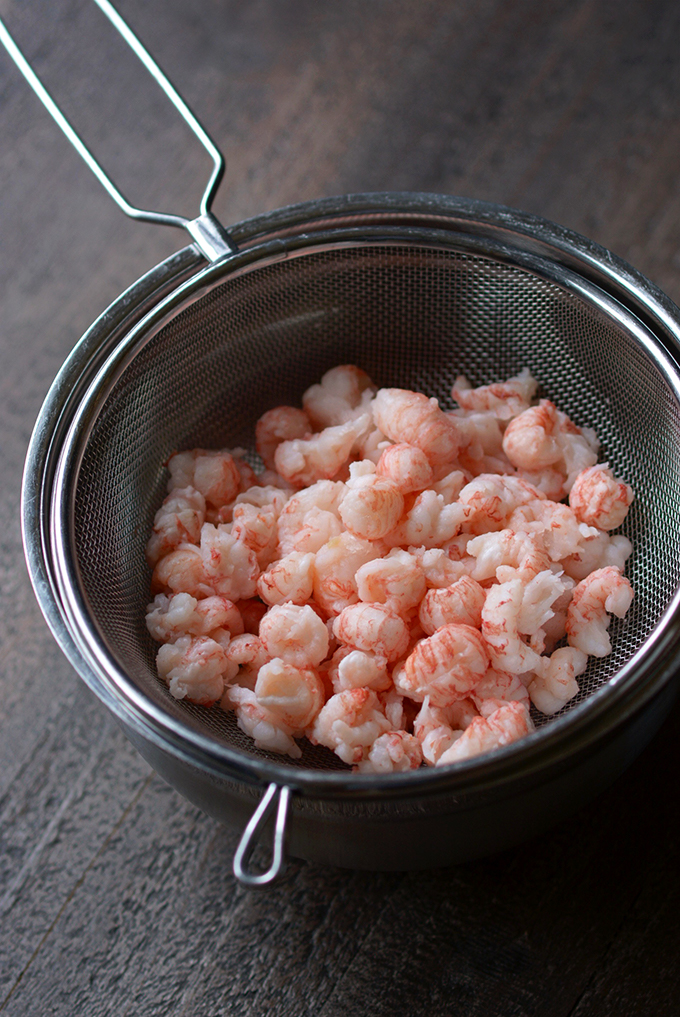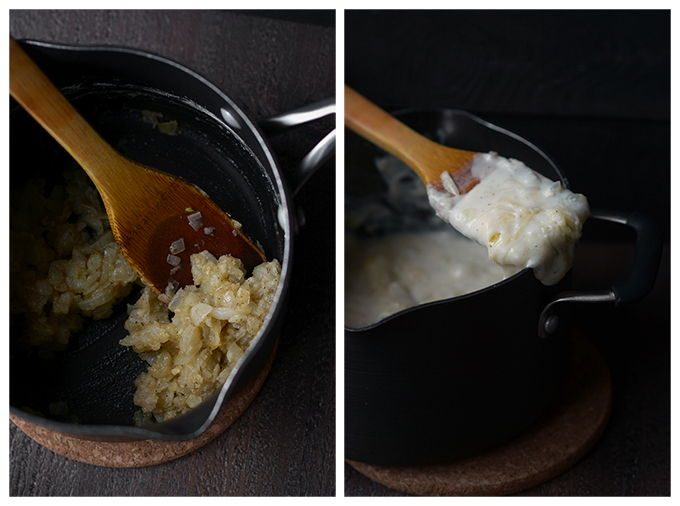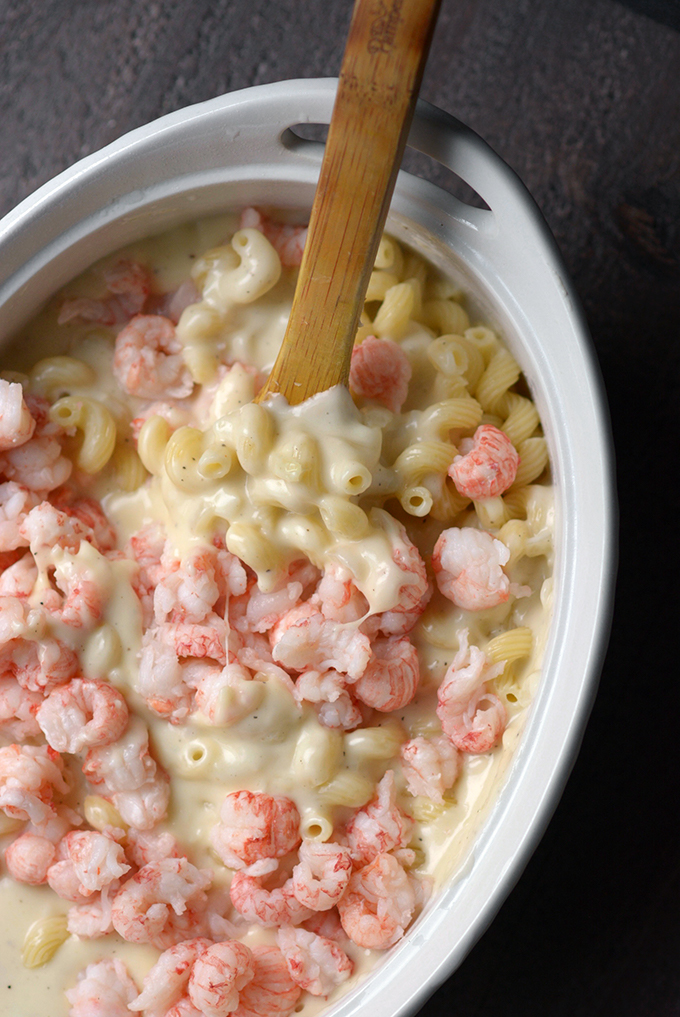 My love for lobster extends beyond date night. For a while I had a reoccurring dream about lobster. I'm not sure if I should share it, though, because it's sort of embarrassing. But surely I'm not the only one with weird dreams…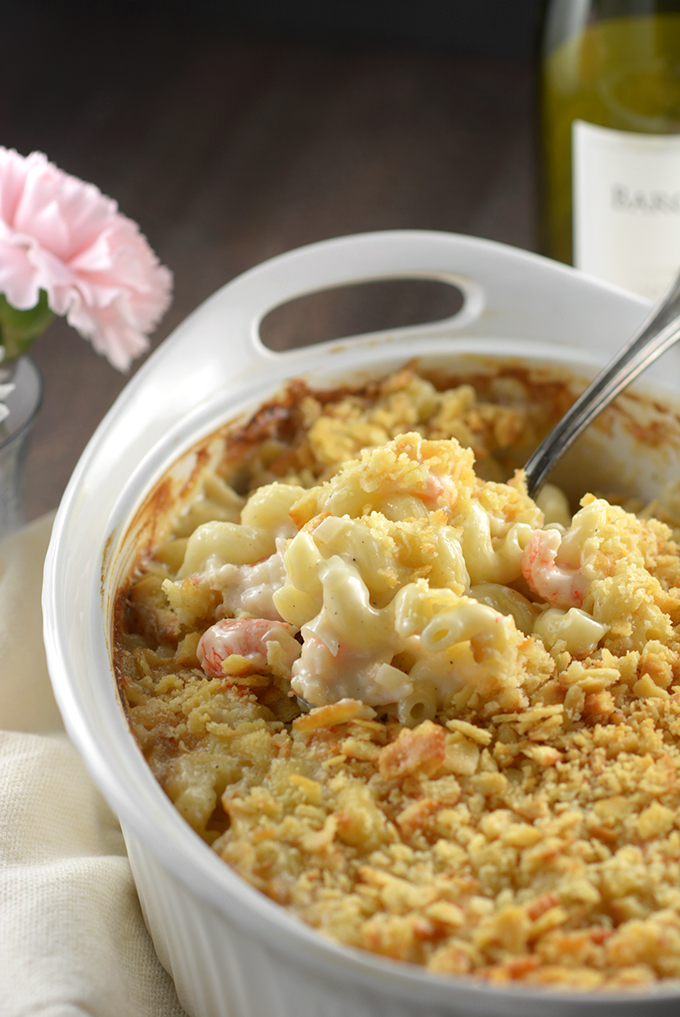 In the dream I'm wandering around Maine with a large inflatable lobster looking for lobster to eat. And, yes, in the dream I'm wearing a lobster bib. Bib or not, it doesn't matter, because every time I have the dream the darn lobster evades me!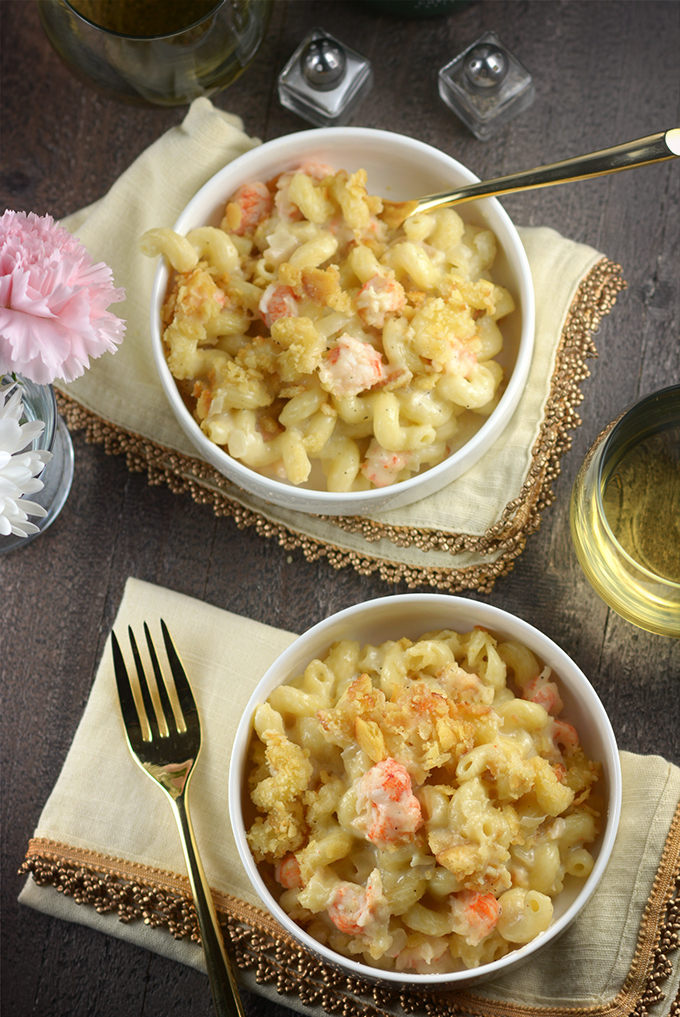 Fortunately for me, today's recipe is for Langostino Mac 'n Cheese. I don't need dream lobsters because in real life I have langostinos! They are what I like to call "mini lobsters." In addition to tasting exactly like lobster tails, they look just like cute little lobster tails that have been simply shrunk down in size. Even better, their price is shrunk down in size when compared to lobsters. Sounds like a dream come true to me!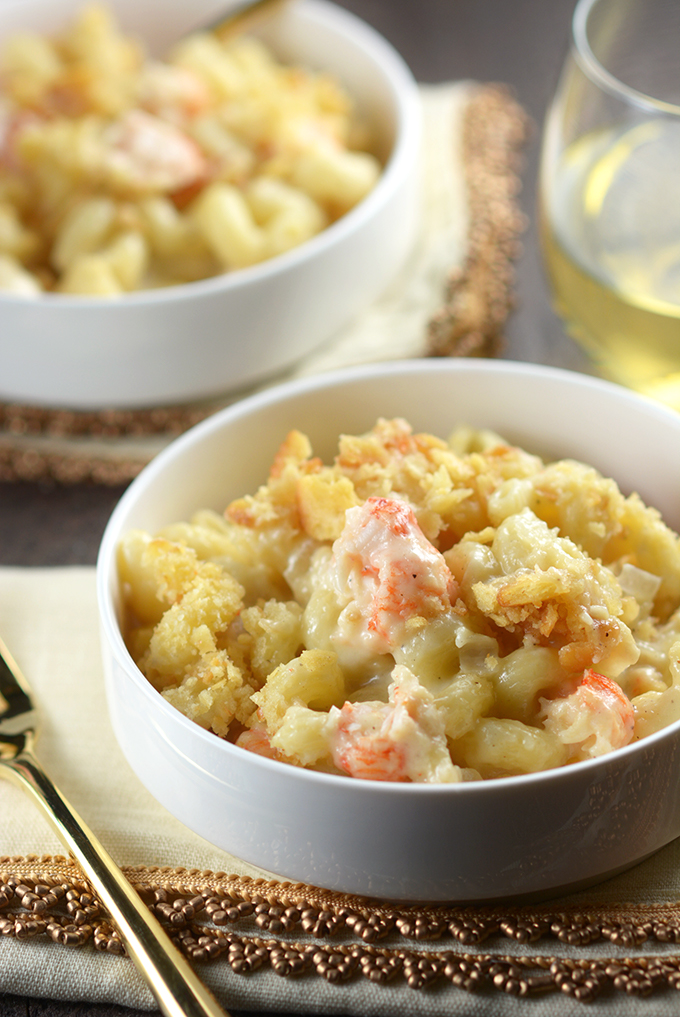 I decided to make Mac 'n Cheese with my Langostino tails. With it being a chilly February I wanted to make a meal that's a cross between comfort food and romance. This recipe has both of those things. The homemade cheese sauce with a blend of three cheeses and the addition of shallots and garlic means the pasta is smothered in a creamy and flavorful sauce. The flavor perfectly compliments the pretty, pink langostinos for a touch of romance. It's the stuff of dreams!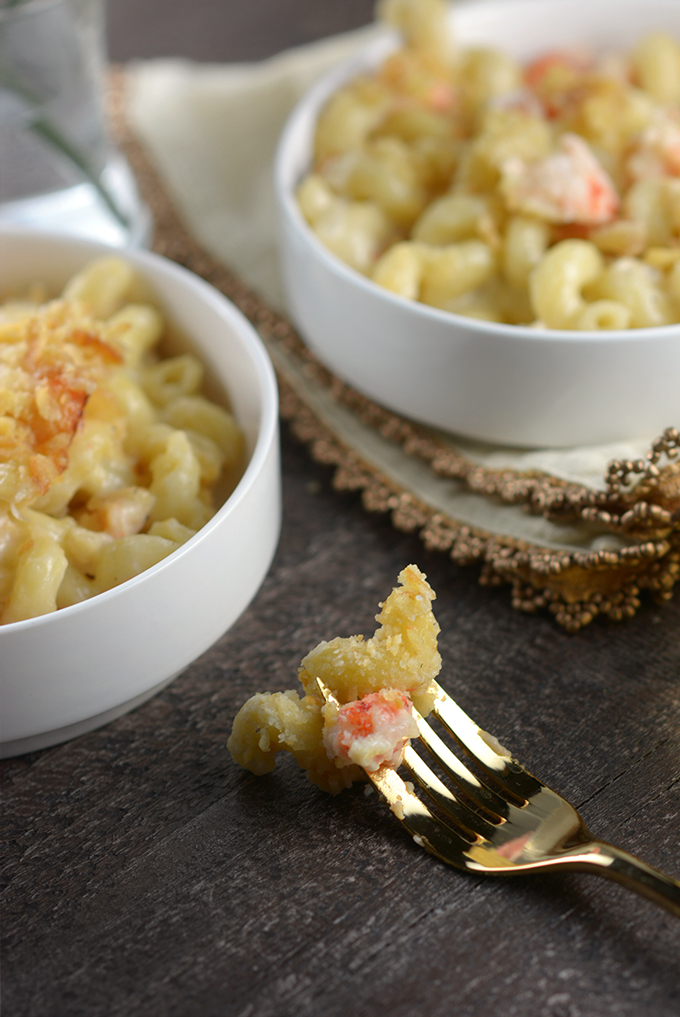 Back to the topic of dreams… If you're a dream expert, I'd love to hear your take on the meaning of my lobster dream. I haven't had it in a number of years. Perhaps that's because I found what I was looking for when I met my husband. That, and I've also found delicious little langostinos!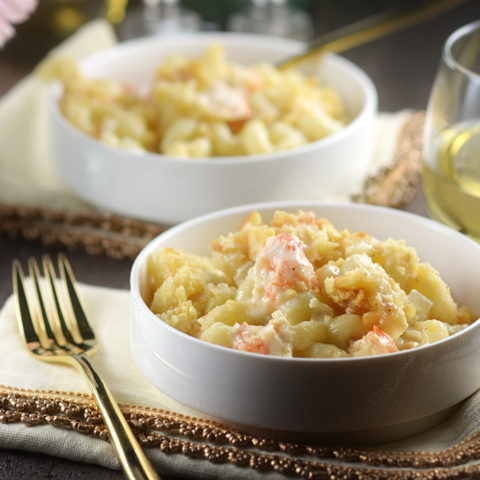 Langostino Mac n' Cheese
This rich, creamy, and romantic comfort dish has all the flavor of lobster mac & cheese but with a much smaller price tag!
Ingredients
Mac 'n Cheese
8 oz box pasta*
1 12 oz package frozen langostino tails, thawed**
1/4 C (1/2 stick) butter
1 C sweet onion, finely chopped
1/4 C shallots, finely chopped
3 cloves garlic, minced
1/2 tsp salt
1/2 tsp black pepper
1/4 C flour
2 1/2 C 2% milk
3 C (1 8 oz block) cheddar cheese, shredded
1 C freshly grated parmesan, shredded
4 slices American cheese, torn into shreds
Bread Crumb Topping
1 C smashed Ritz Crackers
3 Tbsp butter, melted
Instructions
The night before, place the bag of langostino tails in a bowl in the refrigerator to thaw.
Preheat oven to 350ºF. Begin bringing a large pot of water to a boil. Place a strainer in a large bowl and drain any excess liquid off of the langostino tails, then set aside.
Over medium heat sauté together the butter, sweet onion, and shallots until translucent for about 3-5 minutes. Add the minced garlic and sauté for another minute.
Make a roux by adding the salt, pepper, and flour to the pot with the onions. Cook until the butter/flour mixture begins to bubble (about 1 minute).
Next, slowly add the milk to the pot, stirring constantly. Bring to a boil and then remove from the heat. The milk mixture will be thick and creamy at this point.
Slowly stir the cheese into the pot until completely melted. Set aside for a few minutes.
Cook 8 ounces pasta in salted water per the package instructions. Use the longer cook time, not the al dente cook time. Once cooked, drain the water through a strainer.
While the pasta is cooking, grease a 2.5 quart baking dish with vegetable oil or cooking spray. Drain the thawed langostino tails to remove any excess liquid. Also, prepare the Ritz cracker topping by combining 1 C of smashed Ritz Crackers with 3 Tbsp of melted butter.
In the baking dish evenly combine the cooked pasta, langostino tails, and cheese sauce. Spread the mac 'n cheese out so that it evenly fills the dish. Top with the crushed Ritz Crackers.
Cook in a 350ºF oven for 30-40 minutes. The Lagostino Mac 'n Cheese is done cooking once it's bubbly and the middle of the dish has reached an internal temperature of 160ºF. Serve hot.
Notes
*I used cavatappi pasta 
**To thaw the langostino tails, place their package in a bowl in your refrigerator and allow to thaw for 24 hours. Don't allow the tales to sit in your refrigerator for more that 24 hours due to the risk of bacteria growth. If you forgot to defrost your langostino tails, defrost them in a bowl of cold water, changing the water every 15 minutes until the tails are thawed. Don't allow the water to get too warm due to the risk of bacteria growth. Once thawed, drain the tails in a strainer and wring them lightly in paper towels to remove any excess liquid.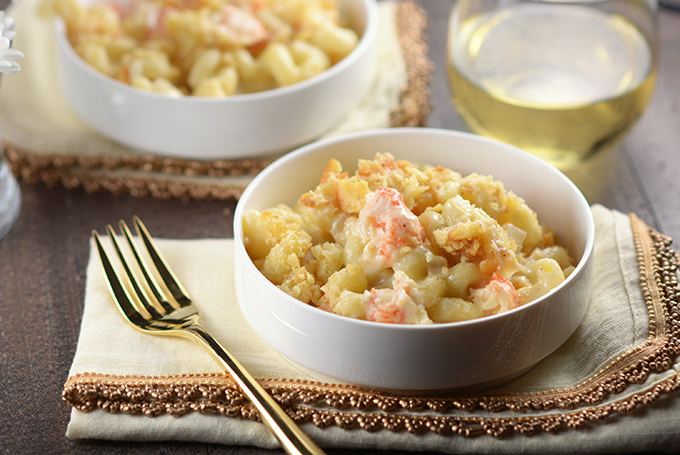 You may also enjoy…