Berry Swirl Cheesecake Bars – These decadent, creamy, and pretty little bars have a fresh, lemony zing and are the perfect accompaniment for Valentine's Day!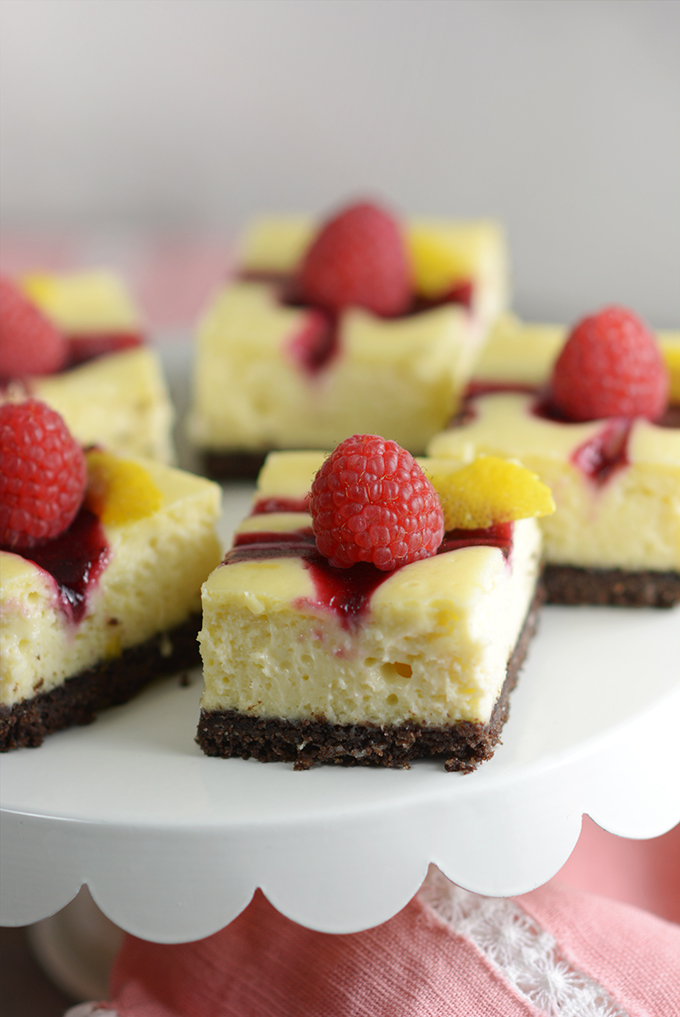 This February I've been way too ambitious with my blogging. Since the beginning of January I developed and photographed SIX Valentine-themed blog posts. Normally, I do one or two. I got excited about cooking and photographing all the Valentine's Day recipe ideas I had and I unfortunately failed to actually write any of the posts.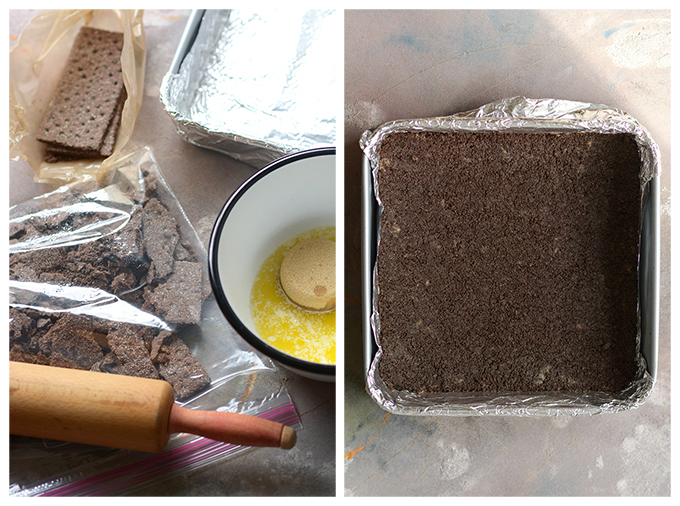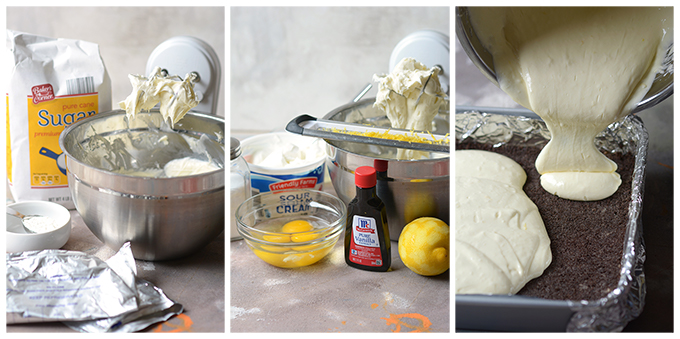 Determined to not let this timely content go to waste I committed to getting it done by the big day; Valentine's Day. The thing is, I've been so busy with work that I posted ZERO of my V-Day posts until a week ago. In the last 7 days I've worked three 13-hour work days at the hospital. Oh, and I made cupcakes for my kid's school and tried to potty train my 3-year-old!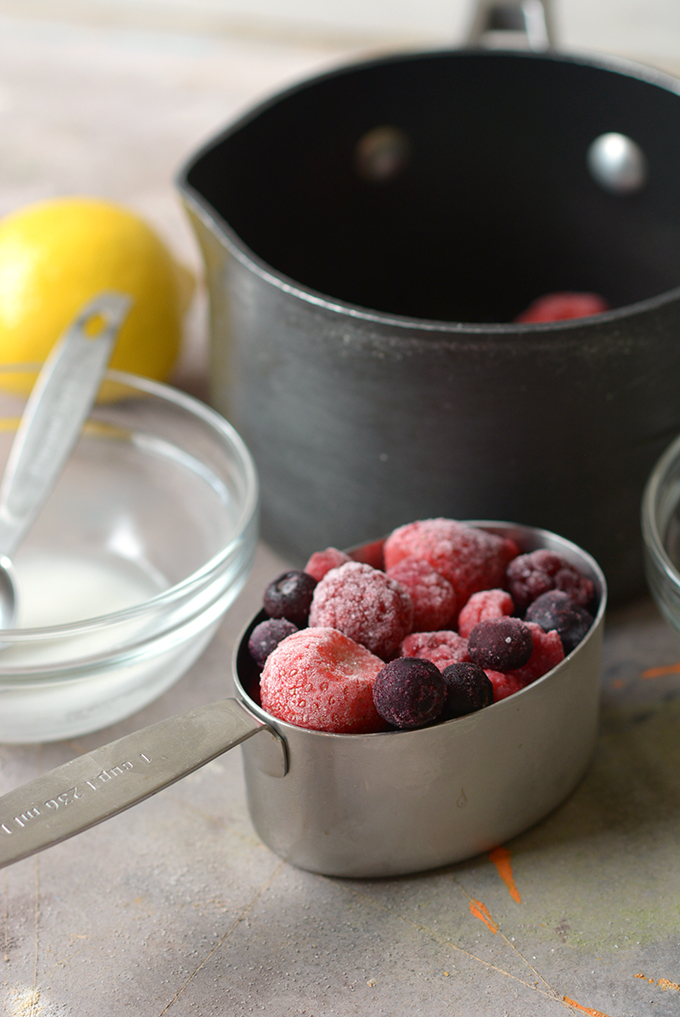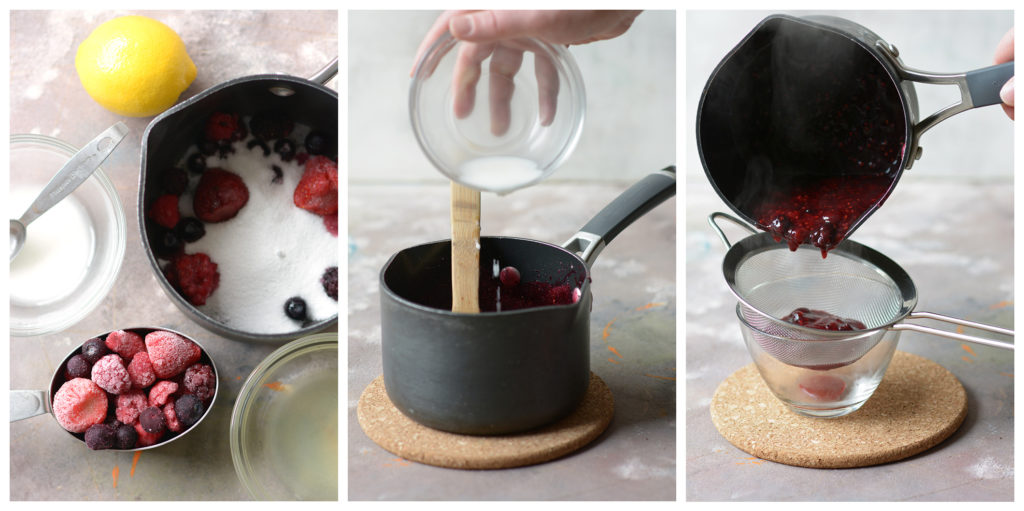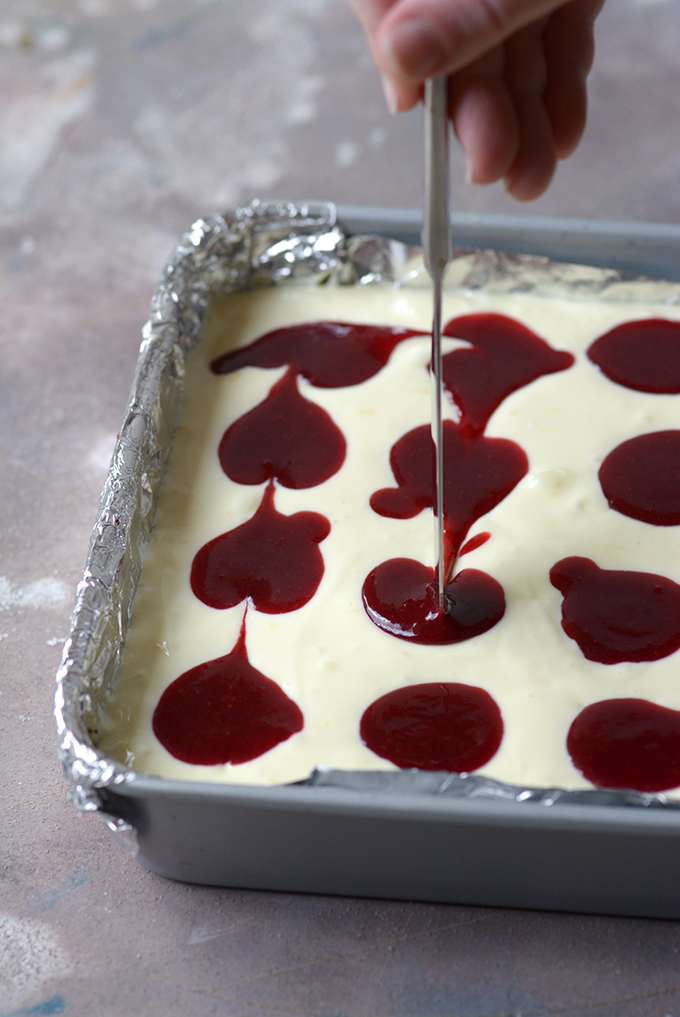 I don't know about you, but when I go onto Instagram and look at food bloggers pristine accounts I imagine them in their large newly-renovated kitchens cooking in high heels and cute, stain-free aprons with a relaxed expression on their faces while the sun shines on them through their beautiful bay kitchen windows. I realized that my imagination has probably gotten the best of me and this isn't all true, or at least it's only partially true.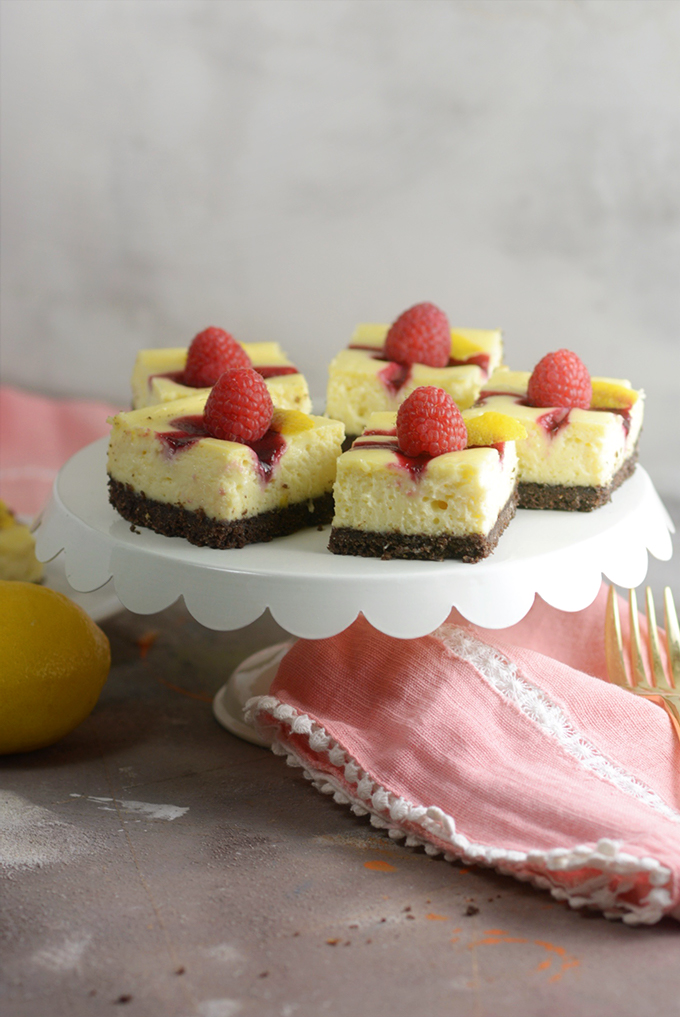 My reality is managed chaos. Don't get me wrong, I have a ton of fun creating this blog, but the reality is that it's my side hustle to fund grad school. And maybe – sometimes – I bite off more than I can chew, or should I say "blog about."
Despite the chaos of this week I did it! Today's post is number SIX! I'm now officially brain dead. I sat down to write this post and my mind went blank. I couldn't think of any entertaining stories or anecdotes, just my nonsensical ramblings and that I love Valentine's Day and that I love Berry Swirl Cheesecake Bars.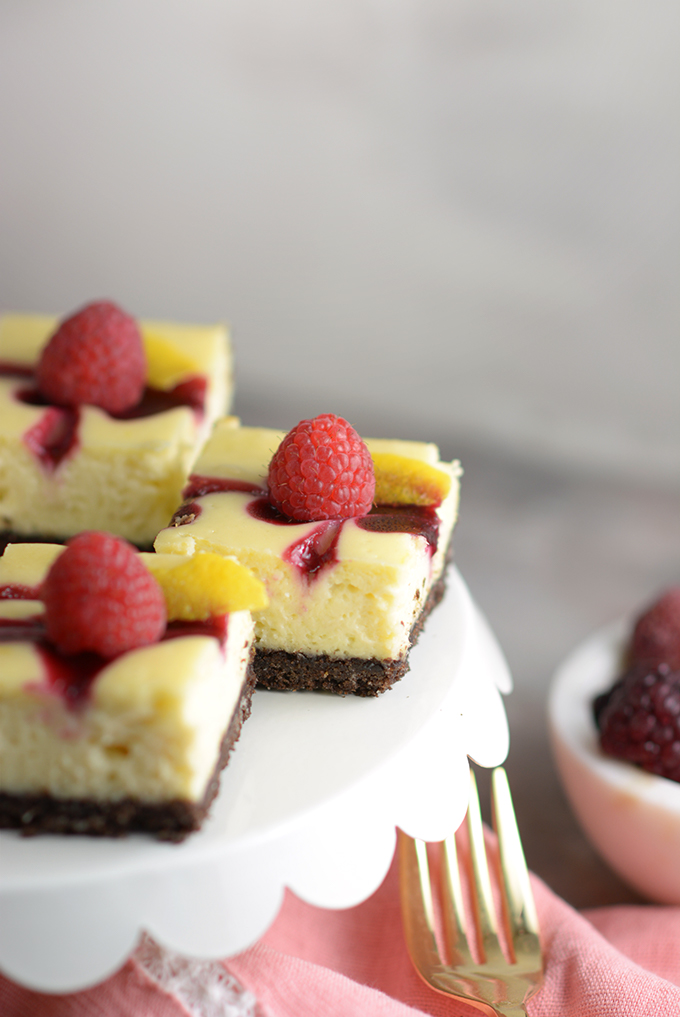 Seriously though, these bars are decadent. The cheesecake is creamy with a little lemon zing that pairs amazingly with berries. They're such pretty little bars, too. I think they're a perfect Valentine's Day treat. That, or a stress-eating treat. Whichever you need this February the 14th!
Happy Valentine's Day!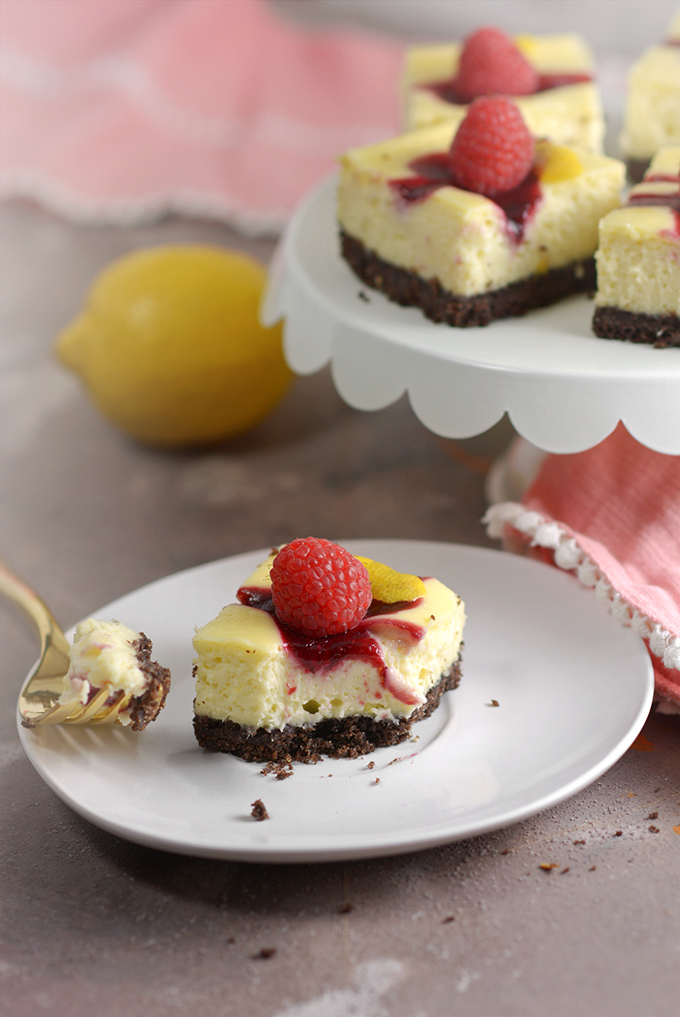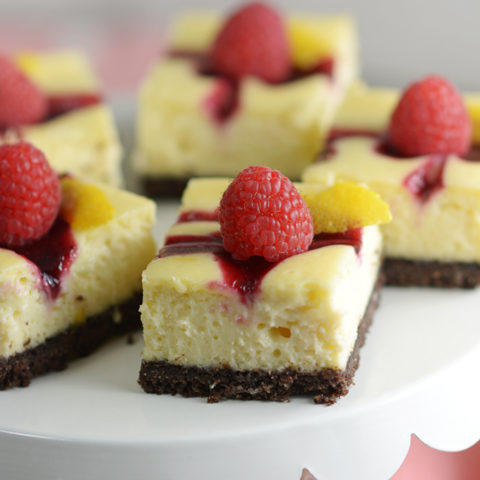 Berry Swirl Cheesecake Bars
Total Time:
1 hour
30 minutes
These decadent, creamy, and pretty little bars have a fresh, lemony zing and are the perfect accompaniment for Valentine's Day!
Ingredients
Chocolate Graham Cracker Crust
10 chocolate graham crackers, crushed into crumbs
7 Tbsp salted butter, melted
1/3 C packed light brown sugar
Berry Swirl
1 1/2 C frozen mixed berries
1/4 C granulated sugar
1 tsp lemon juice
1 tsp corn starch mixed in 1 Tbsp cold water
Cheese Cake Filling
2 8 oz packages cream cheese, room temperature
3/4 C granulated sugar
1 Tbsp all purpose flour
1/2 C full fat sour cream
2 large eggs, plus 1 yolk
1 tsp vanilla
zest from 1 lemon
1 tsp lemon juice
1/8 tsp salt
20 Fresh raspberries for garnish
Instructions
Chocolate Graham Cracker Crust
Line an 8x8 or a 9x9 inch baking dish with aluminum foil and lightly spray with cooking spray. Preheat your oven to 375º F.
Crush the chocolate graham crackers into crumbs by placing them in a zip lock back and crushing them with a rolling pin. Melt 6 Tbsp of butter uncovered in a microwave safe dish at 100% power for 30-45 seconds.
Using a fork, mix together the graham cracker crumbs, melted butter, and light brown sugar.
Evenly press the graham crackers into the bottom of the foil lined baking dish so that it covers the bottom of the pan. Bake for 10 minutes and then remove from the oven and set aside.
Berry Swirl
Place 1 C of frozen berries, 3 Tbsp of granulated sugar, and lemon juice into a sauce pan. Bring to a boil and the reduce to a simmer, stirring frequently.
Continue to simmer until the berry mixture is reduced by half.
Remove the pulp and the seeds by straining the sauce into a small bowl through a wire mesh strainer and then set aside.
Cheese Cake Filling
Reduce the oven's heat to 325º F.
Using an electric mixer, beat the cream cheese, granulated sugar, and flour together for about 1 minute, or until smooth.
Next, on low speed, beat in the sour cream, egg, vanilla, lemon juice, and salt until just combined. Take care not to over mix.
Pour the batter into the cooled crust and evenly spread across the pan. Drop the berry mixture into the pan by teaspoonfuls in 4 rows of 4. Swirl using a knife to create a marbled appearance.
Bake in a 325ºF oven for 35-40 minutes.
Remove from the oven and cool completely on a cooling rack for 1 hour. Next, cool for an additional 2 hours in the refrigerator before serving.
To serve, gently pull the cheese cake bars out of the pan using the aluminum foil. Cut the bars into 5 rows by 4 rows. Garnish each bar with a fresh raspberry and a lemon peel. Store in the refrigerator for up to 5 days.
Notes
Freezer Instructions: Store in the freezer for up to 3 months. Remove the bars from the pan by lifting up by the aluminum foil. Wrap the uncut bars in foil and then store in a sealed freezer safe bag. To defrost, remove from the bag and the foil and defrost in the refrigerator over night. 
You may also enjoy…