Loaded Creamy Chicken and Poblano Enchiladas – This easy and delicious Tex-Mex comfort dish is the perfect mix of spice and creaminess!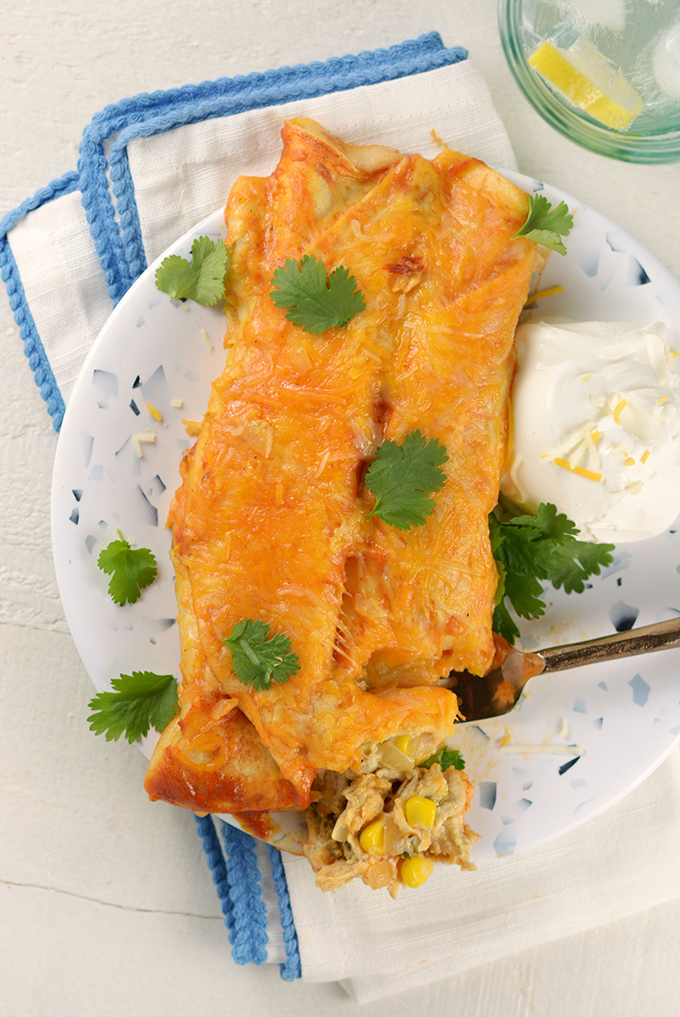 I'm totally having a bad case of writer's block today. At the moment I'm taking a grad class – Informatics for the Advanced Practice Nurse – and yes, it's as bad as it sounds. This semester consists of seven sizable writing projects. Each one must cite multiple research sources and be written in robot-like third person scientific language. This week I've spent HOURS reading and writing about research on electronic medical records and healthcare technology systems. So much so, I think I've forgotten how to write a blog post!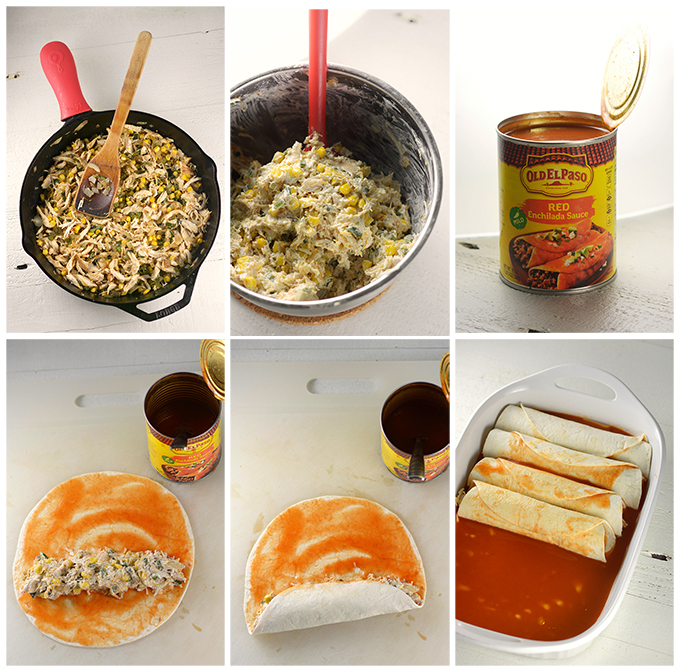 Good thing I haven't forgotten how to cook! This recipe for Loaded Creamy Chicken and Poblano Enchiladas is perfect for beating the I-have-too-much-classwork blues. Spicy paired with creamy is one of my favorite combinations and this was the inspiration behind my recipe. These enchiladas are savory and spicy, yet balanced by the creaminess of cheese and cream cheese!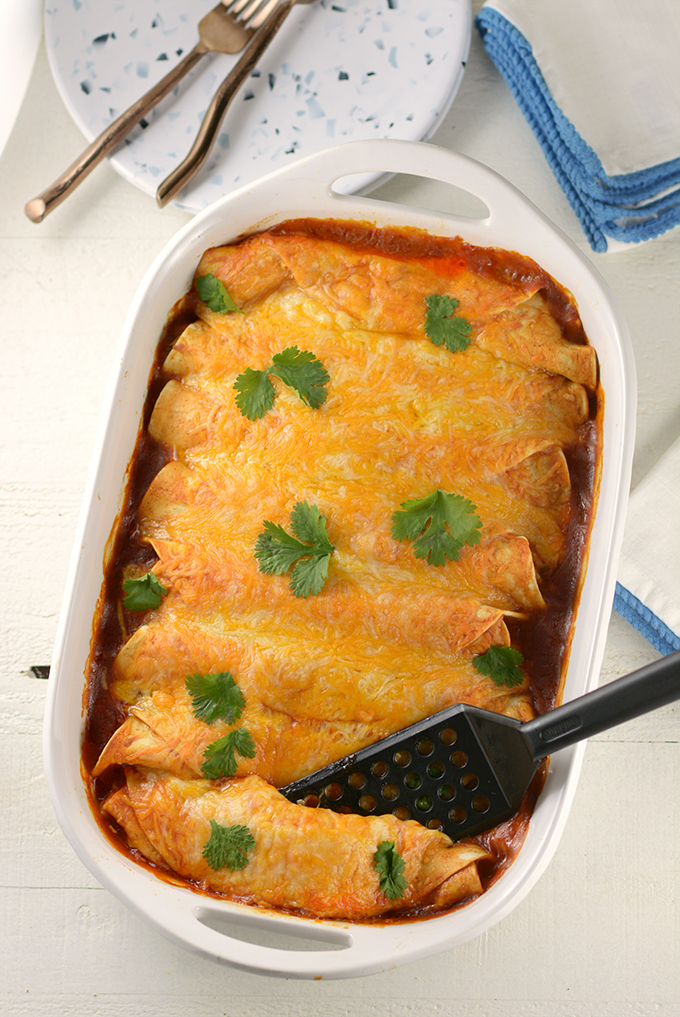 The prep time for this dish takes about thirty minutes, after which it just needs to be popped into the oven to bake. It can even be prepped a day in advance and stored in the refrigerator until you're ready to bake it. This helps if you're trying to plan some extra free time to write boring papers about electronic health records. Seriously though, don't do that. Enjoy some yummy Loaded Creamy Chicken and Poblano Enchiladas instead!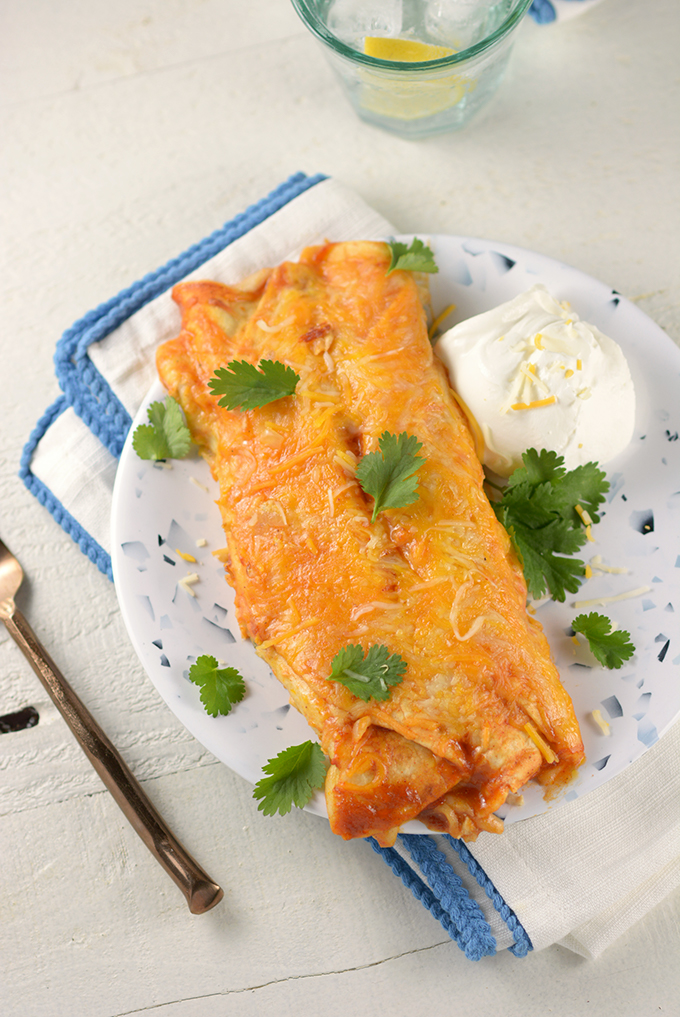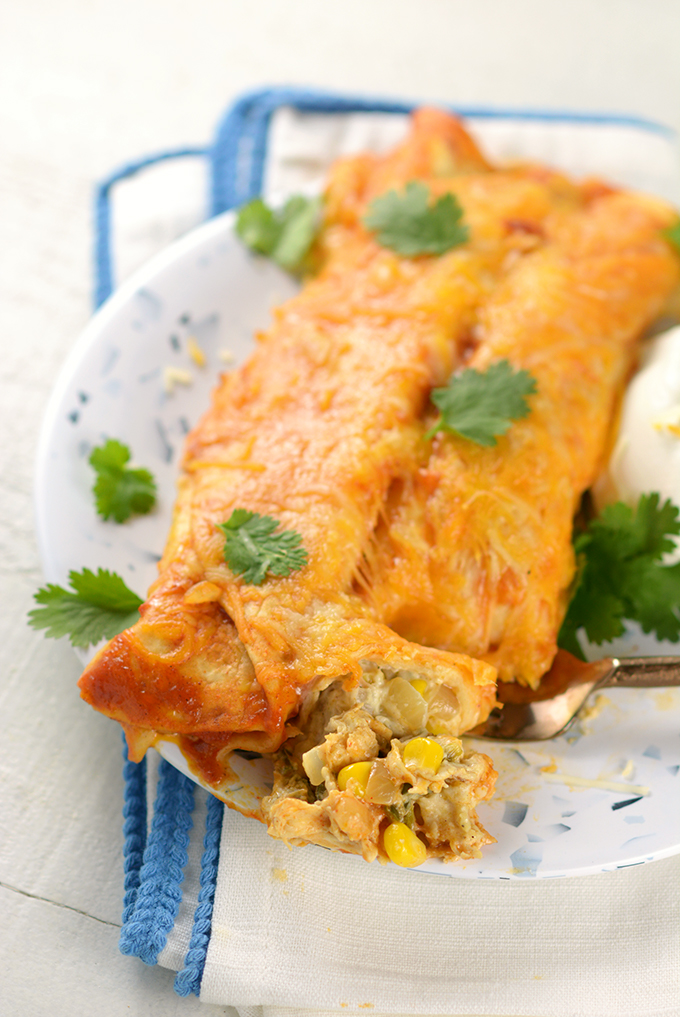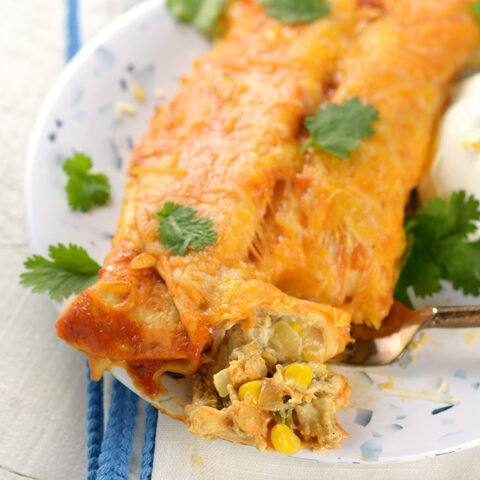 Loaded Creamy Chicken and Poblano Enchiladas
Total Time:
1 hour
50 minutes
This easy and delicious Tex-Mex comfort dish is the perfect mix of spice and creaminess!
Ingredients
2 Tbsp olive oil
1 lb boneless chicken breasts or tenderloins*
1 8 oz package cream cheese, room temperature
1 1/2 C onion, finely chopped
2 poblano peppers, seeded and finely chopped
1/C sweet corn (frozen is fine)
4 cloves garlic, minced
1 tsp ground cumin
1/2 tsp salt
1/4 tsp black pepper
3 C shredded Mexican cheese blend, divided
8 tortillas
1 19 oz can red chili enchilada sauce
Instructions
Set out your cream cheese 1 hour prior to starting.
Preheat oven to 350ºF. Cook the chicken in a skillet with 2 Tbsp of olive oil until it reaches an internal temperature of 165 ºF. Set on a plate to cool while you cook the vegetables.*
In the same skillet used for the chicken, cook the onions and jalapeños in chicken drippings over medium high heat for 2 minutes. Add the corn, garlic, ground cumin, salt, and black pepper to the pan and cook for 3 more minutes. Remove from the heat and set aside.
Using a fork, pull the chicken apart into shreds and then mix it into the cooked vegetables.
In a medium mixing bowl whip the cream cheese using an electric mixer. Once smooth and creamy, stir in the cooked vegetables, chicken, and 1 C of the shredded Mexican cheese blend.
Wrap the tortillas in paper towels and microwave them on high for 30 seconds to soften them. Meanwhile, spoon a layer of enchilada sauce to coat the bottom of a 9"x13" baking dish. Place the remainder of the enchilada sauce in a large bowl.
Once the tortillas are softened, assemble the enchiladas. First, dip a tortilla into the enchilada sauce so that it is coated. Next, spoon about 1/4 C of the cheesy chicken mixture into the tortilla. Roll it and place it seam-side-down into the dish. Continue to do this for the remaining tortillas.
For the final touch, pour the remaining enchilada sauce over the dish, and sprinkle the top of the enchiladas with the remaining 2 C of shredded Mexican cheese blend.
Bake, uncovered, in a 350º oven for 15-20 minutes.
Notes
*Leftover chicken or a rotisserie chicken can be used in this recipe to save on time.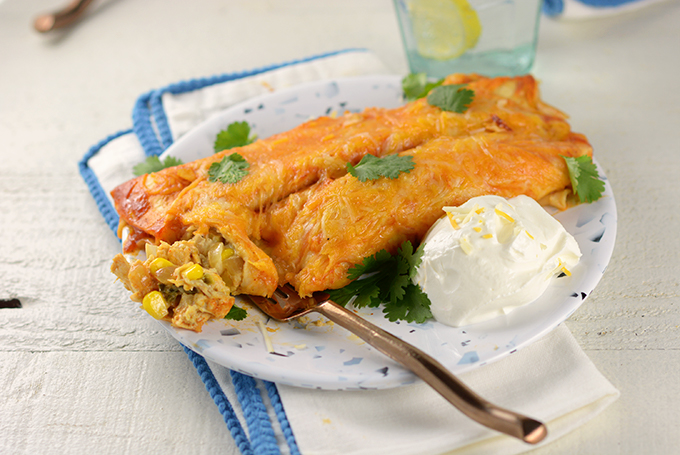 You may also enjoy…