Cranberry Orange Granola Bars – Is your sweet tooth getting in the way of your resolutions? These tasty snacks satisfy that craving without making you fall off the wagon!
A new year is a good reminder of the importance of healthy eating, whether weight loss is a concern (that's always been a struggle for me) or just maintaining overall wellness. The thought of improving eating habits is something that crosses many minds in January, and let's face it, changing eating habits is really hard. Many people start the new year out with high hopes and plans for improving their health, but then fizzle out by the end of February. I've noticed this phenomenon at the gym. In January all of the treadmills and elliptical machines are filled with New Year's optimists, but by mid-February the parking lot is less full and I have my pick of machines.
Another thing I've observed in five years of being a home health nurse is that many people take an all-or-nothing approach to their wellness. I hear things from patients like, "I've tried to diet in the past, but it never works for me." Or, "I can't eat healthy food, I just don't like fruits and vegetables." Lots of I can'ts, I've tried's, and I've failed's, so now it's not worth trying at all. It's a form of discouraged nutrition perfectionism.
What I tell my patients, many of whom have decades of very poor eating habits behind them, is that it's okay to be imperfect! It's not about a "diet" or even how many pounds you lose, it's about the small victories that make you healthier in the end, compared to if you hadn't tried at all. You will soon lose your motivation if you set unrealistic goals or associate imperfection with failure.
When it comes to wellness, my Achilles heel is sweet treats. I have no problem eating gobs of fruits, vegetables, whole grains and such. But then, when I'm done eating healthful foods all day, I want a treat. I like to think I have a wily sweet tooth that causes me all sorts of problems and that it's not my fault… but we all know the truth. 😉 Part of how I keep my sweet tooth in check is by making sweets that are mostly healthy, but that keep me from sneaking my son's leftover Christmas candy from the back of the pantry.
Today's recipe for Cranberry Orange Granola bars is a snack to satisfy that sweet tooth. It's a combination of whole grain goodness, nuts, dried fruit and a touch of white chocolate. I love the winter flavors in this recipe, and all of the protein and fiber is good for curbing hunger. I like packing these when I work. I often don't have much time for lunch and my work days can be pretty stressful, making it harder for me to resist temptation. These are a naturally sweetened snack to get me through the day!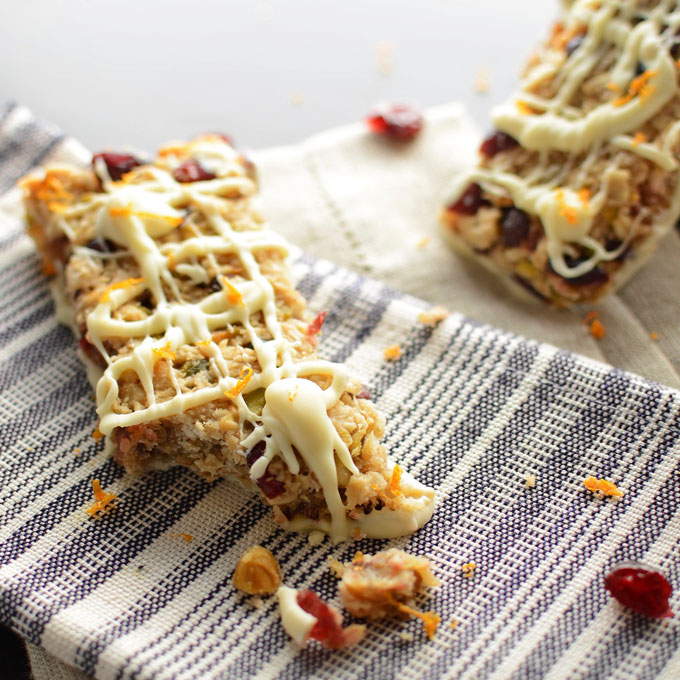 I want to encourage you to celebrate the healthy choices you're going to make this year. Celebrate your victories and don't let your mistakes hold you back from the good choice you have the opportunity to make tomorrow!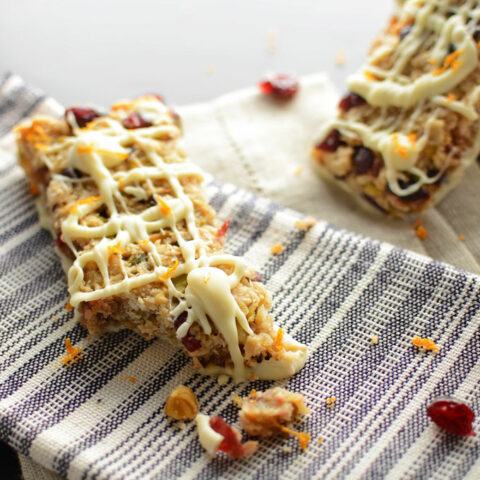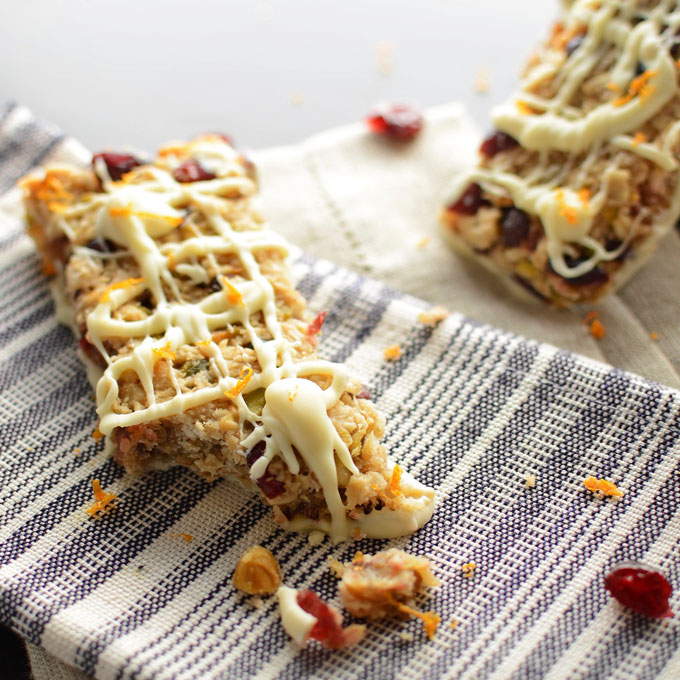 Cranberry Orange Granola Bars
Yield: 14

Prep Time: 15 minutes

Cook Time: 25 minutes

Total Time: 40 minutes

Is your sweet tooth getting in the way of your resolutions? These Cranberry Orange Granola Bars satisfy that craving without making you fall off the wagon!
Ingredients
3 C rolled oats
1/2 C almond flour
3/4 tsp himalayan pink salt (1/2 tsp regular)
1 C dried cranberries
1/2 C chopped pistachios
3/4 C unsweetened applesauce
1/4 C coconut oil
1/4 C fresh squeezed orange juice
1/3 C agave
2 tsp orange zest
1 tsp pure (or real) orange extract
6 oz organic white chocolate*
Instructions
Preheat oven to 325ºF. Combine all the ingredients, except for the white chocolate, in a large mixing bowl and, using your hands or a spoon, evenly combine.
Line a jelly roll pan or a light baking sheet with parchment paper. Pour the granola bar mix onto the pan, then spread out and pack using your fingers until you have a rectangle that's about 1/3 inch thick.
Bake in a 325ºF oven for 25-30 minutes, or until it's beginning to turn golden brown. After removing the pan from the oven, cut them into 14 bars before they cool. Next, allow them to cool for 1-2 hours until they reach room temperature.
Once the granola bars are cooled, melt the white chocolate using a double broiler method or by microwaving it in 1 minute increments at 30% power until it's melted and warm. Gently dip the bottom side of each granola bar in white chocolate and then place it back onto the parchment. Then drizzle any remaining white chocolate over the bars. Allow 1-2 hours for the white chocolate to set before serving.
Notes
Individually wrap each granola bar in plastic wrap or place them in snack-sized Ziploc bags so that they're ready to pack and go. Store up to 2 weeks in the refrigerator.
*VEGAN: Make this recipe vegan by buying vegan, dairy-free white chocolate.



If you enjoyed this recipe, you may also enjoy…