Cream Chipped Beef and Toast – Ready to make your own culinary memories? Whip up a batch of this classic comfort food and discover how it can become a cherished tradition in your family's repertoire.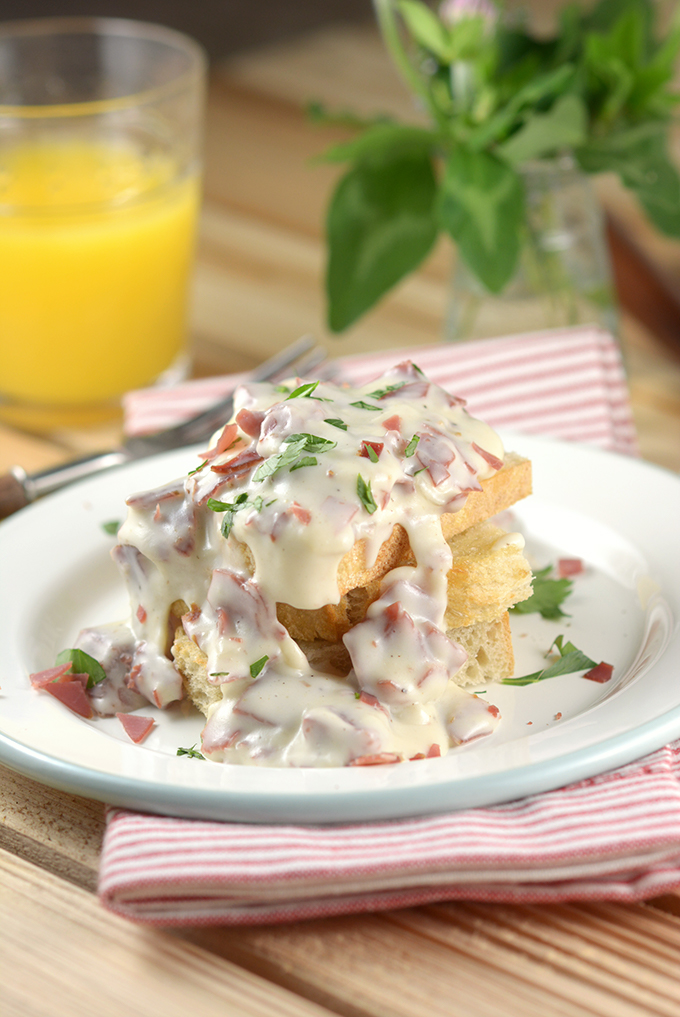 I have such a wonderful memory associated with the first time I tried Cream Chipped Beef and Toast. Growing up there was an idyllic state park near my home that had a wooded picnicking area situated along a large reservoir with a beach for swimming. It was the sort of reservoir that had banks lined with tall, old-growth trees that reflected across the water along with the blue sky littered with fluffy white clouds. The park definitely had some real life Bob Ross vibes. It was just far enough outside of the city of Philadelphia that on the weekends it would attract people wanting to escape life in both the city and the suburbs in order to become one with nature.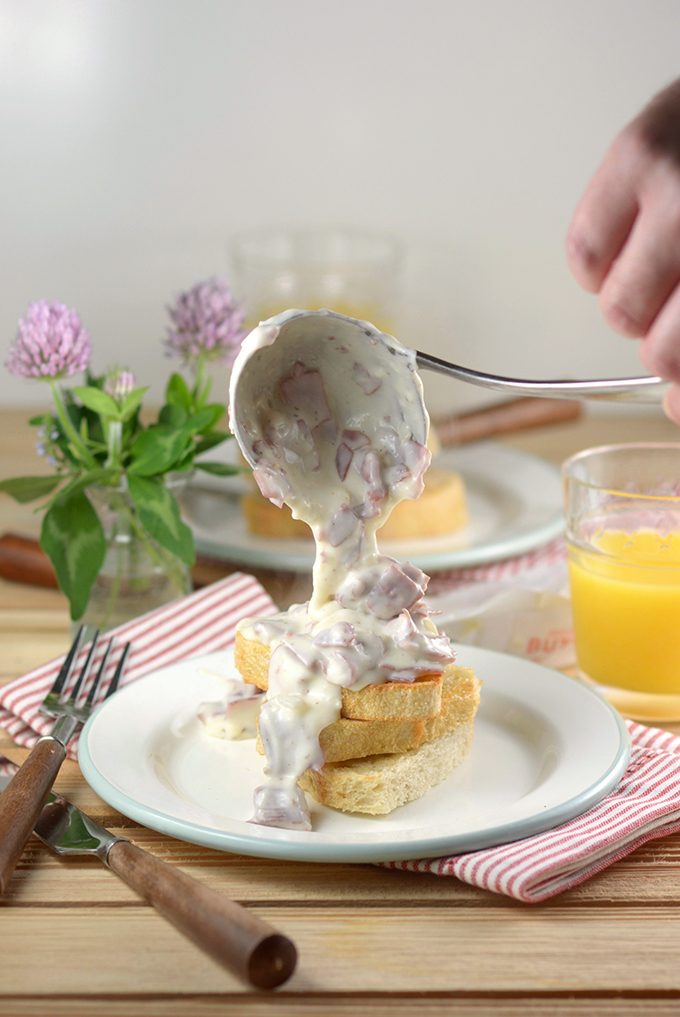 I remember one such Saturday morning when I was about seven years old. We piled into my grandparent's gray Subaru station wagon with all the makings for a bunch and made our way to the park, swimsuits on, ready for a relaxing day by the water. While us kids splashed around under the watchful eye of my Grandad, my Nana prepared a large brunch spread over a Coleman camp stove. I'm talking coffee, fruit, eggs, toast, and of course Cream Chipped Beef. It always amazed me what she could whip up over a couple of propane burners!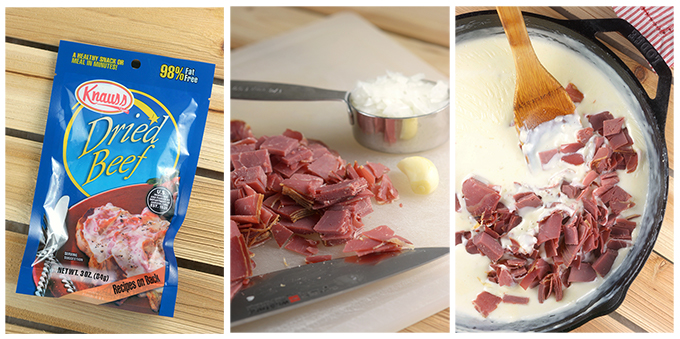 I remember being ravenous by mid-morning from playing and being chilled from the reservoir water, when my Nana announced that brunch was ready. Since that first bite, the savory, creamy, and hot Creamed Chipped Beef and Toast has always been one of my favorites. Especially when it's prepared and enjoyed outdoors around a picnic table. It's been many years since that wonderful Saturday, but this delicious comfort food dish will hold that memory forever.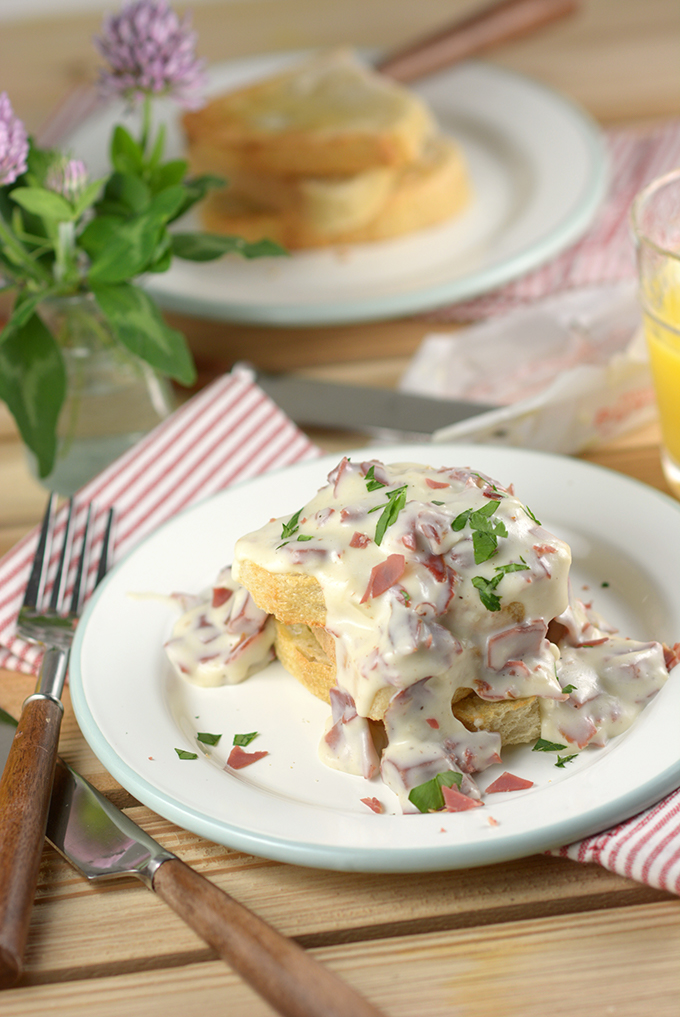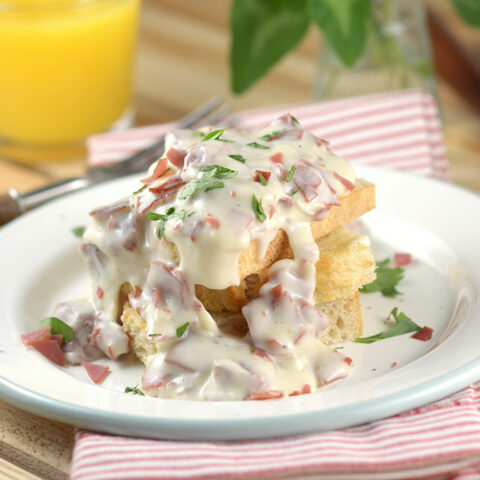 Cream Chipped Beef and Toast
Ready to make your own culinary memories? Whip up a batch of this classic comfort food and discover how it can become a cherished tradition in your family's repertoire.
Ingredients
4 Tbsp butter
1/4 C onion, finely chopped
1 clove garlic, minced
1/4 C all purpose flour
2 1/2 C milk
1/2 C heavy cream
6 oz package dried beef, coarsely chopped
1/8 tsp black pepper
8 slices of sourdough toast
2 Tbsp butter
freshly chopped parsley for garnish (optional)
Instructions
This recipe comes together quickly, so I recommend chopping all of your ingredients before starting the cooking process.
Cook the onions in a large skillet in melted butter over medium heat for 3 minutes. Next, add the minced garlic and cook for 1 more minute.
To create the creamy sauce, reduce the heat to medium-low and then add the flour to the pan. Stir it around so it becomes evenly incorporated into the butter, then cook for 1 minute or until it begins to bubble.
Very slowly begin adding the milk to the pan while constantly stirring and scraping the bottom of the pan with a wooden spoon. Repeat with the heavy cream. Be sure to take your time and do this slowly so that you don't get a lumpy sauce. Don't allow the sauce to simmer or boil so that the milk doesn't curdle.
Finally, add the dried beef and pepper to the pan. Heat, stirring frequently, until you observe the first bubble, and then remove from the heat.
Toast and butter the sourdough bread. To serve, stack up 2-3 slices of toast, then pour about a cup of cream chipped beef over it. Garnish with the remaining chopped parsley as desired. Serve immediately.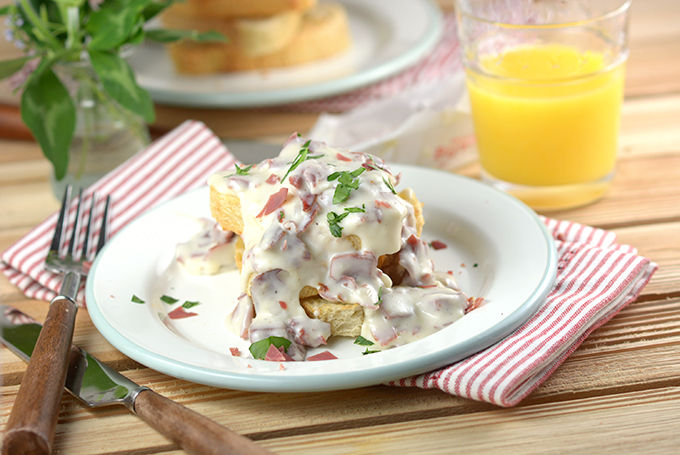 You may also enjoy…