Fall Ricotta Toast 3 Ways – Celebrate the traditional flavors of fall with these healthy, high-protein breakfast options that will keep you satisfied all morning long!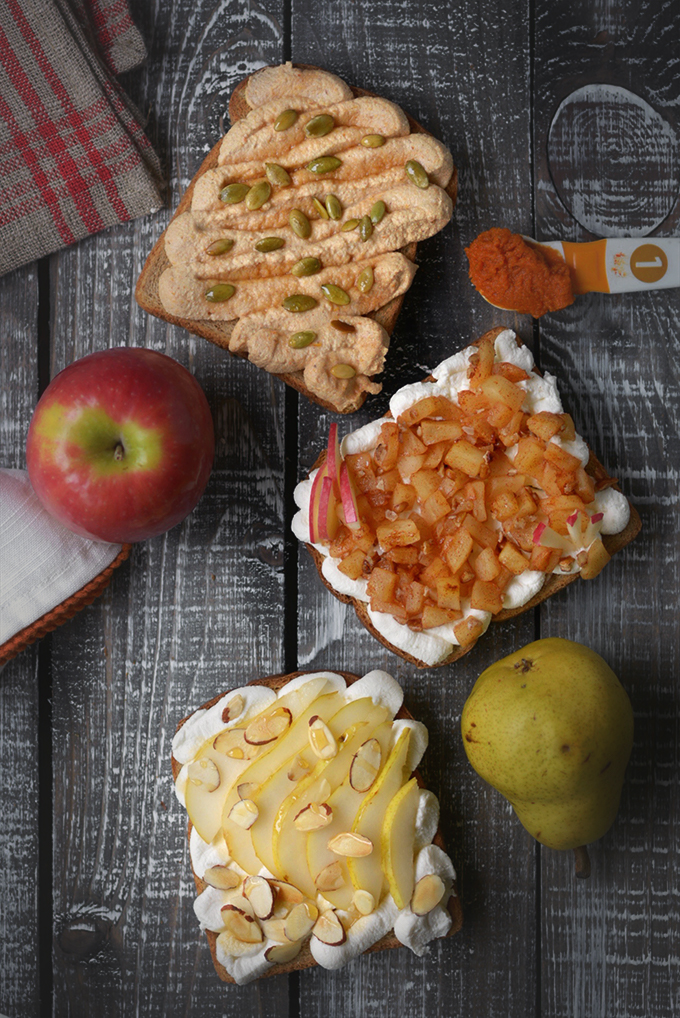 I've been having a lot of fun with ricotta toast! A couple of months ago I shared with you Summer Ricotta Toast 5 Ways. Now the days are getting shorter and the leaves are changing color. There's also that wonderful nip in the air that means frappuccino season is out and steaming hot latte season is in. What better way to enjoy a nice hot cup of coffee (or tea) than with my ideas for Fall Ricotta Toast 3 Ways.
I decided to embrace flavors for my toast that pay homage to locally-grown fall produce. In southeastern Pennsylvania that's pumpkin, apple, and pear.
Before I get into the specifics of my fall ricotta toast, you may be wondering if ricotta toast is healthy…
Is Ricotta Toast Healthy?
The answer is a resounding "yes!"
Ricotta toast is an excellent source of protein. It boasts just under 10 grams of protein in the 3 ounces used on each piece of toast. A high protein breakfast is the perfect way to start the day because it will keep you feeling full and satisfied all morning long!
Ricotta toast has some other benefits, too. Three ounces of ricotta contains 18% of your daily value of calcium. Pairing it with some hearty whole grain bread adds extra iron, too. My slice of toast contained 6% of my daily value of iron. The final touch – fresh fall produce – adds healthy vitamins and minerals, like vitamins A and C. I don't know about you, but now that we're on the cusp of flu season I'm trying to load on the fruits and vegetables! Fortunately this natural breakfast really has your morning covered!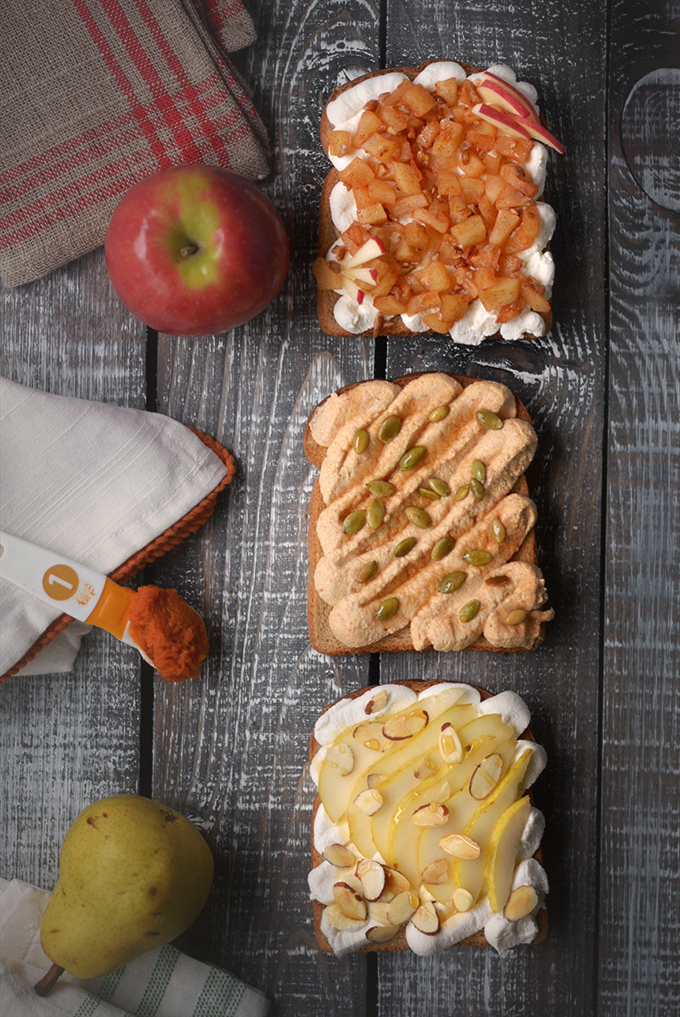 How to Make Pretty Ricotta Toast
Before you start toasting I just want to say that I don't want you to fall prey to a Pinterest fail.
You know what I mean… You find something on Pinterest and the blogger makes it look so pretty and then you go to make it and your Micky Mouse pancakes end up looking perfect for Halloween, but might scare the 3-year-old you intended them for. Hint: don't use the red M&Ms for eyes.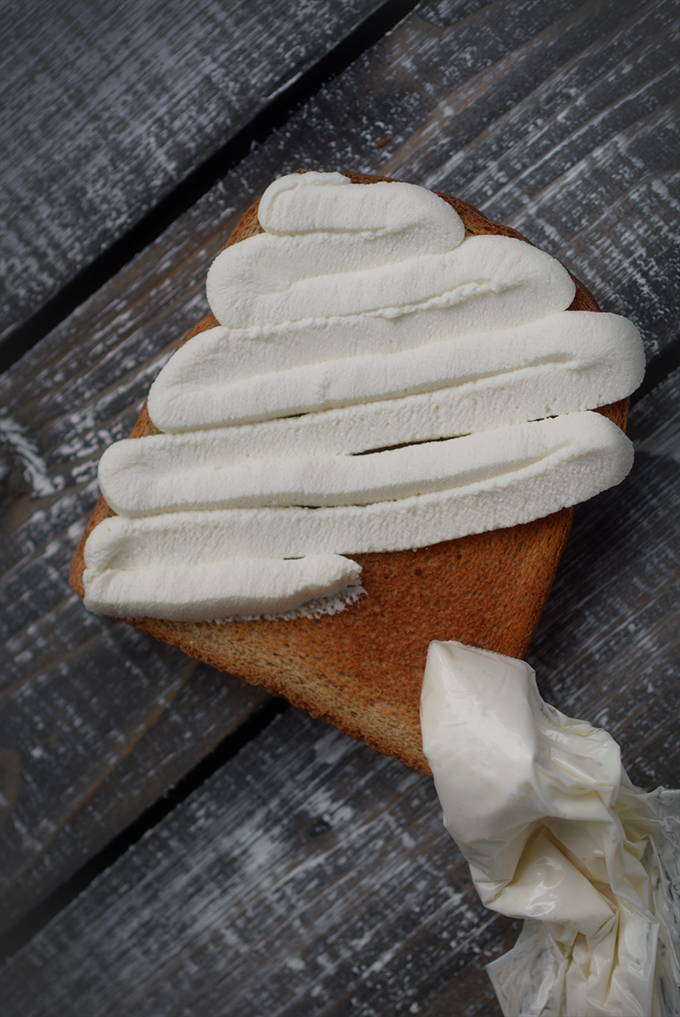 As far as ricotta toast goes the secret to making it beautiful is piping the ricotta onto the toast as follows:
Fill a plastic sandwich bag with 3 ounces of ricotta cheese.
Using a pair of clean scissors, clip one corner off of the bag.
Squeeze the ricotta onto the toast from one diagonal corner to the next while making a zigzag pattern.
Fall Ricotta Toast 3 Ways
Now, as promised, here are my recipes for Fall Ricotta Toast 3 Ways. Click the links bellow for detailed instructions.
Be sure to also check out my ideas for Summer Ricotta Toast 5 Ways.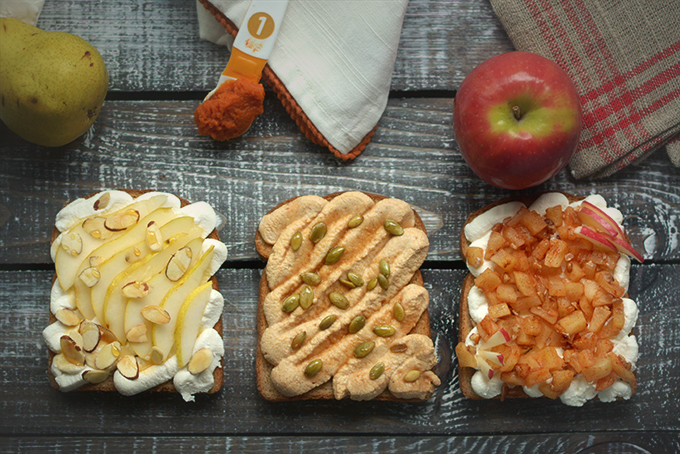 Stay Tuned, Winter is Coming
After the holidays I'm going to have to toast up some new ricotta toast flavors to get add some zest to those bleak winter days. I'm thinking orange and vanilla and perhaps a chocolate toast, too. Do you have any ideas? I'd love to hear about them!
If you enjoyed these fall recipes you may also enjoy