Scalloped and Candied Sweet Potatoes and Apples – Perfect for your next holiday gathering, this delicious side dish is both beautiful to behold and just bursting with fresh fall flavors!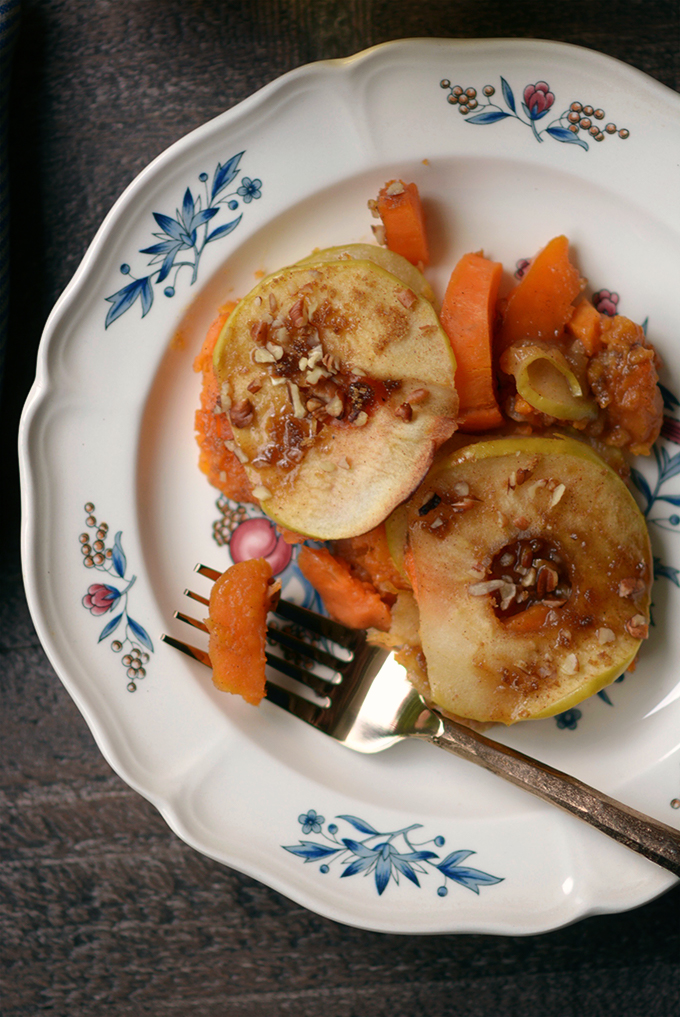 We all have a favorite Thanksgiving side dish. Mine has always been the sweet potatoes. My husband, on the other hand, says that they're one of his least favorites. I find this puzzling because they're so yummy!
As a kid I assumed that every American ate their Thanksgiving sweet potatoes the same way. Growing up my mom baked up bite-sized sweet bites in a sticky and buttery brown sugar sauce. I later learned that my husband's family made them into a thin purée with marshmallows on top. Naturally, if I had to choose between the two, I'd choose my mom's.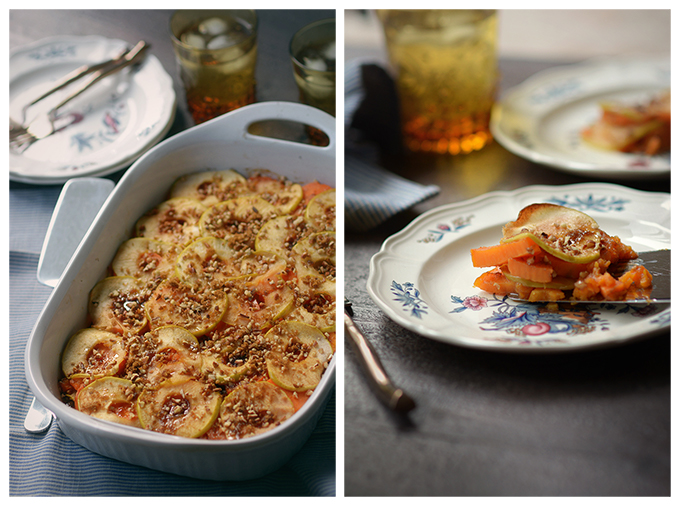 Now that I like to think of myself as being all grown up, I thought that this year I'd create my own version of Thanksgiving sweet potatoes in hopes that Mr. Simple Seasonal would start to recognize their virtues more. I believe that my husband's grievance against candied sweet potatoes is that they're too sweet. Personally, I think it's all about the "candied" aspect of the dish.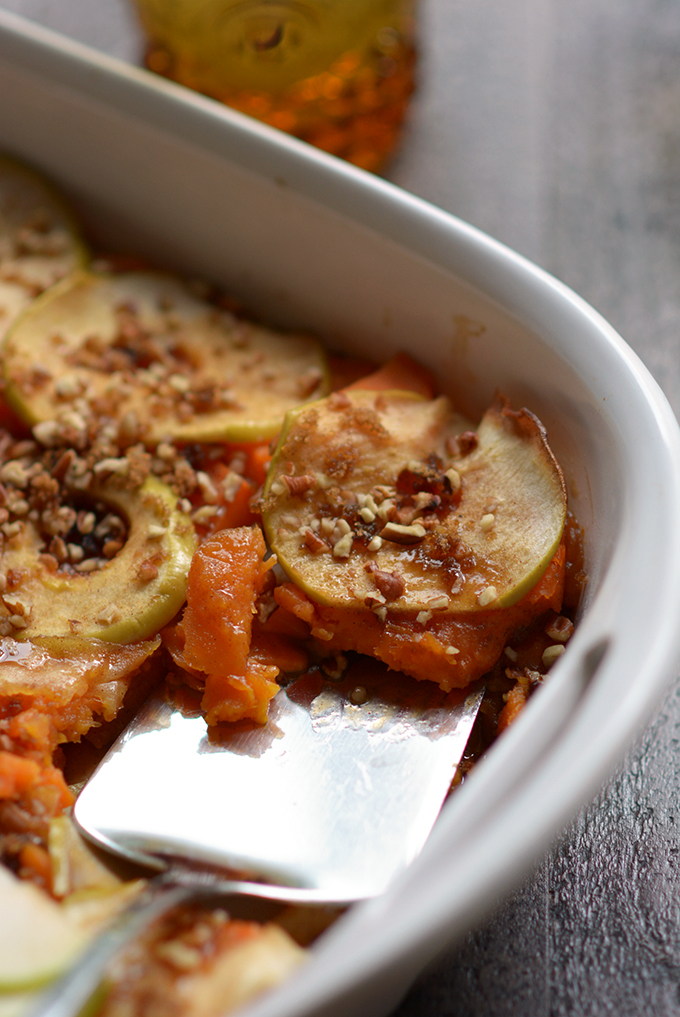 To make this classic Thanksgiving side work for both of us, I kept all that candied brown sugar and butter intact. I then added tart apples to the dish and fresh-squeezed orange juice to the sauce. Both added a touch of tartness and more depth of flavor. It's no longer trying to be savory while also being more dessert-like. Instead it's a balance of warmth and sweetness with a hint of tart. And did I mention the apple rings look beautiful? Perfect for adorning your Thanksgiving or Christmas table!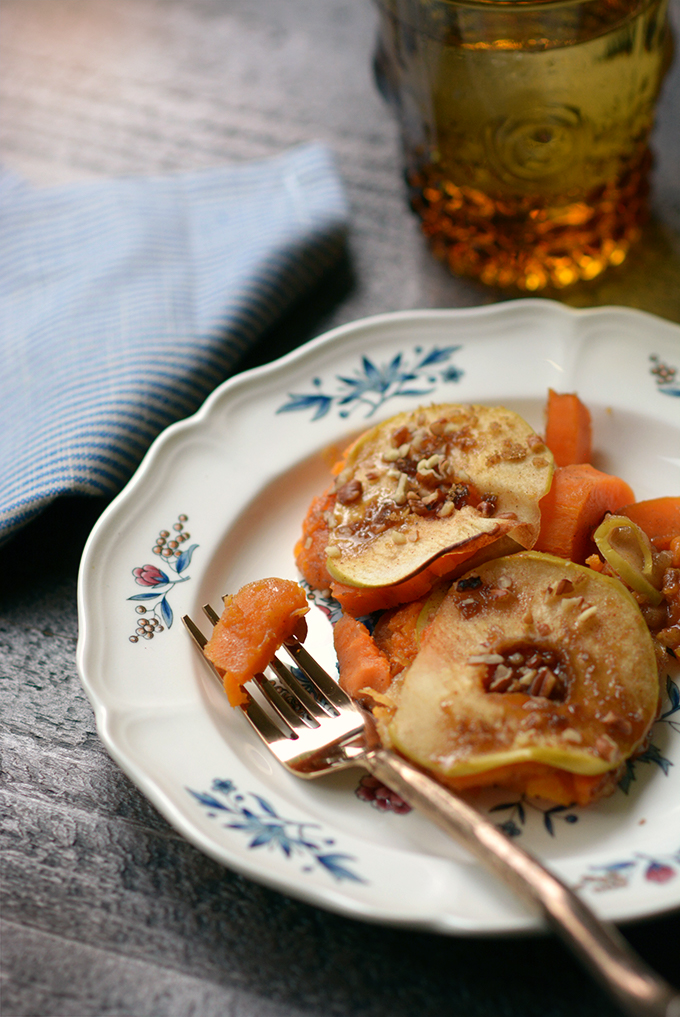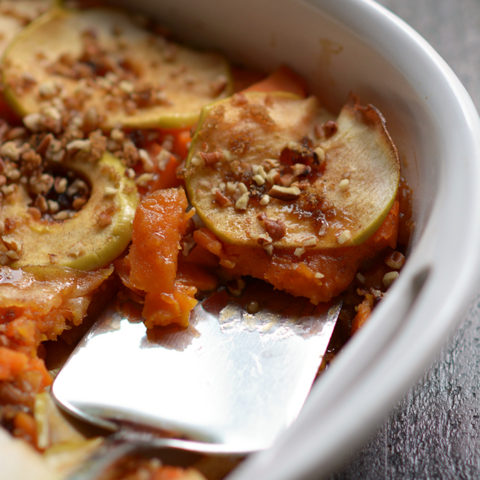 Scalloped and Candied Sweet Potatoes and Apples
Perfect for your next holiday gathering, this delicious side dish is both beautiful to behold and just bursting with fresh fall flavors!
Ingredients
4 medium sweet potatoes (2.25-2.5 lbs)
3-4 tart apples 1- 1.25 lbs)
7 Tbsp butter divided
1/2 C fresh-squeezed orange juice
1/4 C water
1 tsp corn starch
1 C packed dark brown sugar
1/2 tsp ground ginger
1 1/2 tsp ground cinnamon
1 tsp salt
Topping
3 Tbsp chopped pecans
1 Tbsp brown sugar
Instructions
Preheat oven to 375ºF. Grease a casserole dish with butter and set aside.
Cook the sweet potatoes in the oven or in the microwave so that they are soft, but still a little firm. Once they are cool enough to handle, peel the cooked sweet potatoes and cut them into 1/8-1/4 inch thick rounds.
While the sweet potatoes are cooking and cooling, prepare the apples. Remove the cores from the apples and cut them into 1/8 inch thick rings. Sauté the apples in 3 Tbsp of butter until they are light brown and just beginning to soften, but not mushy.
In the casserole dish arrange alternating layers of sweet potato rounds and apple rings so that there are 4 layer in all; sweet potato, apple, sweet potato and apple.
In the pan that the apple rings were cooked in, with the burner off, whisk together the orange juice and water with 1 tsp of corn starch until there are no clumps. Next, whisk in the dark brown sugar, ground ginger, ground cinnamon, and salt. Turn the heat to medium and bring to a boil and then turn down the heat and simmer for 1 minute.
Evenly pour the hot sauce over the sweet potatoes and apples that have been arranged in the casserole dish. Bake uncovered in a 375ºF oven for 20-25 minutes or until the dish is bubbling and heated through. Sprinkle on the pecan and brown sugar topping and cook an additional 5 minutes. Serve immediately.
You may also enjoy…