No Bake Turkey Cookie Pops – These delightful little cookie pops are a unique holiday treat that will add a festive flair to your Thanksgiving Day table!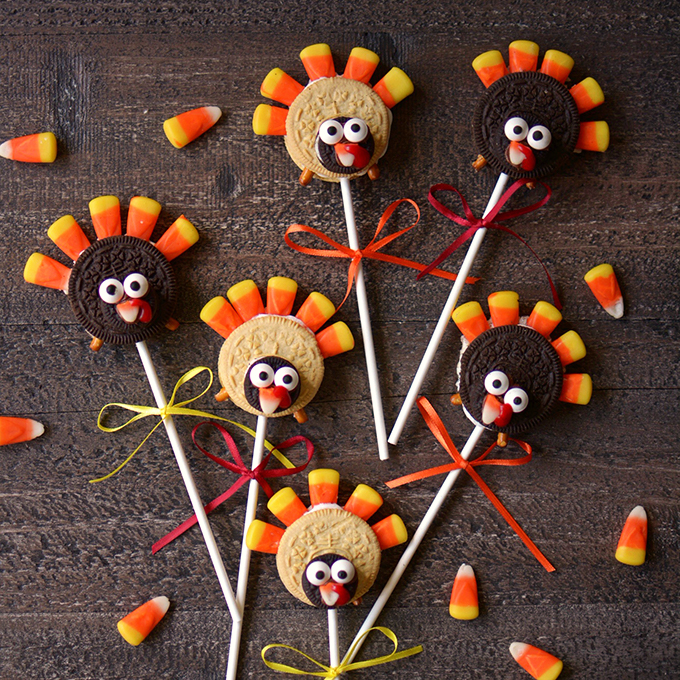 I may have overcommitted myself this upcoming weekend… I sort of said I'd bring 48 (almost 50!!) turkey-shaped cookies to my son's 1st grade Thanksgiving feast on Tuesday. And since I'm scheduled to work a ton of hours through the weekend the thought of baking them and then cleaning up my kitchen on Monday sounds dreadful.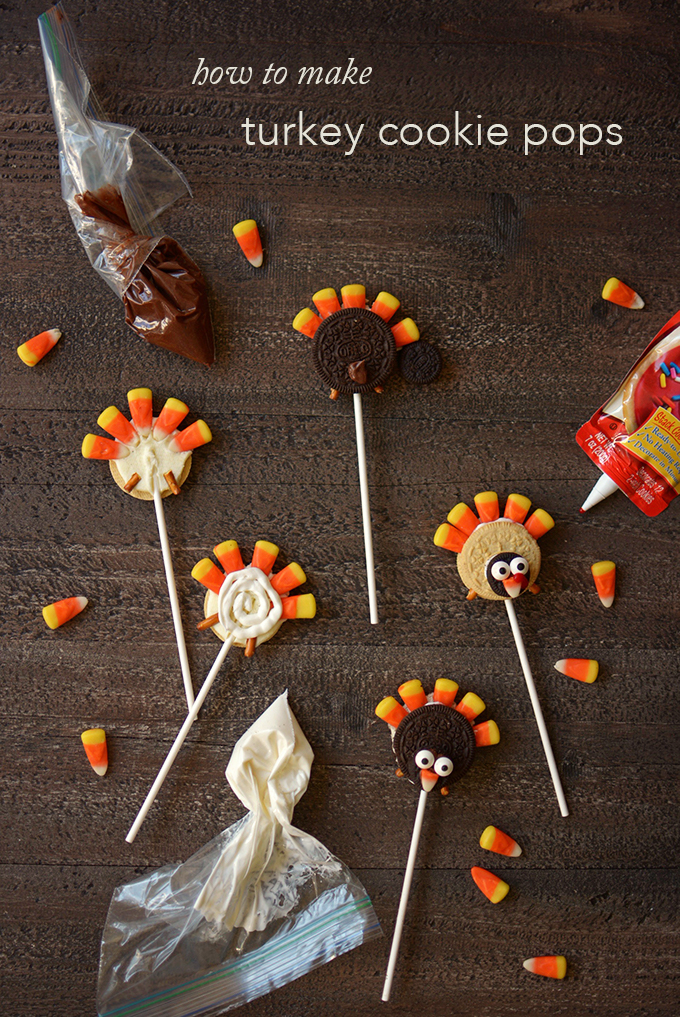 Normally I'm the person who likes to make everything from scratch, but a girl can only do so much. I think most moms have had similar moments of wanting to do something nice for their kids but feeling too busy and overwhelmed to get it done. That's why I decided to not bake the turkey cookies!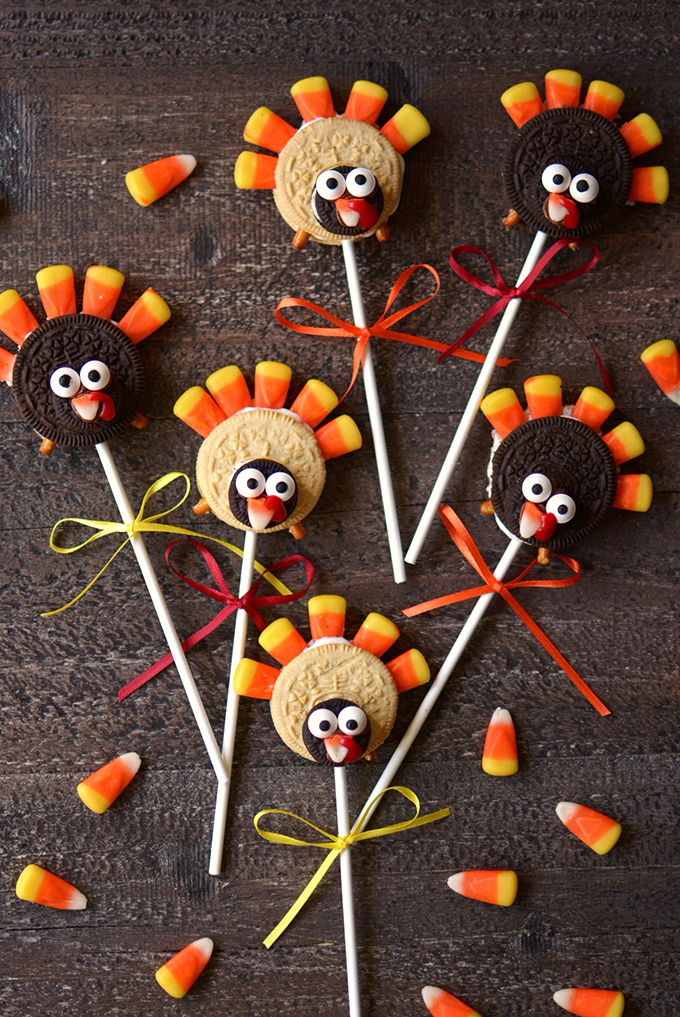 Instead, I'm making little turkey cookie pops made from every kid's favorite – Oreos! In my opinion the end result is super adorable! I tested out a few for this blog post while my son was at school yesterday. When he got home he went nuts over them and shared them with his neighborhood buddies who also went nuts over them! I'd say that they're officially kid-tested and approved!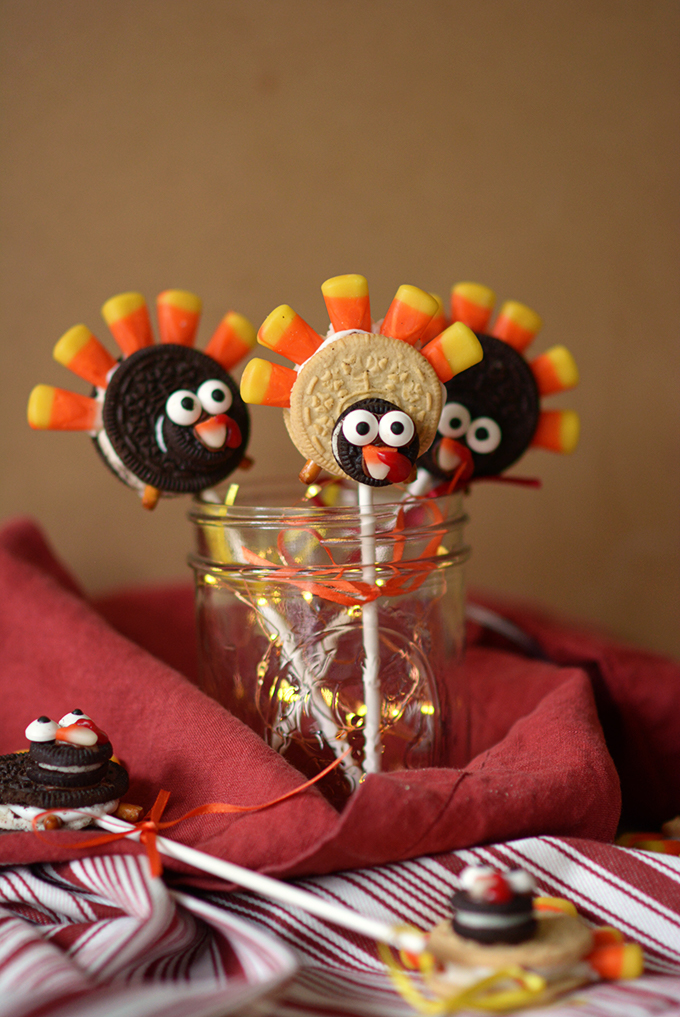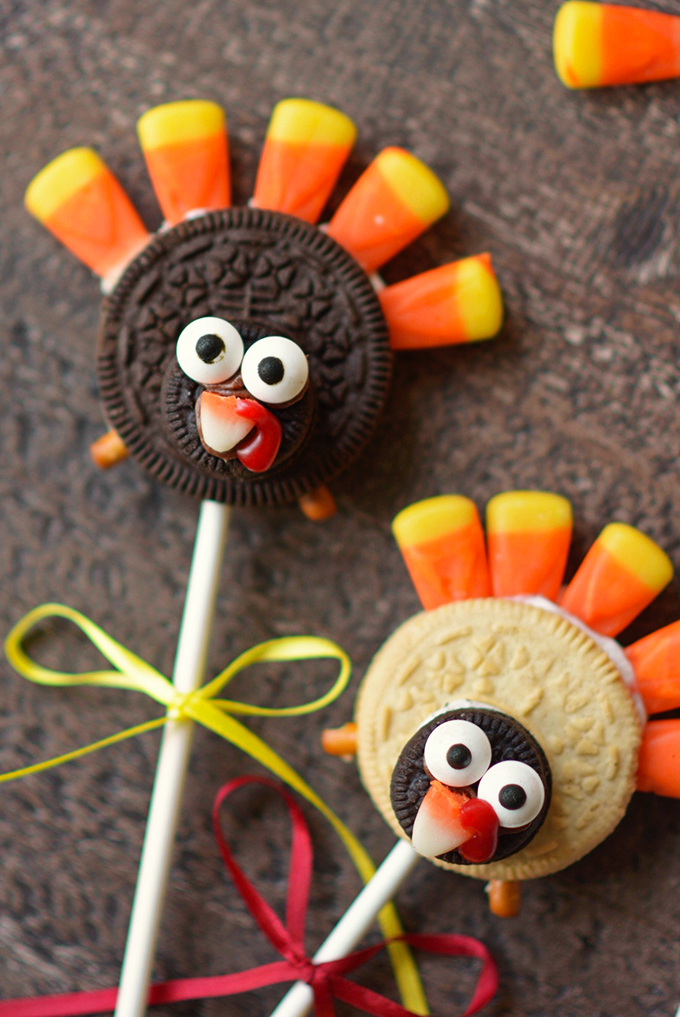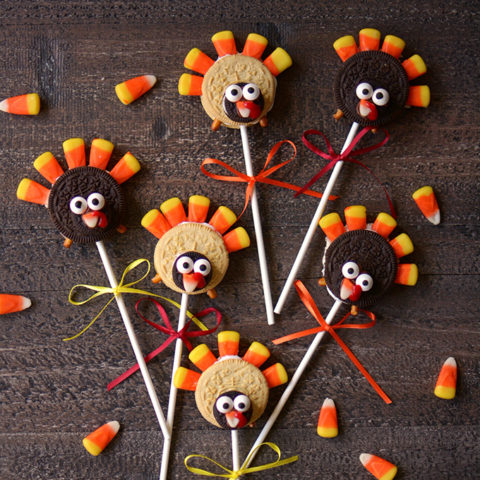 No Bake Turkey Cookie Pops
Yield: 24 cookies

Prep Time: 30 minutes

Total Time: 30 minutes

These delightful little cookie pops are a unique holiday treat that will add a festive flair to your Thanksgiving Day table!
Ingredients
12 chocolate Oreos
12 vanilla Oreos
24 mini chocolate Oreos
144 pieces of candy corn
24 pretzel sticks
48 candy eyes
1 16 oz container of ready-to-use chocolate frosting
1 16 oz container of ready-to-use vanilla frosting
1 7 oz pouch of ready-to-use red cooking icing
24 6 inch lollipop sticks
2 ziplock bags
fall-colored ribbon (optional)
Instructions
For each turkey gently twist apart an Oreo cookie and set aside the top of the cookie.
With the cookie resting on a hard surface, gently press the tips of 5 candy corns into the frosting along the upper edge of the cookie to make the turkey's feathers. Opposite to the feathers add the lollipop stick by positioning it three quarters of the way up the cookie and gently press and twist the stick into the frosting. To make the turkey feet, break the two ends of a pretzel stick off and press them into the frosting on either sides of the lollipop stick.
Next it's time to reassemble the turkeys. First fill one ziplock bag with vanilla and the other with chocolate ready-to-use frosting. Clip a corner off of each and use it as an icing bag. On the cookie you just added feathers, feet, and a stick to, pipe on a generous swirl of vanilla frosting. Then place the cookie top back on top of the cookie.
For the turkey head, pipe a large dot of frosting on the bottom of the cookie pop and then adhere a mini Oreo cookie. If it's a vanilla turkey use vanilla frosting, and if it's a chocolate turkey use chocolate frosting.
For the finishing touches, use chocolate frosting to "glue" the candy eyes onto the turkey head. To make the beak, cut the tip off of a candy corn and attach it using chocolate frosting. Finally, for the turkey wattle, draw it on with the bottled red frosting.
Continue to do the same for the remainder of the 23 cookies. I recommend making an assembly line to speed up the process. Allow the cookie pops at least 1 hour for the frosting to set before picking them up. Tie a fall-colored bow to each lollipop stick if you wish. Store in a ziplock bag for up to a week.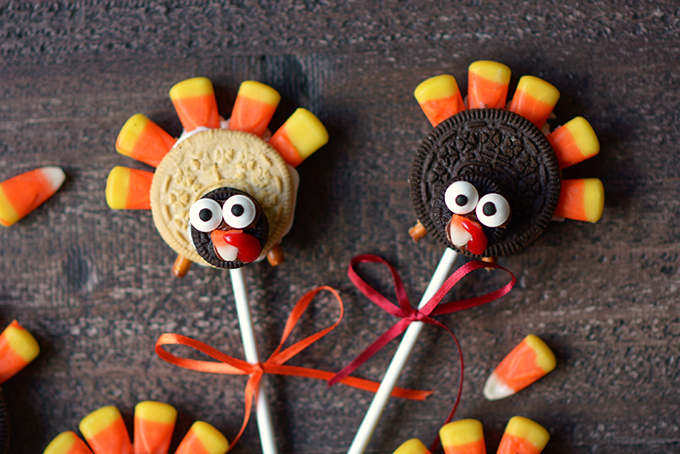 You may also enjoy…