Zucchini Buttermilk Pancakes – There's no better way to spend a lazy weekend morning than mixing up a batch of these delicious, aromatic pancakes bursting with fall flavors!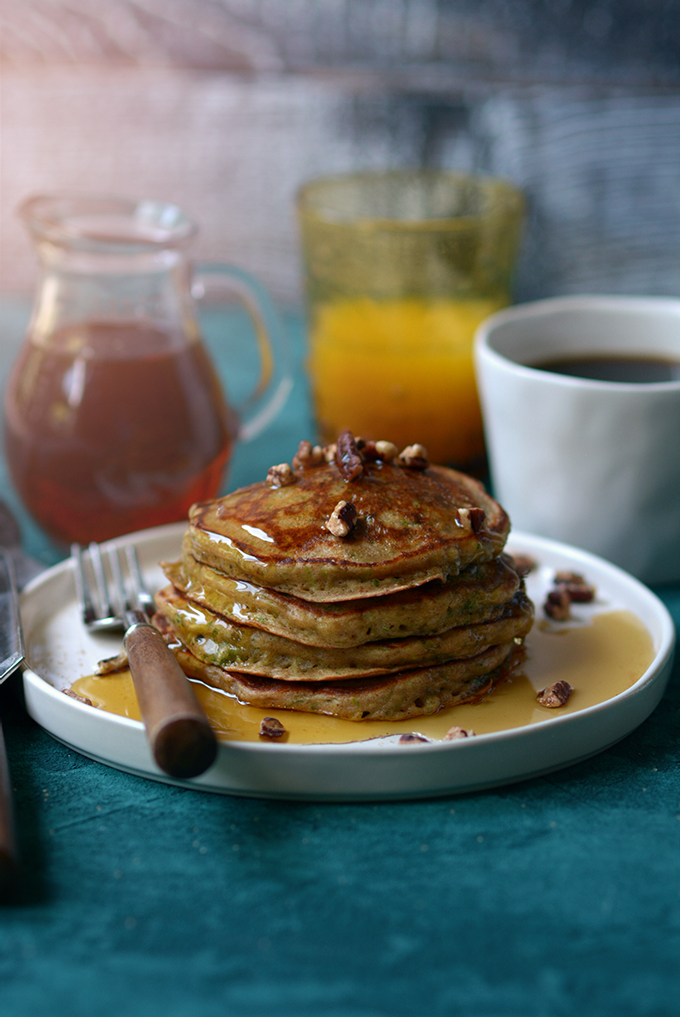 My work and family life has been exceptionally busy lately. I've been having fun, but I think everyone else feels as if everything has gone all topsy turvy.
For the last few weeks I've been pulling more than full-time hours on orientation at my new job. I've been orienting to an RN position on a busy telemetry unit at my local hospital. It's been fun and I've grown and learned so much! On the other hand, the exhaustion my family and I are feeling is real. Fortunately we only have a couple more weeks left before I settle into my more permanent part-time schedule.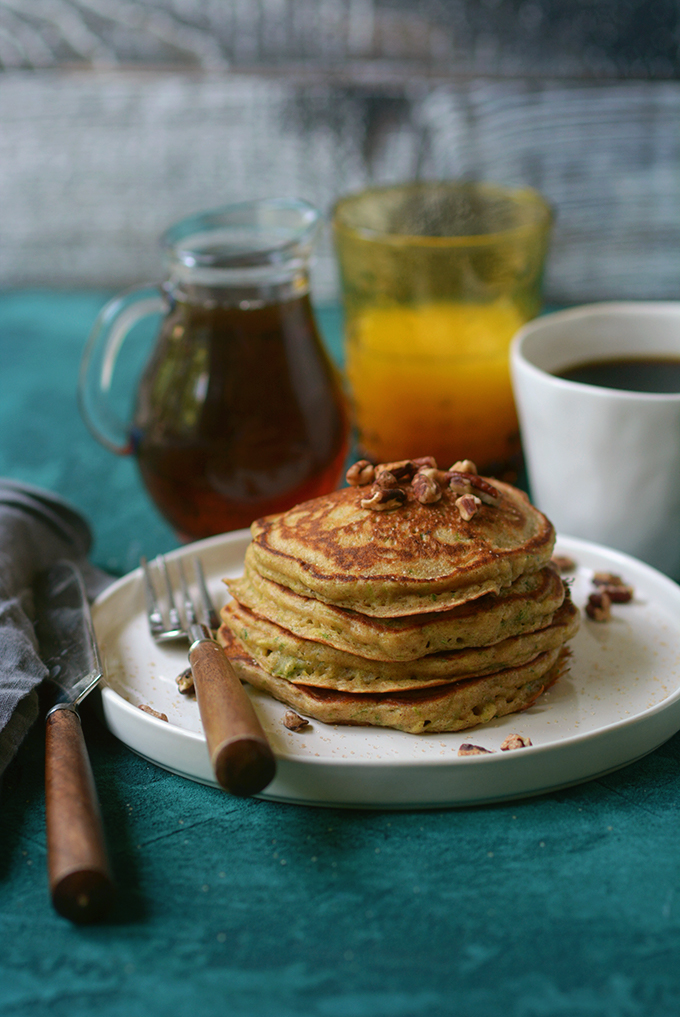 When my family goes through a busy time like we are now I find one of the best cures for everyone's stress is a lazy Saturday or Sunday morning in. My 7-year-old son loves making pancakes with me. He'a great at stirring and at dribbling pancake batter all over my hot stovetop. My 1-year-old boy has the special skill of eating everything in sight!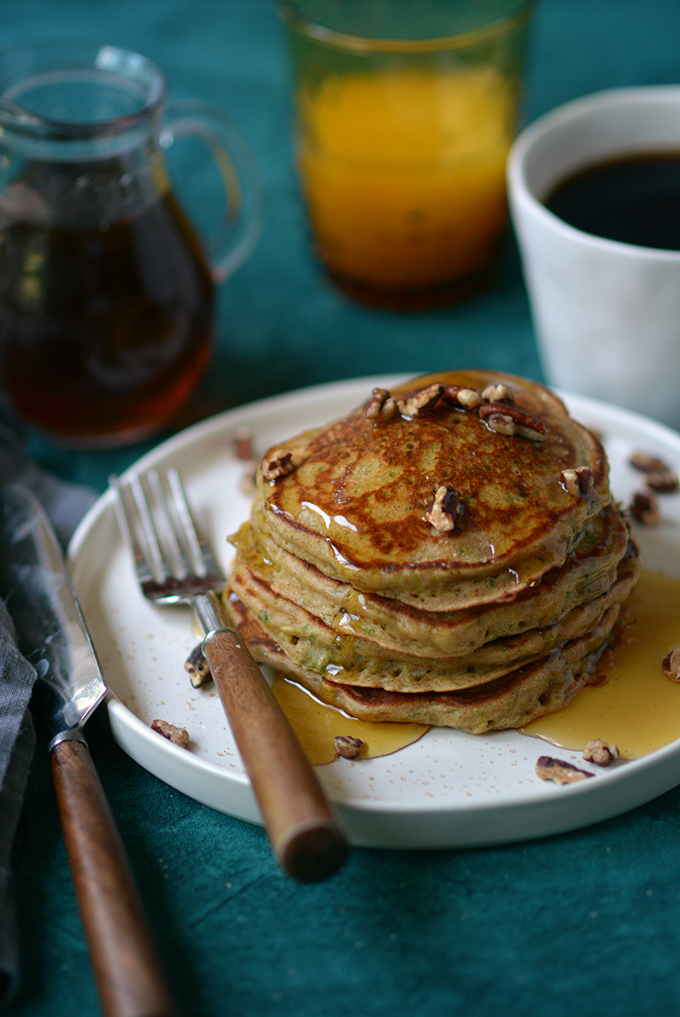 Recently we spent a lazy Saturday morning mixing up a batch of Zucchini Buttermilk Pancakes. We all agreed on two things. Well, with exception to the one-year-old. He didn't say much of anything other than "no, no, no" when it was time to clean the syrup off his face. The first thing we agreed on was that we love these pancakes. The second is that the spicy-sweet flavor of these Zucchini Buttermilk pancakes is perfect for fall!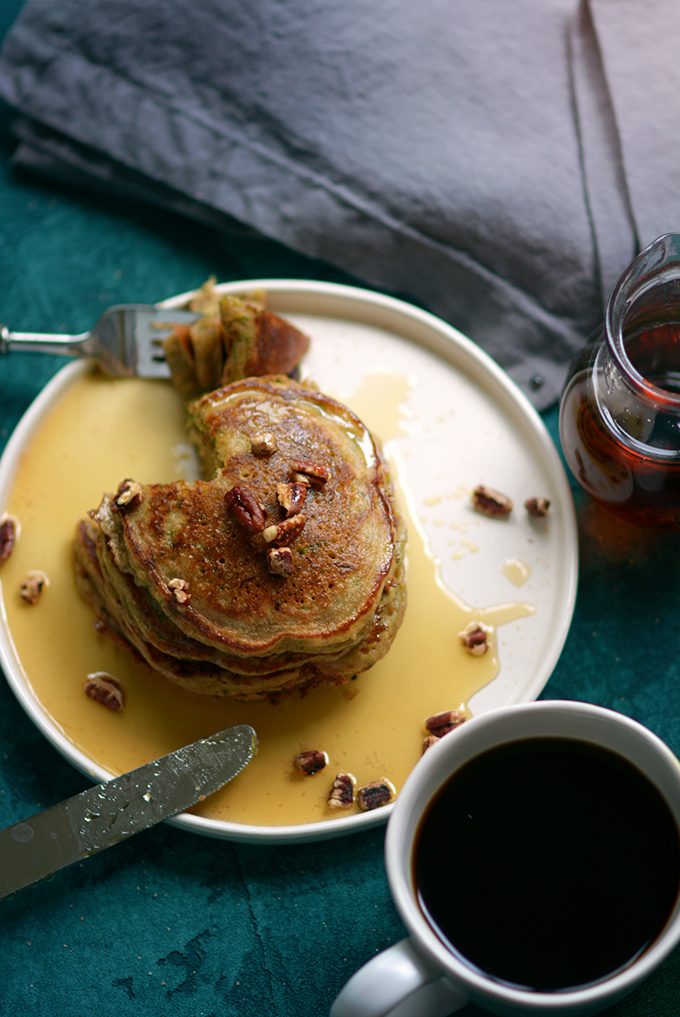 I can't wait until my next weekend off when the brisk fall air will be warmed by the scent of cinnamon, nutmeg, and maple in my home. My family will re-center together over a hot stack of Zucchini Buttermilk Pancakes!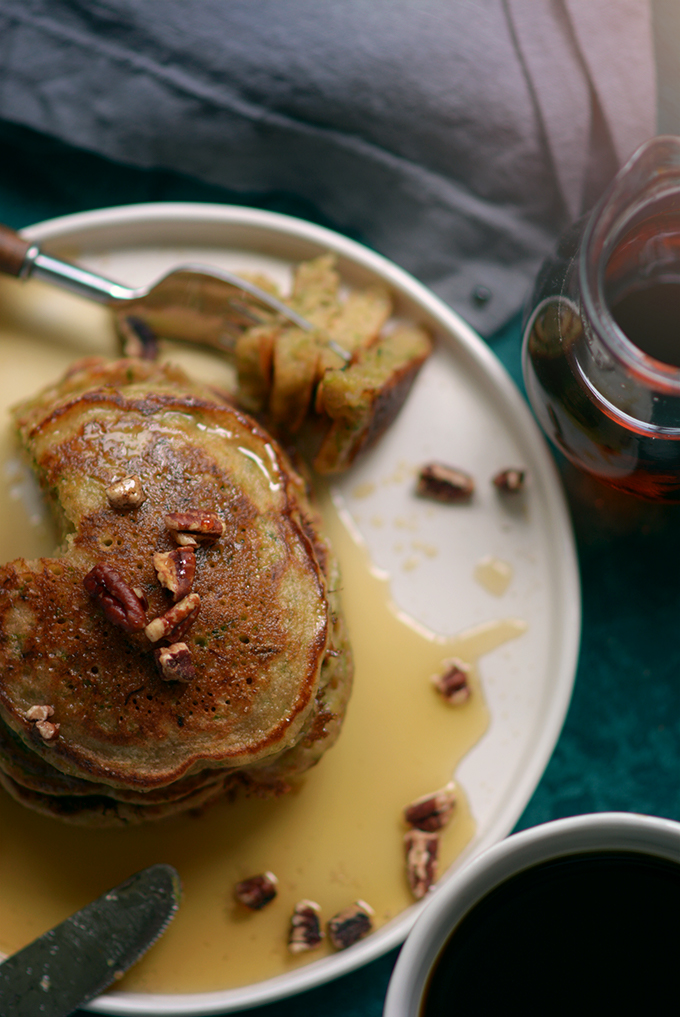 Photo directions to help your pancake making go easier…
Prepping Zucchini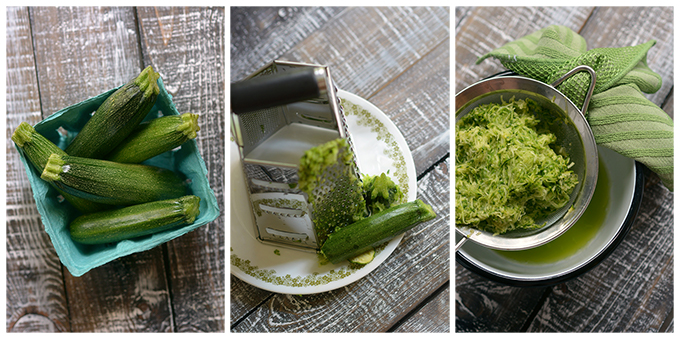 Mixing Up Pancakes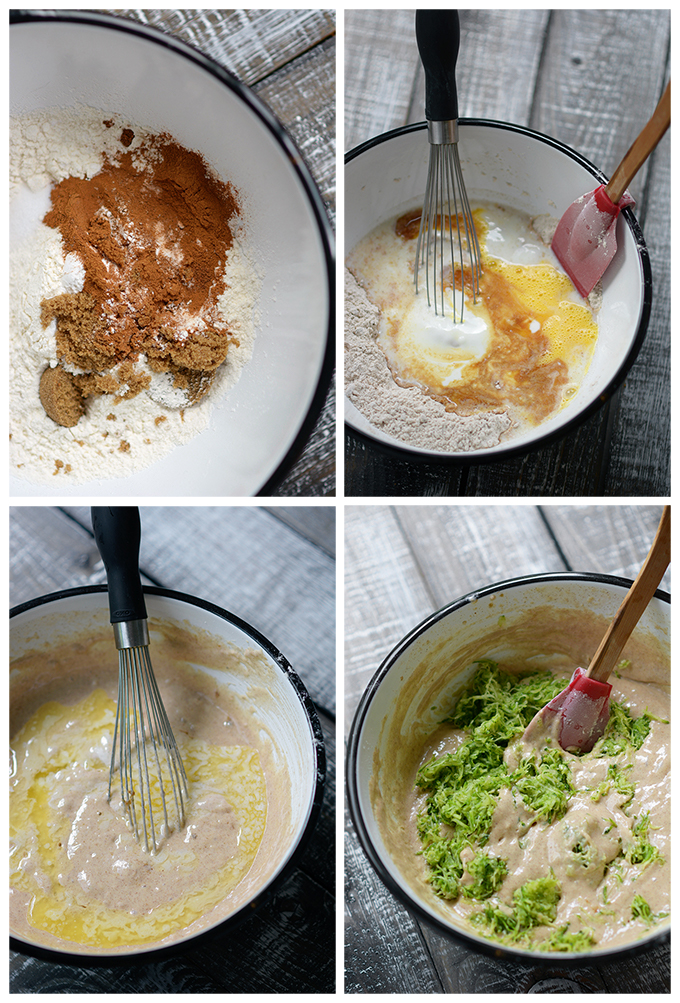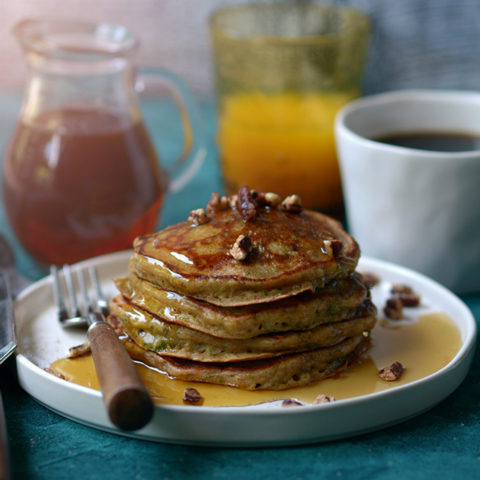 Zucchini Buttermilk Pancakes
There's no better way to spend a lazy weekend morning than mixing up a batch of these delicious, aromatic pancakes bursting with fall flavors!
Ingredients
1 1/3 C finely grated, drained, and lightly packed zucchini
2 C all purpose flour
6 Tbsp packed dark brown sugar
4 tsp baking powder
2 tsp cinnamon
1/8 tsp nutmeg
3/4 tsp salt
1 tsp vanilla extract
1 C buttermilk
3/4 C 2% milk
2 eggs lightly beaten
3 Tbsp melted salted butter
Instructions
Using a box grater finely grate the zucchini. Place it in fine mesh strainer and allow it to drain for 30 minutes. Give it a gentle squeeze to wring out any excess water from the zucchini. Note that this step is important! If you skip it you will have soggy pancakes.
In a large bowl mix together all of your dry ingredients, which includes the flour, dark brown sugar, baking powder, cinnamon, nutmeg, and salt.
Add the buttermilk, 2% milk, and lightly-beaten eggs to the bowl. Stir until completely combined, taking care not to over mix.
Melt the butter and gently stir it into the batter until just combined.
Add the drained zucchini to the bowl and fold it into the bater until just combined.
Preheat the oven to 200º F. Also heat a skillet over medium heat. Once heated, drizzle the skillet with vegetable oil.
Measure 1/4 C of batter onto the skillet at a time. The pancakes are ready to flip when they are bubbling on the tops and golden brown on the bottoms. Brown the second side of the pancakes. Once cooked, transfer them to an aluminum foil-lined baking sheet and keep warm in a 200º F oven. Serve immediately once all of the pancakes are cooked.

You may also enjoy…