Spaghetti Squash Fritters – Forget the marinara… These fritters are the perfect way to transform your spaghetti squash into something fun, flavorful, and totally unique!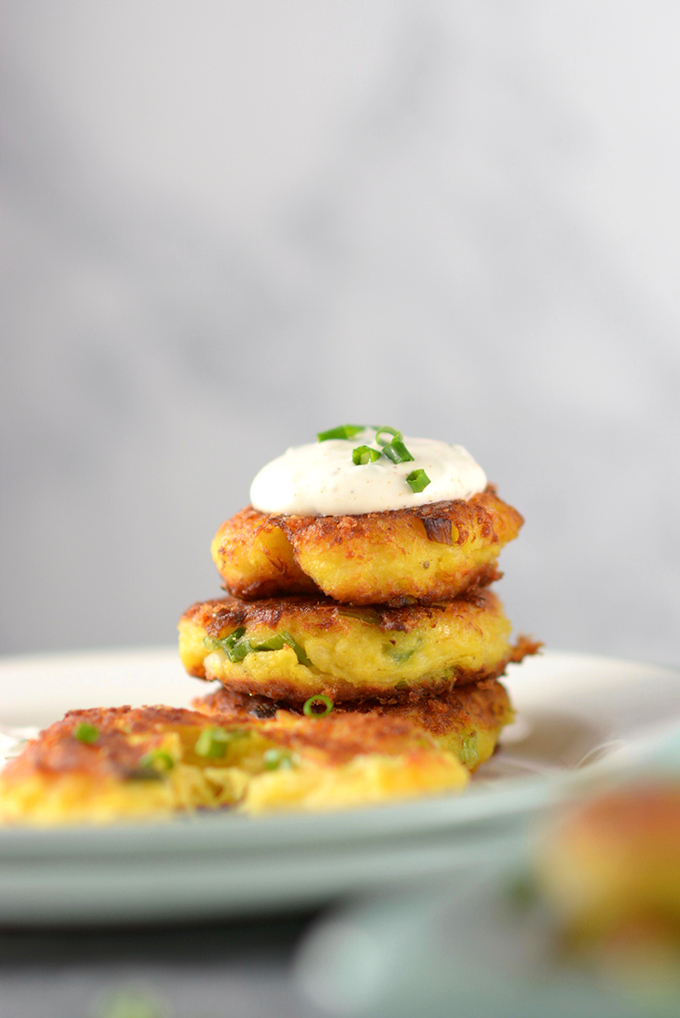 A good seasonal cooking food blog can't let the fall season pass by without a good winter squash recipe. Last year I tackled butternut squash in a Harvest Butternut Pilaf, which tasted like Thanksgiving stuffing, but with the added benefit of being full of whole grains and veggies. This year the squash of choice is spaghetti squash!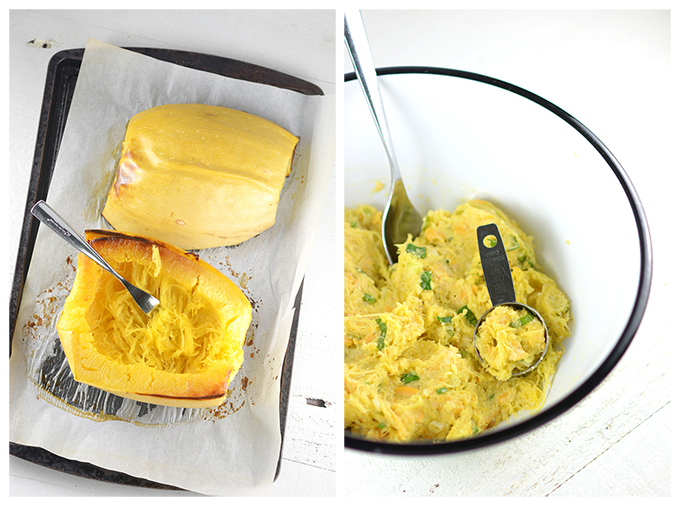 I have always loved using roasted spaghetti squash paired with an Italian dish as a pasta replacement. Unfortunately for me I haven't done much else with it, so I thought it was time to try something totally new. These Spaghetti Squash Fritters are just that. Instead of a classic marinara Italian flavor profile they're cheesy and fresh with herbs and a Sour Cream Chive Dip. Serve these little fritters up as an appetizer or as a dinner side. They're also good at brunch with some eggs and toast. These little fritters are a sort of all around, all day, kind of fritter!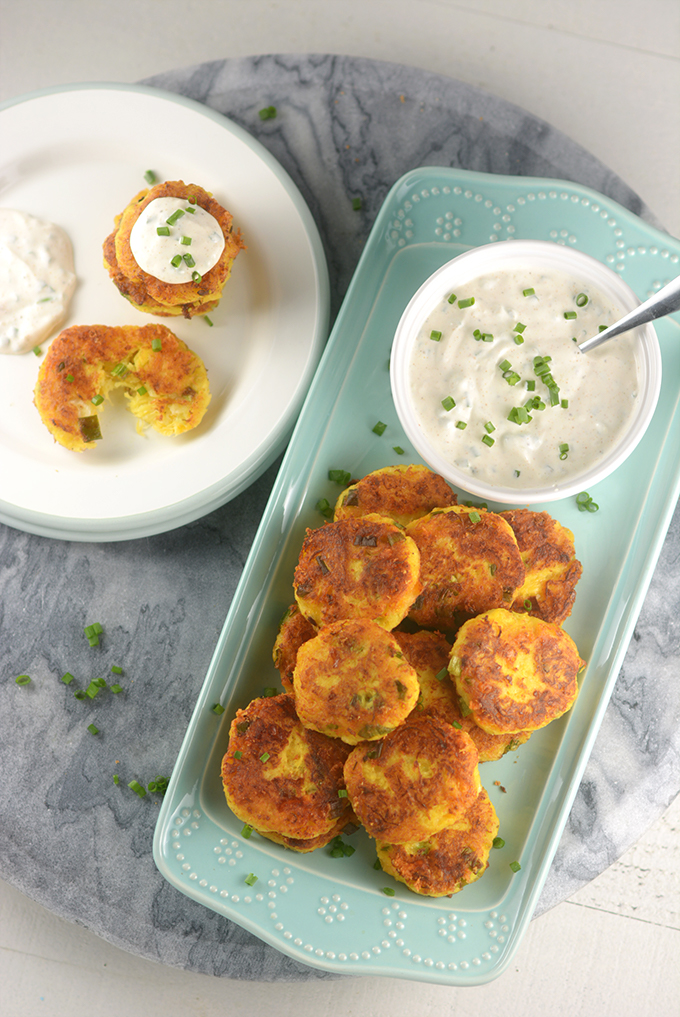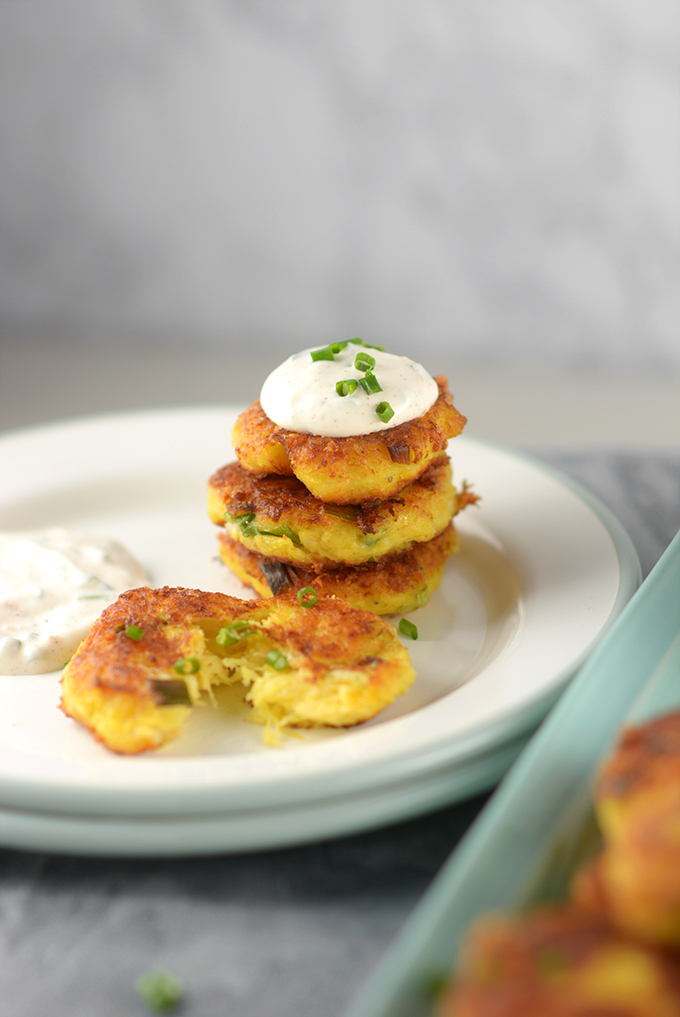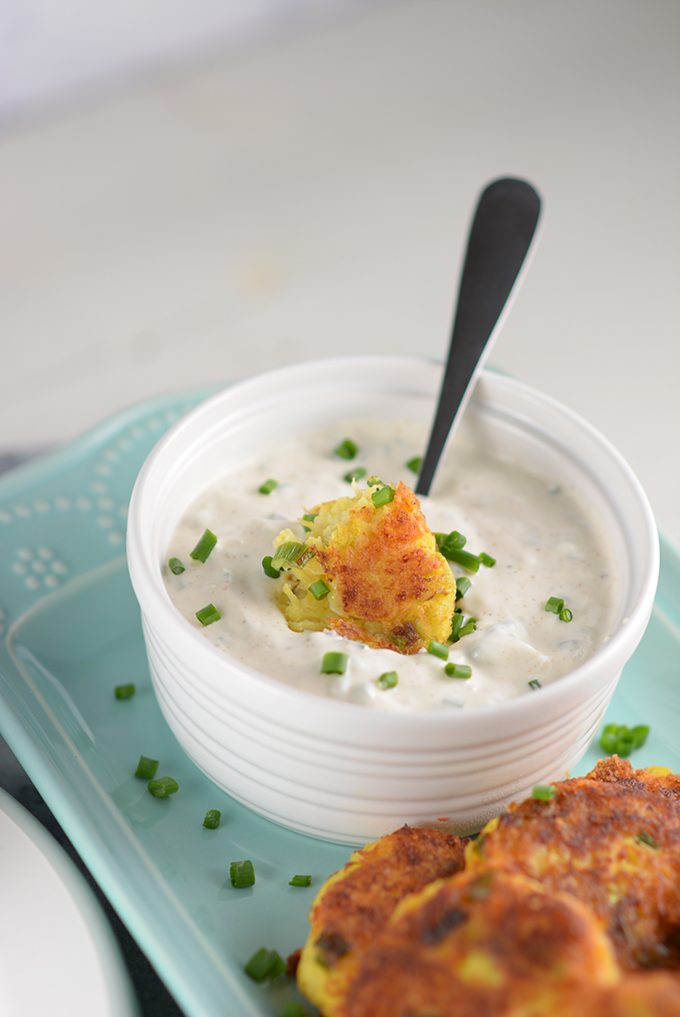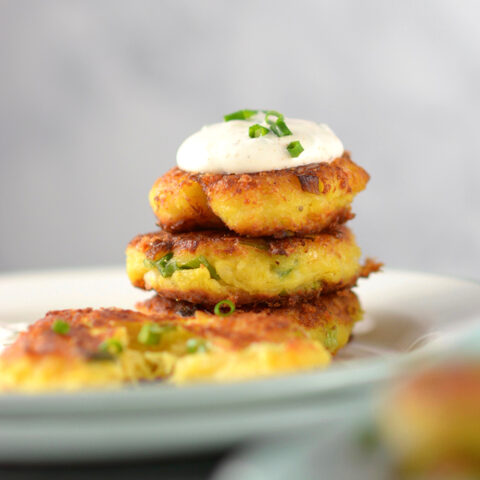 Spaghetti Squash Fritters
Forget the marinara... These fritters are the perfect way to transform your spaghetti squash into something fun, flavorful, and totally unique!
Ingredients
Fritters
1 medium spaghetti squash (3 C cooked and ringed out)
2 tsp olive oil
3/4 C flour
1/4 C parmesan cheese, grated
1/2 tsp salt
1/8 tsp black pepper
1 C cheddar cheese, shredded
4 green onions, chopped
2 garlic cloves, minced
1 egg, lightly beaten
vegetable oil for frying
Sour Cream Chive Dip
1/2 C sour cream
1/2 C mayonnaise
1 clove garlic, minced
1/4 C chives, finely chopped
1 tsp old bay seasoning
Instructions
Pre-heat an oven to 450ºF.
Prep the spaghetti squash for cooking by cutting off the two ends and then cut the squash in half lengthwise. Scoop out the seeds and discard. Next, lightly brush the inside with olive oil.
Line a baking sheet with parchment and place the squash halves face down. Bake in a 400ºF oven for 45-60 minutes, depending on the size of the squash. Once it's done cooking, allow it to cool for about 20 minutes prior to handling.
Once the spaghetti squash is cool, scoop it out with a fork, fluffing the "spaghetti" strings as you go. Using your hands, wring the excess water out of the squash.
Evenly combine the flour, grated parmesan, salt, and pepper in a large bowl. Next stir in the cheddar cheese, onions, garlic, and egg. Finally, fold in the pre-cooked spaghetti squash.
Heat a frying pan and vegetable oil over medium heat.
Once hot, scoop 1/8 C measurements of the fritter mix into the pan. Cook for 2-3 minutes until the bottom of the fritter is starting to turn golden brown. Flip and cook for another 2-3 minutes. Place the fritters on a paper towel lined plate. Work in batches until all of the fritters are cooked.
Mix up the Sour Cream Chive Dip while the fritters are cooking. To do this combine all of the ingredients in a small mixing bowl and stir to evenly combine. Store in the refrigerator until all of the fritters are done cooking.
Serve the Spaghetti Squash Fritters hot with the Sour Cream Chive Dip.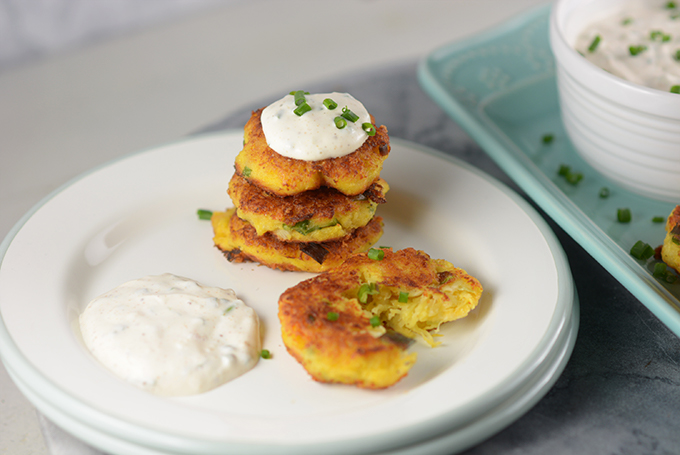 You may also enjoy…