Ginger Snap Pumpkin Whoopie Pies – Just in time for your Halloween party or autumn gathering, here's a boozy treat bursting with fall flavors. But be careful – it's hard to eat just one!
Did you think I was going to let the fall season slip by without doing at least one pumpkin dessert? Certainly not! I don't have that kind of self control when it comes to baked from scratch, festive, seasonal treats. This may be a "healthy recipe" blog for the most part, but I'm not a stick in the mud!
I recently served these Ginger Snap Pumpkin Whoopie Pies at a beer tasting that Dan and I attended. Affectionally called Flight of the Pumpkin, it's become an autumn tradition hosted by Mike over at Dadsigner. If you're a parent (or grandparent) of a little one, and you care about quality and design, I think you'll find his blog pretty fab! These whoopie pies were a huge hit at the party. You can't go wrong with boozy icing sandwiched between two spiced pumpkin cakes! Head over to my husband's post on How To Taste Craft Beer to see the awesome beers that paired so well with these whoopie pies.
For my boozy icing, I selected Snap Liqueur, which is produced by Art in the Age, based in my beloved Philly. You know – keeping it local! This recipe was pretty much written around the requirement that it would include Snap and that the alcohol wouldn't get cooked out. It's such a lovely liqueur that's flavored a bit like, well, a ginger snap! Along with the local liqueur, this recipe can be made extra locavore by making your own pumpkin puree.
For everyone headed to costume and fall parties this weekend, have a happy and safe time and stay away from cheap candy. Instead, eat lots of yummy pumpkin treats!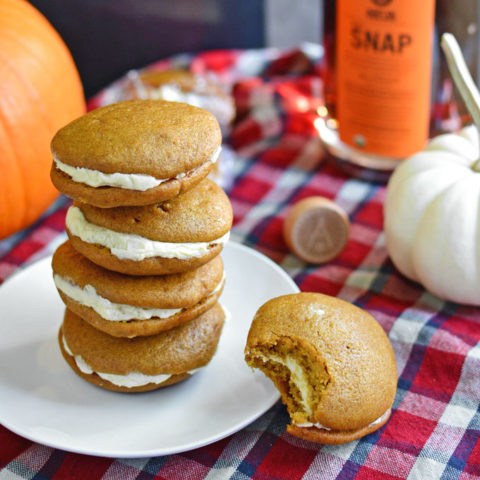 Ginger Snap Whoopie Pies
Yield: 28

Prep Time: 25 minutes

Cook Time: 1 hour

Total Time: 1 hour 25 minutes

Just in time for your Halloween party or autumn gathering, here's a boozy treat bursting with fall flavors. But be careful - it's hard to eat just one!
Ingredients
Pumpkin Whoopie Pie Cakes
1 C vegetable oil
2 C packed brown sugar
1 tsp vanilla extract
2 large eggs, lightly beaten
3 1/2 C all-purpose flour
1 1/2 tsp aluminum-free baking powder
1 1/2 tsp baking soda
1 tsp salt
1 tsp ground ginger
1 tsp ground cinnamon
1/8 tsp ground cloves
1/8 tsp ground nutmeg
1/8 tsp ground allspice
1 3/4 C pumpkin puree (homemade or canned)
Snap Liqueur Frosting
1 C softened butter
1/8 tsp salt
1 tsp vanilla extract
2 C confectioner's sugar
2 Tbsp milk
1/4 C flour
1/4 C Snap Liqueur or other Ginger Liqueur
Instructions
Preheat oven to 350ºF.
In a large mixing bowl, cream together the vegetable oil and brown sugar. Once smooth, add the vanilla and lightly beaten eggs and mix until smooth.
In a small mixing bowl, combine all of the dry ingredients.
Intermittently add the dry mixture to the oil and sugar mixture while beating, until combined. Take care not to over-mix.
Using a spatula, fold the pumpkin puree into the batter until it's evenly combined.
Line a light-colored baking sheet with parchment paper and measure 1 Tbsp amounts of batter onto the pan, taking care to provide enough space between the cakes so that they don't stick to each other. Bake at 350ºF for 12 minutes.
After 12 minutes, remove the whoopie pie tops from the oven. Allow them to sit for 1 minute, then remove them from the pan and place on a cooling rack.
Continue baking additional cookie sheets of whoopie pie cakes until all of the batter is used.
Make the frosting while the whoopie pie cakes are baking. Cream together butter and salt. Then cream in vanilla. Intermittently add confectioner's sugar while continuing to beat until smooth. Next, cream in the milk, and then the flour. For the last step, add the Snap Liqueur. If you are planning to give some of your whoopie pies to children, set aside some booze-free frosting for them.
Once the whoopie pies are cool, make sandwiches by spreading icing in between two cakes.
For best storage, wrap each cake in plastic wrap and store them in the refrigerator for up to a week.
Notes
For this recipe I used all organic and GMO-free ingredients.

If you enjoyed this post, you may also enjoy…