For today's post I'm venturing into the world of desserts… I think the last dessert I posted goes all the way back to February! It's not for lack of love for sweets, though. Truth be told, I don't make as many desserts because I just can't handle having them in my house. I'm the person who licks the icing off the cake, eats all of the cookies with the most chocolate chips and polishes off a pan of brownies in a day. It's not in the least bit healthy. For this lack of dessert self-control I blame the genes I inherited from my Nana (I bear no self-responsibility). My poor sisters got them too!
Because of my wily sweet tooth, I tend to only dabble in desserts and baking, and they certainly aren't the focus of this blog. Generally, the rule in my kitchen is that a dessert recipe has to incorporate something nutritious like whole grains, nuts, or in this case, fruit and honey. That said, with fresh fruit abounding, I have a few recipes planned for this growing season.
So, this recipe for Honey Custard with Sweet Cherries is all-natural, gluten-free, and refined sugar-free. It's sweet and creamy and showcases fresh summer cherries beautifully! I must say though, it's best had on your patio, under a large umbrella, with a glass of white wine. I don't know about you, but for this recipe I'm totally going to use the excuse that it's good for me because it contains fruit, although that may not be backed by the medical research!
I picked the cherries myself at Solebury Orchards in Bucks County, PA. The honey and eggs are from my favorite neighborhood CSA, Living Hope Farm.
If you don't already have one, I recommend purchasing a cherry pitter. I'm very happy with the one I use, made by OXO. It has become one of those kitchen gadgets that is totally worth the space it takes up in my drawer. One note on any product links you may see on the blog – I participate in an affiliate program with Amazon, so if you follow a link from my site and make a purchase, I'll get a (very) small commission which will help me continue to bring you great recipes! Thanks so much to all of my loyal readers who have helped me build this little blog into a for-real website. If you've read this far, that means you!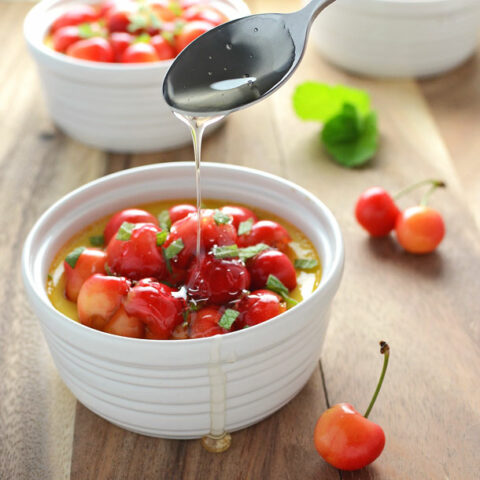 Honey Custard and Sweet Cherries
Yield: 4

Prep Time: 15 minutes

Cook Time: 20 minutes

Total Time: 35 minutes

Honey Custard with Sweet Cherries is all-natural, gluten-free, and refined sugar-free. It's sweet and creamy and showcases fresh summer cherries beautifully!
Ingredients
Custard
3 C whole milk
3 eggs
1/3 C plus 1 Tbsp honey
2 tsp vanilla
pinch of salt
3 Tbsp corn starch
Topping
2 C sweet cherries (I selected rainier cherries)
4 tsp honey for drizzling
1 tsp mint for garnish
Instructions
In a saucepan, slowly heat the milk over medium-low heat to scalding point (180 ºF), while stirring frequently. If you don't have a candy thermometer you can eyeball it. The milk is done heating when it's starting to steam, but it hasn't started bubbling. You don't want to reach a simmer or a boil, because this will cause your milk to curdle and you'll have to start over with fresh milk.
While your milk is heating, in a mixing bowl beat together your eggs, honey, vanilla, salt, and corn starch, and set aside.
Once your milk has reached scalding, remove it from the heat and very slowly add it to your egg mixture while vigorously beating the eggs and milk together. This will cause the custard to begin to thicken and become creamy as the eggs begin to cook, but if you aren't beating fast enough you'll end up with a scrambled egg mess, so put some muscle into it!
Wipe your saucepan clean with a kitchen towel and then add the custard mixture back into it, and return the pot to a medium-low burner. Heat the custard while continuously stirring with a wooden spoon. The technique for stirring involves slowly scraping the bottom of the pot with your spoon to prevent burning. I find the best spoon for doing this task is one with a square end. Continue to cook until the mixture becomes thick and steamy. Once again, you don't want to simmer or boil the milk, so the temperature you're aiming for is around 180ºF.
Once your custard has thickened, pour it into heat-safe serving bowls, allow it to come to room temperature, and then allow it to chill in the refrigerator for at least 1 hour before serving.
While the custard is chilling, pit and halve your cherries, and chop a few mint leaves for garnish.
Once chilled, serve the honey custard topped with fresh cherries, a drizzling of fresh honey, and a sprinkling of mint for garnish.
Notes
Plan on 2 hours time for the custard to cool and chill.