At a summer picnic one of the first things I look for is whether someone brought Sunshine Salad. You know, the broccoli salad that's smothered in mayo, cheddar cheese, and bacon?? I'm not sure, but I think the recipe originates from my trusty Betty Crocker cookbook. Whoever first invented the salad, it's picnic perfection!
When I got married we had a morning wedding and a luncheon on an old estate just north of Philadelphia. It was a combination of elegance and picnic food with beautiful fresh flowers, cornflower blue trim, and French lace on my wedding dress. In addition to serving water ice at my reception, the other must-have food was sunshine salad. I'm pretty sure it was a hit.
Today's recipe for Sunshine Chard and Carrot Salad is a twist on traditional sunshine salad. I lightened it up by ditching the bacon (sorry bacon), and by replacing the mayo with 2% Greek yogurt. When I made this I had some chard from my CSA that I needed to use, and one of my favorite ways to eat chard is raw in salads, so I decided to change things up and swap it out with the broccoli. The rainbow chard is cut into long, thin strips and I spiralized the carrots, transforming this tasty salad into a raw veggie noodle salad. It's really healthy, but just a little bit decadent! Healthy picnic perfection!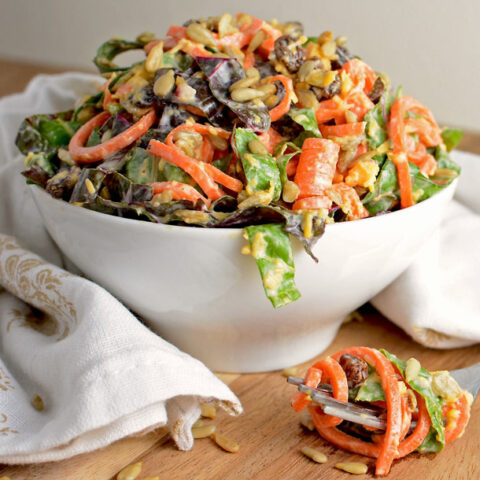 Sunshine Chard and Carrot Salad
Yield: 4

Prep Time: 25 minutes

Total Time: 25 minutes

Cut the fat, but keep the decadence! This healthy, lightened-up rendition of Sunshine Salad is summer picnic perfection!
Ingredients
Dressing
1/3 C 2% Greek yogurt
1 Tbsp apple cider vinegar
2 tsp honey
1 Tbsp minced red onion
1/4 tsp salt
black pepper to taste
Salad
1 1/2 C chard cut into ribbons
2 C spiralized carrots
1/3 C raisins
3 Tbsp roasted sunflower seeds plus more for garnish
2/3 C shredded sharp cheddar cheese
Instructions
In a medium sized mixing bowl, whisk together the dressing ingredients, and once smooth and creamy, stir in the raisins so that they have time to plump up while you prepare the rest of your salad.
Cut 1 1/2 cups of chard into ribbons (I used rainbow chard). To cut into ribbons, cut lengthwise along the stem, cutting the leaf into long, 1/4 inch thick strips.
Spiralize your carrots using a spirializer on the second to smallest setting. If you don't have a spiralizer, you can still make this recipe by cutting your carrots into match sticks using a mandolin, or you can grate them. You just won't have as noodley of a texture!
Add the chard ribbons, spiralized carrots, and sunflower seeds to the bowl with the dressing and gently stir to coat all of the veggies with dressing.
Using a box grater, finely shred your cheddar cheese. Take care not to pack your cheese together because it will stick to itself, ruining your shreds. Sprinkle the cheese onto your salad while folding it in to evenly combine.
Serve this salad chilled and feel free to garnish by sprinkling on a few extra sesame seeds!
Notes
Serves 4 as a side. If serving as an entree, plan on this recipe feeding 2.

This recipe pairs well with picnic food, white fish, and chicken.