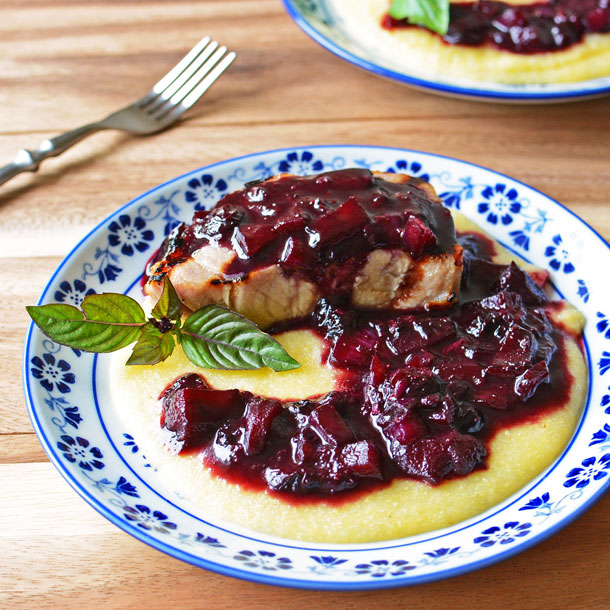 Ever since I entered the world of parenthood my personal time seems to consist of unpredictable 10 minute increments of peace and quiet that often involve locking myself in the bathroom just to be alone. If you have had kids of your own, I'm guessing your can relate to this. My son is 4, and people keep telling me that all this will change when I put him on the big yellow school bus for the first time, and that I will long for the early years again. We'll see…
With mommyhood, the area of my life that has taken the biggest hit is reading. That, and showers… I used to be this intelligent, well-read young woman. Now I try to read a book in the evening and I wake up an hour later, drooling, with the light on and the book, pages bent, on the ground. I gave up on reading books written above a 4th grade reading level a couple of years ago because of this problem. Instead I decided to embrace the world of children's literature and I have been delighted with all of the great books out there written for "kids" and the things they have to say about life.
No exception is the classic Oh, The Places You'll Go! by Dr. Seuss. This book is pretty ubiquitous, and I've seen it gifted many a time at high school graduations. The thing is, Dr. Seuss is really onto something in this book about the ups and downs of life and the characteristics of resilient and successful people. I confess, I often read it to my son when I need a little inspiration myself.
I love how the book starts out:
You have brains in your head.

You have feet in your shoes.

You can steer yourself

any direction you choose.

You're on your own. And you know what you know.

And YOU are the guy who'll decide where to go.
A few years back, in my stupid freshman college student brain, I realized this; the choices I make and the things that I choose to do can either be smart and make my life better, or they can be stupid and I'll build a life for myself that I don't want. Just realizing that I was the most important person in the determination of my happiness has, in my estimation, made me one of the happiest people I know.
This is not to say that life doesn't have lots of "bangups," "hang-ups," "lurches," "slumps," "unmarked streets," "waiting places," "lonely places," and "frightening creeks." But as Dr. Seuss says:
On and on you will hike.

And I know you'll hike far

and face up to your problems

whatever they are.
So if you need some un-slumping, or need to do some problem-facing, take ten minutes out of your day and be inspired by the wisdom of Dr. Seuss in Oh, The Places You'll Go.
If you have the blues today, why not sweeten them up with a healthy meal? Think a blueberry compote and creamy polenta with a perfectly grilled pork chop!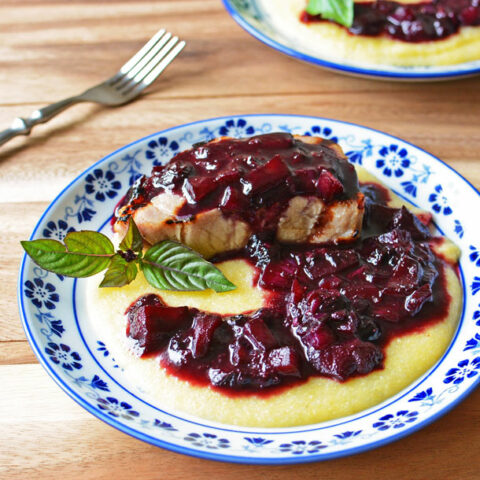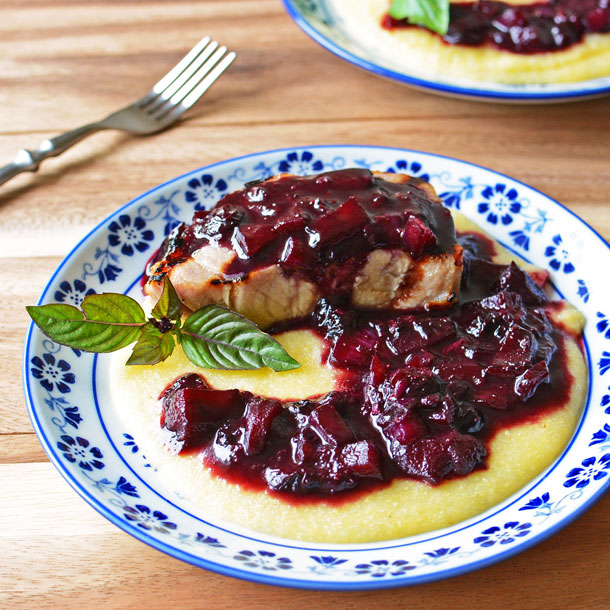 Grilled Pork Chops with Blueberry Compote
Yield: 4

Prep Time: 20 minutes

Cook Time: 25 minutes

Total Time: 45 minutes

Sweeten up the weeknight blues by eating fruit for dinner... Think a blueberry compote and creamy polenta with a perfectly grilled pork chop!
Ingredients
Chops
4 pork chops*
1 C all-natural, unsweetened apple juice
1 Tbsp salt
1 Tbsp olive oil
fresh cracked pepper to taste
Blueberry Compote
1 C medium chopped onions
1 C large peeled and chopped granny smith apples
1 tsp butter
2 tsp minced garlic
1 C all-natural, unsweetened apple juice
2 C fresh blueberries
2 Tbsp balsamic vinegar
1/4 tsp salt
Polenta
6 C water
1/4 tsp salt
1 C cornmeal
2 Tbsp butter
fresh basil for garnish
Instructions
One to two hours before you plan on starting dinner whisk together 1 C of all-natural, unsweetened apple juice and 1 Tbsp of salt to make a brine for your pork chops. Add the pork chops to the brine and brine for 1-2 hours in the refrigerator.
When you're ready to start dinner remove your chops from the brine. pat dry with a paper towel, and lightly coat all over with olive oil and then add fresh cracked pepper to taste.
Prep all of your ingredients for the blueberry compote, so that it's easy to make while you're cooking the other components of your meal.
Preheat and clean your grill. While the grill is heating allow the pork chops to come to room temperature.
For the blueberry compote sauté your onions and apples in 1 tsp of butter over medium heat for 3 minutes, or until the onions begin to soften. Add 2 tsp of garlic to the pan and sauté one more minute.
Next, add 1 C of apple juice and 2 C of blueberries to the pan and cook over medium-high heat until the liquid is reduced by half. About 5 minutes.
Add salt and 2 Tbsp of balsamic vinegar to the pan and cook an additional minute. Remove from the burner and your sauce is complete.
For the pork chops, place them on the grill over direct medium heat (350º-450º F) with the lid closed as much as possible until slightly pink in the center (about 10 minutes), turning once. Remove the chops from the grill and let rest for 3-5 minutes.
While the pork chops are cooking make your creamy polenta, which comes together easily. Bring 6 C of water and 1/4 tsp of salt to a boil in a medium sauce pan. Next, slowly pour in 1 C of cornmeal while whisking vigorously to prevent clumping. Continue to cook until it begins to thicken and then remove from the heat. This will only take a minute or two. Finally, melt in your butter.
To serve, ladle 1/4 of the polenta onto a plate, top with a pork chop and then pour 1/4 of the blueberry compote in an attractive swirled pattern over the dish. Garnish with fresh basil.
Notes
*I have made this recipe with bone-in and with boneless pork chops. Bone-in is more flavorful, but boneless is pictured here as I find it more economical and easier for my little one to eat. If you make bone-in chops keep in mind that the cook time will be longer.