Baked Honey Brown Sugar Grapefruit – Have a bubbly-sweet start to your day with this simple breakfast recipe that's both beautiful and delicious!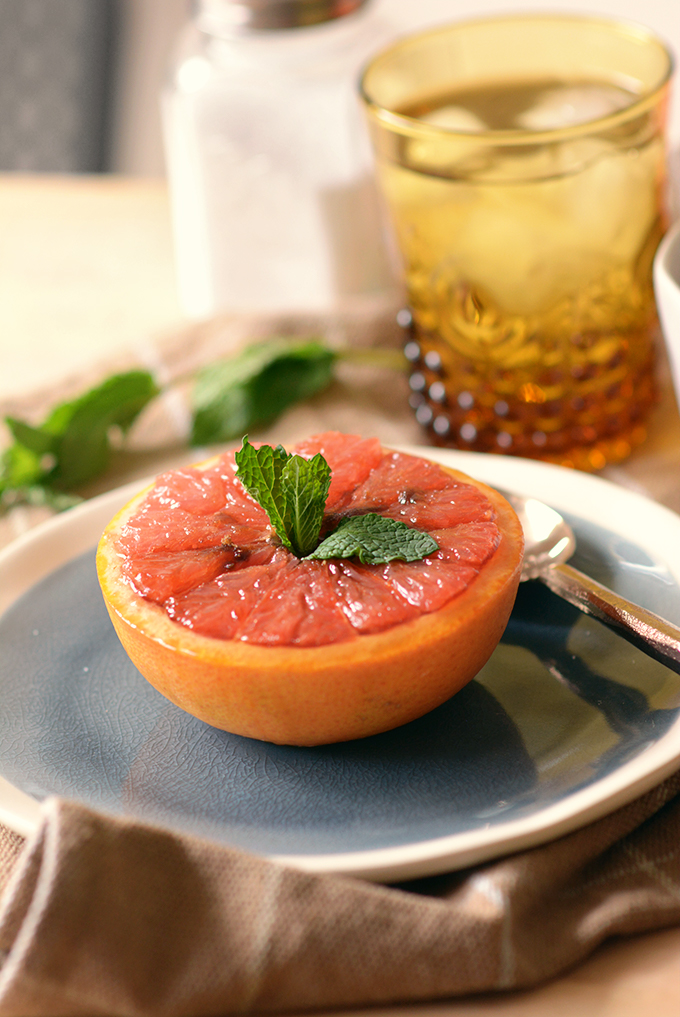 Today's breakfast-y and brunch-y recipe for Baked Honey Brown Sugar Grapefruit is a sentimental one for me. As a kid, my family would take an annual road trip from the busy Philadelphia area to the sleepy little village of Gambier, Ohio to visit my Aunt and Uncle. The village is home to a picturesque private college, and it possessed a midwestern idealism that made it feel safe for us kids to ride our bikes into the main village unsupervised.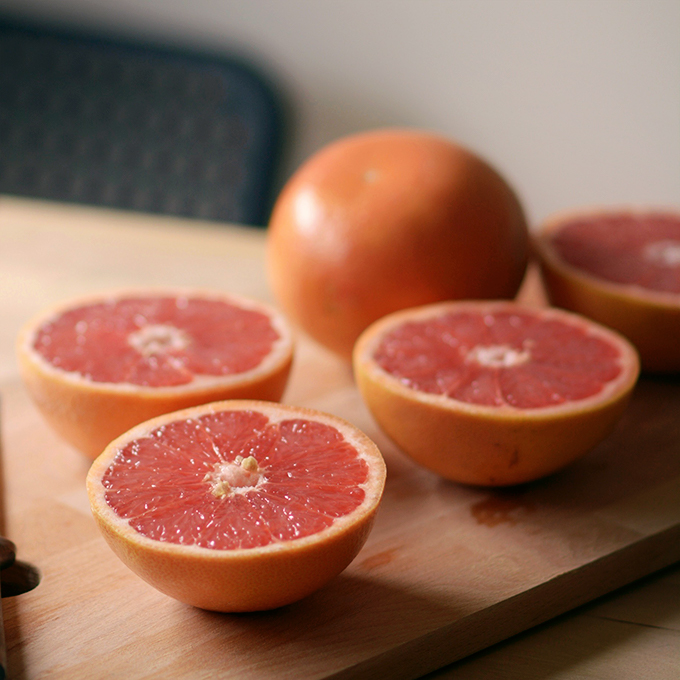 We would often pedal over to the college book shop and stock up on drawing supplies and books full of Calvin and Hobbes and Far Side comic strips. We would then head over to the locally-owned, cozy little cafe to pick up a sweet treat before ending in the middle of campus under a giant old willow tree – the perfect spot for a couple of 10-year-olds to spend the afternoon enjoying the bliss of freedom.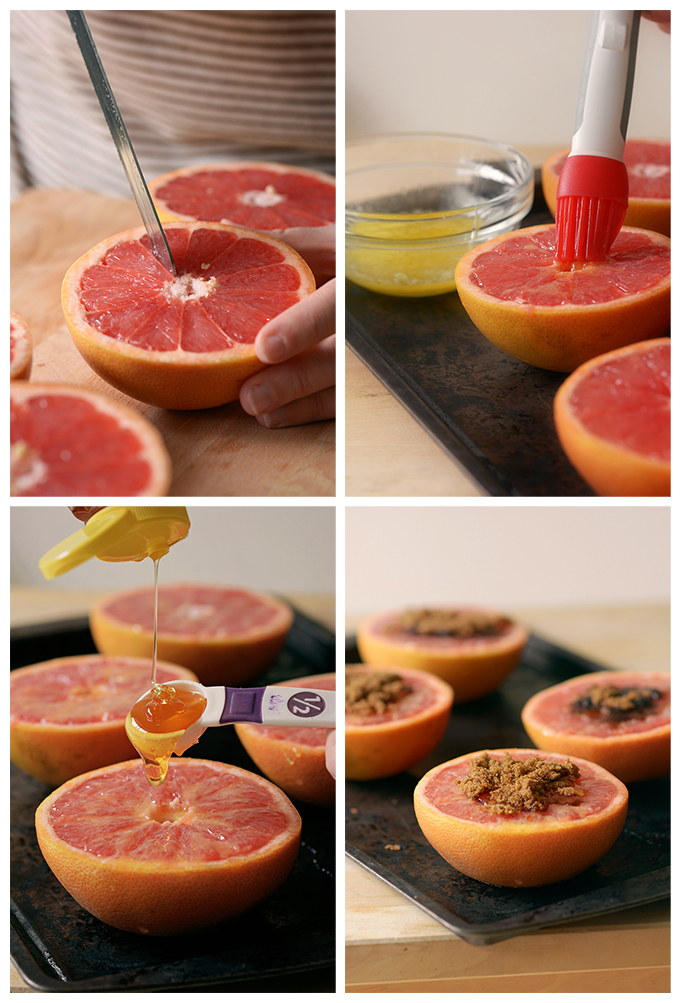 Before beginning our glorious kid adventures, though, we always started the day with my Aunt and Uncle. At the time they owned an idyllic bed and breakfast. Even as a kid I loved cooking, so I'd wake up early and help my Aunt in the kitchen with the breakfast service. She made breakfast favorites like Belgian waffles and candied bacon. Another one of my personal favorites was baked grapefruit. It was my job to help segment the grapefruit and then sprinkle it with brown sugar. I would then watch them through the oven window as they were transformed from acidic to bubbly and sweet.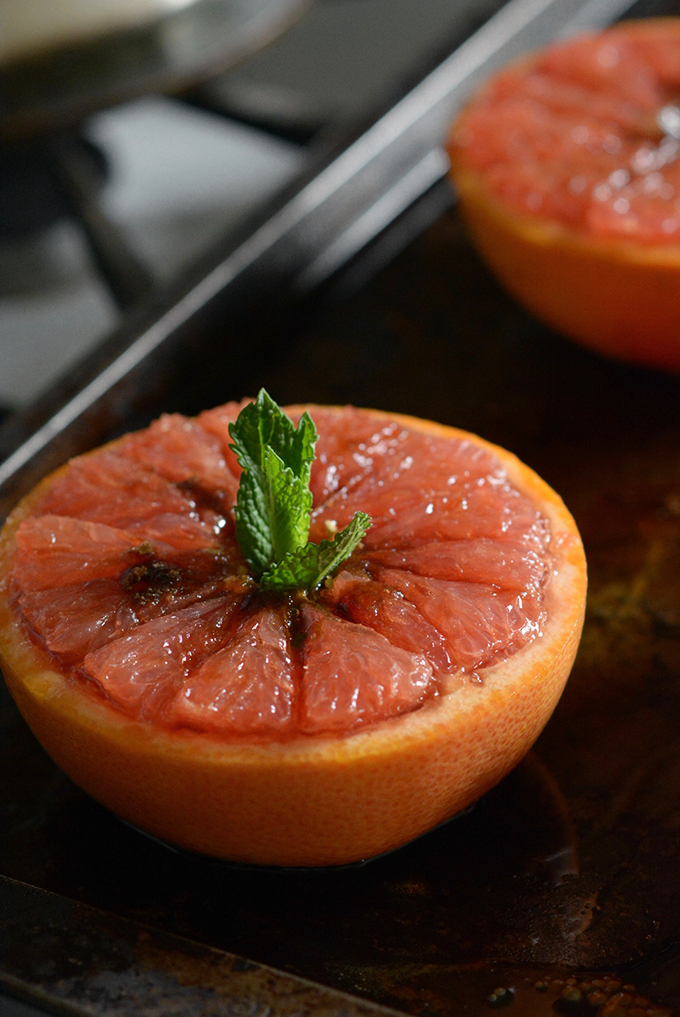 It's been about 20 years since those simple summer days in Ohio, but the taste of baked grapefruit brings me back to the sweetness of it all. I can't remember my Aunt's exact recipe for Baked Honey Brown Sugar Grapefruit, but I promise my recipe is just as good and just as bubbly sweet!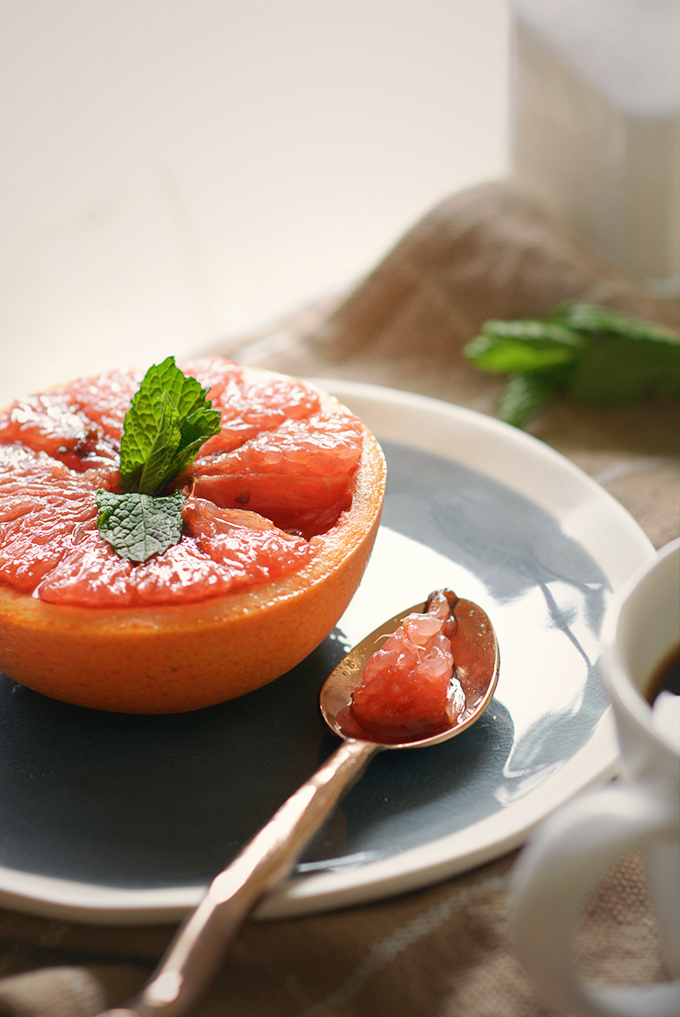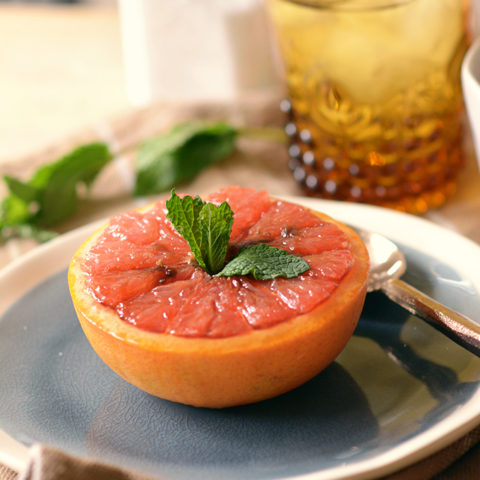 Baked Honey Brown Sugar Grapefruit
Yield: 4

Prep Time: 10 minutes

Cook Time: 15 minutes

Total Time: 25 minutes

Have a bubbly-sweet start to your day with this simple breakfast recipe that's both beautiful and delicious!
Ingredients
2 halved grapefruits*
1 Tbsp melted butter**
2 Tbsp dark brown sugar
2 Tbsp honey
salt to taste
4 mint springs (optional)
Instructions
Preheat oven to 400ºF.
Cut each grapefruit in half and then cut around each segment of the grapefruit with a serrated knife. If you don't have a grapefruit knife, a sharp bread knife works well.
Lightly brush each grapefruit with melted butter.
Pour 1/2 Tbsp of honey and then sprinkle 1/2 Tbsp of dark brown sugar over the center of each grapefruit. Don't spread the honey and and dark brown sugar, but instead let it melt over the fruit while baking.
Bake at 400ºF for 12-15 minutes. Let cool for 3 minutes and then serve with a mint spring placed in the center of the fruit as a garnish.
Notes
*I prefer ruby red grapefruit for this recipe for their large size and pink hue.
**To make this recipe dairy-free and vegan, replace the melted butter with a non-dairy butter.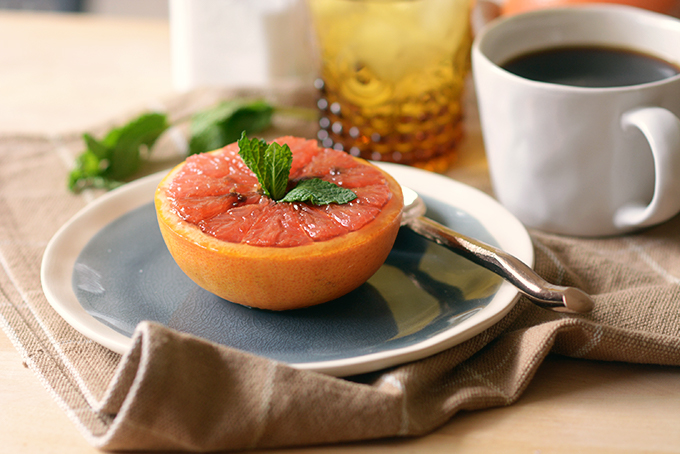 Some more breakfast and brunch ideas…