Carrot Cake Pancakes – Dream of warm weather and Easter bunnies with these light and fluffy Carrot Cake Pancakes drizzled in a maple-walnut syrup. It's the perfect way to welcome the spring season!
As of today I'm officially getting excited about Easter and the whole spring season. There is a touch of warmth in the air and the weather forecast for the next couple of days is finally in the 60s and 70s. It is my hope that the world is going to turn green and colorful again soon!
I love how my neighborhood comes to life in the spring. I live at the end of a long row of town homes with a sidewalk that's perfect for little kids to go back and forth on bikes, roller skates and scooters. Being on the end, there is a nice grassy area on the side of my house with a large, old tree, and a community playground. This week I'm planning on spending many hours outside, sitting on the stoop with my kitty curled up in a ball on the grass. While the cat and I take in the splendor, my son will join in the choir of chattering, giggly children at the playground who are excited that spring is finally here. It's amazing how silent my neighborhood is in the winter, and how it only takes a couple of warm spring days to bring it back to life again.
To nurture my excitement about spring, I made some Carrot Cake Pancakes. Even though it's still early in the season, carrots are locally available. Perhaps since Santa likes cookies and milk, the Easter bunny will like Carrot Cake Pancakes. After all, I need to tempt him to be good to my household this year as a part of my master plan to get gobs of chocolate eggs and jellybeans… Well, maybe not the jellybeans, but tons of chocolate!
These pancakes taste like a light and fluffy carrot cake with hints of cinnamon, ginger and nutmeg. If you like nuts in your carrot cake, then warm some real maple syrup on your stovetop and stir in some finely-chopped walnuts to make a maple-walnut syrup for drowning your pancakes in. These are so good you won't want to share. Not even with the Easter bunny!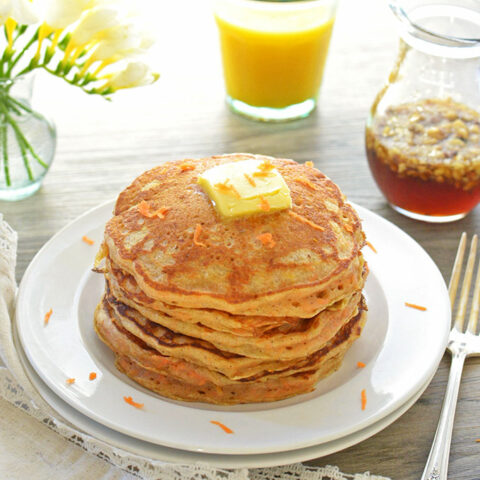 Carrot Cake Pancakes
Yield: 4 servings

Prep Time: 10 minutes

Cook Time: 15 minutes

Total Time: 25 minutes

Dream of warm weather and Easter bunnies with these light and fluffy Carrot Cake Pancakes drizzled in a maple walnut syrup. It's the perfect way to welcome the spring season!
Ingredients
Carrot Cake Pancakes
1 C flour
2 Tbsp light brown sugar
2 tsp baking powder
1/2 tsp cinnamon
a generous pinch of nutmeg
a generous pinch of ginger
1/4 tsp salt
1/2 C buttermilk
1/2 C milk
1 egg beaten
1/2 tsp vanilla
1 Tbsp melted butter
1/2 C finely grated carrots (3-4 medium carrots)
Maple Walnut Syrup
1/2 C maple syrup
1/4 C finely chopped walnuts (optional)
Instructions
Grate 3-4 medium carrots to equal 1/2 C. Before measuring the shredded carrots in a cup, gently press them between your hands to release some, but not all the juices. Set aside.
Evenly mix together all the dry ingredients in a medium mixing bowl; the flour, brown sugar, baking powder, cinnamon, nutmeg, ginger, and salt.
Add the buttermilk, milk, 1 beaten egg, and vanilla to the bowl and mix to combine, taking care not to over mix.
Fold in the melted butter and the grated carrots.
Heat a large skillet over medium heat with a little vegetable oil and a little butter. My favorite pan to use for pancakes is cast iron, which tends to require less oil.
For small pancakes pour 1/8 C batter onto the pan for each pancake, for medium pancakes measure 1/4 C. Allow each pancake to become bubbly on top and golden brown on the bottom before flipping. You should only have to flip once. Once cooked, make a stack of pancakes on each person's plate.
In a small sauce pan, heat 1/2 C of maple syrup over low heat. Once warm, remove from the heat and mix in 1/4 C of finely-chopped walnuts. The walnuts are optional.
To serve, pour Maple Walnut Syrup over the pancakes and enjoy immediately.
If you enjoyed this recipe, you may also enjoy…