Classic Fluffy Buttermilk Pancakes – Make everyone fall in love with you when you serve up these perfect Saturday-morning-worthy buttermilk pancakes!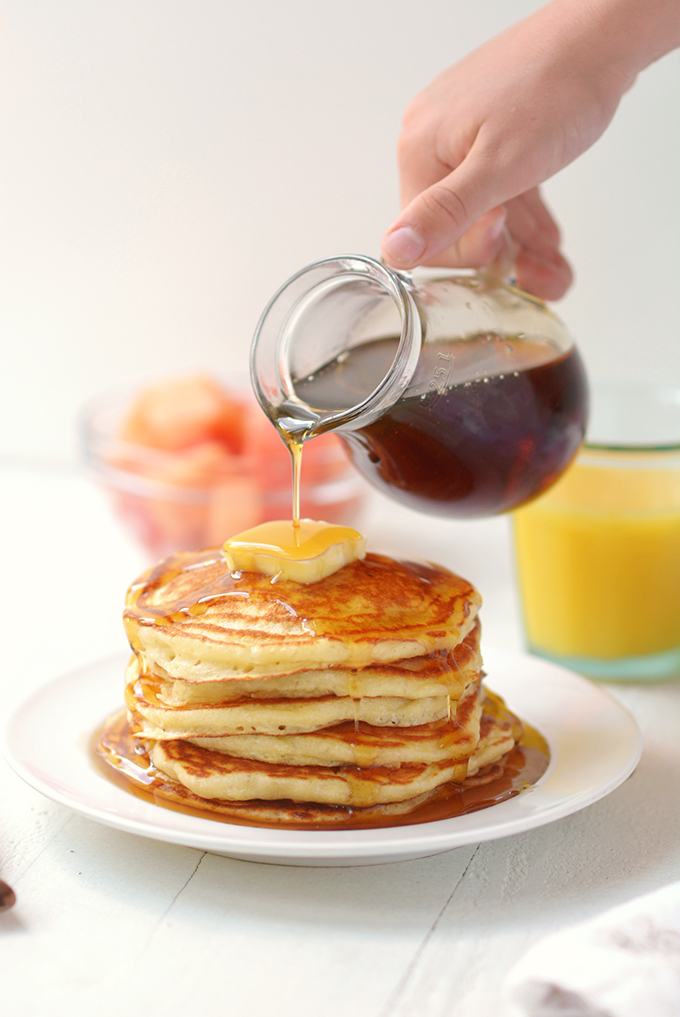 Good pancakes have the powerful ability to leave an impression on people's hearts.
They can endear your kids to you on an Saturday morning. Making pancakes for the whole crew on family vacation or for Christmas brunch brings everyone together and makes everyone feel loved.
Making pancakes is also hot. Hint: Guys or girls, if you want to impress your date, put on a super cute apron and make them amazing fluffy and rich buttermilk pancakes. I can say with certainty that my husband would agree with this statement. He's stayed married to me for 11 years worth of Saturday mornings, after all!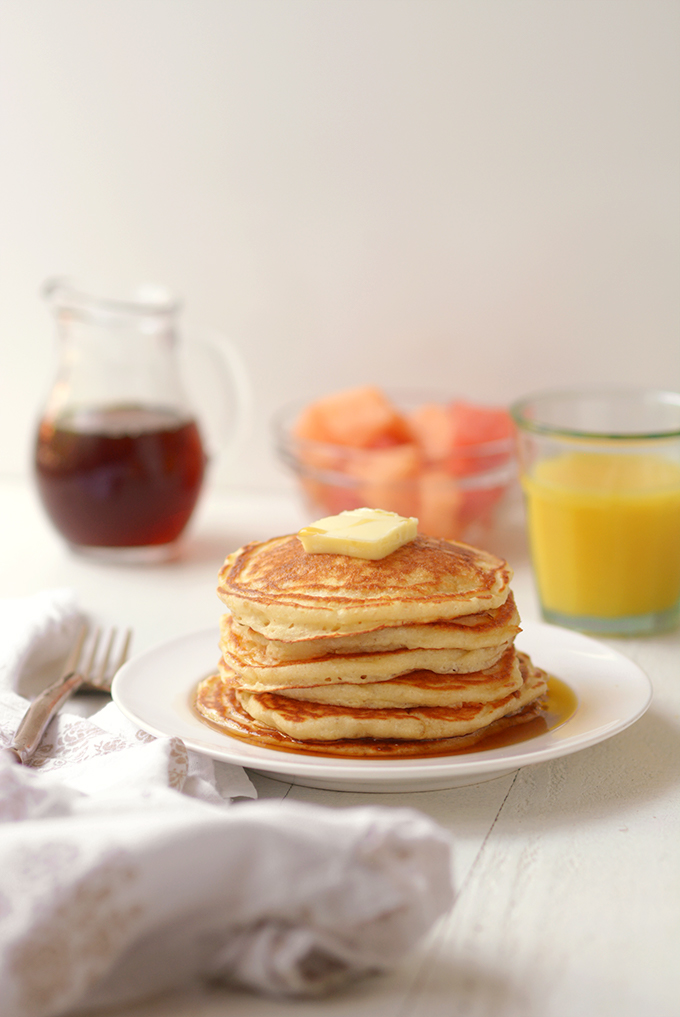 A Saturday-morning-worthy classic fluffy buttermilk pancake recipe takes more than a box of Jiffy. Don't get me wrong, Jiffy is great for things like camping and Mondays, but Saturday morning pancakes should be fluffy and rich with no artificial ingredients.
To get started with making everyone in your life pretty much fall in love with you through the power of your pancakes, check out some of my pancake-making tips along with my recipe below!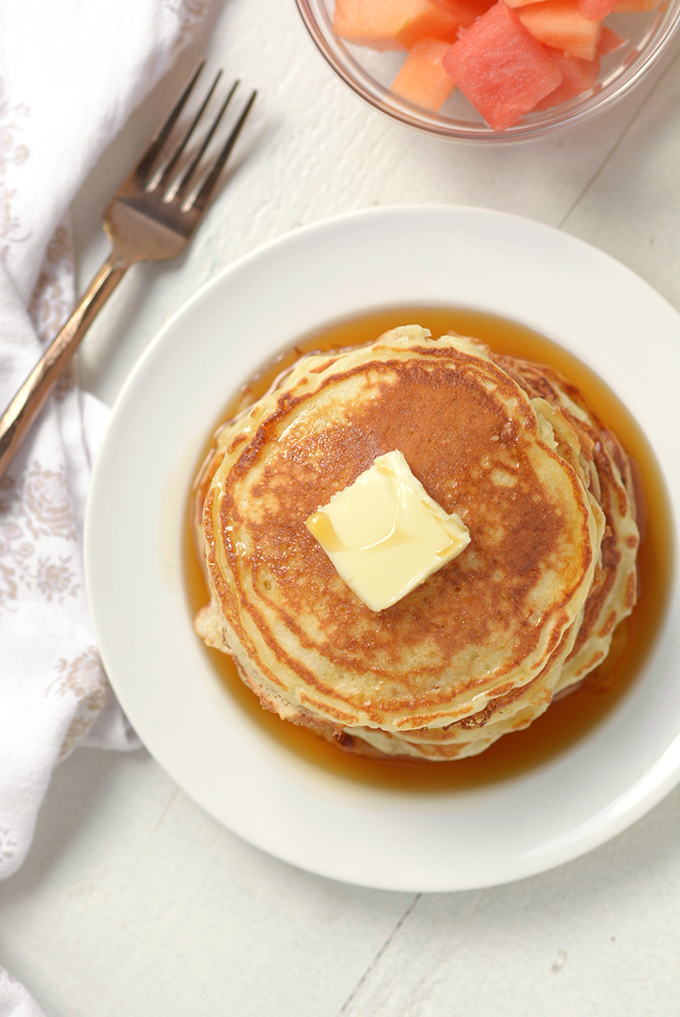 Tips for making fluffy pancakes
Separate the egg whites and yolks. Beat the whites into stiff peaks to be folded into the batter once all of the other ingredients are combined.
Don't over-mix the batter. It's okay if there are a small amount of flour lumps that haven't been fully incorporated. Mixing together all of the dry ingredients before mixing in the wet ingredients helps with this.
Allow the batter to sit for 30 minutes before cooking.
Flip the pancakes when there are bubbles forming on the top that are beginning to pop.

Tips for making rich pancakes
Melt REAL butter, and gently stir it into the batter.
Use WHOLE buttermilk, none of that low-fat stuff.
Don't skimp on the sugar that is added to the batter.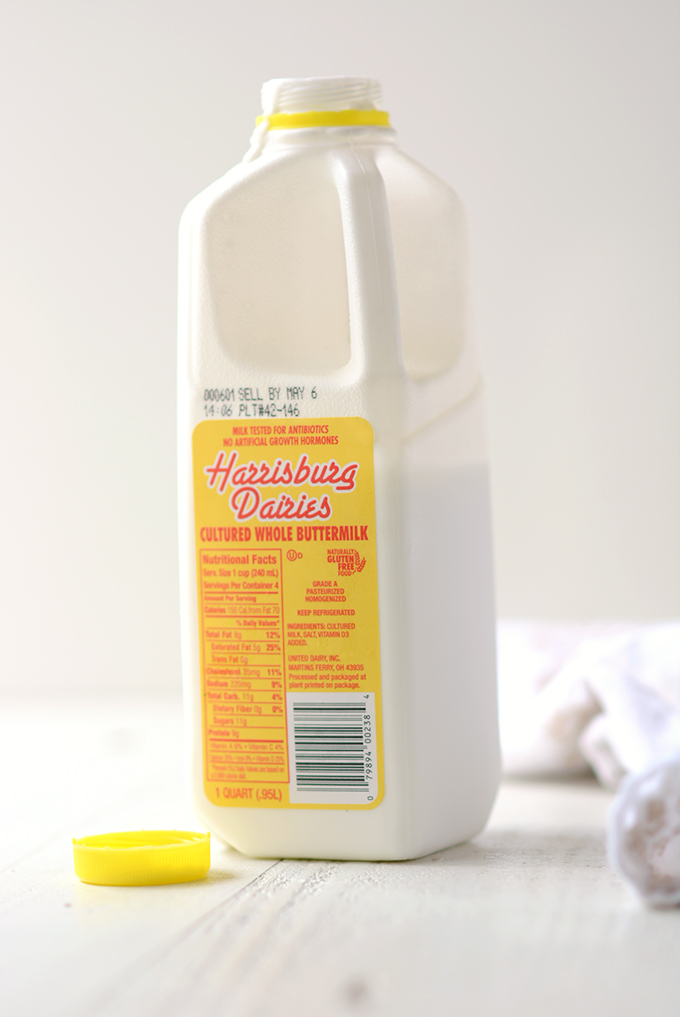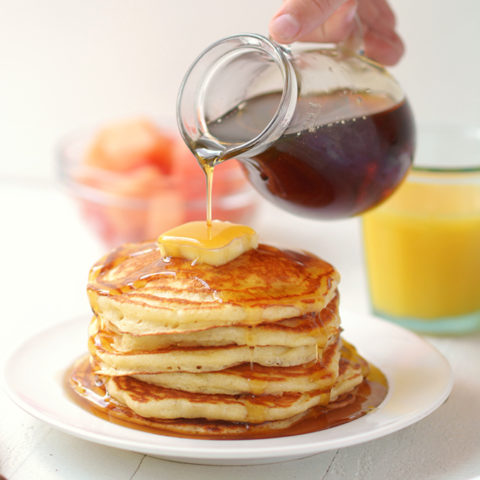 Classic Fluffy Buttermilk Pancakes
Additional Time:
30 minutes
Make everyone fall in love with you when you serve up these perfect Saturday-morning-worthy buttermilk pancakes!
Ingredients
2 eggs, yolks and whites separated
2 C all purpose flour
1/4 C granulated sugar
4 tsp baking powder
1 tsp salt
1 1/2 C whole buttermilk*
1/2 C milk
3 Tbsp butter, melted
vegetable oil for pan
Instructions
1. Separate the egg whites and yolks. Set aside the yolks. In a medium mixing bowl, using an electric mixer, beat the white until they form stiff peaks. Set aside.

2. Mix the flour, sugar, baking powder, and salt together in a large mixing bowl.

3. Add the buttermilk, milk, and egg yolks to the bowl with the dry ingredients. Mix together until combined, but there are still a few lumps remaining. Take care not to over-mix.

4. In a microwave safe dish melt the butter. Stir the melted butter into the pancake mix until just combined.

5. Fold the beaten egg whites into the batter. At this point you can add extras to the batter as desired. For example, blueberries or chocolate chips.

6. Let the batter rest for 30 minutes before cooking.

7. To cook the pancakes preheat a pan or griddle over medium heat. Once heated, lightly oil the pan. Also preheat your oven to 200º F to keep your pancakes warm as you cook the batter in batches.

8. For each pancake, measure 1/3 C of batter on the pan. Cook for 3-4 minutes, or until bubbles start to form on the surface of the pancake and the griddle side is golden brown. Flip and cook another 2-3 minutes until both sides of the pancakes are golden brown. Transfer the cooked pancakes onto an oven safe dish or pan. Keep warm in the oven until all the batter is cooked and you are ready to serve.
Notes
*Whole buttermilk can sometimes be hard to find, but it's worth locating for this recipe. It gives the pancakes a rich flavor without making them heavy or greasy.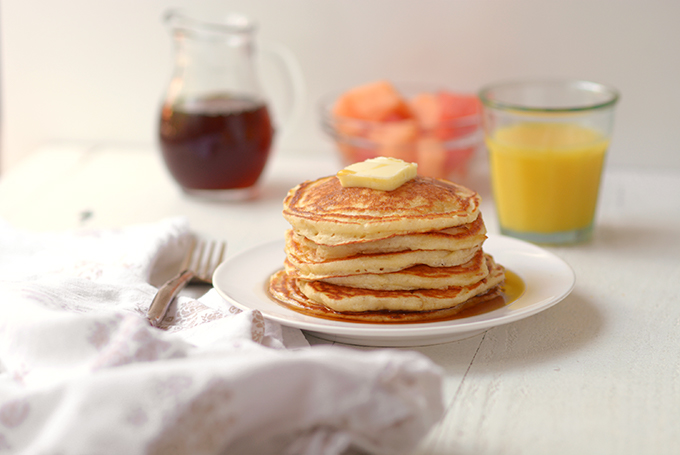 Some more breakfast inspiration…