Cherry Almond Shortbread Cookies – Grab a hot beverage and curl up on the couch with these beautiful, buttery, and flavorful holiday cookies that are so easy to make!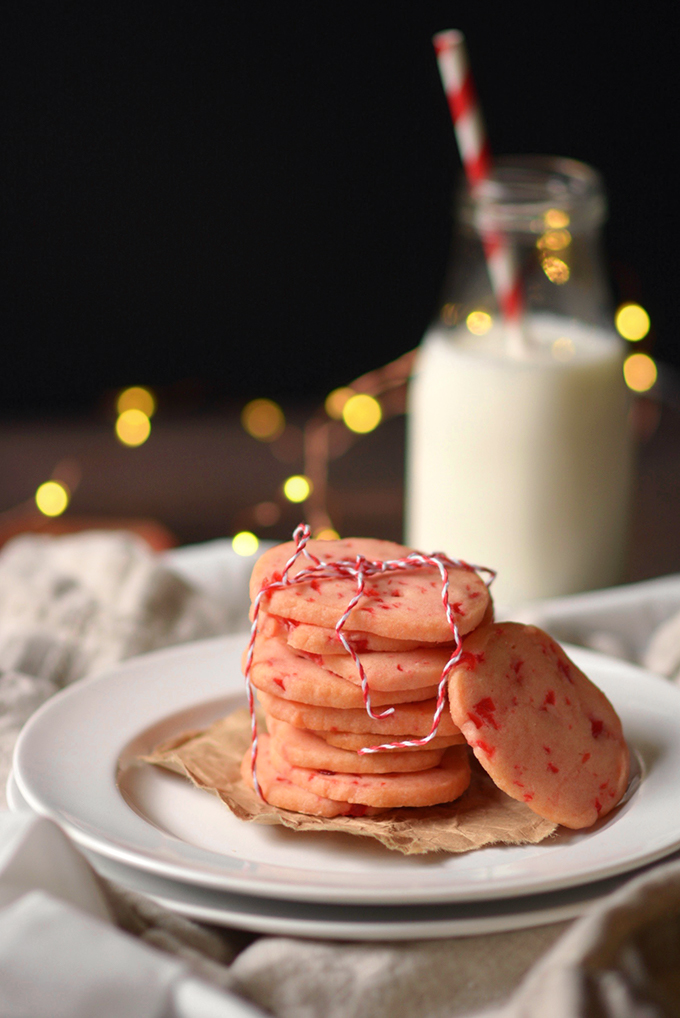 When it comes to cookies, all things shortbread are my biggest weakness. They're promising little wafers with a crunchy outside and a soft inside that are exploding with buttery flavor. Paired with a cup of tea for my mom, coffee for me, and hot chocolate for my son, they're a delicious way to spend a chilly afternoon together.
I made today's recipe for Cherry Almond Shortbread Cookies in anticipation of Christmas, but they're delicious with your favorite hot drink all winter long. The pretty red color makes them especially festive for Christmas and also for Valentine's Day. ❤️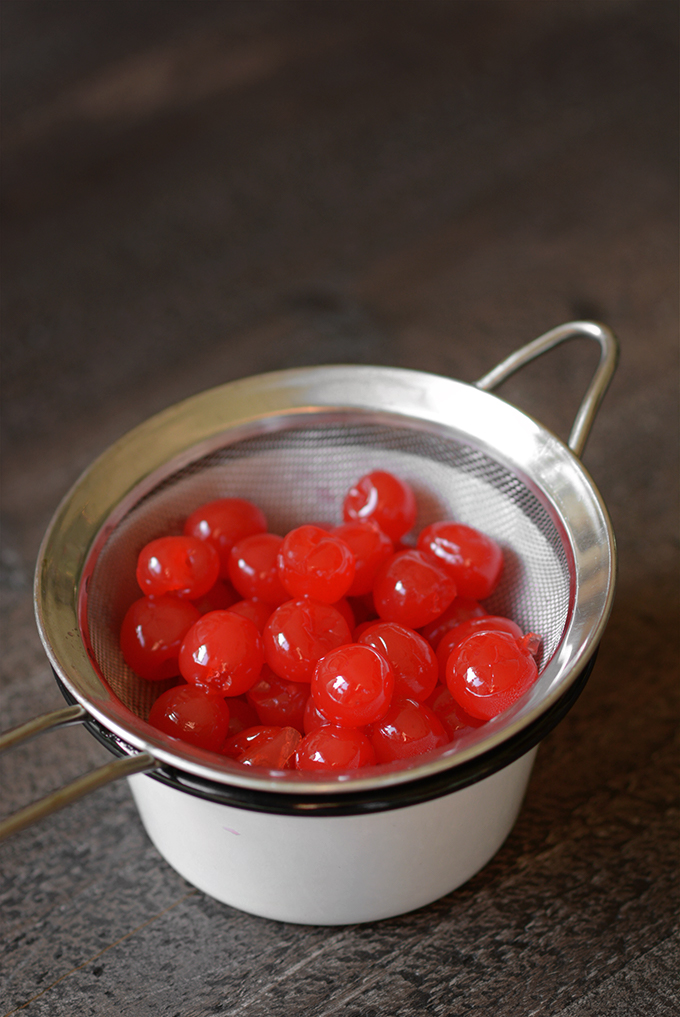 Since I was making these cookies to share with the kids, I used inexpensive maraschino cherries from the grocery store. It's worth noting, however, that these cookies can also be taken to the next level by using Luxardo Maraschino Cherries. But at $20 a jar, the kids were so not getting cookies made with mommy's Luxardos! It's also worth mentioning that the Luxardo cherries are an all-natural (and boozy), albeit expensive, alternative to the Red#40 cherries found at the grocery store. The alcohol will bake out, too, so they're safe for everyone.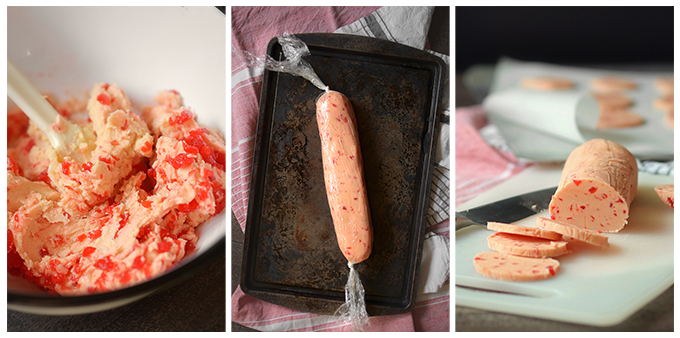 Shortbread cookies are a particularly easy cookie to make because they don't involve a ton of ingredients. They're basically butter, confectioner's sugar, flour, and then whatever flavorings you choose to add. The most difficult part of this recipe is rolling the dough into a log (kindergarteners can handle this during play dough time), chilling it, and then slicing it. For those averse to the laborious task of cut-out Christmas cookies, this is the recipe for you! To better understand the aforementioned technique, check out the step-by-step pictures above.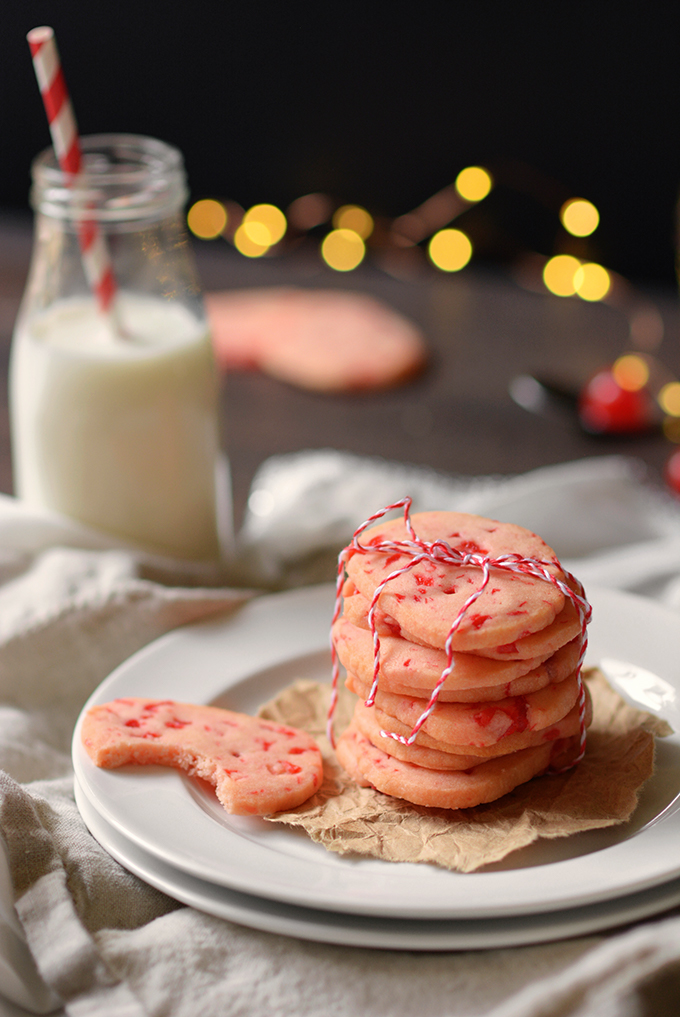 Once baked up, these Cherry Almond Shortbread Cookies are flavorful wafers of buttery cherry and almond. They're sure to be a hit at your next holiday cookie exchange, Valentine's Day party, or just in the comfort of your own cozy kitchen with a steamy cup of coffee or tea.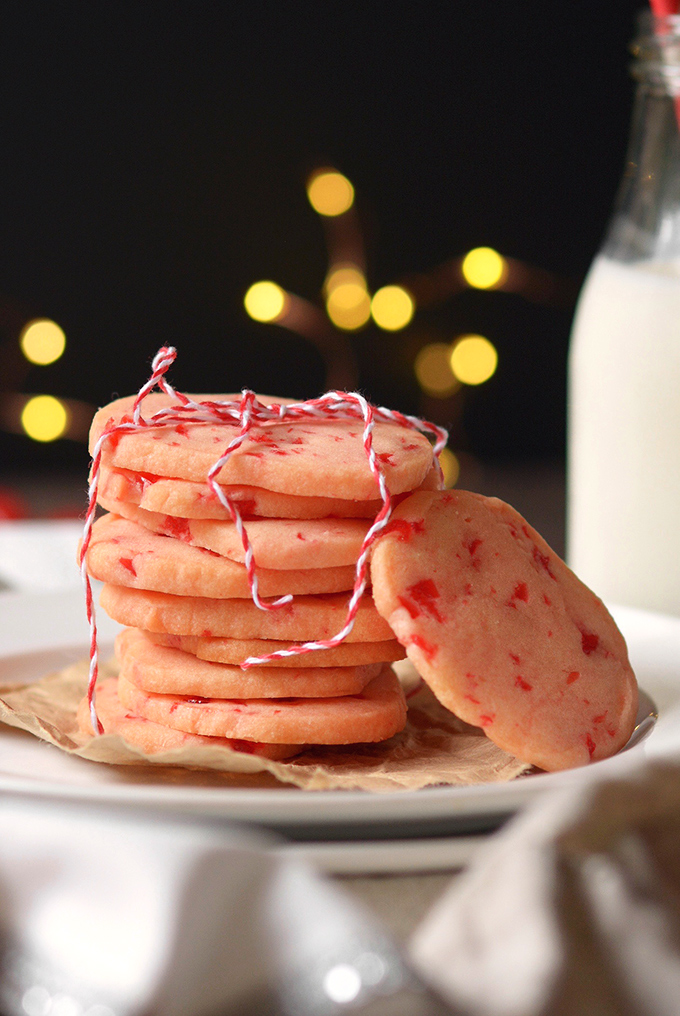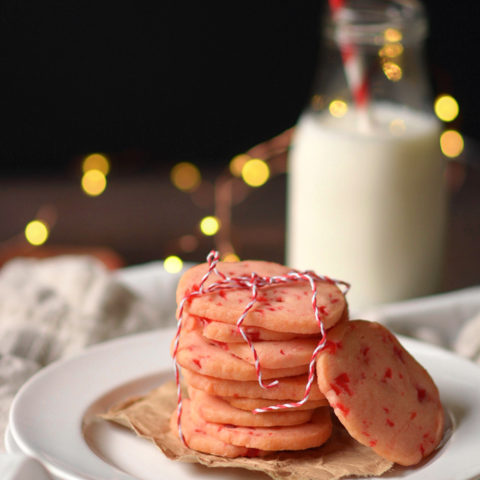 Cherry Almond Shortbread Cookies
Yield: 24 cookies

Prep Time: 20 minutes

Cook Time: 12 minutes

Total Time: 32 minutes

Grab a hot beverage and curl up on the couch with these beautiful, buttery, and flavorful holiday cookies that are so easy to make!
Ingredients
1 C (2 sticks) salted butter at room temperature
2/3 C plus 2 Tbsp powdered sugar
1 1/2 Tbsp maraschino cherry juice
1 tsp almond extract
1/2 tsp vanilla
2 C unbleached flour
25 finely chopped maraschino cherries
Instructions
In a medium sized mixing bowl, cream the butter and then add powdered sugar and cream together with a hand mixer. Add maraschino cherry juice, almond extract, and vanilla and continue to mix until smooth.
Add flour and the chopped maraschino cherries to the bowl and work the two ingredients into the butter and sugar mixture using a spatula or your hands. Take care not to over-mix. You're going for well-combined, but not beaten.
Scoop the mixture into the middle of a piece of plastic wrap, mold into a log shape about 1½ inches in diameter, then roll up in the plastic wrap and tie off the ends. Place in the freezer for 1 hour.
After the dough has hardened in the freezer, preheat your oven to 350ºF. Cut the dough out of the plastic wrap and cut in ⅛ inch thick slices. Place on a cookie sheet covered with parchment and bake for 11-13 minutes or until the cookies are just beginning to turn golden brown.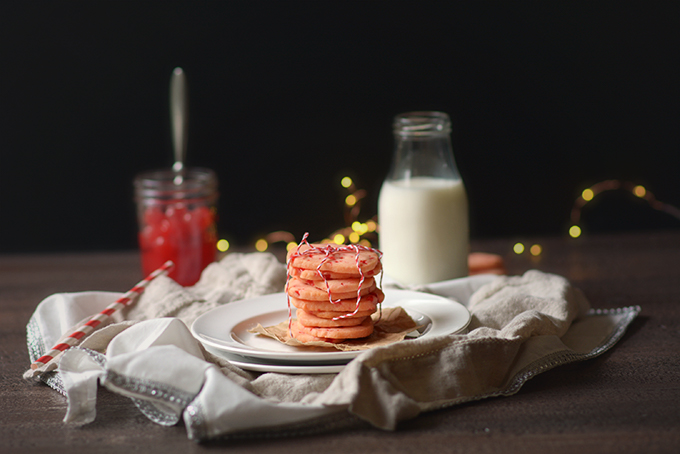 Some more tasty and seasonal baked goods…