Small Batch Crunchy Canned Dill Pickles – The PERFECT canning recipe for dill pickles! Complete with step-by-step photos and tips on how to make them look beautiful and get that coveted pickle "crunch!"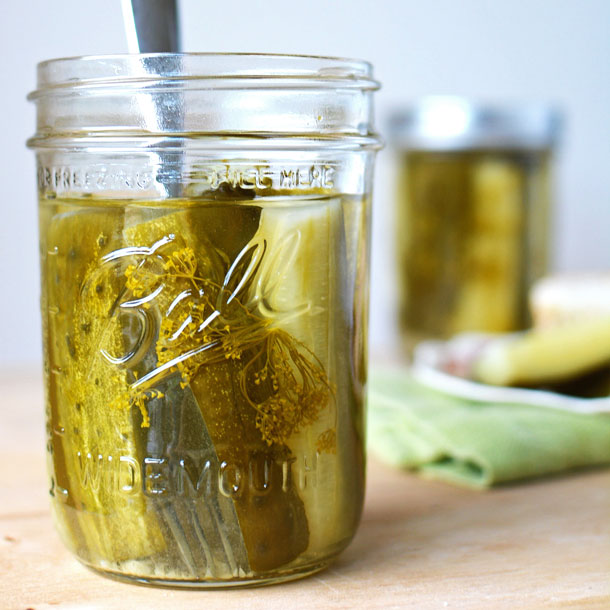 This summer I've been getting pickling cucumbers in 2 or 2.5 lb increments from my CSA, and as a result I've embraced the idea of making pickles in small batches.
I have to say, as much as I love pickles, I've become all about small batches because I really don't want TEN jars of dill pickles. By making small batches I can have 3 or so jars of 3 or so varieties, and that's much more fun to eat in the end!
One of the challenges of canning pickles is achieving a "crunch." Oh, how often I've bitten into a canned pickle that has amazing flavor, but have been disappointed by a rubbery "squish" instead! In this post I'll share my tips for getting that perfect "crunch" every time.
To begin you'll want to start out with amazing pickling cucumbers. I got mine from my CSA and I'm pretty sure they were picked the morning of the day I picked them up, and I pickled them the next day.
Basically, fresh cucumbers are, well, fresher, and will help in the crunching department! If you're not part of a CSA, please avoid the supermarket for your canning produce because you'll overpay, and it will be days old.
I've been seeing pickling cucumbers at a number of farmers markets and farm stands this season, but driving around in search of the perfect ingredients can be time consuming. When I need to find canning ingredients that my CSA doesn't carry, I usually start with a Google search of local farms and then I call around until I find someone who has what I need. I rarely have trouble if I'm willing to ask the farmers who are wanting to sell.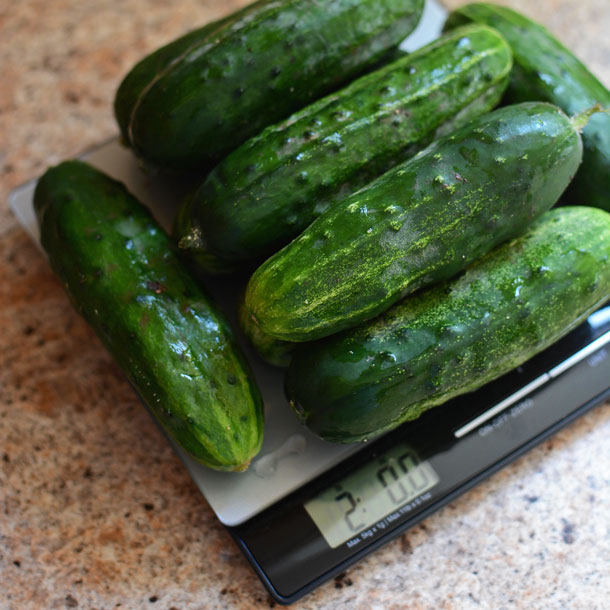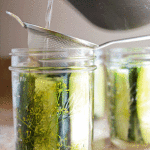 The next key to a crunchy pickle is "cold packing" them. This means making a hot brine in a sauce pan that you'll pour over raw cucumbers that have already been packed into their jars.
To make the brine I place my water, vinegar, sugar, and salt in a saucepan with pickling spices that have been neatly tied up in a cheesecloth.
For food safety, the ratios of water, vinegar, sugar, and salt are based on the dill pickle recipe that can be found in the Ball Blue Book. I just did some math to make the recipe smaller. Also, the spice blend is uniquely mine.
I used to put the spices directly into my jars, but I've found that over time the cloves and the allspice would discolor my pickles and would also begin to flavor the pickles too intensely. By simmering the spices in the brine, I have more control over the balance of flavors.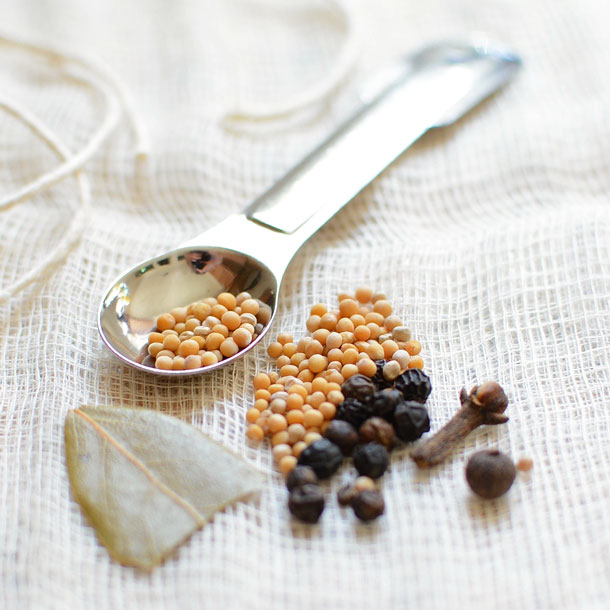 After the cucumbers, the dill is the second most important part of making dill pickles.
For dramatic presentation I like to place my dill on the side of the jar. I know I risk having it float to the top, but I like a little drama in my life. I've found if I pack my jars on their sides, nice and tightly, this isn't that much of a problem.
This season I held out to make my dill pickles until the dill was flowering. I think the flower adds a little extra drama to the aforementioned pickle drama.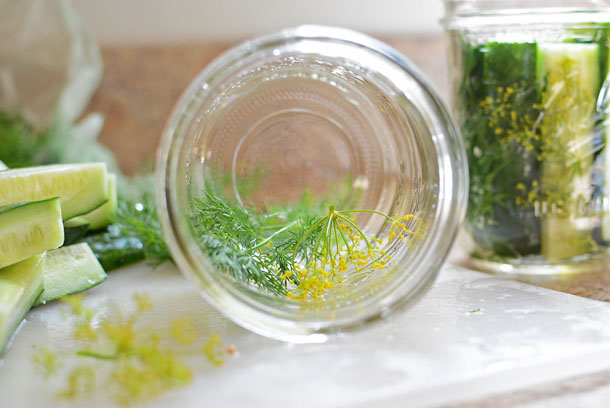 Stacking your raw cucumbers on top of your dill will help to achieve a pretty dill frond and flower design. Side packing also makes it easier to get a tight pack.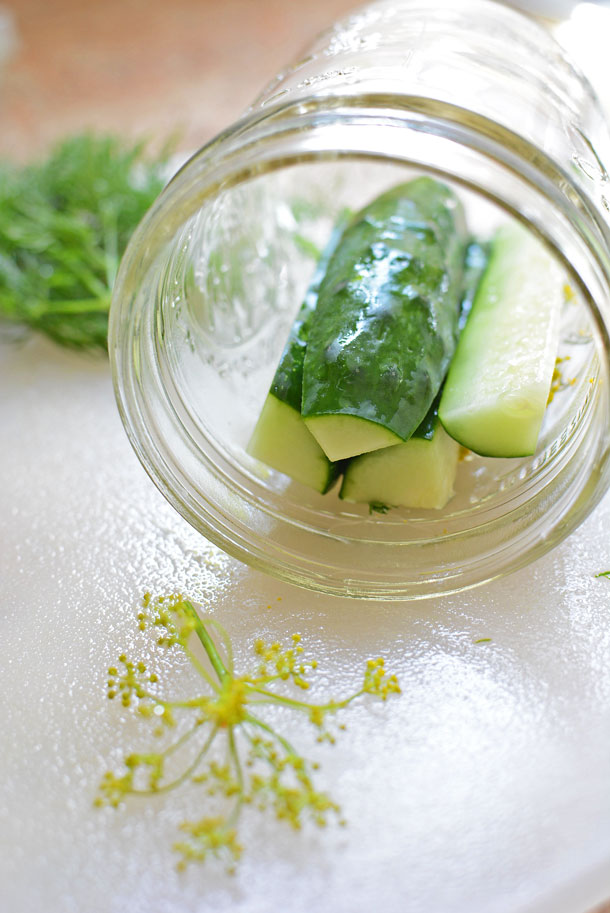 Finally, you want to place your lids and rings on your jars and process them in a hot water bath canner for 15 minutes.
After adding the hot brine, add them to the canner as quickly as possible and only process them for 15 minutes – not a minute more and not a minute less. This means you'll have the right amount of time to kill microbes, but you're not overcooking your cucumbers.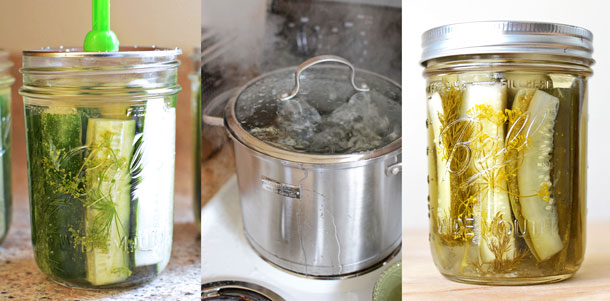 The end result is three crunchy jars of dill pickles. You can begin eating them right away, but I recommend giving them a week or two to allow the brine and dill to work it's magic on your cucumbers!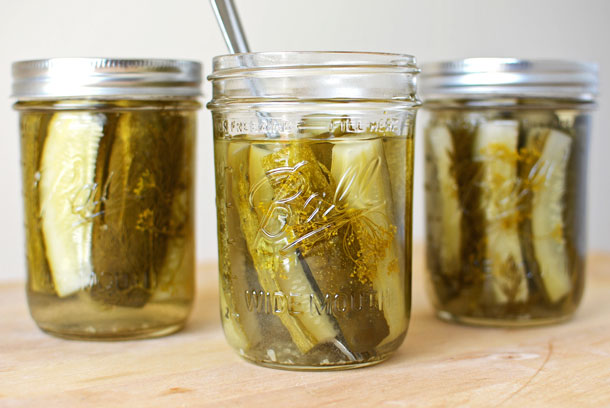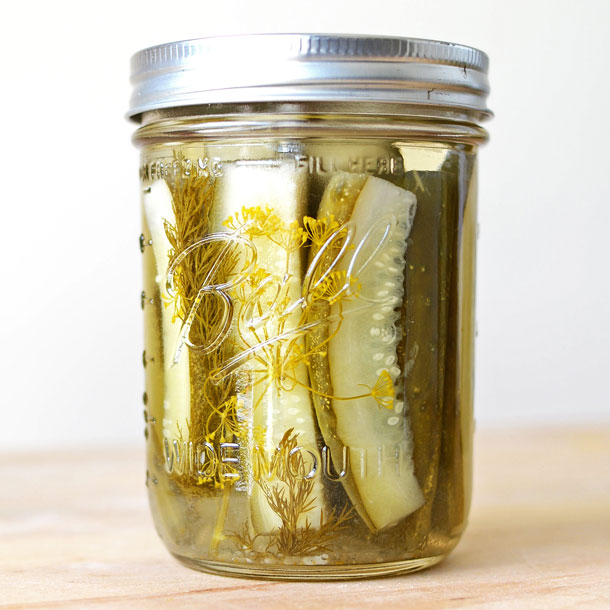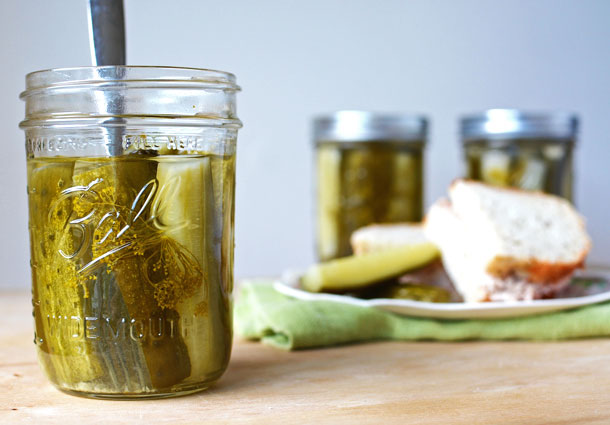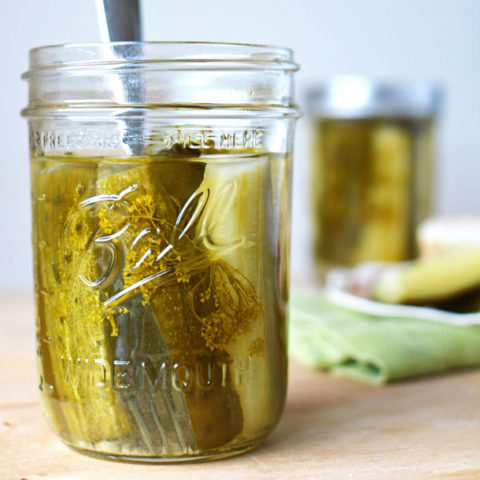 Small Batch Crunchy Canned Dill Pickles
Yield: 3 pints

Prep Time: 25 minutes

Cook Time: 30 minutes

Total Time: 55 minutes

The PERFECT recipe for small batch crunchy canned dill pickles! Complete with tips on how to can, how to make them look beautiful in the jar, and how get that coveted pickle "crunch!"
Ingredients
Ingredients
2 lbs pickling cucumbers, each about 4" in length
1 1/4 C plus 1 Tbsp white vinegar
1 1/4 C plus 1 Tbsp water
1/4 C organic cane sugar
2 Tbsp plus 2 tsp salt
1/4 tsp mustard seeds
1/8 tsp whole peppercorns
1 allspice berry
1 whole clove
1/2 of a bay leaf
3 fresh medium-sized sprigs of dill
3 fresh dill flowers for garnish (optional)
Gear
cheese cloth
butcher's twine
3 pint-sized (16 ounce) canning jars
3 canning lids with rings
water bath canner
canning lid magnet
canning jar grabber
Instructions
Before beginning a canning project, it's important make sure that you have a clean work space and that you have everything set up and ready to go. Place your jars in your dishwasher on the high heat setting, without soap, in order to sterilize them. If you don't have a dishwasher, you can sterilize them by placing them in a large pot of boiling water for 5 minutes.
Fill a large pot 3/4 of the way full with water and begin to bring to a boil over high heat. Clean your cucumbers under running water, then lay out the ingredients you'll need.
Add vinegar, water, sugar, and salt to a saucepan, and then make your spice bag. Do this by doubling cheese cloth and tying your spices inside with butcher's twine. Place the spice bag in the pot with your vinegar mixture and make sure that it's submerged in the pickling liquid. Bring the liquid up to a simmer, and simmer for 15 minutes, stirring occasionally.
While the pickling juice is simmering, cut your cucumbers and pack your jars. For the cucumbers, cut off the ends and discard, then cut the cucumbers into quarters. I find the easiest way to pack my jars is to do so with them on their sides. Arrange 1 dill frond and a dill flower in a beautiful pattern, and then carefully stack cucumbers on top of them. Get as many cucumbers into the jar as you can, and then turn the jars right side up.
Once the pickling juice is done simmering, discard your spice bag and pour it through a small strainer into your packed jars. There should be approximately 1/2 inch of headspace between the pickle juice and the top of your jar. If there are any air bubbles in your jar, shake them out, or poke them out with a sterilized butter knife.
Place your lids and rings into a small saucepan with water and bring the water up to scalding temperature (just before boiling) in order to sterilize them. Don't boil the lids, as this may damage your seals. Dip a clean paper towel in the boiling water in your large pot and use it to wipe the rims of your jars. Using a canning lid magnet, grab the lids and place them on your jars. Screw the rings onto your jars until you first meet resistance and them unscrew them a millimeter or two. This is important for creating a good vacuum seal.
Once the lids are on your jars, immediately place them into your large pot of boiling water, so that all of the jars are submerged. If there is a lot of extra space in the pot, add empty jars to prevent your pickles from knocking around, tipping, or breaking. Cover and process for 15 minutes.
After 15 minutes, remove your jars and place them in a cool, dark place where they can sit undisturbed for 24 hours. You should hear little "pops" as the jars seal and the lids are sucked in towards the jar. The pickles can then be eaten immediately, but are best enjoyed after they've been given a couple of weeks to pickle. They are shelf stable in a cool, dark place for up to a year. If you have a jar that doesn't seal, don't fret. Just place it in the fridge for up to a couple of months.
Notes
I chose not to calculate the nutritional info for this recipe, as I felt it wouldn't be accurate since most people don't drink their pickle juice. The average pickle is a few calories and my educated guess on sodium content for these would be around 350mg per a pickle, thus they should be enjoyed in moderation!
More canning recipes from Simple Seasonal…