This recipe and post is by Rachel's husband, Daniel Hanawalt. Photos by Rachel.
Were you to wander the streets of old New Orleans in the years following the American Civil War, you may turn down Exchange Alley and happen upon a charming little establishment called the Sazerac Coffee House. Being an astute citizen, you would understand that "coffee house" really means "drinking hole" and turn aside for a stiff mid-afternoon pick-me-up. Upon entering, a Mssr. Thomas Handy would invite you to take a seat at the enormous bar and recommend you try the ever-popular house cocktail. While preparing your drink, the barman would explain, rather apologetically, that he would have to substitute rye whiskey for the Cognac normally used as the primary spirit due to the "phylloxera plague," an infestation of aphids that had been wreaking havoc on the vineyards of Europe. He would elucidate, at length, how the little vermin had been affecting their shipments of Sazerac de Forge et Fils, the signature Cognac brandy after which the coffee house itself had been named.
The barman would then rinse the inside of a glass with French absinthe, while in a separate glass he would combine the whiskey, a sugar cube, a few dashes of Peychaud's bitters (the brand that had become famous in New Orleans) and a lemon twist. The mixture would be stirred, strained over ice into the glass with the absinthe rinse, and placed before you. Upon lifting the glass to your nose, you would immediately be immersed in a complex aroma of anise, oak, and lemon, as the ingredients mingled slowly in your glass. You'd be glad for the ice, a rare treat in muggy post-war New Orleans. After taking a few sips, you wouldn't even mind the fact that your preferred spirit, brandy, was slowly disappearing from the coffee houses and being replaced with the common man's whiskey. Confounded little aphids…
As you sip your drink, let's take a step back and return to the present day. As we go, let's head northeast towards Philadelphia.
These days you can stroll down the cobblestone streets of Old City Philadelphia and find a number of bars and speakeasies that serve up fine versions of the Sazerac Coffee House's signature cocktail, many being close approximations to what you would have gotten in the original. Some use brandy, some use rye, and, since the ban on it was lifted in 2007, nearly all of them use absinthe for the rinse rather than other anise-flavored liqueurs. Keeping with tradition is all well and good, but I like the idea of a transplanted foreigner taking on the trappings of her surroundings, so I set out to reimagine the Sazerac cocktail with a seasonal and uniquely local twist.
Breaking down the traditional Sazerac cocktail into its working parts, I began looking for ways to incorporate some local flavor (no pun intended.) We're rapidly closing in on the end of blueberry season here in PA so I wanted to feature these delicious little fruits that go so well in cocktails before it's too late.
For the base spirit, I chose Dad's Hat Pennsylvania Rye Whiskey produced in Bristol, PA. The first time I experienced it I thought it was pretty harsh, but I had been used to the sweet, caramel flavor of Kentucky bourbon. Pennsylvania rye, on the other hand, has that signature rye grain spiciness with a prohibition era high-proof "burn." After spending some time with it, I truly came to love rye, especially when diluted with a touch of water.
In place of the sugar cube, I opted for another local treat that I discovered when we had some friends over for dinner. As a hostess' gift for Rachel, they brought a bottle of Pennsylvania maple syrup that had been aged in rye whiskey barrels. The barrels had been used to create – wait for it – Dad's Hat Rye! You can thank the good people of Keystone Homebrew for producing such a fantastic product. Seriously, I've never tasted anything like it!
For the absinthe rinse, I used none other than my favorite Philadelphia-produced Vieux Carré Absinthe Supérieure. It holds the distinction of being the first legal American absinthe produced after the ban was lifted in 2007 and was featured previously on Simple Seasonal in my Sour Cherry Absinthe Cocktail recipe.
As for the bitters, my opinion is that only Peychaud's will do. The Sazerac would suffer unduly if you were to take away that zesty, medicinal element that adds dimension to so many Creole cocktails. The twist of lemon, as well, retains it's usual place in this rendition.
The Sazerac is normally served over ice in a rocks glass. This makes sense in the sultry Gulf Coast heat of New Orleans. In Pennsylvania, however, late August is marked by warm days that give way to cooler nights, a reminder that Autumn is not far away. With that in mind, I thought it made more sense to serve this version in a coupe sans ice; a drink that can be enjoyed well into the cooler months as we begin to long for that sultry heat up north.
Anytime you're looking for something with a bit of mystery, a bit of complexity, and a bit of history, you'll never go wrong with the Sazerac. No matter where you're from, whether it be New Orleans, Philadelphia, Paris, or Kuala Lampur, it's my hope that you'll enjoy this little blend of American culture. Cheers!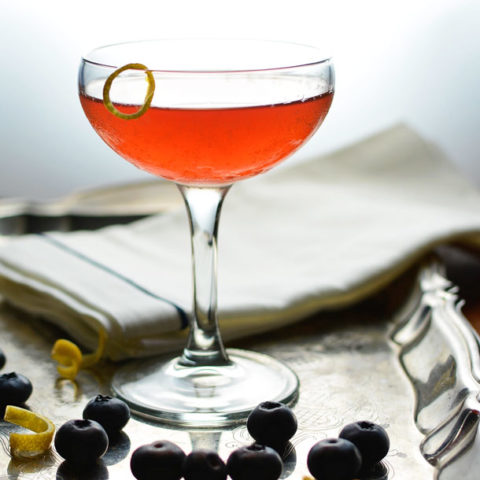 Blueberry Maple Sazerac
Yield: 1

Prep Time: 5 minutes

Total Time: 5 minutes

The Sazerac cocktail, a New Orleans native, takes on a Keystone State flair in this late summer rendition of the famous classic.
Ingredients
1/4 C blueberries
2 oz Dad's Hat Rye whiskey
Rinse of Vieux Carré absinthe
1/2 tsp maple syrup aged in rye whiskey barrels
5 dashes Peychaud's bitters
Twist of lemon
Instructions
Rinse the inside of a glass with absinthe by putting a small amount in and rolling the glass around in your hands. Pour the rest back in the bottle or discard.
In a mixing tin, muddle the blueberries until all the juice has been released.
Fill the tin halfway with ice
Add the whiskey
Add the maple syrup
Add the 5 dashes of Peychaud's
Using a bar spoon, stir the ingredients until well mixed
Strain into a glass using both a Hawthorne and a small mesh strainer in order to catch all of the blueberry pulp.
Squeeze a lemon zest over the glass to release the oils
Garnish with a lemon twist