How to Make Real Clotted Cream – Finding proper clotted cream in the US can be a challenge, but this helpful guide will assure that you can always have a perfect batch on hand!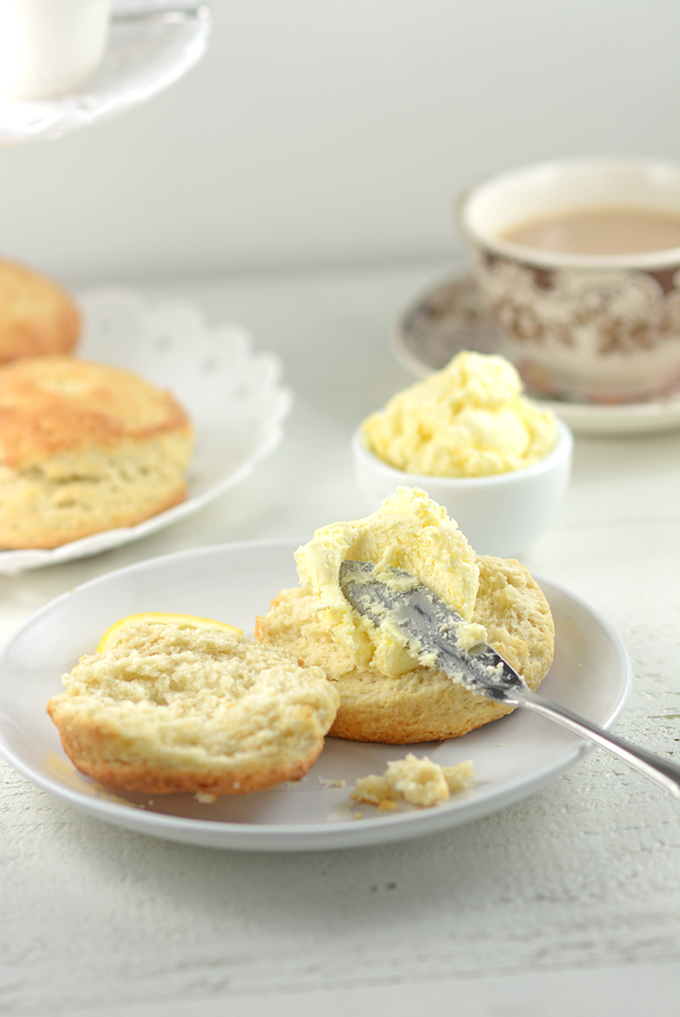 In my last blog post I attempted something impossible for an American home cook– making proper English Scones. I'm fairly certain that somewhere along the way I accidentally broke with tradition, making them decidedly improper. That said, they tasted AMAZING! Kudos to England for inventing something so yummy.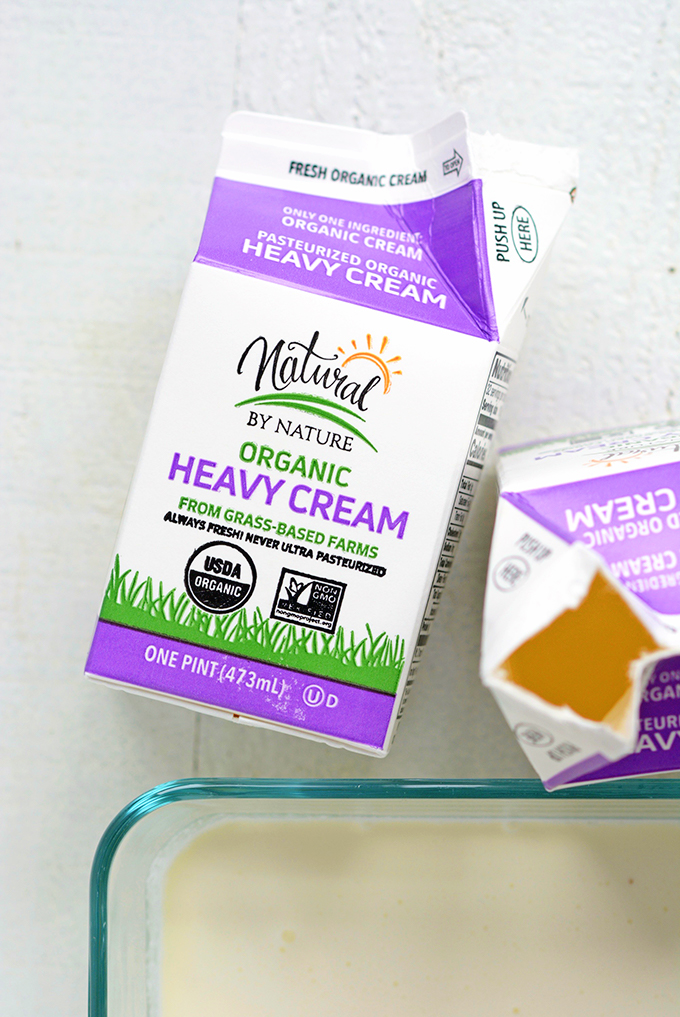 Well, here I go again, attempting to make another British treasure – clotted cream. I decided to call this blog post "How to Make Real Clotted Cream" because every time (except once) when I've ordered scones in the US, they've been served with a disappointing version of whipped cream. Real clotted cream is actually shockingly different.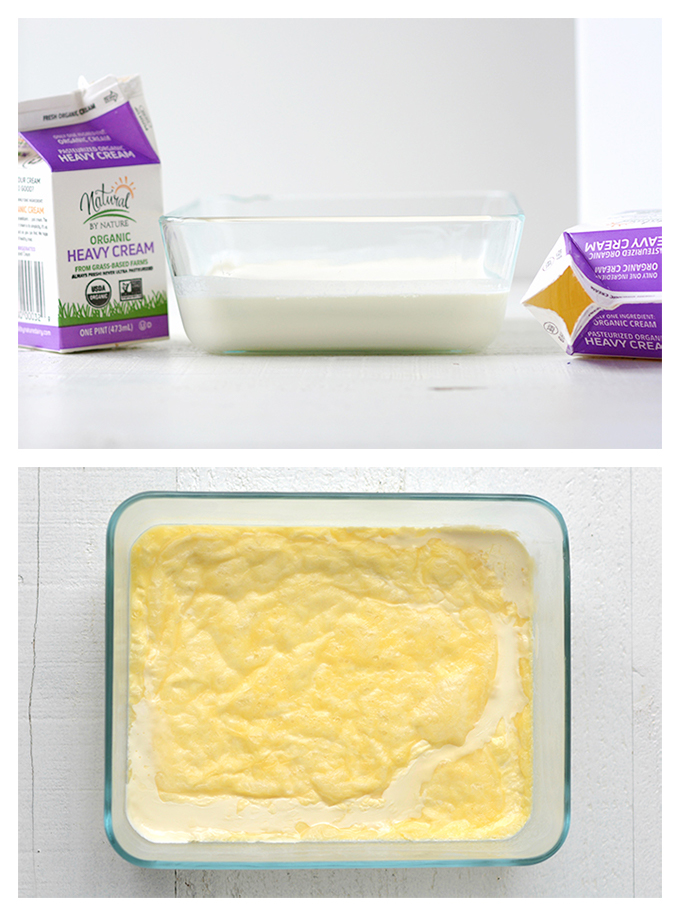 Since most of my audience is American I feel the need to explain that real clotted cream is made from full-fat cow's milk that has been indirectly heated for 12 hours in order to separate out the fatty cream. It's that fatty cream that forms "clots" (as a nurse this description disgusts me, by the way), which is then strained and used as a spread.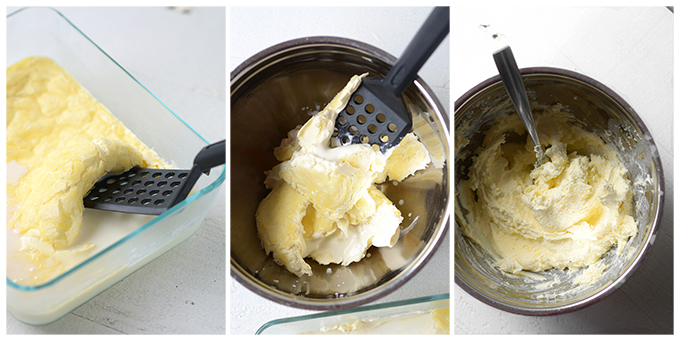 The end result is creamy and rich, with a touch of natural sweetness. It's as if whipped cream and butter made love and came up with a better version of themselves.
It seems that clotted cream is difficult to come across in the US because its main and only ingredient is heavy cream that's NOT ultra-pasteurized. Ultra-pasteurized milk is heated to a higher temperature (280ºF) than pasteurized milk (161ºF), extending its shelf life. Both are considered safe, but generally ultra-pasteurization is a good thing because it extends the shelf life of milk.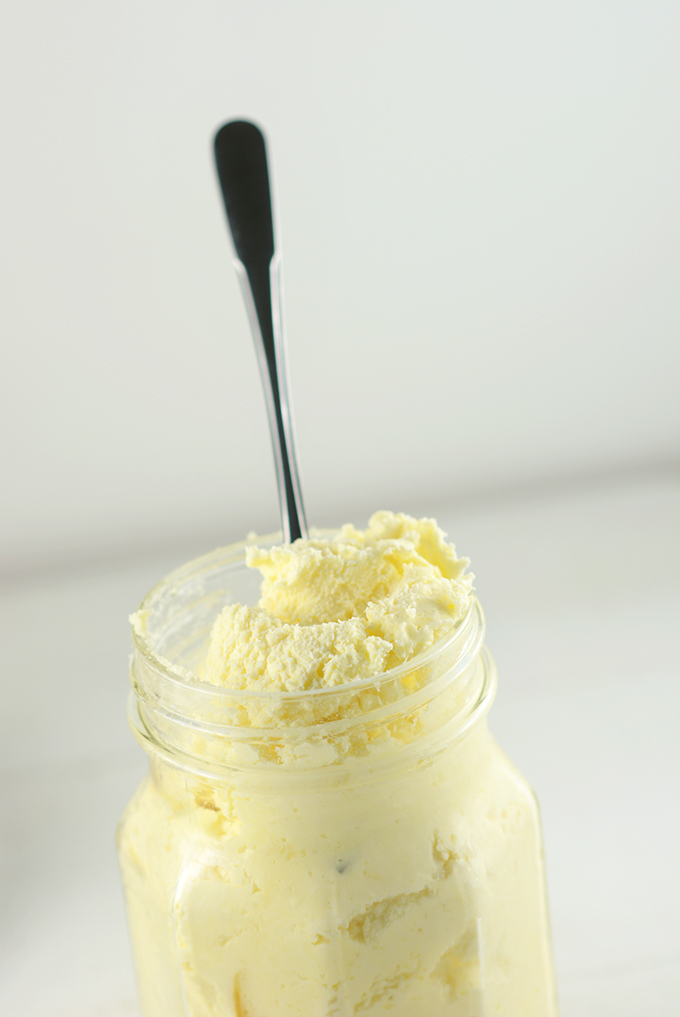 The problem here is that it's impossible to make clotted cream from milk thats been heated to such a high temperature. To find heavy cream that's pasteurized to a temperature of 161ºF you'll have to hit up local dairies and farm stores, suddenly making this ubiquitous thing in England a specialty in America.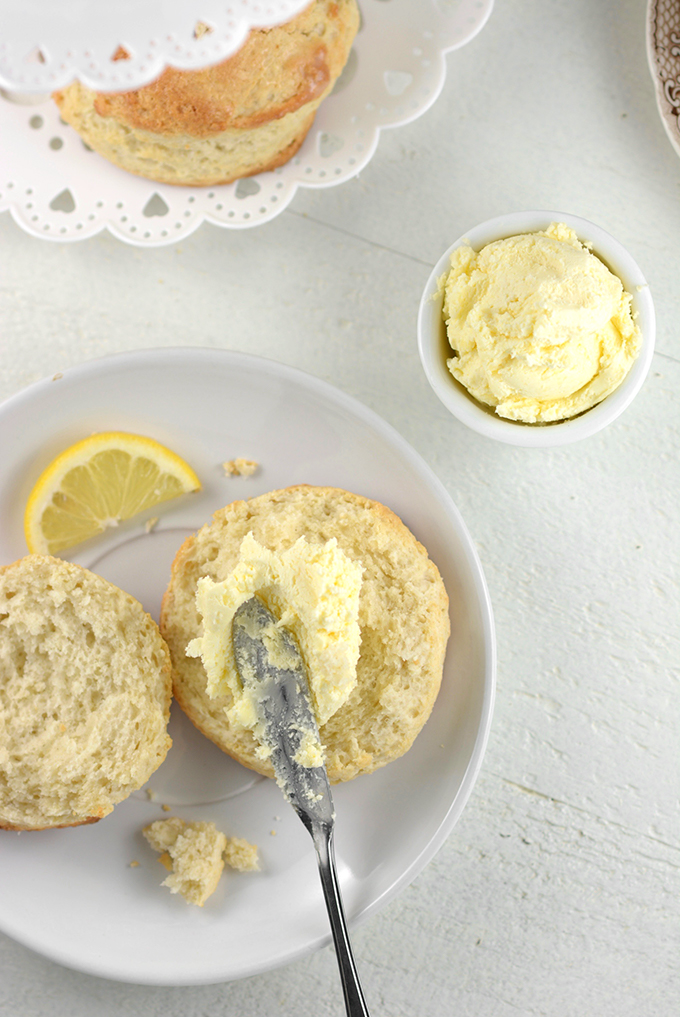 Going back to my previous scone post, I mentioned that I recently developed some anxiety surrounding my decision to eat scones with clotted cream and lemon curd. My dear English friend pointed out to me that I ought to be eating my clotted cream with strawberry or raspberry jam instead of my delicious lemon curd.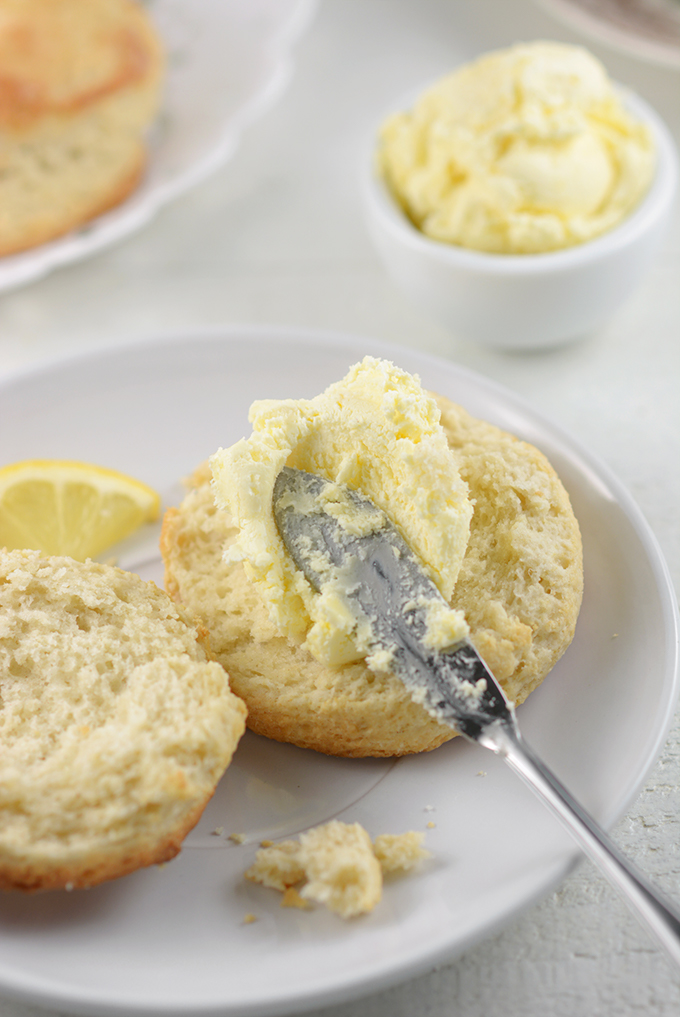 She also mentioned that across the different regions of England people apply their clotted cream in different ways. Those who are from Devon traditionally start by applying clotted cream to their scones and then add jam on top. In Cornwall, however, jam is spread over the scone first, and then topped with clotted cream.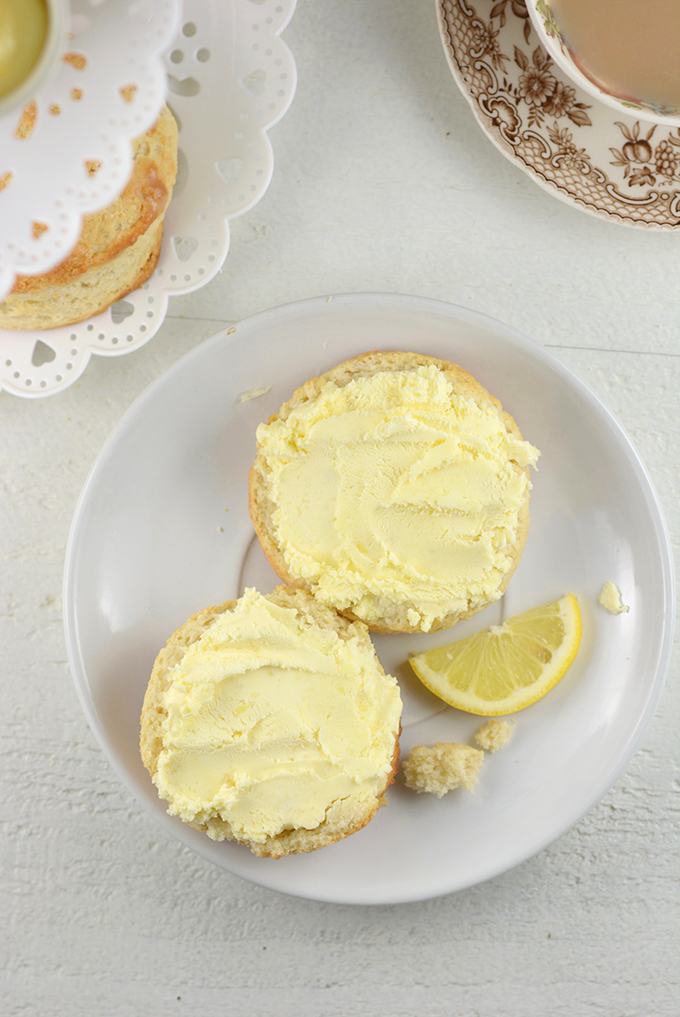 Apparently there is a bit of a debate as to which is the "right way." I tried both and developed an opinion myself. I'm a little afraid to pick a side here out of fear my comment thread will become home to a land war.
Ah, what the heck… I'm team Devon all the way! What do you think? What is the "right way" to eat scones with clotted cream? Feel free to rant away on my comment thread. I don't mind!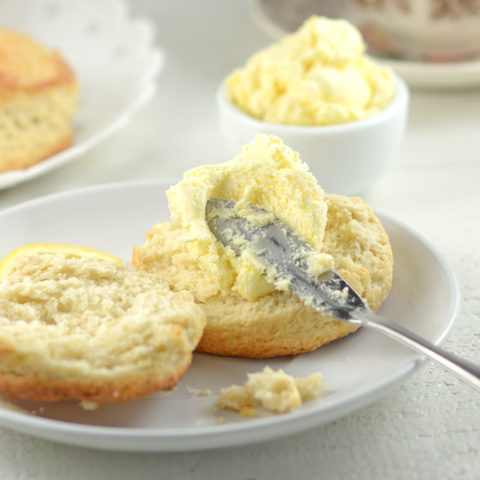 How to Make Real Clotted Cream
Total Time:
20 hours
10 minutes
Finding proper clotted cream in the US can be a challenge, but this helpful guide will assure that you can always have a perfect batch on hand!
Ingredients
1 qt (4 C) heavy cream (not ultra-pasteurized)*
Instructions
First thing in the morning preheat your oven to 180ºF.
Pour the heavy cream into an 8 to 9 inch square glass or ceramic baking dish. There should be 2-2 1/2 inches of cream in the dish.
Place in the oven and bake for 12 hours at 180ºF.
After 12 hours have passed carefully remove the dish from the oven and allow it to cool to room temperature. Next, cover with plastic wrap and refrigerate overnight for at least 8 hours.
The next day, gently pull away the thick upper layer of the cream and transfer it to a mixing bowl or a serving dish.
At this point you have a couple of options. You can serve it as-is with creamy bits and crusty bits separated.
Your other option is to mix together the clotted cream so that it's creamy and uniform in texture (what's pictured). Adjust the thickness of the clotted cream as desired by adding some of the remaining separated liquid** from the baking dish. I recommend doing this 1-2 tsp at a time until it reaches your desired thickness.
Scoop the clotted cream into a canning jar. Store covered in the refrigerator for up to 5 days. Use as a spread for scones. For the best results I recommend scooping your desired amount from the jar and allowing it to sit at room temperature for 20-30 minutes before spreading on your scones.
Notes
*Ultra-Pasteurized heavy cream absolutely WILL NOT WORK in this recipe (I've tried it). In the United States most grocery stores only sell ultra-pasteurized heavy cream. See the picture above for an example of a pasteurized (not ultra-pasteurized) product that's available in the U.S. that works for this recipe. It's often available from health food grocery stores and local farm stores. 
**The remaining liquid that has been separated from the clotted cream can be reserved for baking. For example, in scones.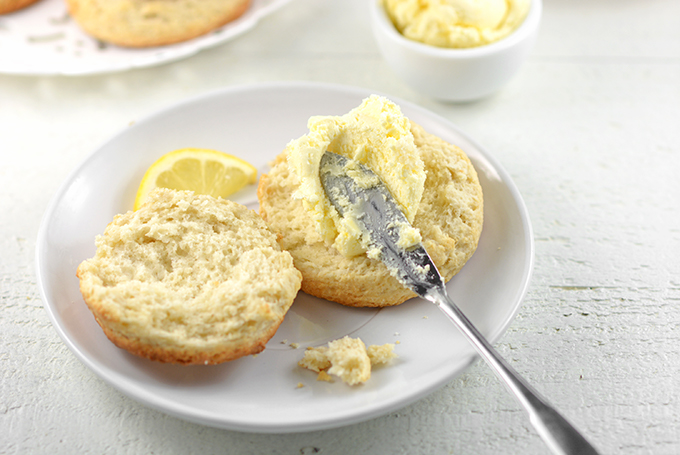 You may also enjoy…