Heart Shaped Fairy Bread – Simple, sweet, and utterly gorgeous, you'll be so happy when this delicious snack flutters onto your plate!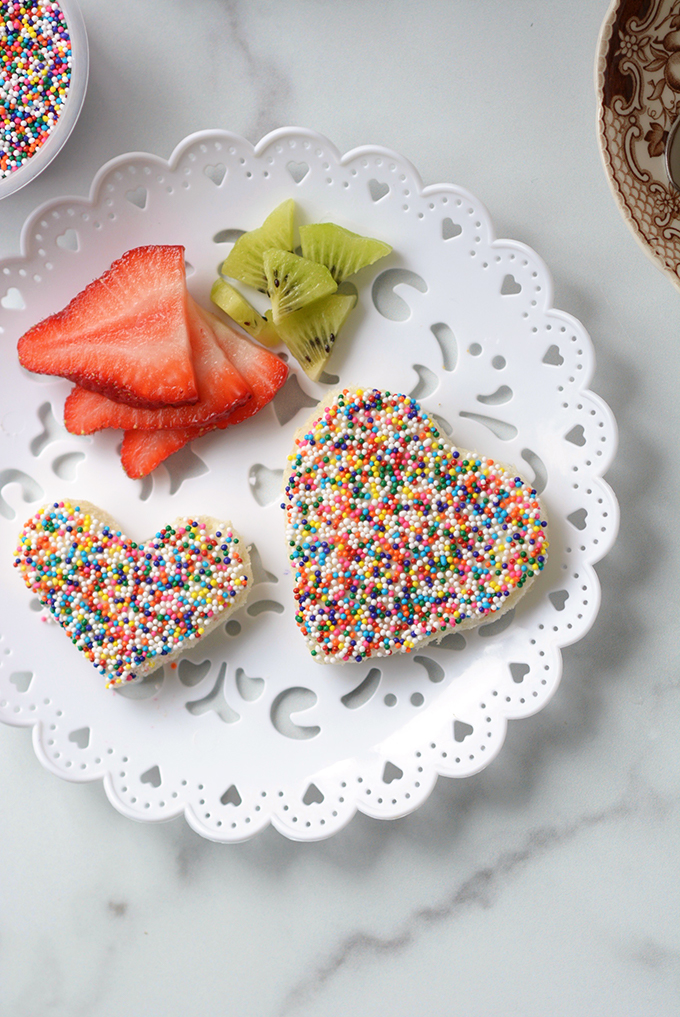 My Mom loves sprinkles more than anyone I know. She says this love goes all the way back to her childhood. She spent most summers in Nantucket and every week she and her brother and sister would venture off of the beach to pick out a special treat from a local corner store. Every week she'd get a bag of sprinkles. Not candy, not ice cream, just sprinkles.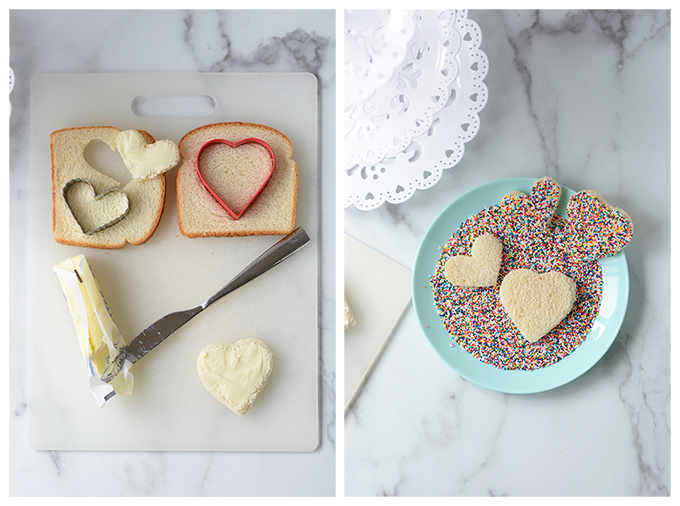 Naturally, growing up we always had an ample supply of sprinkles in our kitchen and subsequently I've grown a special place in my heart for them as well. It's a love that I'm also trying to pass on to my children.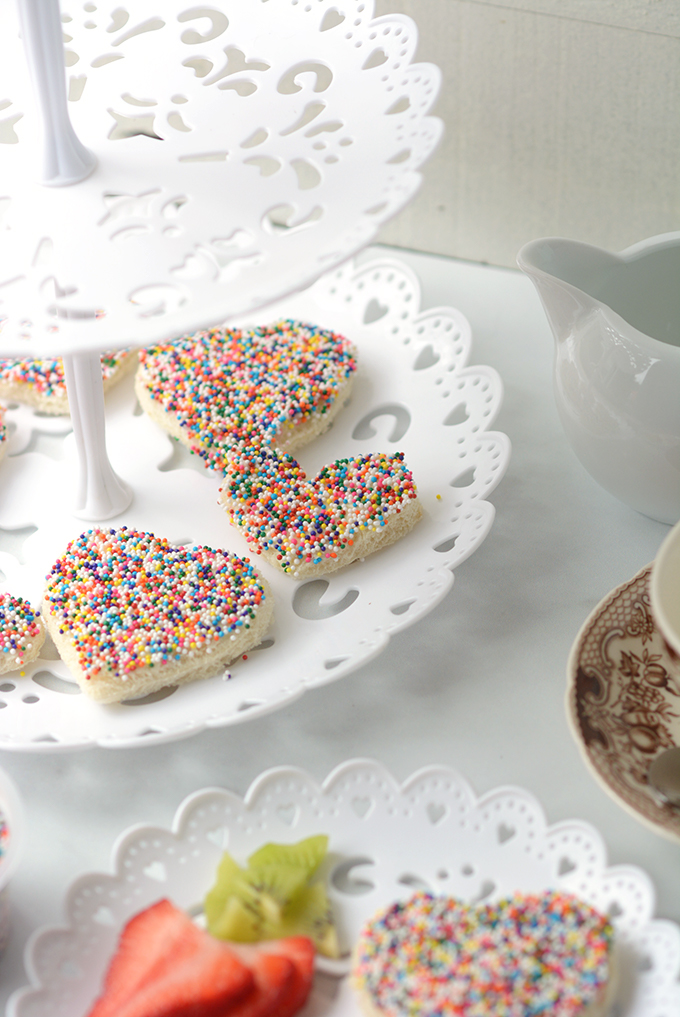 If my Mom and I take my kids out for ice cream, you can pick my family out of the crowd because we're the family with a ridiculous amount of sprinkles on our ice creams. You won't see ice cream dripping from my kid's cone, you'll see dripping sprinkles instead!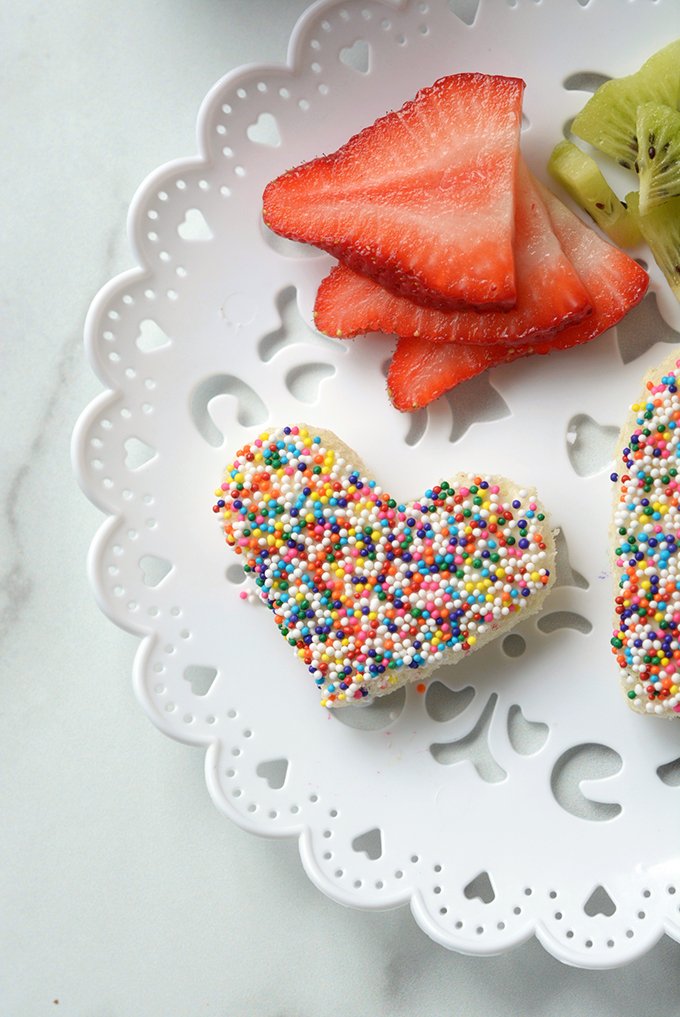 Normally I just like to dump a ton of sprinkles on my ice cream, but recently I discovered Fairy Bread. An Australian creation, it's a whimsically delicious and surprising combination.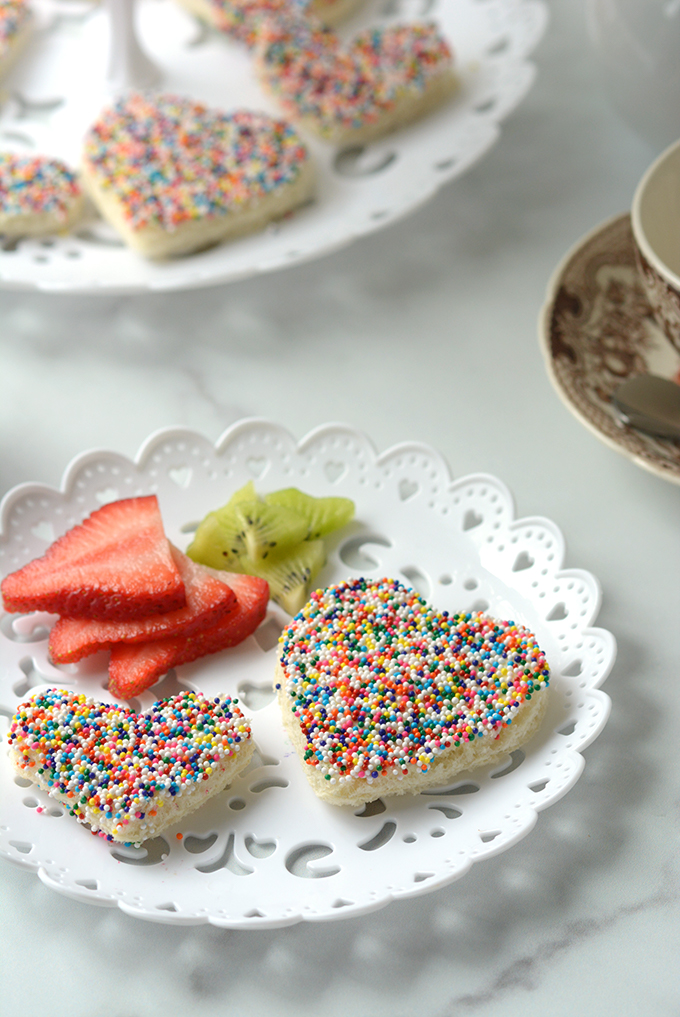 Fairy bread seems strange at first glance. White bread, butter, and nonpareils isn't the first thing I'd think to put together. Somehow, however, the combination is perfect. It's buttery and sweet, and I feel like I'm special enough to be a princess while eating it.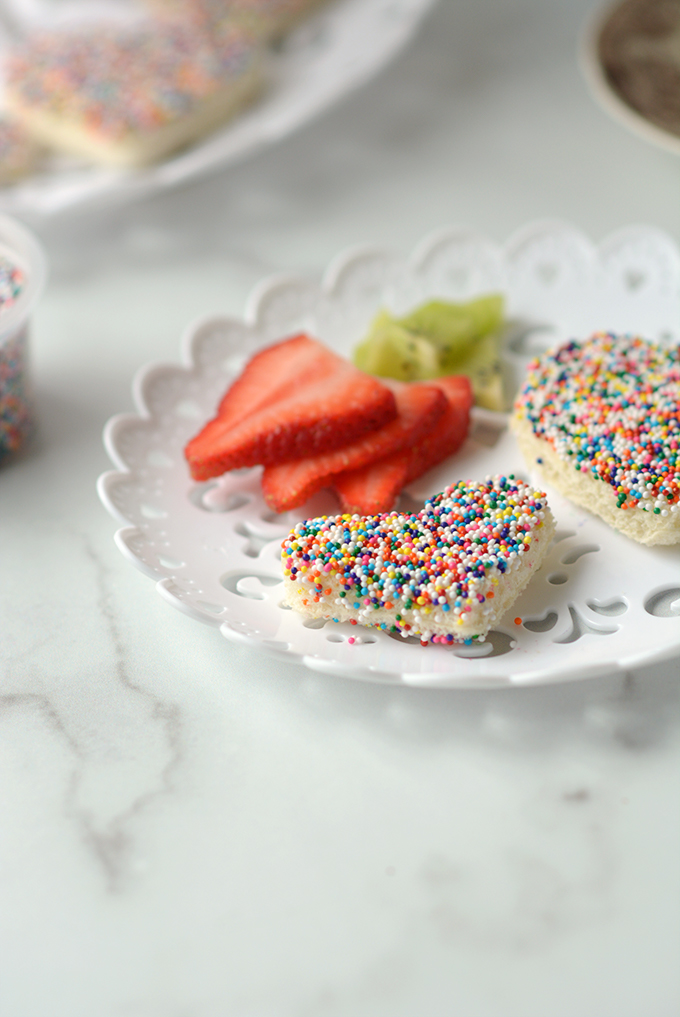 The great thing is that it's simple enough give to your kids as a special after-school snack. It's also pretty enough to be a party food.
One day I made it for my kids after school with some tea. It was so much fun to nibble on fairy bread with them and hear about their days… Little did they know, I'm trying to brainwash them into becoming sprinkle enthusiasts!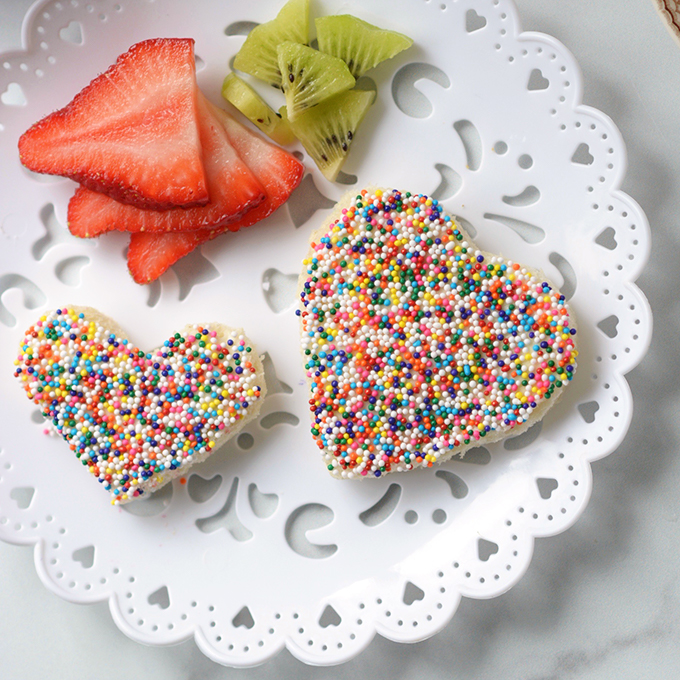 Heart Shaped Fairy Bread
Simple, sweet, and utterly gorgeous, you'll be so happy when this delicious snack flutters onto your plate!
Ingredients
heart-shaped cookie cutters of 2 different sizes
6 slices soft white bread
6 Tbsp salted butter, room temperature
3 oz rainbow nonpareils
strawberry and kiwi slices
Instructions
Bring 6 Tbsp of butter to room temperature by letting it sit out on the counter for a few hours.
Using heart-shaped cookie cutters, cut out four large, and four small heart-shaped slices of white bread.
Generously apply butter to all of the heart-shaped slices of bread.
Place rainbow nonpareils on a plate. Dip the bread, butter-side-down, into the sprinkles
Serve immediately, or store in a sealed container in the refrigerator for up to 24 hours. Serve with a side of fresh strawberries and kiwi.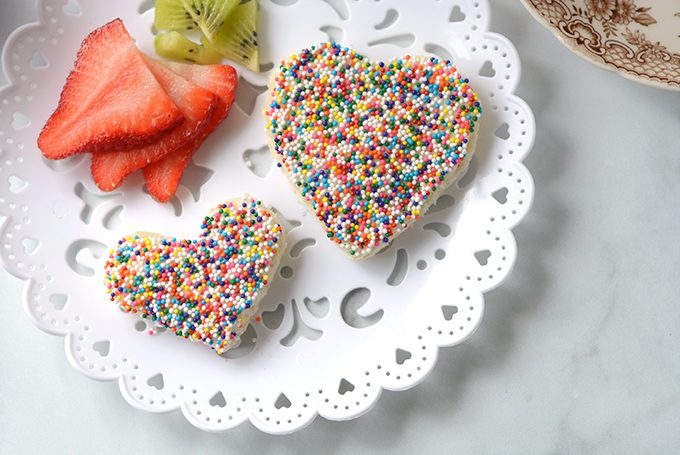 You may also enjoy…