Apple Wheat Morning Muffins – Sometimes you need a little comfort food to start the day. Let these apple wheat morning muffins power you through even the roughest of circumstances.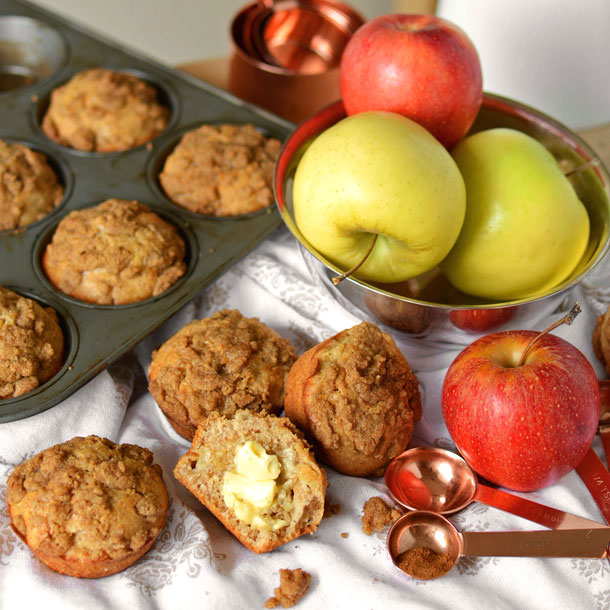 This past weekend the Pope came to my hometown, Philly. Although I'm not Catholic, what an honor it was to have such an esteemed figure in our city, and what spiritual significance for many of the people in my community.
It was an event that brought hundreds of thousands of pilgrims, and with that an unexpected calm came over our typically bustling city with it's myriad of social problems. What a cool thing to experience.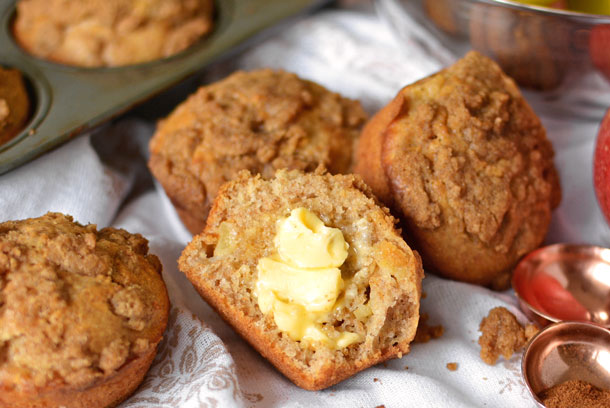 I was scheduled to work this weekend in my job as a visiting nurse in the northern suburbs of Philly. Like all the healthcare organizations in my area, we were gearing up for the worst as far as a huge challenge in providing needed care to patients.
I have to admit, I was totally stressing about it because a big part of my job is driving from one patient's house to the next, and the delays were expected to be substantial. In my stressful state I decided to make these Apple Wheat Morning Muffins.
Sometimes a person needs a little bit of comfort food to start their day, by which I mean carbs adorned in something sweet. I'm not proud… I threw some apples and wheat flour in for sake of prosperity.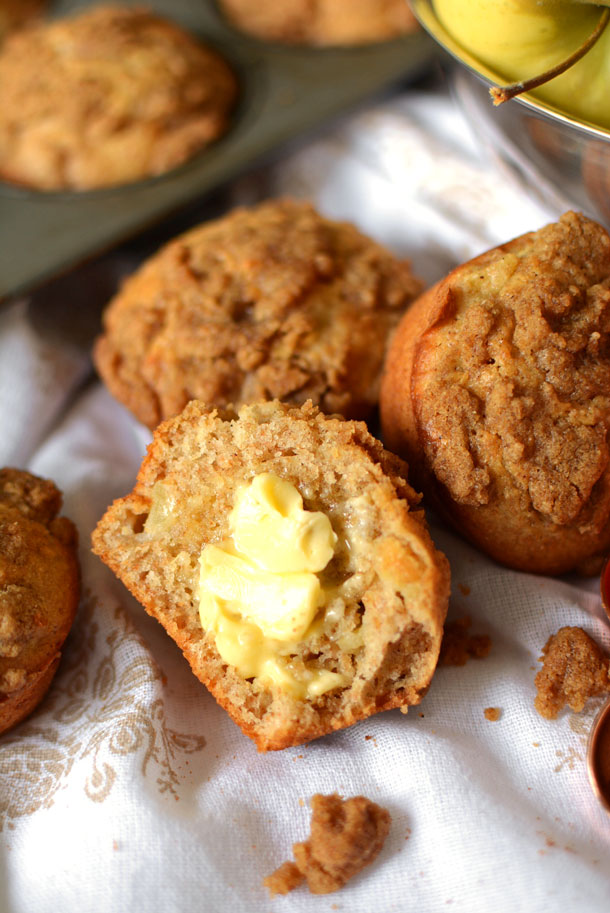 So Saturday and Sunday morning I started my day off with something sweet, and a large cup of strong, black coffee.
Yes, I encountered road closures and scheduling problems that turned my 8 hour work days into 12 and 10 hour days, but despite the delays it wasn't that bad.
The drivers on the road were calm, with none of that typical Philadelphia driver aggression involving horn-blowing, finger-giving, and cutting people off. Like I said before, there was an unexpected calm.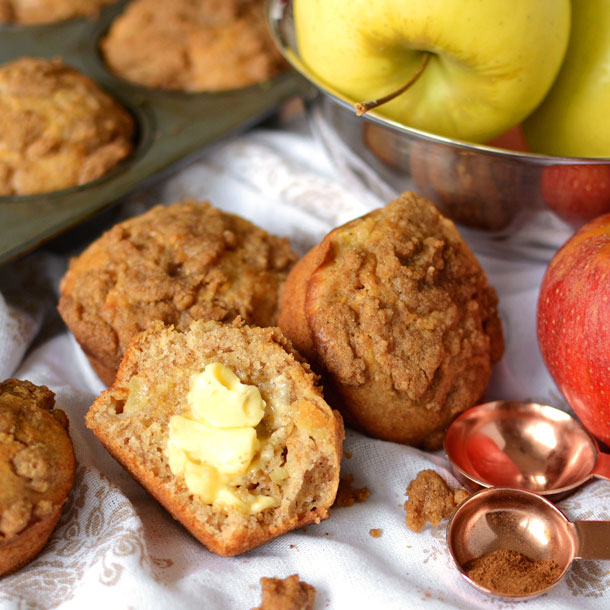 Even cooler, a few of my patients who are in the latter part of their lives mentioned how meaningful it was for them to have the Pope visiting before they die. It was such a good reminder that despite my stress, this was a time of solemnity for many of my neighbors, which made the work scheduling nightmare all worth it.
When Pope Francis visited he spoke to our city about the importance of kind "little gestures." Such a sweet reminder for our "city of brotherly love."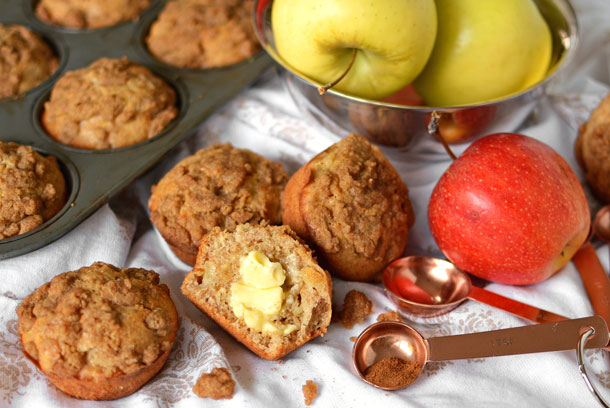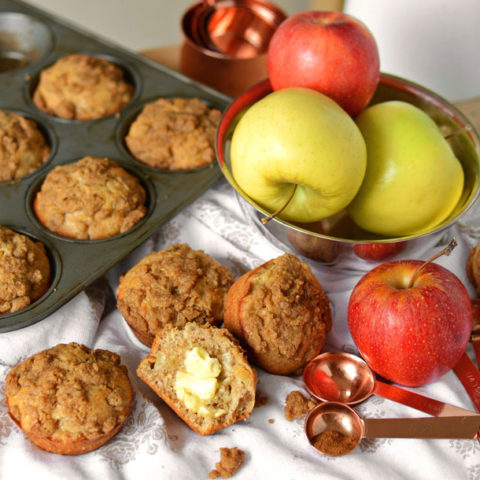 Apple Wheat Morning Muffins
Yield: 12

Prep Time: 15 minutes

Cook Time: 20 minutes

Total Time: 35 minutes

Sometimes you need a little comfort food to start the day. Let these apple wheat morning muffins power you through even the roughest of circumstances.
Ingredients
Muffins
3/4 C plus 2 Tbsp 2% milk
1/4 C vegetable oil
1 large egg
1 C organic whole wheat flour
1 C organic white flour
1/2 C organic cane sugar
1 tsp cinnamon divided
2 tsp baking powder
1/2 tsp salt
1 1/4 C diced apples
1 1/2 tsp organic cane sugar
Streusel
1/4 C organic packed light brown sugar
1/4 C organic white flour
1/4 tsp cinnamon
2 Tbsp softened butter
Instructions
Preheat your oven to 400ºF and lightly grease your muffin tin with butter.
Dice your apples and coat in 1 1/2 tsp of organic cane sugar and 1/8 tsp of cinnamon. Set aside and let them soak in the sugar and cinnamon for a few minutes.
In a large mixing bowl combine all of your muffin ingredients except for the apples. For the cinnamon, add 3/4 tsp to the mix. Stir to combine, taking care not to over mix.
To make your streusel, add all of the ingredients together in a small bowl and work them together with a fork until crumbles form.
Fold the apples, which have been soaking in cinnamon sugar, into the muffin mix.
Spoon the batter into your muffin tin so that it is evenly divided to make 12 muffins. I find that using an ice cream scoop for this task makes it easier. Then evenly sprinkle each muffin with the streusel topping.
Bake on the middle rack of a 400ºF oven for 20-25 minutes, or until the muffins turn golden brown. After removing them from the oven, allow them to sit for 5 minutes and then gently remove them from the muffin tin. Enjoy warm or at room temperature.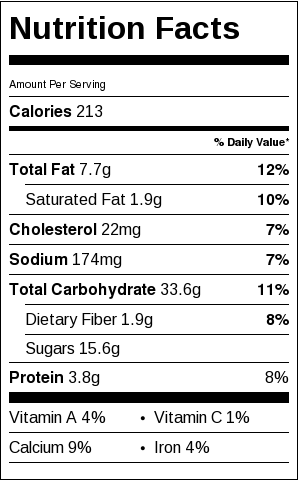 More comforting breakfast foods…