Dairy-Free Irish Cream Mousse – Recreate the flavors of the beloved cream-based liqueur in this light, boozy, and airy dessert that's perfectly dairy-free!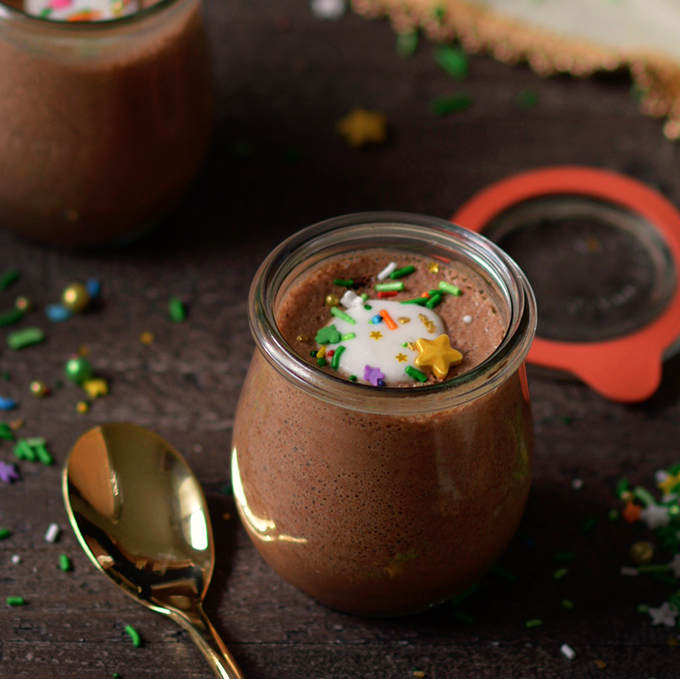 Every Friday my mom and sisters come to my house for lunch. Living in a house with ALL boys, it's so refreshing to be around people who do things like occasionally wear the color pink, don't primarily enjoy activities that involve getting sticky from head-to-toe, and enjoy chatting around the kitchen table .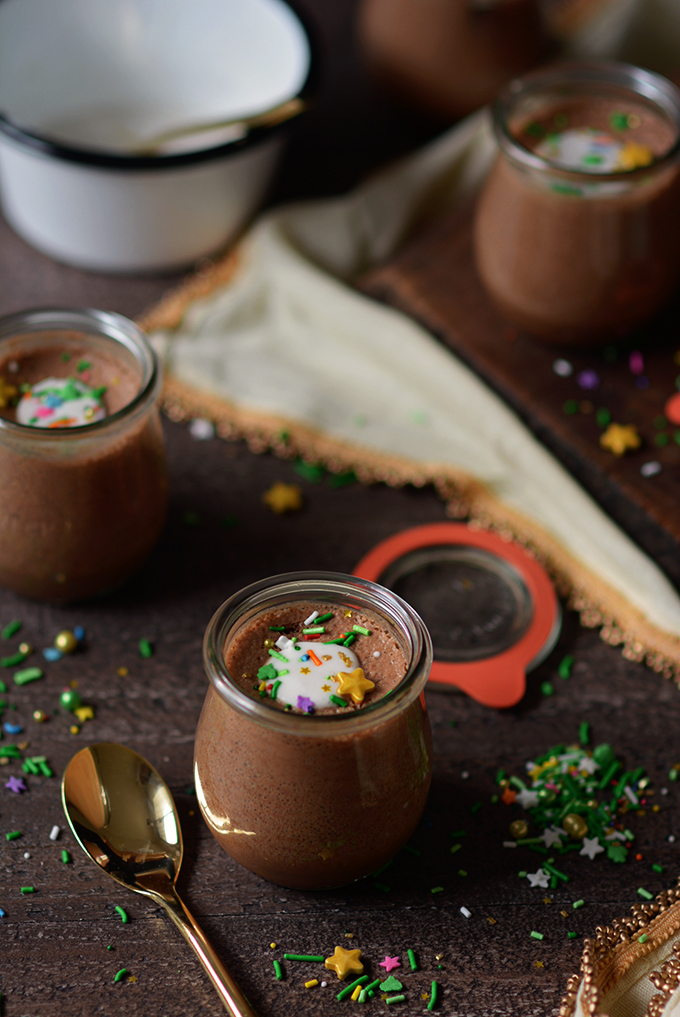 Inevitably, my youngest sister (the other foodie) and I spend some time around the kitchen table talking about what we've recently made in the kitchen, what we're planning on making, and more importantly, what we're planning on eating.
A couple of weeks ago our conversation took a rather delicious turn when we started talking about how we love mousse that's made from coconut milk. Neither of us are vegan so we just love it because it's really good and it's also really easy to make.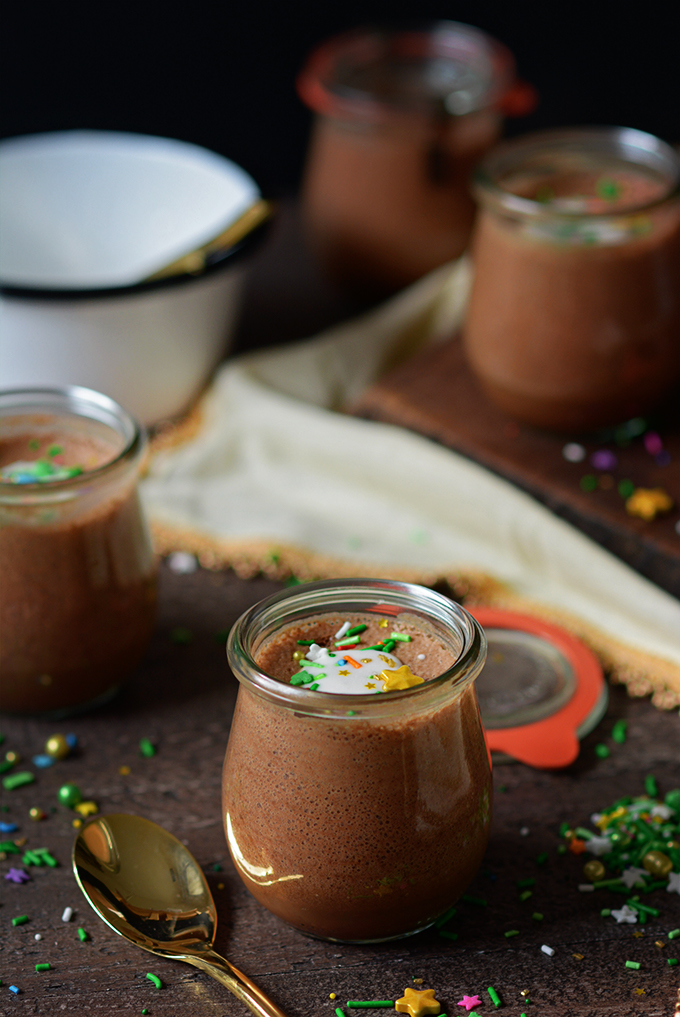 In light of the upcoming St. Patrick's Day, we both agreed that a Bailey's Irish Cream Coconut Mouse would be AMAZING. Well… our idea was easier said than done. The challenge was that dairy is a pretty essential ingredient in Irish Cream. Fortunately coconut milk was an easy solution. I then ran into a second problem when I realized that a coconut based mousse just can't support the liquid from Jameson Irish Whisky.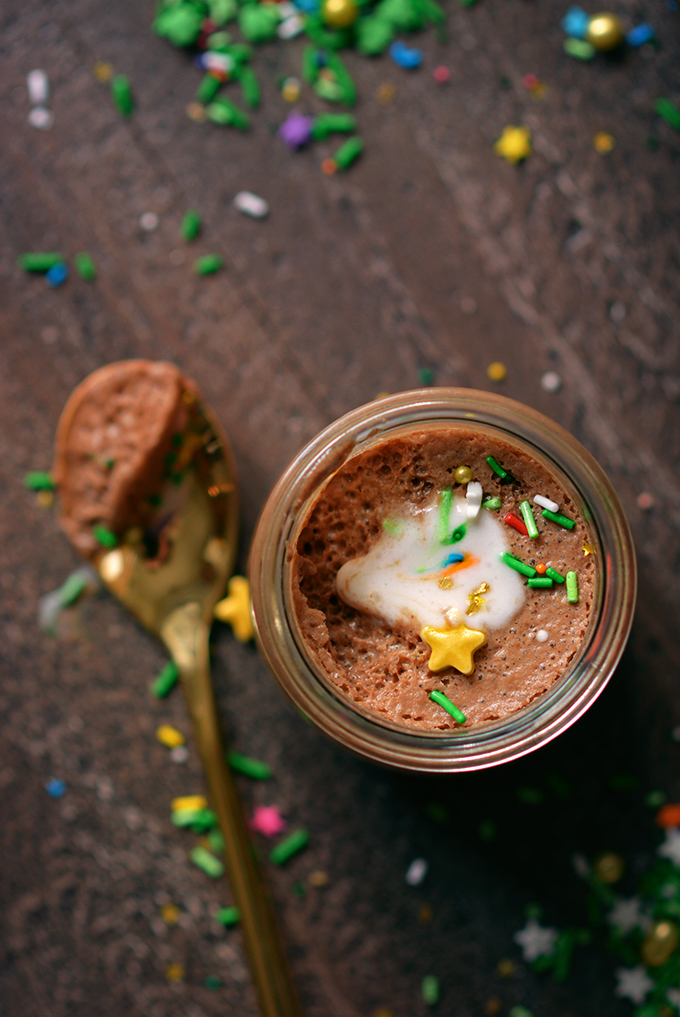 After one failed attempt that nevertheless ended in some pretty awesome adults-only fudgesicles, I decided to try giving something called aquafaba a try. After a few more tries I ended up with the perfect balance of ingredients for my mousse.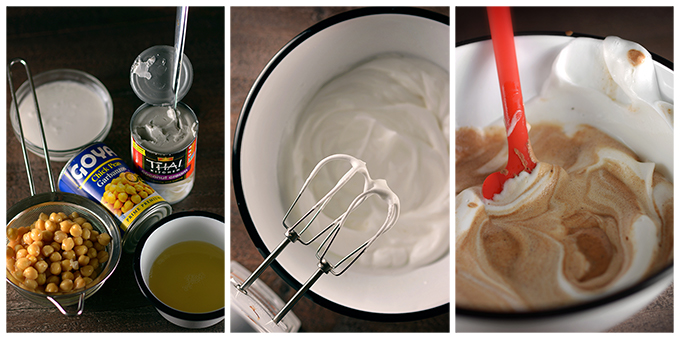 Aquafaba is the liquid that canned chickpeas are packed in. Sounds weird and a little gross, right? But did you know that you can beat it into flavorless egg-white-like peaks? I folded my whipped chickpea clouds into my dairy-free Irish cream base and then refrigerated the mixture. The end result was a boozy, airy, and completely dairy-free coconut mousse!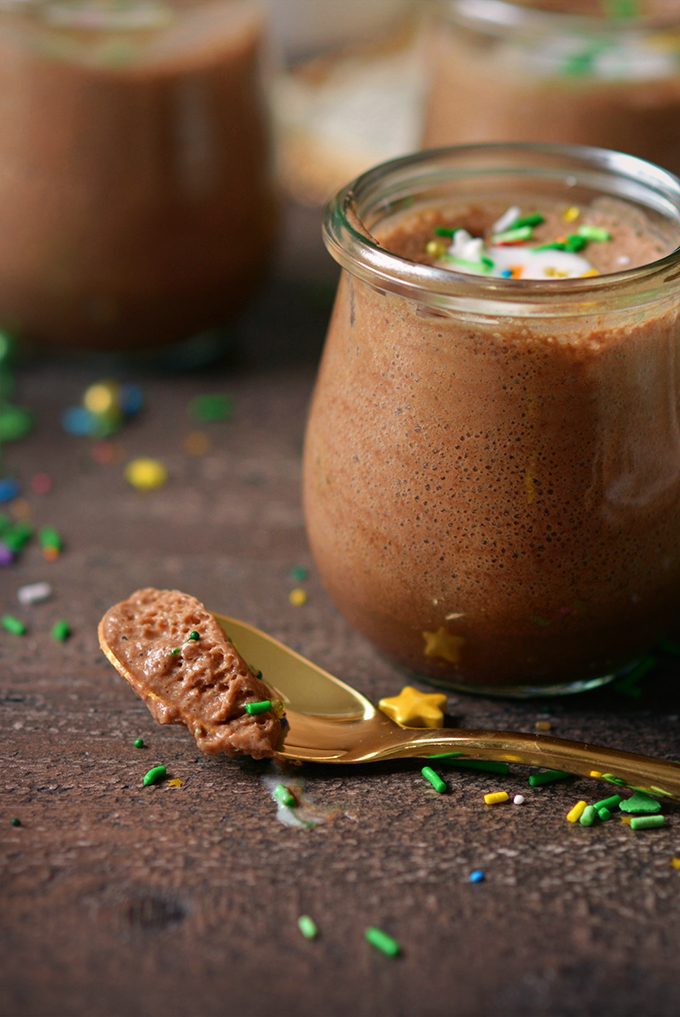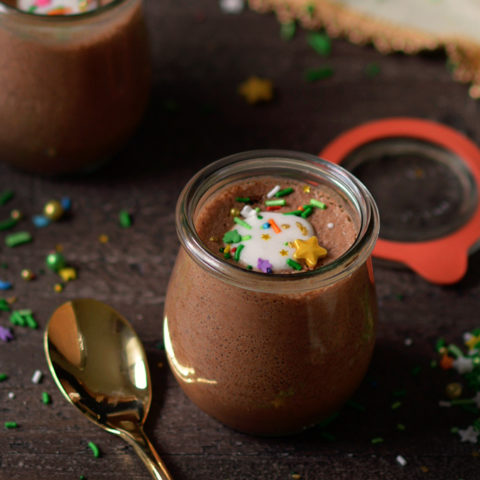 Dairy-Free Irish Cream Mousse
Recreate the flavors of the beloved cream-based liqueur in this light, boozy, and airy dessert that's perfectly dairy-free!
Ingredients
1 13.66 oz can Thai Kitchen Coconut Cream or 3 5.4 oz cans Native Forest Unsweetened Organic Premium Coconut Cream*
2/3 C powdered sugar
1 tsp vanilla extract
1 tsp instant coffee
1/4 C of dairy-free bittersweet chocolate (I used 69% cacao)
1/8 C plus 1 Tbsp Jameson Irish Whisky
1/2 C aquafaba (the liquid strained from a 15 oz can of chickpeas)
1/4 tsp cream of tartar
pinch of salt
St. Patrick's Day sprinkles (optional)
Instructions
Refrigerate the coconut milk overnight. Once you're ready to make your mousse, open the three cans of coconut cream and poke a hole through the thick coconut layer at the top of the can and drain off the liquid milky contents of the can. You will be using the thick layer. The remaining thin, milky layer may be discarded or you can drink it or use it in another recipe.
Add the coconut cream to a chilled metal mixing bowl. Beat on medium-high speed for 5 minutes until the cream is thick. Next, add the powdered sugar and vanilla to the bowl and beat for an additional minute. Reserve 2 Tbsp of the mixture and place it in a covered container in the refrigerator to use later as the whipped cream topping.
Place the dairy-free bittersweet chocolate in a microwave safe dish. You can use chocolate chips or a chocolate bar that has been broken into pieces. Microwave on low power for 1 minute intervals, stirring each time, until the chocolate is just melted.
While continuously mixing, add the instant coffee to the bowl. Do the same, one at a time, with the melted chocolate and then the Jameson Irish Whisky. Continue to beat until evenly combined and then place the mixture in the refrigerator to chill while you work on the next part of the recipe.
In another bowl beat the aquafaba, cream of tartar and a pinch of salt on medium-high speed until it triples in volume and forms stiff peaks. This will take 7-10 minutes.
Remove the coconut cream mixture from the refrigerator and slowly fold the aquafaba mixture into it. You'll do this by folding in about a quarter of the mixture at a time with a spatula. Fold until the aquafababa is completely incorporated, but take care not to over mix.
Divide the mousse among 4 cups, bowls, or ramekins and place them in the freezer for 30 minutes. Next, transfer them to the refrigerator to chill covered for a least 1 hour but up to 5 days.
To serve place a dollop of the coconut whipped cream you reserved earlier on top of each mousse dish and serve chilled. Garnish with St. Patrick's Day sprinkles (optional).
Notes
*I have tested this recipe with both of these products. Note that there is a lot of variability between coconut product brands and that this recipe may not turn out if you use a brand other than the two in the ingredients list.
You may also enjoy…