Green Beans Almondine Salad – Pair the traditional flavors of green beans almondine with a red wine vinaigrette to transform it into a summertime picnic treat!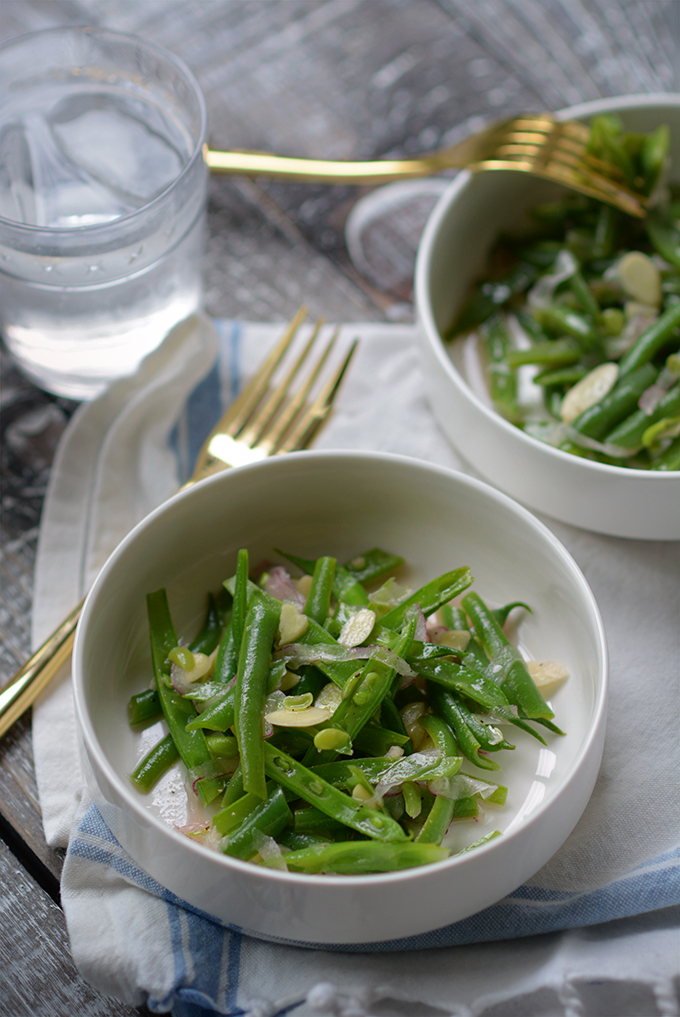 When I initially made this recipe I was planning on making three bean salad with fresh green and wax beans, but then wax beans were absolutely NOWHERE to be found! I checked my local CSA, then the farmers market, and finally two grocery stores and still nothing!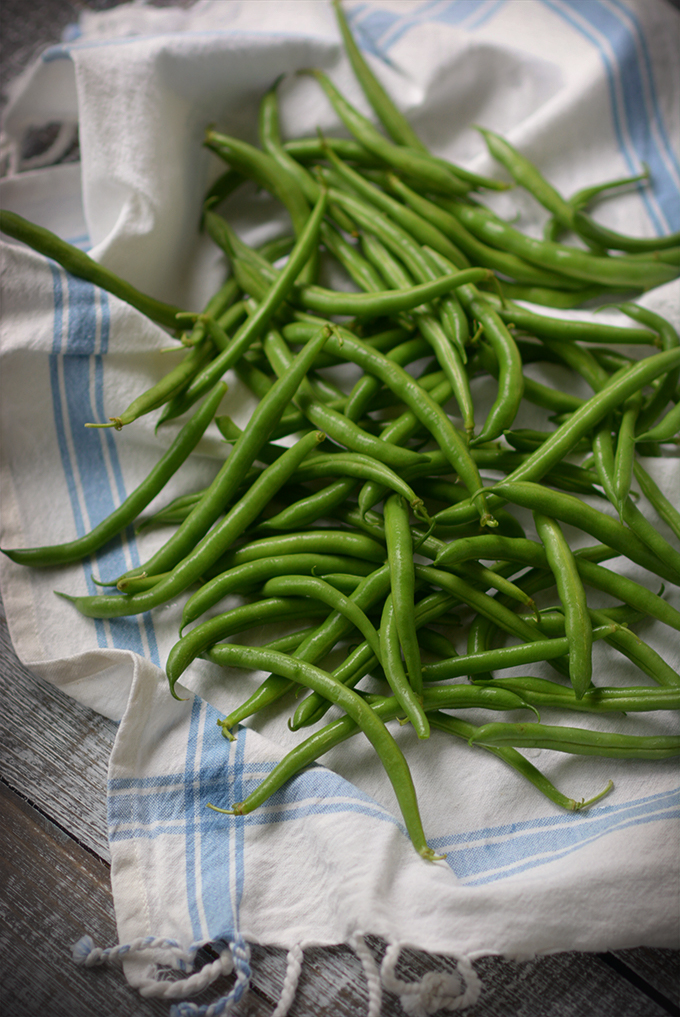 I found the whole thing a little unbelievable since we're in the middle of summer. Have wax beans become that uncommon? I could swear that my mom made them all the time when I was a kid!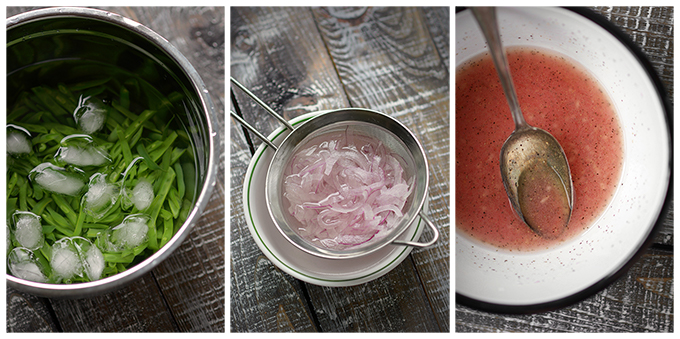 Well… when life gives you the absence of wax beans you make Green Beans Almondine Salad. I have to say, I'm quite happy about the way things turned out. If I had not had trouble finding wax beans I wouldn't have been forced to get creative.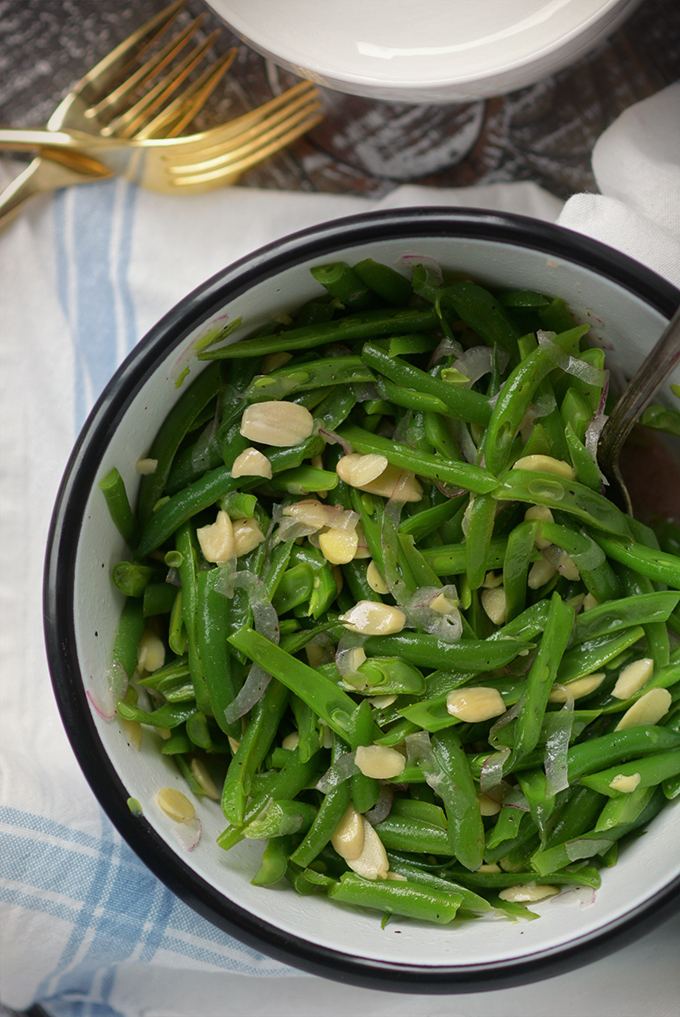 I love green beans almondine, but the August heat seems hardly the time to be enjoying such a dish. This Green Beans Almondine salad carries with it the same basic flavor profile of the original dish with a sweet tang. It's a cool and refreshing side to your summer meal!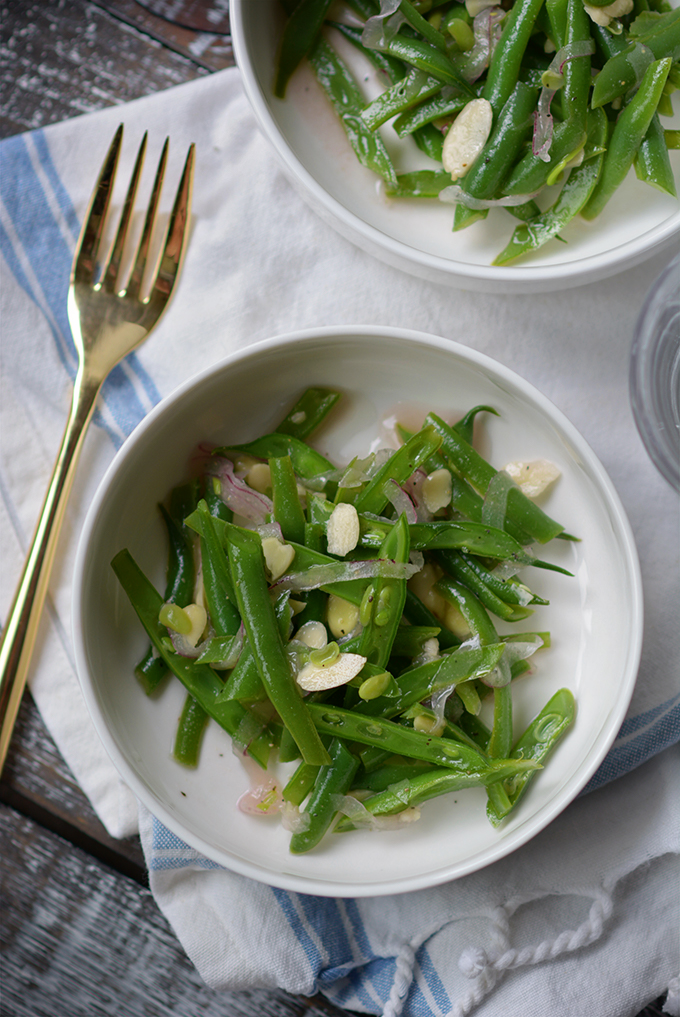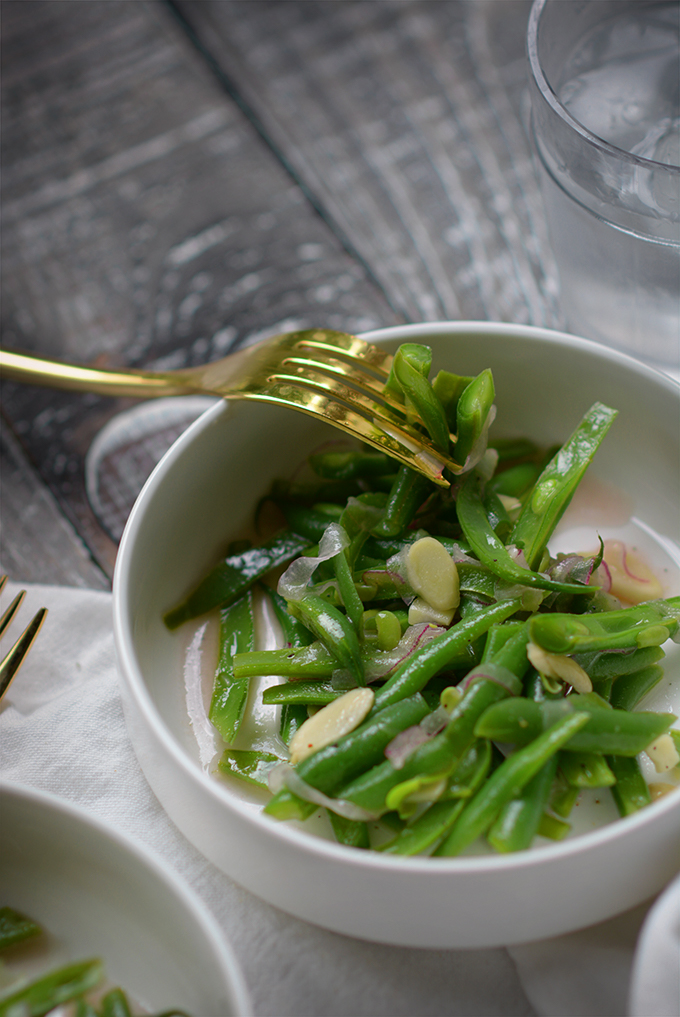 In this recipe I decided to get my fancy pants on and French cut my green beans. French cutting them looks pretty. It also makes them more tender and makes them a better vehicle for flavorful dressing. If you also want to get fancy in your kitchen by French cutting your beans, check out the directions and the photo below!
How to French Cut Green Beans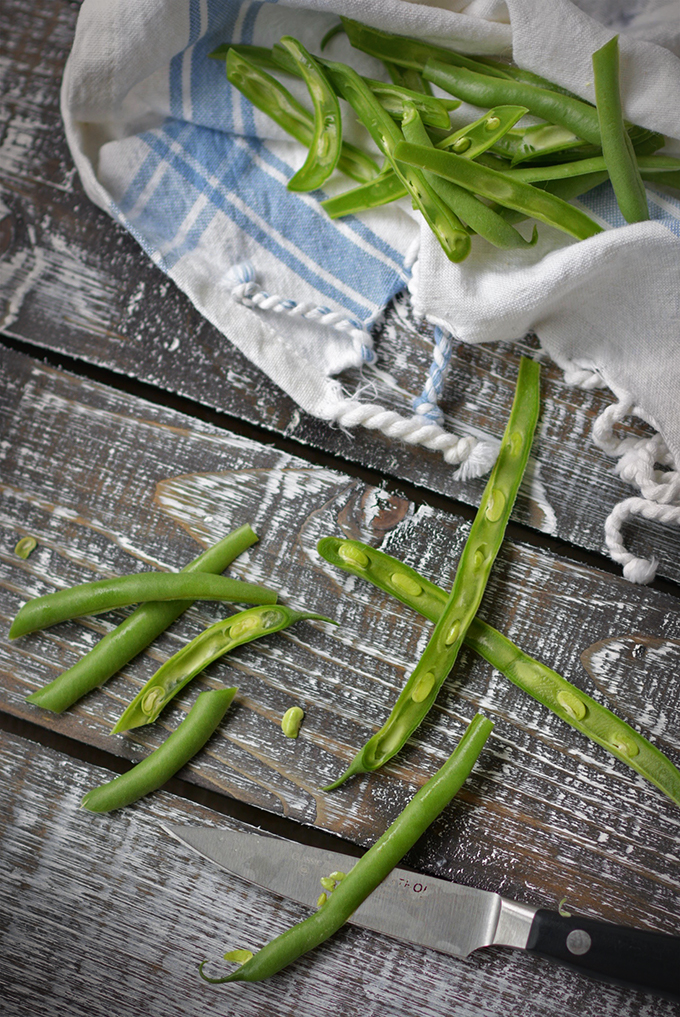 First snap or trim off the stems. If the ends of the beans look fresh you can leave them in place, but if they are beginning to brown or shrivel then trim them off as well.

Next lay the bean flat on your cutting board so that the line that divides the bean's two pods is parallel with the board.

Hold the bean firmly in place with your left hand. Use a paring knife in your right hand and cut along the bean's length. For this step it's useful to use the natural line on the bean as your guide.

You can keep your beans long, but for this recipe I recommend cutting them in half on a diagonal.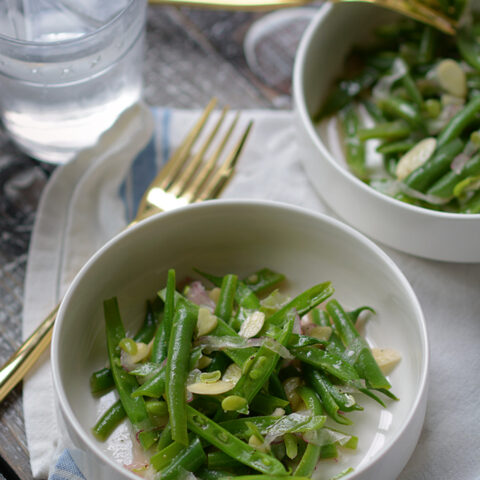 Green Beans Almondine Salad
Yield: 4 servings

Prep Time: 25 minutes

Cook Time: 5 minutes

Total Time: 30 minutes

Pair the traditional flavors of green beans almondine with a red wine vinaigrette to transform it into a summertime picnic treat!
Ingredients
Green Bean Salad
1 quart (1 lb) green beans, stems removed and cut lengthwise
1/2 C red onion, cut in half and thinly sliced
1/4 C sliced raw almonds
Red Wine Vinaigrette
4 Tbsp vegetable oil
3 Tbsp red wine vinegar
1 Tbsp plus 1 tsp granulated sugar
1/2 tsp dry mustard
1/4 tsp garlic, minced
1/2 tsp salt
1/8 tsp black pepper
Instructions
Wash and French cut your green beans. To learn how to French cut green beans refer to the directions and photo within the post.
Bring water to a boil in a vegetable steamer. I recommend using a steamer that doesn't submerge the vegetables in water at all. Less nutrients and flavor will be lost. While the water is coming to temperature, prepare an ice bath by placing 2 trays of ice cubes and water into a large bowl.
Steam the green beans for 4-6 minutes, or until they are just barely fork tender. Immediately transfer them to the ice bath and completely cool them before draining.
While the green beans are steaming, thinly slice the red onion so that it's almost paper thin. This is best done with a mandolin or a very sharp knife. Soak the sliced onion in cool water for 5-10 minutes and then drain them throughly. This keeps them from being too pungent in your salad.
Once your green beans and onions have been prepared, mix the the dressing ingredients together in a medium mixing bowl until evenly combined.
Add the cooked green beans, soaked onions, and almonds into the bowl with the mixed dressing. Fold together to evenly combine and serve immediately or the same day.*
Notes
*Take note that if this salad is not served the same day as it's prepared it still tastes quite good, but over time the vinegar will cause the green beans to lose their bright green color.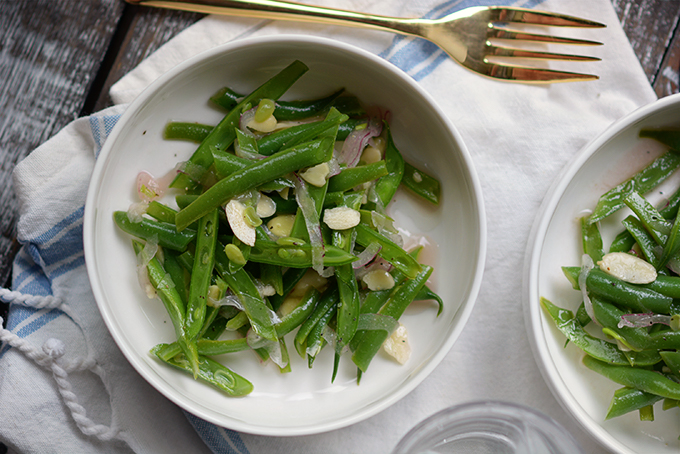 You may also enjoy…