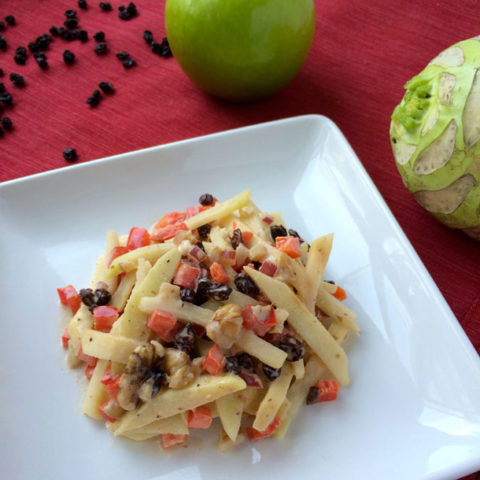 Kohlrabi Apple Salad
Yield: 4

Prep Time: 10 minutes

Total Time: 10 minutes

This simple Kohlrabi Apple Salad is easy to make, pairs well with a variety of dishes, and is kid-tested and approved!
Ingredients
1 1/2 C kohlrabi, peeled and cut into matchsticks
1 C granny smith apple, peeled, cored, and cut into matchsticks
1/3 C red pepper, finely diced
1 Tbsp red onion, minced
1/3 C currants
1/4 C walnuts, chopped
1/4 C mayo*
1 Tbsp apple cider vinegar
1/4 tsp salt
1/4 tsp pepper
Instructions
In a medium mixing bowl whisk together mayo, apple cider vinegar, salt, and pepper. Once combined, stir in currants and set aside. Adding the currants to the dressing early will cause them to plump up, and who doesn't want plump currants?
Cut your kohlrabi and your granny smith apple into matchsticks. This can be done with a knife, or if you have a mandolin slicer, it'll speed things up. Then finely dice the red pepper and mince the red onion.
Add vegetables and walnuts to the bowl with the dressing, then fold to combine.
You can serve immediately, but I find this salad is best if placed in the fridge for an hour to chill and to allow time for the flavors to combine.
Notes
*For a vegan option you can use vegan mayo