Senposai, Daikon, and Chili Garlic Chicken Wraps – This sweet, spicy, & crunchy Asian wrap combines fresh veggies, rice, & crock pot chicken all rolled up in a tender senposai leaf!
On one of our recent adventures to our friendly neighborhood farm, my son and I came home with a new and unusual vegetable to conquer called senposai. Basically, it's a rather large, edible leaf. My 4-year-old got a kick out of this new vegetable by taking one of the leaves, making "caveman pants" out of it (more like a skirt, actually), and running around the house on a dinosaur hunt. These leaves may not be the height of civilized fashion (and we didn't catch any dinos), but they sure are tasty big leaves! I'm adding them to my repertoire of leafy greens that I can get behind.
Most of the large-leaf greens have a chewier or tougher texture that needs to be massaged or cooked before eating, but senposai is a gentle giant with tender leaves that are more like baby spinach in texture. Senposai, by origin, is a cross between Japanese Mustard Spinach and regular cabbage. Don't be fooled by it's mustard green origins, though. It's sweet and mild. This green takes the tender texture of the mustard spinach and combines it with the sweetness of cabbage to make a delightful hybrid. Use this green in a stir-fry, salad, or in the case of today's recipe, as a wrap!
This wrap is a fusion of Asian flavors with fall vegetables. I turned this into a weeknight-friendly recipe by making the chicken in a crockpot. All of the ingredients came together quickly in the morning. After a busy day of running errands, I came home to a sweet and spicy smell, which was inviting on a brisk, fall day. For the chili sauce, my grocery store was out of the organic version, but I typically would have selected the Organicville Chili Sauce, which is made with agave instead of corn syrup. Since I made this for dinner, I wanted it to stick with my family and myself until bedtime, so I selected black rice, which is aromatic and nutty. For the veg, I stuffed it with daikon radish and carrots that I julienned, which added a big crunch. Julienning can be done by hand, but I wanted dinner made in a hurry, so I used my favorite economical mandolin.
After all of the ingredients are prepped, it's just as easy as rolling them all together as pictured below.
The leftover sauce in the crockpot makes for a perfect, no fuss, dipping sauce, so be sure to save it aside and then dig in!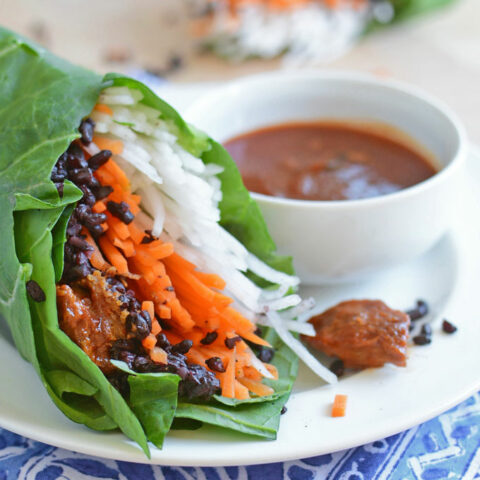 Senposai, Daikon, and Chili Garlic Chicken Wraps
Yield: 4

Prep Time: 15 minutes

Cook Time: 6 hours

Total Time: 6 hours 15 minutes

This sweet, spicy, & crunchy Asian wrap combines fresh veggies, rice, & crock pot chicken all rolled up in a tender senposai leaf!
Ingredients
1 lb chicken tenderloins
1/2 C chili sauce
1/4 C apricot jam
2 Tbsp honey
1 Tbsp chili garlic sauce
1 tsp corn starch
1 C black forbidden rice
2 C water
a pinch of salt
1 medium daikon radish
4 medium carrots
4 large senposai leaves
1/4 C hot water
Instructions
Plan on assembling the chicken in the crock pot on the morning that you make this recipe. In the crock pot whisk together chili sauce, apricot jam, honey, chili garlic sauce, and corn starch until the ingredients are evenly combined, and there are no corn starch lumps. Stir in and coat the chicken. Cook on low for 6 hours.
About 45 minutes before dinner, combine 1 C of black rice that has been rinsed with 2 C of water and a pinch of salt in a saucepan. Bring to a boil and then reduce to a simmer. Simmer for 30-40 minutes, or until all of the liquid has been absorbed.
While the rice is cooking, prep your vegetables by julienning your carrots and daikon. Remove the stem from your senposai leaves.
Once the rice is cooked, stuff the wraps. First stack a layer of carrots and daikon, then black forbidden rice, and finally the chicken from the crockpot.
To roll the wrap, tuck 2 sides of the leaf in towards the filling and then roll the from the ends the way you would a regular wrap. Cut the wrap in half using a sharp knife.
Once the the wraps are assembled, add 1/4 C of hot water to the crockpot and whisk it together with the remaining sauce. Evenly divide the sauce into small dishes before serving with the wraps.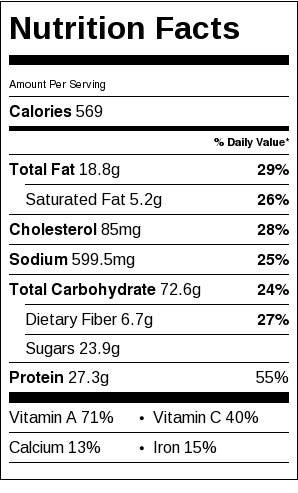 In addition to the ingredients list above, you might be interested to know that the forbidden black rice is a good source of manganese, magnesium, phosphorous and molybdenum.
If you enjoyed this recipe, you may also enjoy…