Southern Fried Apples – Enjoy fresh apples at their peak with this festive fall side that goes great with savory dishes or even on top of ice cream!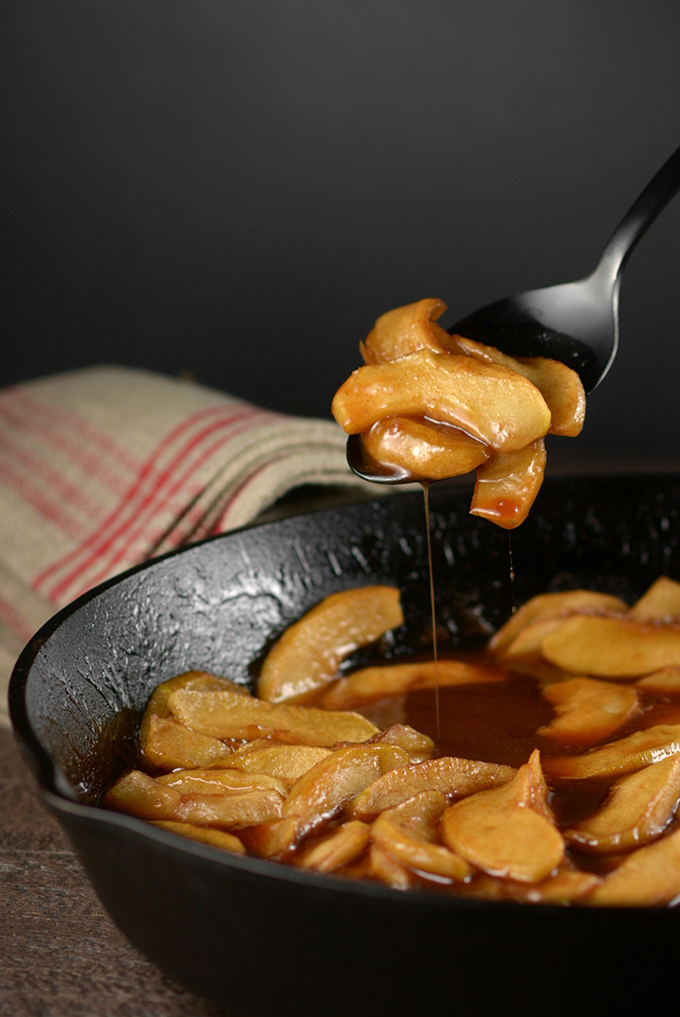 One of the big parenting challenges I've faced in 2020 is finding things to do with my kids that come with a low risk of getting COVID. Most of our fun has centered around doing things outside. Over the summer and fall we exhausted going to parks, taking bike rides, running through sprinklers, and picking fruit at our local orchard.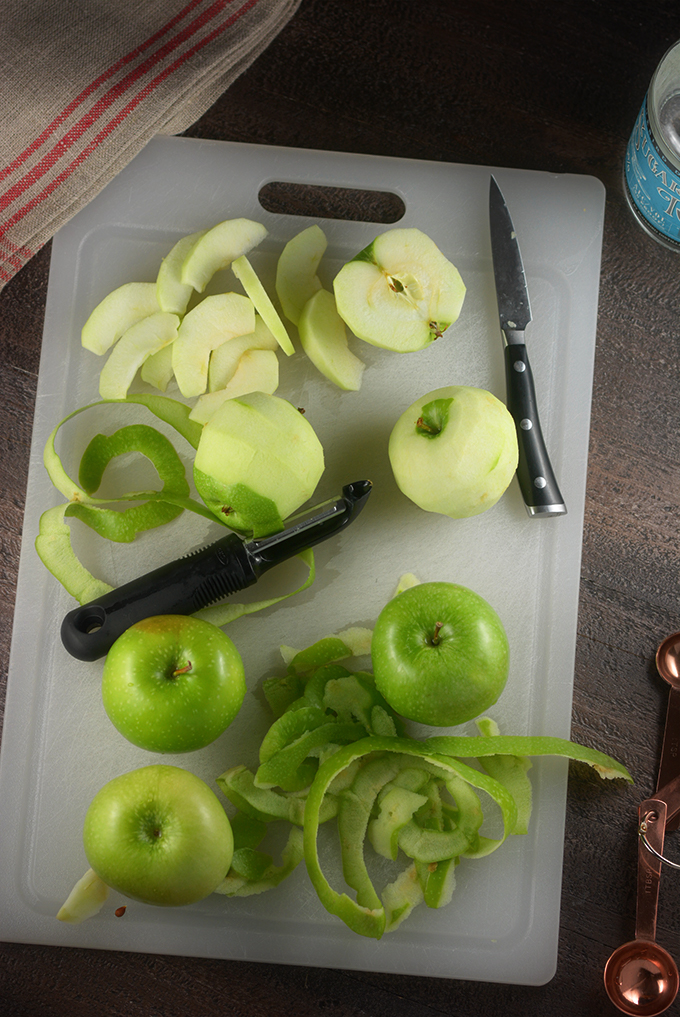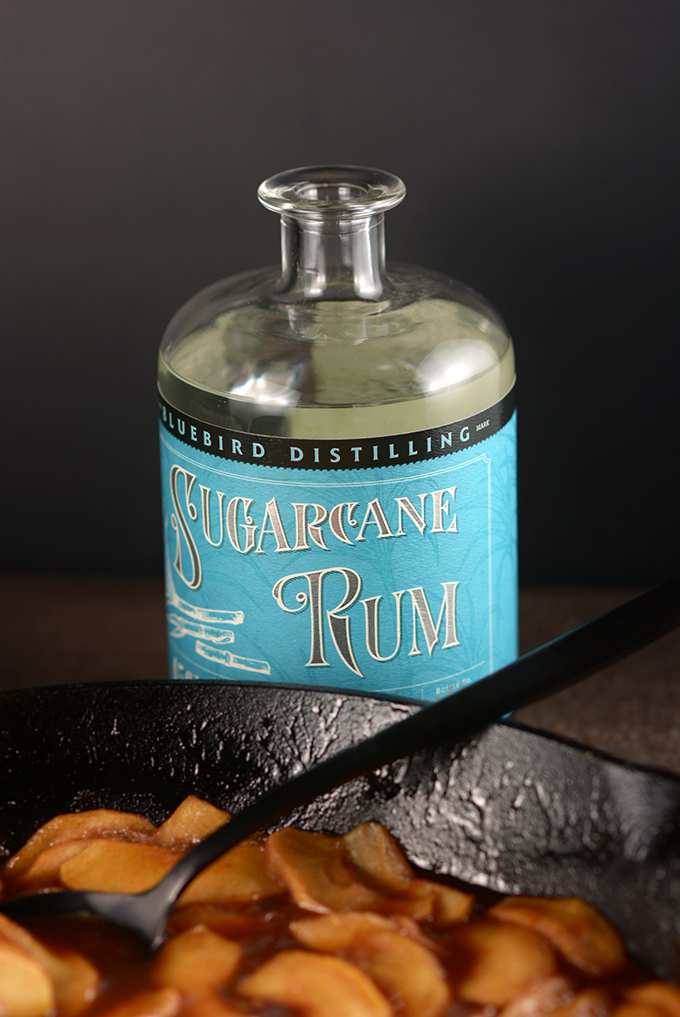 We made four separate trips to pick strawberries, cherries, blueberries, and then finished the season out with apples. Fortunately, the kids didn't seem to get tired of our picking excursions. It might help that the orchard we go to sells the best apple cider doughnuts that I've ever had, along with frozen slushies made from their own apple cider.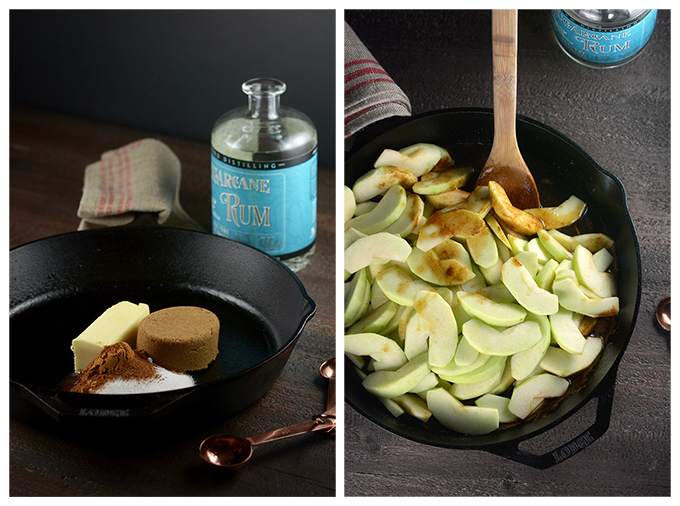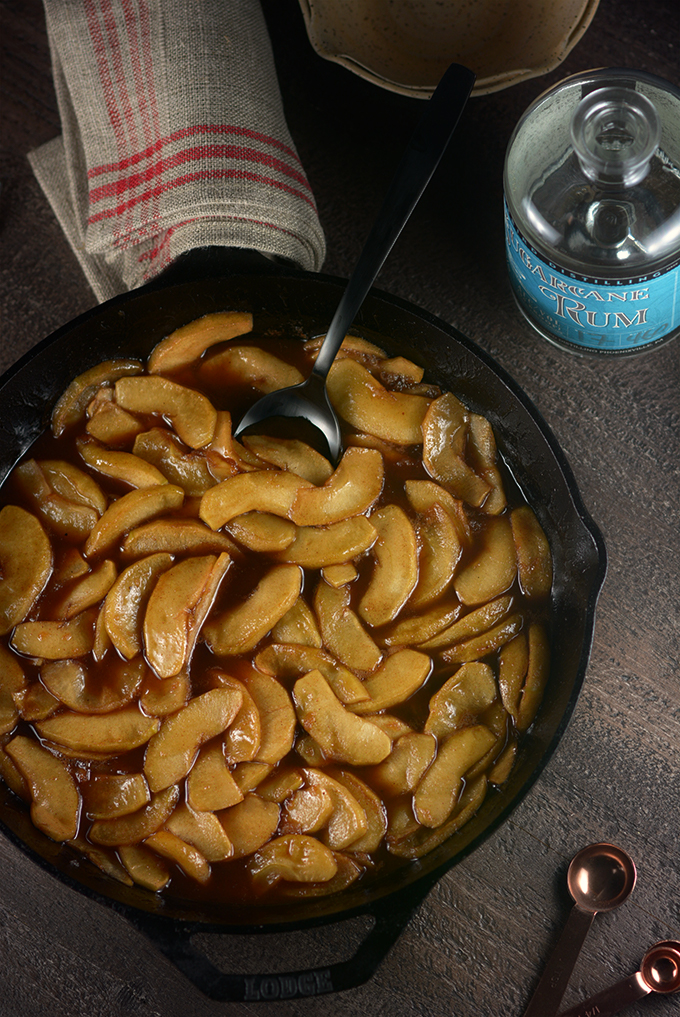 Picking tiny little strawberries, cherries, and blueberries is fairly labor intensive, especially because my kids eat as they pick. This means that I never ended up coming home with more fruit than my kitchen could handle. The apples, however, were a different story. They're big, and the orchard trees were practically dripping with them. The kids started picking apples and when I turned around fifteen minutes later I nearly lost my mind because our wagon was completely full.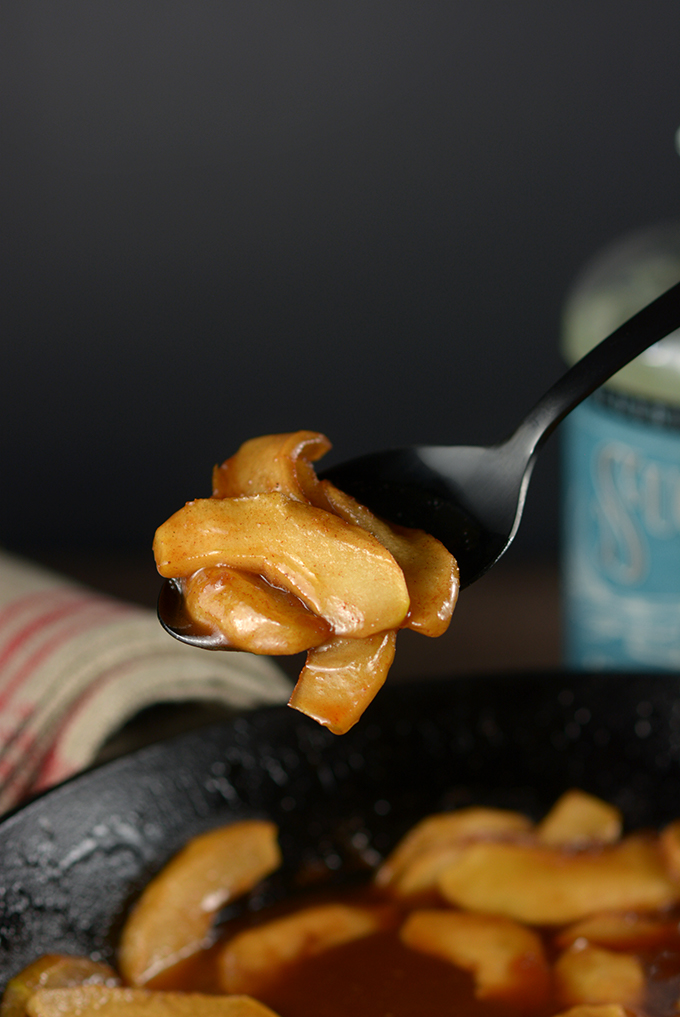 Eighty dollars later I loaded my wagon of apples into our van and headed home wondering what in the world I was going to do with all of those apples, especially because I'm a busy, working mom. I ended up making a ton of applesauce, but far and away my family's favorite was the Southern Fried Apples.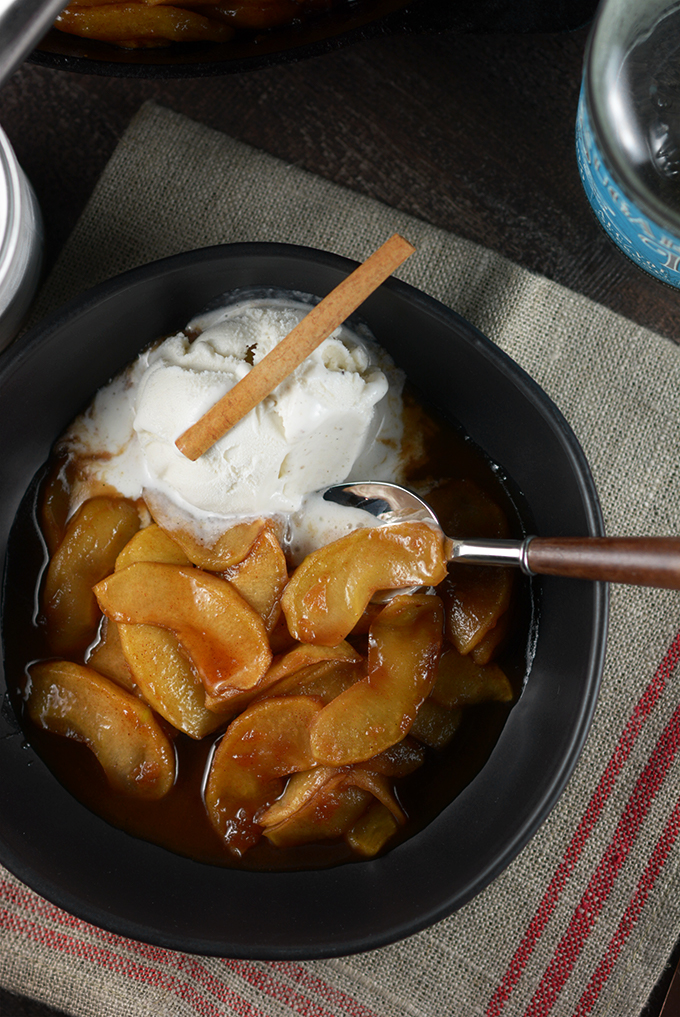 Southern Fried Apples are comparable in flavor to apple pie filling, they're just saucier. Additionally, I put rum in my fried apples. (No worries moms and dads, the alcohol cooks out.) Oh, and fried apples are much easier and quicker to make than an apple pie, which had me sold!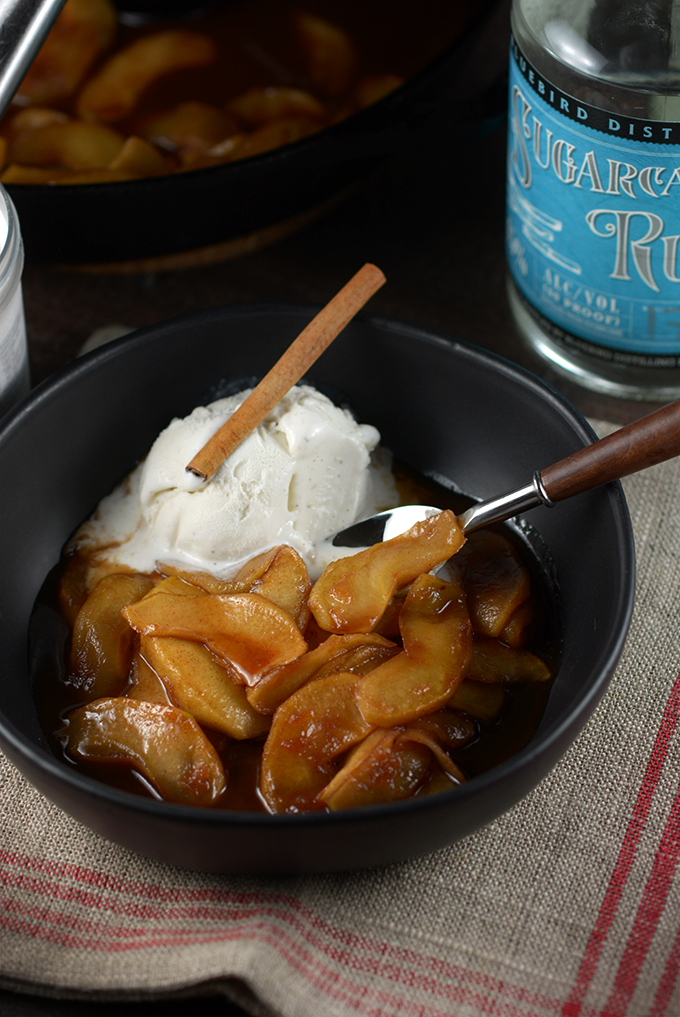 Obviously, these apples are delicious served with vanilla ice cream. What you may not know is that they're also amazing when they're served with savory dishes. For example, as a Thanksgiving side, or with pork chops or tenderloin.
Whether you're looking for something to do with an excess of apples, or if you're looking for a festive fall side, this easy recipe for Southern Fried Apples won't disappoint!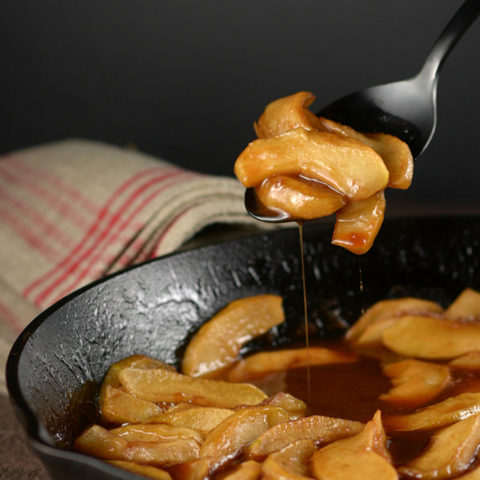 Southern Fried Apples
Enjoy fresh apples at their peak with this festive fall side that goes great with savory dishes or even on top of ice cream!
Ingredients
6 Tbsp butter
2 Tbsp rum
1/2 C granulated sugar
1/2 C dark brown sugar
2 tsp ground cinnamon
1/8 tsp ground nutmeg
pinch of salt
1/3 C water
2 lbs (about 6) tart cooking apples (peeled, cored, and cut into 1/4" slices)*
Instructions
Peel, core, and cut 2 pounds of tart apples into 1/4 inch slices, and then set aside.
In a large pan combine all of the ingredients except for the apples. Stir the ingredients together, and then, over medium heat, melt the butter and bring all of the ingredients simmer.
Once the sauce is simmering, add the apples to the pan. Continue to cook and simmer for 6-7 minutes.
Serve hot.
Notes
*Granny Smith apples are pictured here.
SERVING SUGGESTIONS: This works as a side for a savory meal with pork, turkey, or winter squash. It's also delicious on top of ice cream.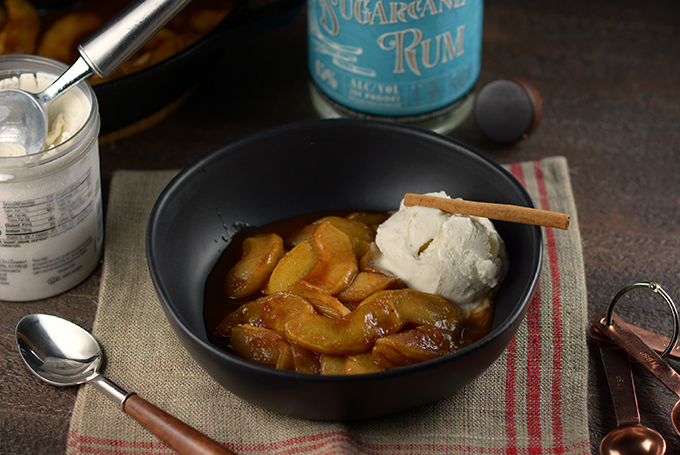 You may also enjoy…