Pumpkin Chocolate Chip Cheesecake Bites – Want to try a little bit of everything without being a piggy? These delectable little goodies pack big holiday flavors into an adorable little bite-sized package.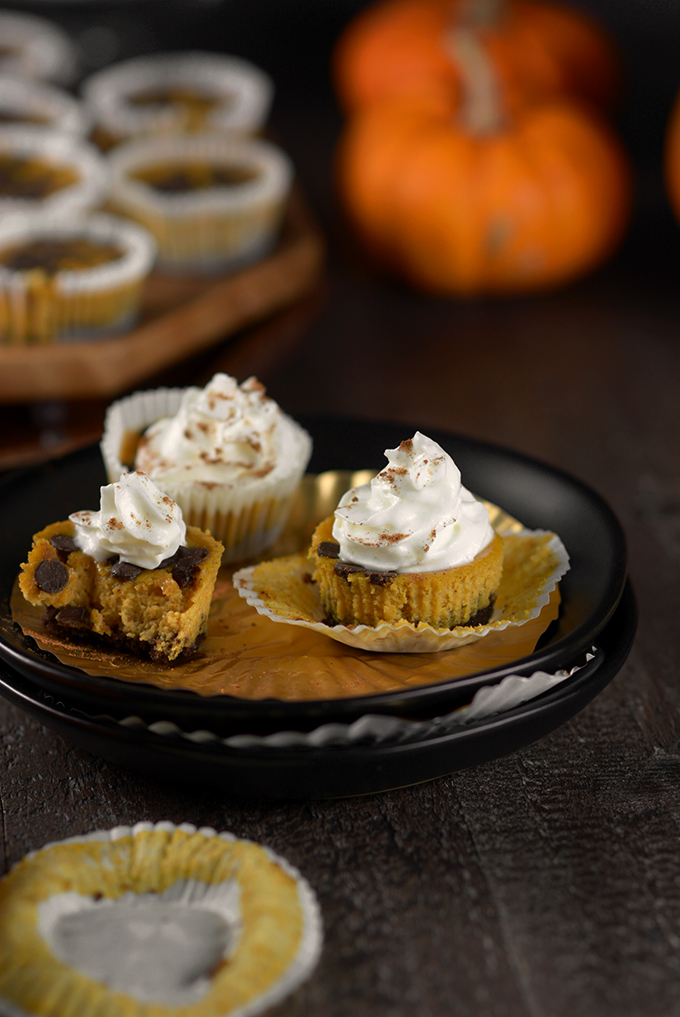 As a rule I've been trying to eat less sugar. From the apple cider doughnuts to the pumpkin pie, fall is one of my favorite baking seasons, so it's been pretty difficult. I've resisted many sweet temptations, and others I've fallen for, but overall I have significantly reduced my sugar intake over the last couple of months. Avoiding baking altogether has been a big help in this endeavor. With the kickoff of the holiday season, however, I decided to let my guard down and make just one seasonal treat.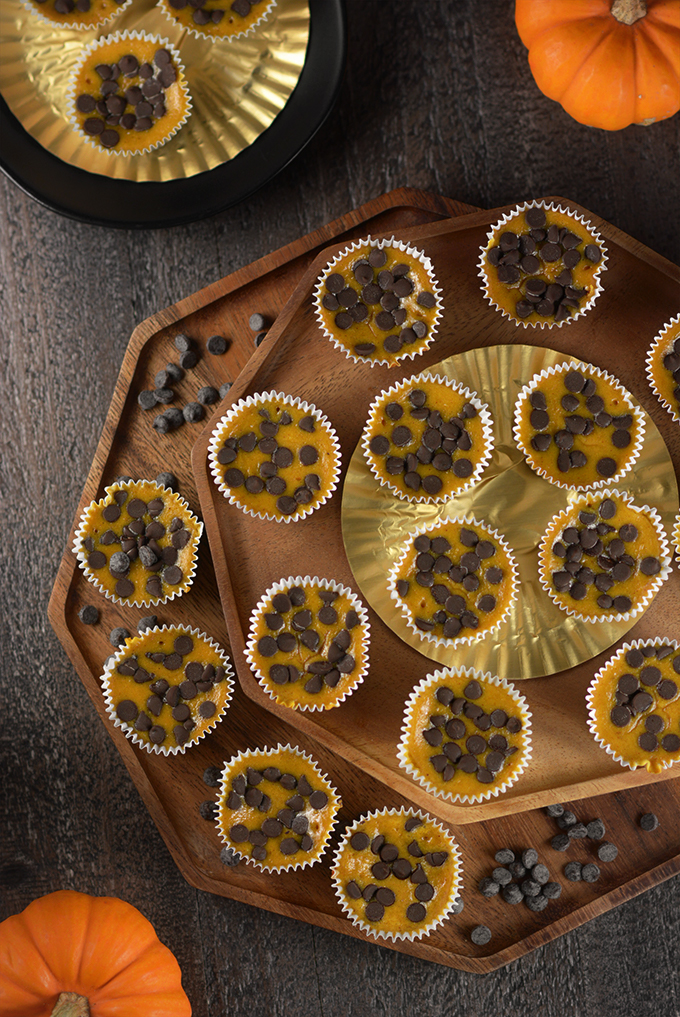 It was hard deciding which treat to make since I knew I intended to make just one. I really wanted pumpkin pie, but cheesecake and chocolate chip cookies sounded good, too. I ended up deciding on Pumpkin Chocolate Chip Cheesecake Bites because they capture the essence of all of these things. Plus, they're bite sized. Doesn't bite-sized food help with portion control? Well, that is unless you eat three or four bite-sized treats at once…
The best word for describing this dessert is decadent. These bites have the flavor of pumpkin pie, but they're creamier and richer. And if you've never had chocolate paired with pumpkin, you're in for a surprise. This unlikely pair is a match made in heaven.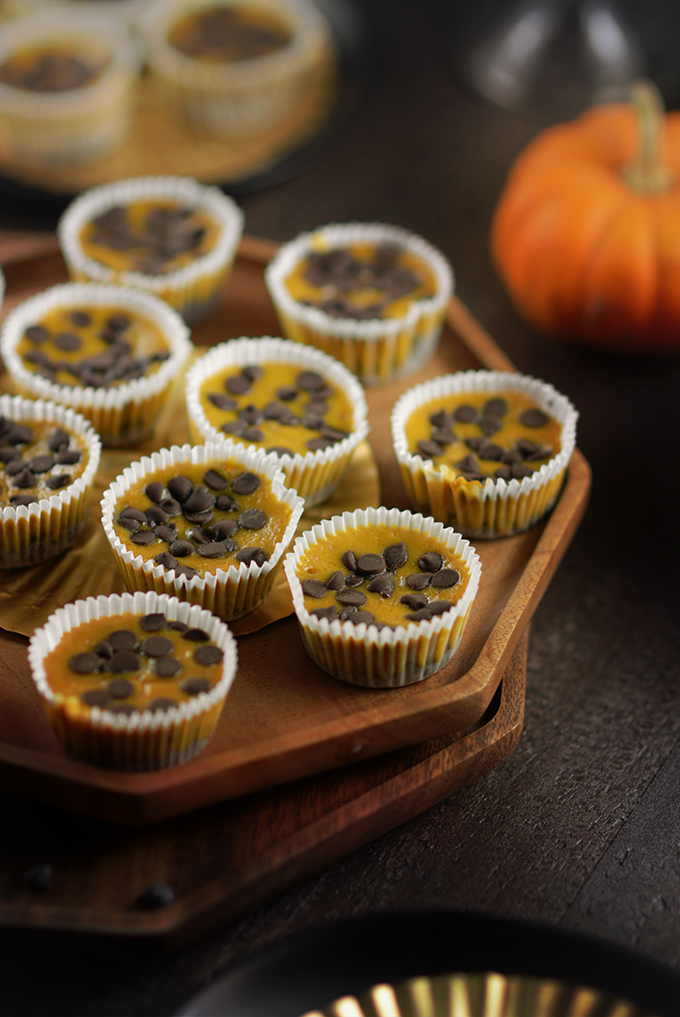 On Thanksgiving, my family always has a spread of three pies – pumpkin, pecan, and apple. It's always so hard to pick just one. Half of us usually take a "thin slice" of each. This ultimately ends with the pies falling apart and far too much pie on each of our plates. I was thinking that instead of making a pumpkin pie, one or two of these little bites would be perfect served with a slice of apple and/or pecan.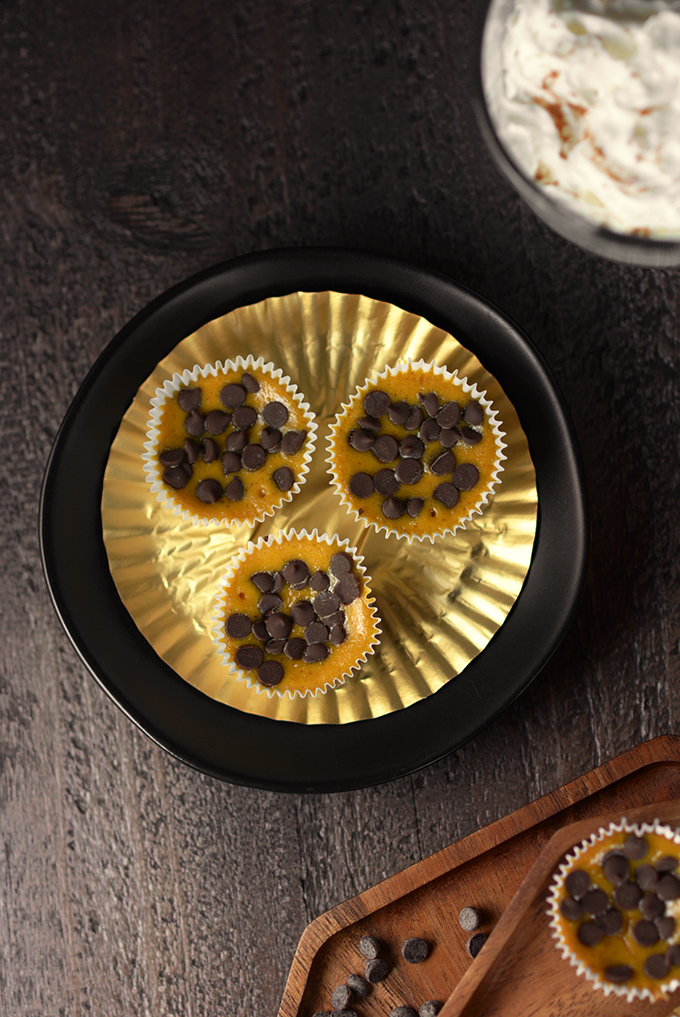 Sadly, the COVID surge is making sure that Thanksgiving is going to be low key in my family this year. My husband and kids and I are just eating with my parents and sisters who are the only people I've been letting myself socialize with outside of my home. I have three grandparents still living, and I'm so sad that for their safety, they won't be joining us.
It's what's best. I'm a nurse and the hospital unit I work on has been transforming into a COVID ward over the last couple of weeks. Between what's going on now, and the surge I worked through in the spring, I have a healthy fear for all of the at-risk people in my life. At this point, I'm pretty much prepared to beat up anyone who dares to get close to my grandparents!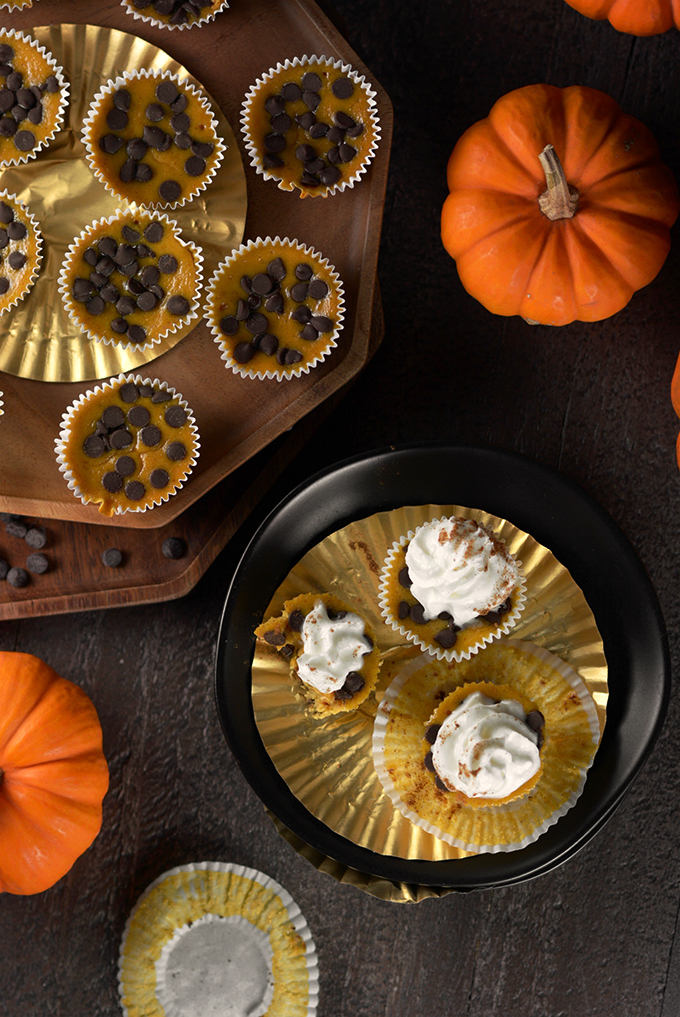 That said, the ongoing isolation over the last year has been devastating for many, grandparents especially. To help fight this, we're going to wrap up Thanksgiving dinners (packed with masks and gloves on, and a little love), and we're going to deliver them to the grandparents' doors with a paper turkey made by my kids and a phone call through the window. These little Pumpkin Chocolate Chip Cheesecake Bites would pack so well into a grandparents Thanksgiving care package!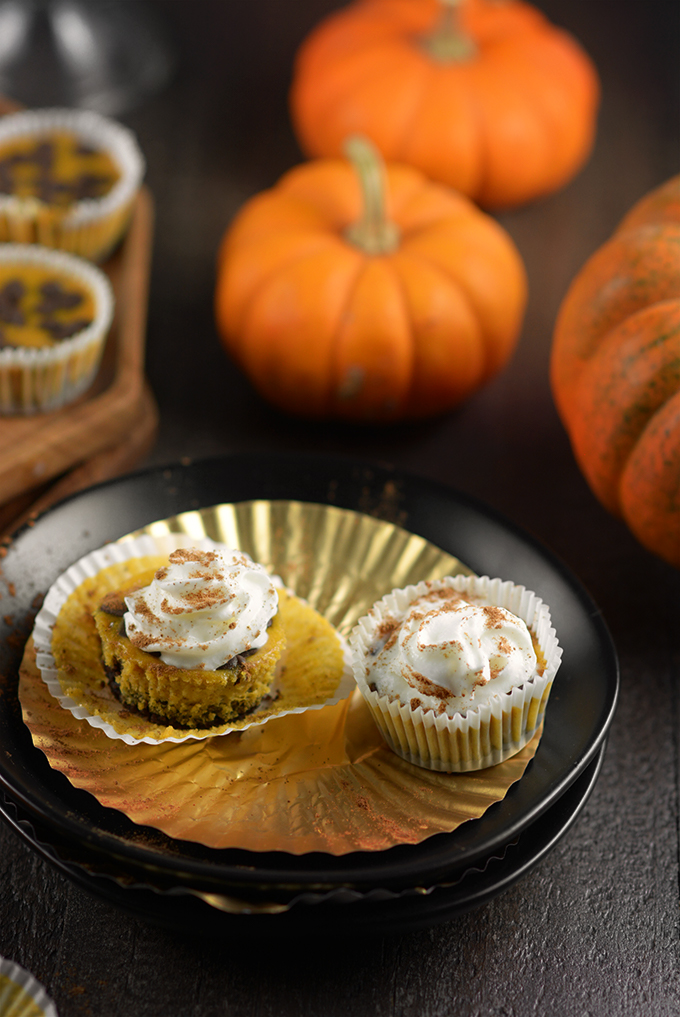 It's been a rough year, but I still have a lot to be thankful for. I'm thankful for the health of everyone in my family, for finally having enough PPE at work, for better-than-imagined vaccine trial results, and for the ability to seek love and connection in creative ways. It's going to be an unusual holiday season, but I'm going to enjoy every bit of what's still good, along with these decadent bite-sized goodies! Happy Thanksgiving!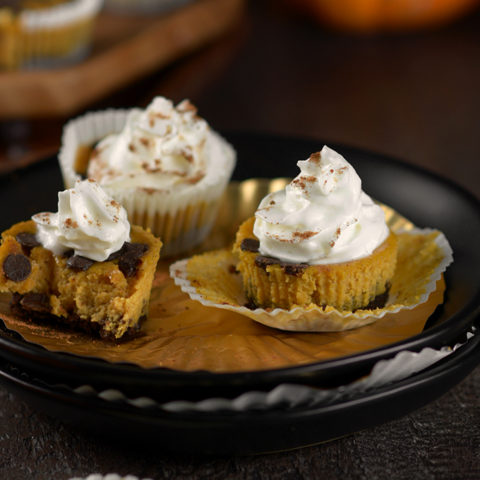 Pumpkin Chocolate Chip Cheesecake Bites
Want to try a little bit of everything without being a piggy? These delectable little goodies pack big holiday flavors into an adorable little bite-sized package.
Ingredients
Chocolate Graham Cracker Crust
1 C chocolate graham crackers, crushed
2 Tbsp light brown sugar
4 Tbsp salted butter, melted
Pumpkin Cheesecake Layer
1 8 oz package cream cheese, room temperature
3/4 C canned pumpkin purée
1/4 C granulated sugar
1/4 C light brown sugar
1 tsp cornstarch
1 tsp vanilla
1/2 tsp salt
1/4 tsp ground cinnamon
1/8 tsp ground nutmeg
1/8 tsp ground cloves
1/8 tsp ground ginger
1/8 tsp ground allspice
2 eggs
1 C mini semisweet chocolate chips.
Other
1 can whipped cream
pumpkin pie spice for garnish (optional)
Instructions
Line a mini muffin tin with mini baking cups. Preheat the oven to 350ºF.
In a small bowl mix together the chocolate graham cracker crust ingredients until they are evenly combined. Place one slightly heaping teaspoon of the crust ingredients into each baking cup, and then firmly pack the crust into each cup. Place the crust into the preheated oven and bake for 5 minutes and then remove from the oven to cool.
Using a mixer, beat the cream cheese until smooth. Next, add in the pumpkin purée and beat for about two minutes. Add in the sugars, cornstarch, vanilla, salt, and spices. Beat until just combined. Finally, add in the eggs one at a time until they are just evenly incorporated, taking care not to over beat.
Once the crusts cool, pour about 1 Tbsp of the pumpkin cheesecake batter into each baking cup. The cups should be filled almost to the top with 1-2 mm of headspace.
Next, sprinkle each mini cheesecake with mini chocolate chips.
Bake in the preheated oven for 9-11 minutes. They are done cooking once they are slightly firm on the outside, but still jiggle when the pan is moved. Remove from the oven and allow to cool completely. This recipe makes a total of 24 Pumpkin Chocolate Chip Cheesecake Bites, so depending on the size of your mini muffin tin, you will have to assemble and bake 1-2 more batches to use up all of your ingredients.
Once cooled, allow to chill for at least one hour before serving. To serve, top with whipped cream and a sprinkle of pumpkin spice.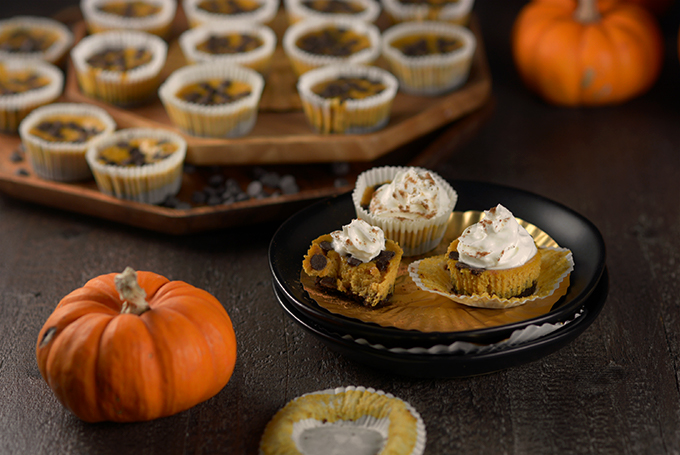 You may also enjoy…