Spicy Greens, Delicata, and Crunchy Pork Salad – Whether you're in need of a break from holiday sweets, or just fancy a healthy and delicious dinner, this sweet and savory winter salad will help recharge your batteries!
Are you a fan of salad for dinner? I am, especially during the last couple of weeks leading up to Christmas. It's the time of year during which I can easily slip into a cookie coma thanks to my troublesome sweet tooth and lack of self control when it comes to fresh baked goods. I basically plan for willpower failure when it comes to Christmas cookies. Being a mom, I'm pretty much forced to bake, and as a visiting nurse, I find that patients and their families express their gratitude during the month of December by way of chocolates and cookies (I'm not complaining here). With all that in mind, I figure if I keep mealtime light and healthy, I can pull through the holiday season without causing too much stress on my scales. I can also still feel energized, despite my cookie over-indulgence… By the way, if you want an awesome cookie to nibble on, check out my recipe for Chocolate-Dipped Orange Shortbread Cookies!
Today's salad is 100% inspired by the winter crop share that I belong to. In our weekly share, my husband and I have been getting lovely bags of mixed spicy greens. Things like mustard greens, mizuna, mache, tatsoi, arugula, and frisée. When I was new to eating local and seasonal food, I found them to be some of the most intimidating veggies to prepare. For example, if you bite into a plain old mustard green it's like, "whoa, that's bitter!" With some practice and an open mind, however, I discovered that these greens are quite delicious when they're thoughtfully combined with various acids, cheeses, and nuts. Now they're some of my favorites, especially during the winter months when I crave fresh ingredients.
To make a meal out of these greens, I combined them with some baked delicata squash as well as some breaded and baked pork sirloin chops. The delicata adds something tender and sweet to the salad, and the pork is crunchy on the outside and tender on the inside. I prepped them in shake 'n bake fashion and popped them into the same oven with the delicata, making this salad weeknight friendly. The dressing is my Cranberry Vinaigrette, which is packed with antioxidants and is festive for the months of November and December. Add a sprinkling of pecans and freshly-shaved parmesan and these greens are transformed into something that features their best qualities. You'll want second helpings of this salad and it will certainly clear up your cookie slump – according to my professional medical opinion that is… 😉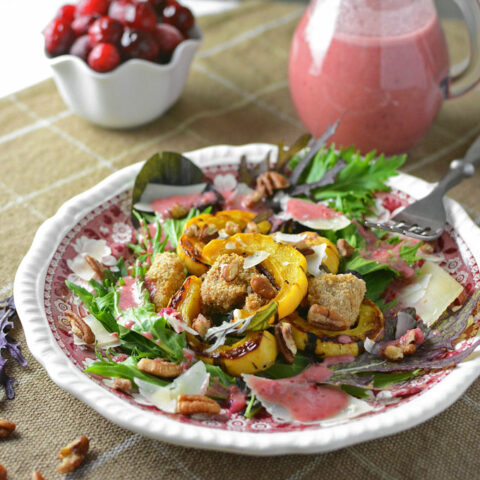 Spicy Greens, Delicata, and Crunchy Pork Salad
Yield: 4

Prep Time: 15 minutes

Cook Time: 30 minutes

Total Time: 45 minutes

Whether you're in need of a break from holiday sweets, or just fancy a healthy and delicious dinner, this sweet and savory winter salad will recharge your batteries!
Ingredients
Salad
3/4 lb boneless pork sirloin chops
2 Tbsp flour
1/8 tsp salt
2 eggs beaten
3/4 C whole wheat bread crumbs
2 medium delicata squash
1 Tbsp olive oil
1/8 tsp salt
pepper to taste
8 C assorted seasonal, local spicy greens (e.g. mustard greens, mizuna, mache, tatsoi, arugula and frisée)
4 Tbsp roughly chopped pecans
4 Tbsp shaved parmesan
3 ziplock bags
Dressing
1/2 C pure no-sugar-added cranberry juice*
1/3 C vegetable oil
1/4 C thawed frozen cranberries
1 Tbsp balsamic vinegar
2 Tbsp pure maple syrup
1 Tbsp dijon mustard
1/8 tsp salt
1 tsp finely-minced red onion
Instructions
Salad
Preheat oven to 400ºF.
Prep pork for baking by breading. Place flour and 1/8 tsp of salt in one ziplock bag and place bread crumbs in another bag. In a small mixing bowl, beat together 2 eggs. Cut pork in 1 inch cubes, trimming away any excess fat. Place the pork cubes into the bag with the flour, seal, and then shake to coat the meat. Individually dip each floured piece of meat into the beaten eggs and then immediately place it into the bag of bread crumbs. After doing this with a few pieces of meat, gently shake the bread crumb bag so that they don't stick to each other. Continue doing this until every piece is breaded. Evenly arrange the breaded pork on a baking sheet.
Prep the delicata by slicing it in half, scooping out the seeds, and cutting it into 1/4 inch thick half-rings. Using a sealed ziplock bag, shake together with 1 Tbsp of olive oil and 1/8 tsp of salt. Evenly arrange the delicata on a baking sheet.
Place the delicata into the preheated oven and cook for 15 minutes and then flip each piece and cook for another 15 minutes. Add the pork to the top rack of the oven after flipping the delicata and cook for 15 minutes, flipping midway. The delicata is done when soft and beginning to brown, and the pork is done when golden brown and cooked through. Check for doneness by cutting through a piece after 15 minutes.
While the delicata and pork are cooking, make the salad dressing, wash and trim the greens, chop the pecans, and shave the parmesan.
To serve, arrange the warm delicata and crunchy pork on a bed of spicy greens, sprinkle with pecans and shaved parmesan, and drizzle with cranberry vinaigrette.
Dressing
In a food processor combine everything except the red onion. Process on low until all of the ingredients have emulsified (a.k.a. turned creamy and even in texture) and the cranberry is broken up into pieces that are about the size of fresh ground pepper.
Pour the vinaigrette into a dressing bottle, add 1 tsp of finely-minced red onion and lightly shake to combine.
Serve immediately or store up to one week in the refrigerator. Shake vigorously between uses.
Notes
*Recommended brands are Lakewood Organic and R.W. Knudsen. A cranberry cocktail like Ocean Spray won't work for this recipe as it is less concentrated.

If you enjoyed this post, you may also enjoy…