Pickled Red Beet Eggs – A well-balanced blend of spices make for the tastiest version of this colorful and tangy traditional PA Dutch recipe this side of Amish country!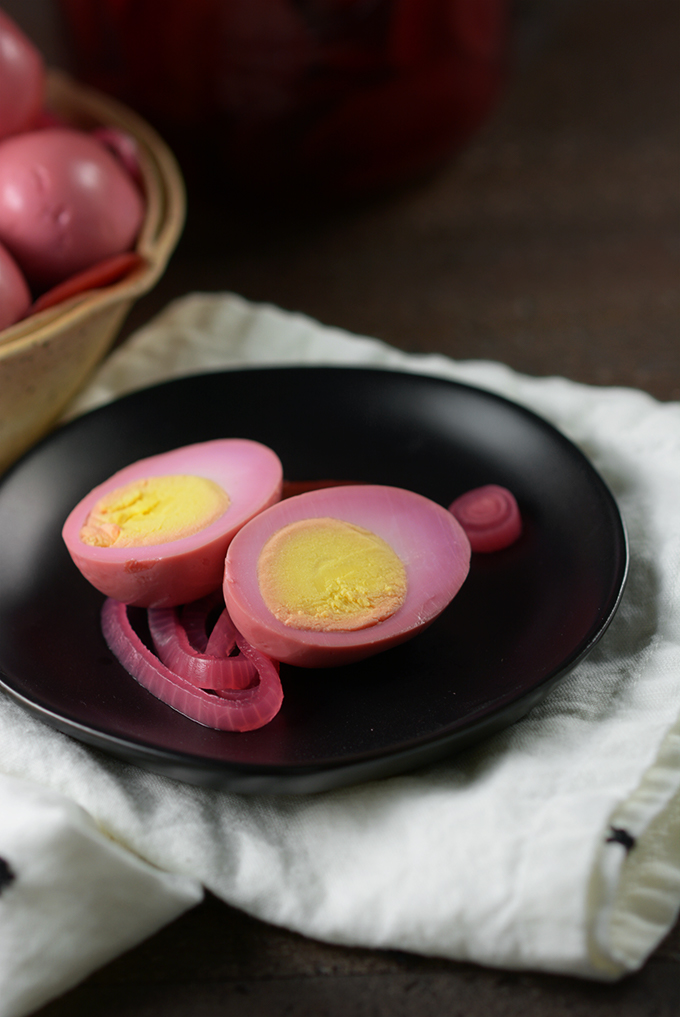 The first time I tried pickled red beet eggs was at my grandmother-in-law's house. In order to visit my husband's family, we had taken a four hour journey from the urban Philadelphia area to the center of Pennsylvania. It's a landscape of patchwork farm fields divided by long tall mountains.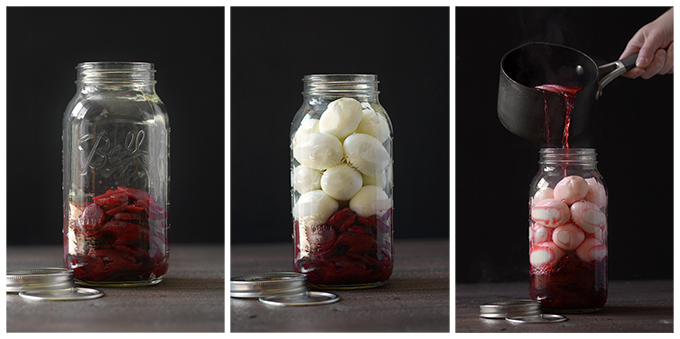 My husband, being a bit of a country boy, grew up eating all the best of what Pennsylvania Dutch cooking has to offer. Truth be told, it's never been my favorite culinary tradition. Over the years, though, I've been proven wrong. I have explored some recipes for my husband's sake and have found some real gems along the way. Pickled red beet eggs is one of them!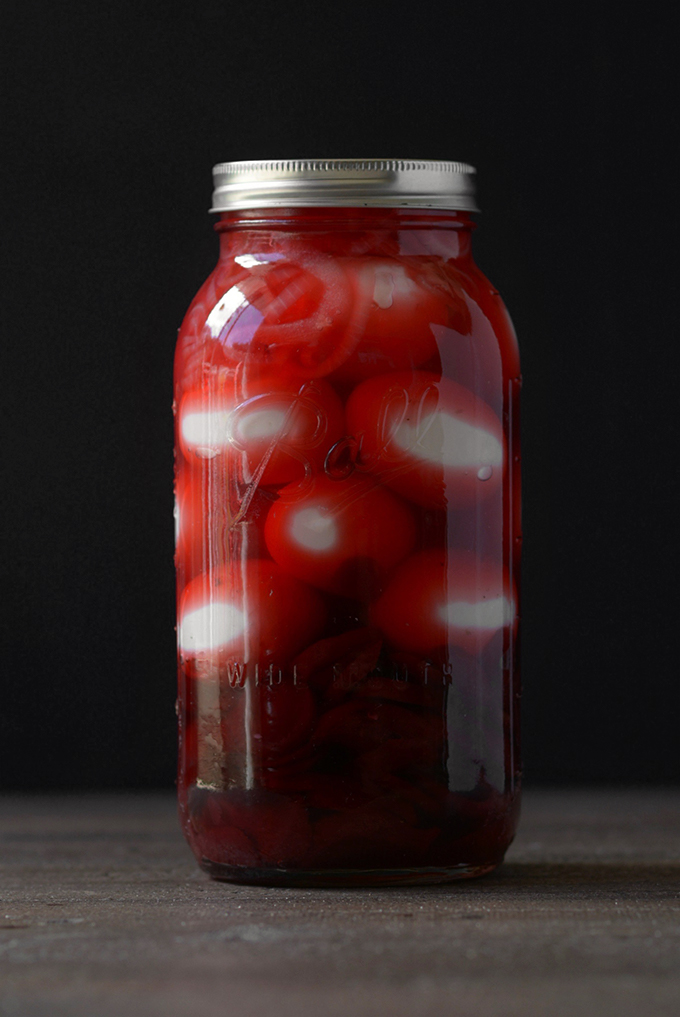 A number of years back, we went to visit my husband's grandmother. A short, white haired, and jovial little old lady greeted us at her front door. Looking up at us through her glasses she had big smile on her face framed by her rosy pink powdered cheeks. She could hardly wait to tell Dan that she had made one of his favorite treats.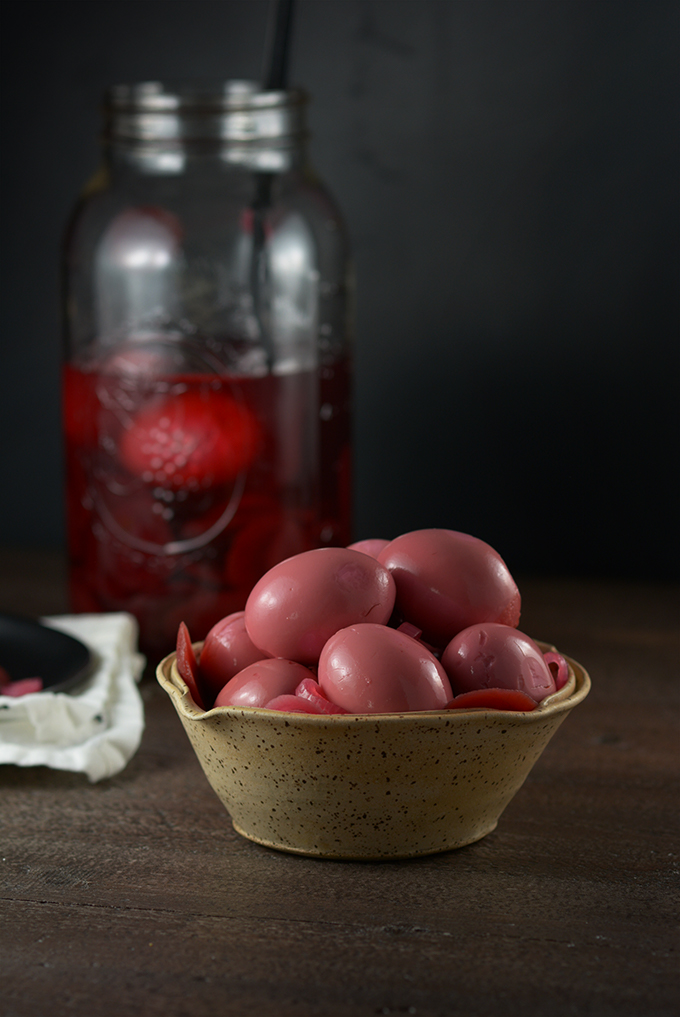 Up until that point, I had no idea that pickled red beet eggs are one of my husbands favorite foods. In fact, I had never even had one myself, let alone made them for him. Now I make them often!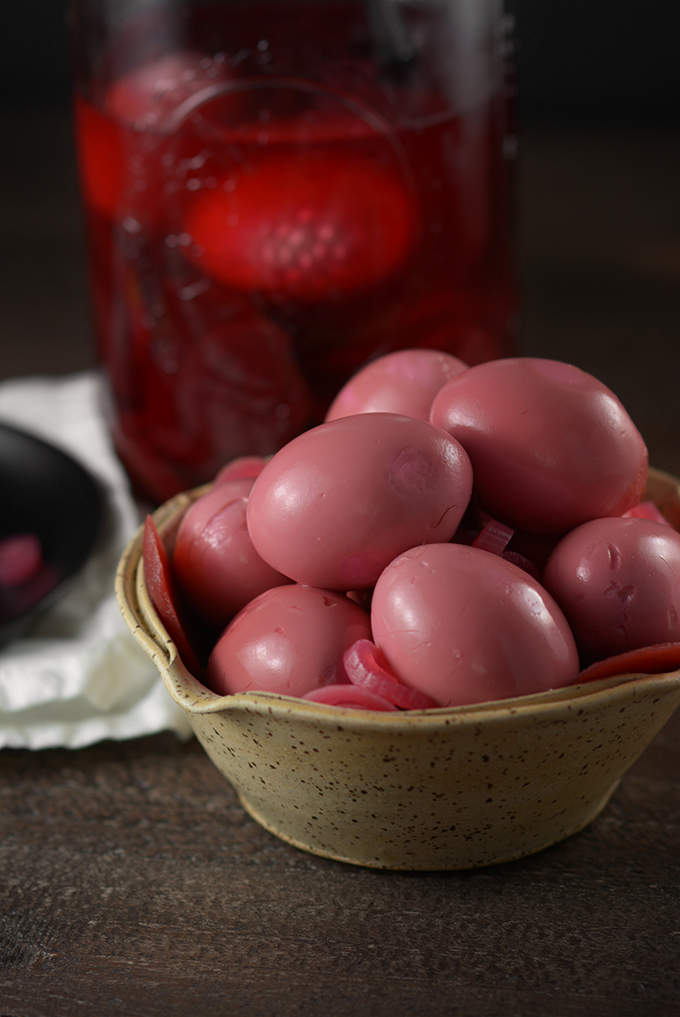 Pickled Red Beet Eggs taste sweet and tangy. I add some cinnamon, allspice, cloves, and peppercorns to my recipe, which adds a subtle spiced flavor to them. I also pickle my eggs with sweet onions. The eggs can be eaten alone, but I think they're even better paired with the beets and onions.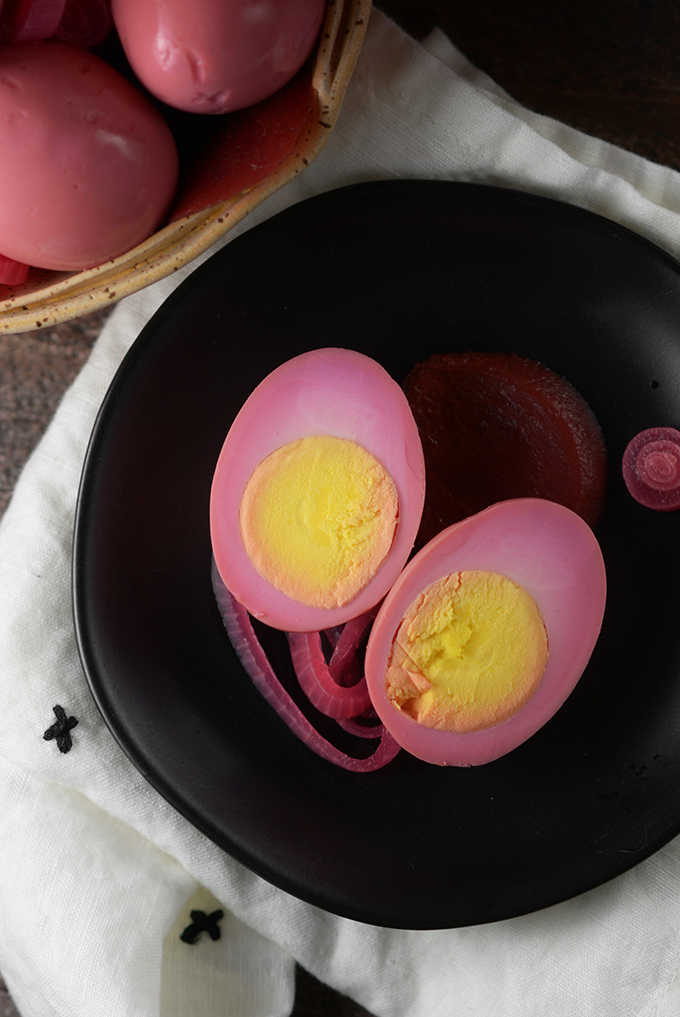 I make them all year round for snacking, slicing on top of salads, or for deviling. That said, I decided to publish this right before Easter because I think they look beautiful on the Easter dinner table. It certainly adds a lot of pizzazz to the tradition hard cooked Easter eggs!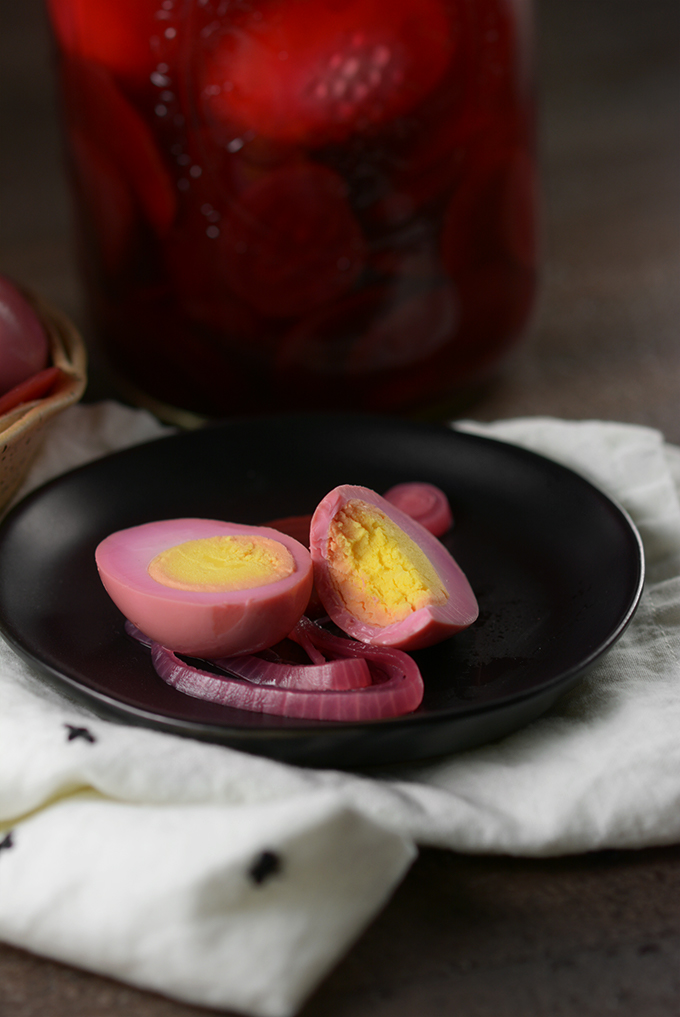 Whether you're new to pickled red beet eggs or you've been eating them all your life, I think you're going to love this traditional PA Dutch recipe that's been spiced up a touch by this city girl. My country boy is certainly sold!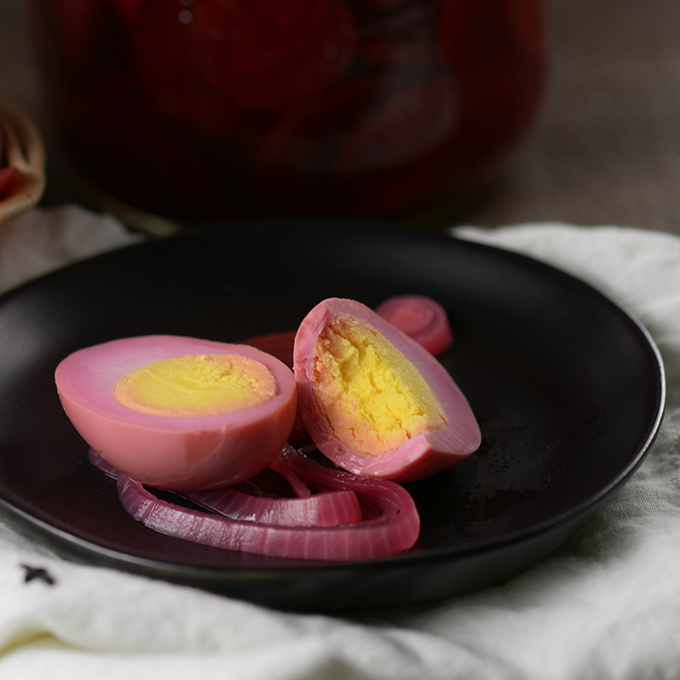 Pickled Red Beet Eggs
Total Time:
3 days
43 minutes
A well-balanced blend of spices make for the tastiest version of this colorful and tangy traditional PA Dutch recipe this side of Amish country!
Ingredients
1 2 qt glass mason jar
2 15 oz cans whole beets
3/4 C sweet onion, thinly sliced
12 hard-boiled large eggs, peeled
1 C sugar
1 C water
1 C cider vinegar
1 cinnamon stick
6 whole cloves
6 black peppercorns
4 whole allspice berries
1 bay leaf
1/2 tsp salt
Instructions
Cook the eggs with these easy-peel instructions. In a large pot bring 1 inch of water to a boil. Once the water is boiling, reduce the heat to medium-low. Place the eggs into a steaming basket, and then into the pot so that they are not touching the water in the pot, and cover. Steam for 13 minutes. Next, place the eggs into an ice bath and cool for 15 minutes. Tap the eggs on your kitchen counter and easily peel. Discard the shells.
Drain the beets, reserving 1 C of the juice.
Place the beets at the bottom of the mason jar. Next, layer the cooked, peeled eggs on top of the beets.
In a small sauce pan combine the sugar, water, cider vinegar, cinnamon stick, cloves, peppercorns, allspice berries, bay leaf and the 1 C of reserved beet juice. Bring to a boil and then remove from the heat. Place the onions in the hot liquid and allow it to cool for 15 minutes. Pour the partially-cooled liquid through a strainer, separating out the spices, into the jar with the beets and eggs.
Bring to room temperature and then place in the refrigerator. Refrigerate for at least 72 hours before serving.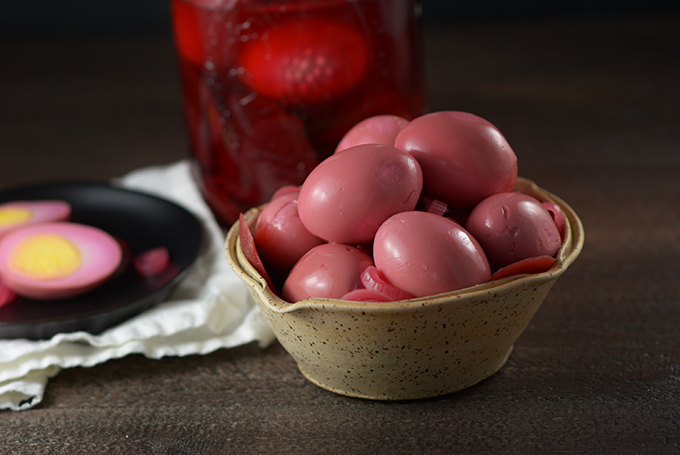 You may also enjoy…