Pennsylvania Birch Beer Cocktail – Explore the cultural heritage of the Keystone State with this unique, tasty, and refreshing birch-flavored cocktail that's perfect for the transition to fall!
For those of us that grew up in Pennsylvania, a common sight at parties, family reunions, and other such gatherings was a reddish-brown (and sometimes clear), fizzy soft drink known as birch beer. Served alongside the more common staples of Coke, Pepsi, and Sprite, the birch-flavored soda was ubiquitous, especially in the Appalachian Mountain region running between the northeastern and southwestern corners of the state.
So, why isn't birch beer more popular outside of the American Northeast? As it turns out, the black birch (betula lenta), who's sap provides the characteristic flavoring oils, has a very limited range, from southern Maine down through the Appalachians where it thins out in northern Georgia. In Pennsylvania, however, almost the entire state is home to the fragrant tree.
As a child, I remember taking walks with my family through our wooded property. We would often cut small twigs off birch trees, carve away the bark with a pocket knife to expose the white flesh inside, and chew on them. I know, it sounds weird… But the fresh birch had a wonderful, sweet, wintergreen flavor that was incredibly unique.
Birch beer – of both the alcoholic and non-alcoholic varieties – has been produced in PA since the 1600's, notably popular among the Pennsylvania Dutch and German populations. Although it isn't always made from birch trees (many Colonial-era recipes called for oak sap), it is a strong part of our cultural heritage and conjures up fond memories for those who have migrated from the Commonwealth to other parts of the country.
These cultural ramifications are the inspiration behind today's cocktail recipe. I wanted to incorporate Pennsylvania-sourced ingredients as the stars of the show – ones that could be reasonably acquired no matter what part of the country you live in, too. It's an incredibly simple cocktail, along the lines of a "Mule-style" drink – a combination of soda, liquor, and citrus.
As with many cocktails, the quality of your ingredients is what will make all the difference here. After some taste tests, I decided on Kutztown Birch Beer, produced by Kutztown Soda Works in (you guessed it) Kuztown, PA. It's made with 100% cane sugar and no high fructose corn syrup. It also had that wonderful "birchy" flavor that I remember as a kid… The gin was an easy choice, since Bluecoat American Dry Gin is an exceptional example and widely popular in the Philadelphia area.
Combine these two ingredients in a frosty mug with a little lemon juice an you've got yourself a nice, refreshing "long drink" with a flavor that's perfect for those transitional days between late summer and early fall when the air begins to change and the leaves show the first signs of the colorful display to come…
As a native Pennsylvanian, it's my hope that this drink will bring back memories for some, and maybe open up a window into our unique culture for others. For me, it will take me back to those walks through the forest on a cool September day… Whatever your experience, however, I wish you good health with a raised glass. Cheers!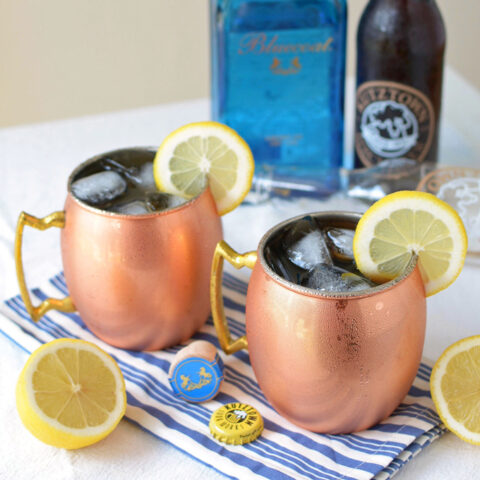 Pennsylvania Birch Beer Cocktail
Yield: 1

Prep Time: 5 minutes

Total Time: 5 minutes

Explore the cultural heritage of the Keystone State with this unique, tasty, and refreshing birch-flavored cocktail that's perfect for the transition to fall!
Ingredients
4 oz Kutztown birch beer
1.5 oz Bluecoat gin*
1/4 oz lemon juice
Instructions
Fill a copper mug or highball glass with ice.
Combine the gin and lemon juice in a cocktail shaker filled halfway with ice.
Stir to chill, then strain into the copper mug.
Top with birch beer and give it a stir.
Garnish with a lemon wheel.
Notes
*If you prefer your cocktails slightly more boozy, add 2 oz gin instead of 1.5 oz.



If you liked this recipe, you may also enjoy: