Roasted Carrots and New Potatoes with Arugula Pesto – A side that celebrates spring vegetables with a touch of sophistication, yet it's easy enough to make for a crowd!
Let's get real here. I've been writing this blog post for over a week now… I didn't even work at my day job this week (I'm a home health nurse when I'm not blogging). This week, instead, has been a dizzying schedule of baking cookies, end-of-preschool picnics and get togethers, as well as meeting all of the kindergarten requirements for every doctor appointment imaginable. Kids should really come with a high maintenance disclaimer. In all seriousness though, I adore my bug-catching, puppy dog-chasing, scruffy little muddy boy. I can't believe he just graduated from preschool!
Now on to the food! Today's recipe for Roasted Carrots and New Potatoes with Arugula Pesto is a celebration of spring produce. My weekly CSA (community supported agriculture) crop share is scheduled to begin in a little over a week. As such, I am hoping to see new potatoes and arugula in my weekly haul of fresh, seasonal produce. This recipe is going to have to make it onto my menu soon. It's tasty enough to want to keep all to yourself, but it's easy to make in large batches for a dinner party.
The Arugula Pesto I used in this recipe is from another recent blog post, so be sure to check it out. It's as simple as throwing a few ingredients in a food processor or a blender, resulting in flavorful spring pesto.
When it comes to new potatoes, they are one of my favorite spring and early summer veggie treats. I think my little boy agrees because he goes through them like french fries. But to be honest with you, up until a few years ago I would pass them by at the grocery store or farmer's market because they come with a bigger price tag per pound. Little did I know how these "baby potatoes," although small in size, pack more flavor than their fully-grown counterparts. They are sweeter, and their higher moisture content makes them smooth and creamy. Worth a little extra expense for a culinary treat… If there were such thing as "top shelf" potatoes, these would be them!
I hope you enjoy this slightly sophisticated (but not too) recipe as much as my family has!
Now how about you? Do you have any kids or grandkids that are reaching a major milestone at the end of this school year? Maybe they are also graduating preschool, or high school, or maybe they're even about to become a doctor. I'd love to hear about it!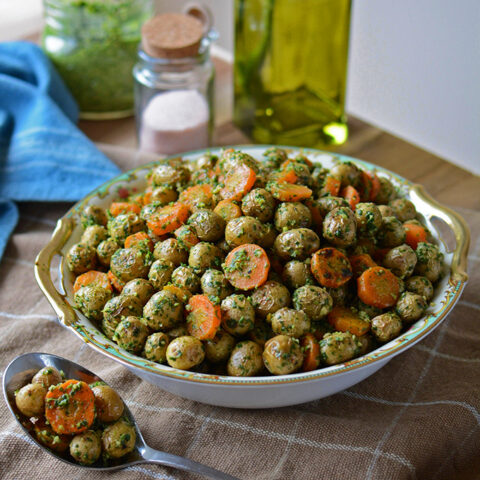 Roasted Carrots and New Potatoes with Arugula Pesto
Yield: 6 servings

Prep Time: 15 minutes

Cook Time: 35 minutes

Total Time: 50 minutes

This tasty side celebrates spring vegetables with a touch of sophistication, yet it's easy enough to make for a crowd!
Ingredients
2 lbs new potatoes
2 lbs carrots cut into coins
2 Tbsp olive oil divided
1/2 C arugula pesto
salt and pepper to taste
Instructions
Preheat oven to 425º F.
Wash the new potatoes and bring to a boil in a large pot of water. Gently boil for about 5 minutes or until the potatoes can easily be pierced with a fork, but are not cooked to the point of being soft and mushy. It might seem strange to partially cook your potatoes by boiling before roasting, but this technique results in smother, creamier potatoes.
Place the partially cooked potatoes onto a baking sheet and coat with 1 Tbsp of olive oil. Season with salt and pepper to taste. Place the carrots that you have cut into coins onto another baking sheet, and also coat in 1 Tbsp of olive oil and season with salt and pepper to taste. Roast the vegetables in a 425ºF oven for 25 minutes, flipping 15 minutes into cooking.
While the vegetable are roasting, mix up the arugula pesto in a food processor or a blender. For the pesto recipe see my arugula pesto post at: https://simpleseasonal.com/recipes/arugula-pesto
Coat the roasted vegetables in the homemade arugula pesto and serve immediately.
Notes
To read my recipe for arugula pesto go to: https://simpleseasonal.com/recipes/arugula-pesto



If you enjoyed this recipe, you may also enjoy…